20 Reviews
Recommended by 100% of couples
Quality of service

5 out of 5 rating

Average response time

5 out of 5 rating

Professionalism

5 out of 5 rating

Value

5 out of 5 rating

Flexibility

5 out of 5 rating
Awards
13 User photos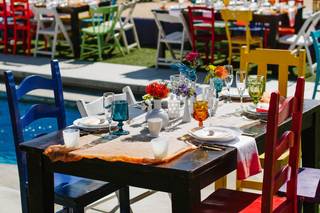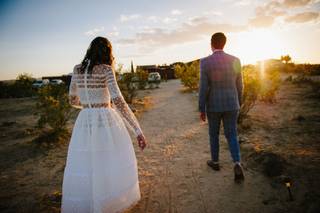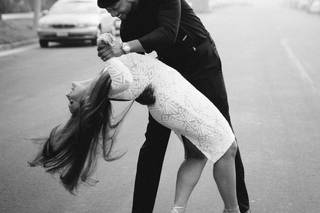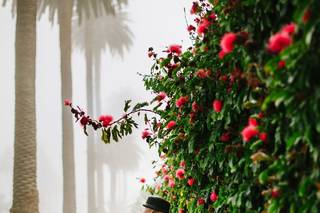 + 9

photos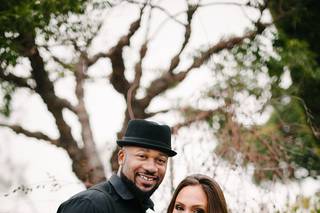 Shawn H.

Married on 02/18/2021

Hannah is top tier! Thank you!

Hannah captured our elopement with so much enthusiasm and a humbling authenticity, that gave us the space to simply bask in this milestone in our love story. We were both drawn to her energy at hello and feel very blessed that our paths crossed. It's funny how things align in life, because we actually got connected with Hannah because our original photographer cancelled two days before our wedding; luckily she was available!
We can say without hesitation, that we are beyond happy and grateful we had her instead. We have so much respect and admiration for Hannah - from here approach to her art, thoughtfulness, zeal and overall beautiful spirit!. She captured so many special details so beautifully - we will continue to look at our photos and smile bigger every time. Thank you for going above and beyond to help us capture and celebrate our love. You are a master of your art...*chef's kiss*
Shawn & Kehinde

Megan

Married on 05/27/2018

Where do I even begin? Hannah was amazing to work with from start to finish. My now-husband is a photographer and put himself in charge of the photographer search. After looking through portfolio after portfolio, Hannah is the only photographer he wanted to work with. She has such a special ability to capture candid moments and turn them into monumental images. Her documentary style is what really sealed the deal for us. My husband and I are not into posing or staged photos so Hannah's aesthetic truly captured what we wanted. After the search for a photographer was over, Hannah was so unbelievably accommodating and easy to work with leading up to the wedding. When wedding day finally arrived, Hannah was such a joy! In addition to capturing the best moments of the night, she was fun to hang out with- she fit right in with our crazy friends and family! And last, but certainly not least, the photos she captured were incredible. We laughed, cried and everything in between when viewing them for the first time. Our wedding day was such a whirlwind and went by so quickly, it was easy to forget a lot of the moments (okay.. okay... that might have been the fault of a few too many margaritas...) but Hannah's photos are there to help me remember and they are beautiful to boot!

Lindsay

Married on 11/18/2017

Hannah is simply the best in every way and truly a master in her field. She made us feel 100% comfortable during our engagement photo session, and she captured the most special moments at our wedding without us even being aware she was watching. She takes the time to edit each photograph individually and it shows in her work. The final product exceeded our expectations, and it was absolutely lovely being around her. Her positive energy is infectious, and her talent is undeniable. She is one of a kind, and I would recommend her to anyone with a love for documentary style photography in a heartbeat!

+ 7

photos

Are you interested?

Send a message

Elana

Married on 09/17/2017

Hannah is a brilliant photographer. If you read nothing else of this review, please know that I would recommend her highly without reservations: She is professional, produces high-quality photos, and her ability to connect with people is unparalleled.
Each one of her images from our wedding looks like the cover of the NYTimes. She did just what we asked for - created a documentary-style product, but she has her own vision. The composition of her photos are satisfying, the content of her work is compelling, and the feeling her work invokes is always powerful. During our wedding, she was such a source of light for us - always positive and efficient. We called her the "photo ninja" because she was everywhere - always drawn to the nerve center of the party. She knows exactly where to be and when. Her photos are one of the best gifts we could have gotten from our wedding day. We highly recommend Hannah!

Eric

Married on 07/28/2016

We were so excited to find that Hannah was available to fly down to our destination wedding in Tamarindo, Costa Rica
Hannah was my rock solid first choice, and looking over her portfolio, my Bride and her mother were quickly sold on her beautiful imagery!
Hannah thoroughly documented all the details of our wedding day, she was friendly to our guests, and we heard many comments about how sweet and wonderful she was, all day. Very professional, but fun!
I work in the photo industry, and many of my friends are photographers, so there were about 9 professional photographers at our wedding, with cameras firing everywhere!
At the end of the trip, our photographer friends started sending us hundreds of photos that they shot during the wedding. I think we wound up with over 4000 images from our wedding trip, from all different angles!

BUT: With all those photo choices from so many different photographers, we found that nearly every image we sent out to family, and every picture that we've shared and printed, had been shot by Hannah!

She has a wonderful eye for moments, and composition. There is a quiet beauty to her imagery that is thoughtful and inspired. We absolutely couldn't have asked for more. She documented our wedding and all the fun and love of the day, perfectly.

Christine

Married on 07/16/2016

Choosing a photographer for one of the most important moments of your life is intimidating. But from our first conversation, we were confident that Hannah would capture the details we would toil over, the big picture, and everything in between. There is an indescribable something about Hannah and her craft. Sure she has a great eye for composition and lighting, but she must also have a borderline psychic sense of timing to capture all these amazing, precise moments--a burst of laughter, a sideways glance, the truest embrace--that add up to convey your whole wedding story. She puts her subjects at ease and lets you be yourself. She is genuine, she shoots with her gut, and she really cares. Lucky for us, that all comes through loud and clear in her photographs. Honestly there isn't a single dud in the hundreds and hundreds of photos she singlehandedly shot, edited, and organized of our wedding day. And we're not the only ones that love her work. Our wedding guests are using her photos for their profile pics, re-sharing, and asking how they can order prints. She also worked really well with all the other vendors. We unabashedly recommend Hannah Arista to others who are looking for high-quality, documentary-style wedding photography.

Karley

Married on 05/29/2016

Hannah was the photographer for our May 29th wedding and she was nothing short of amazing! We knew Hannah was the photographer for us before we even spoke to her! We first heard about Hannah through our wedding planners, Nam and Hovik of Modern LA Weddings, and from the moment we saw Hannah's portfolio, we knew we wanted her to be our photographer. Then we had our first phone call with Hannah and it was as if we had known her forever--she was like an old friend and we were just catching up. She is so warm, genuine, and has such a wonderful, calm nature about her. My husband and I did not actually meet Hannah until our wedding day but we still had the same feeling we did on our phone call--Hannah was our friend with whom we were catching up. On our wedding day, Hannah and her second shooter, Amy, were as professional as they come but also still familial. We anxiously awaited for our photos to be delivered and I can honestly say we were thrilled with the shots. I was moved to tears by several of them--Hannah was able to capture so many emotions and so many special moments. We just loved working with her. If you need a photographer, you can stop your search--Hannah Arista Photography is exactly what you need! Thank you, Hannah, for capturing the best day of our lives and for being such an incredible part of our day!

Nour M.

Married on 12/31/2015

My husband and I never thought we would feel comfortable with any photographer. We're both reserved, never done this before and were a little anxious prior to our first photo shoot. We're so grateful to have met Hannah through our wedding planner Danielle Silver (Orange Blossom Special Events) who turned our experience into one of the best part of our engagement and then our wedding. From the moment we first met her, we got hooked. Our engagement photo shoot turned out to be a fun relaxing day where Hannah took our pictures so naturally, captured the best moments and these pictures are definitely our favorites as we felt so at ease. Then Hannah photographed our wedding on 12/31/15. She spent her New Year's eve with us which was so generous on her part. Our guests couldn't stop talking about how much they loved our photographer! She was invisible during intimate moments (which is so important as you don't want a photographer who is constantly talking to you-you will loose all spontaneity in my opinion) and a great fun positive presence at others. She captured emotion at its purest and when we look back at our photo gallery, we can relive our wedding through each photo she took. These pictures were incredibly natural, each one of them told a story, this is what you look for in a photographer : someone who knows which moments are the most precious and real. Hannah definitely helped make our day feel even more special, and we're so incredibly grateful for her amazing artistic work. She is an absolute joy to work with.

Shannon

Married on 11/14/2015

Hannah Arista is such a wonderful, wonderful photographer! She photographed our engagement shoot, as well as our wedding. (The engagement shoot is a really great add on if you can do it, because it is a wonderful opportunity to really get to know Hannah, and to talk about different styles, etc., plus then you have 2 sets of awesome photos to look at!). I love the style of the photos. We had hundreds from our wedding, and my father-in-law commented that he wasn't planning on looking through all of them, but that he loved them so much that he couldn't resist! They are fun, and gorgeous, and what Hannah is best at is artistically capturing the moment -- people laughing, people crying, a look - it's a sort of documentary style that we were looking for. No cheesy wedding photos here. There are some characters in our family as well, and Hannah handled them superbly. She is so sweet, a total delight, and I can't imagine a person who she wouldn't be able to put at ease. I would also say that even though she seems everywhere at once, she also totally unobtrusive -- someone actually asked me if we had hired a wedding photographer, but they were in several of the photos, looking fab! Don't hesitate to book her - you will be so glad you did for years to come.

Caitlin

Married on 10/31/2015

If you are looking for a wedding photographer, look no further! Hannah is everything you want and then some. The photos she took were beyond stunning, the energy she brought was positive and grounding. She reminded us to get the photos we had asked for in gentle and encouraging ways and she gave us our wedding in a visual journey that we will be able to take for the rest of our lives. I feel SO lucky to have shared our day with her and look forward to sharing many more milestones with her in the future.

Suzanne

Married on 10/17/2015

Hannah is hands down THE BEST WEDDING PHOTOGRAPHER working today. Her eye for composition is phenomenal, her timing for capturing just the right moment is spot on, the work is incredibly beautiful both technically and artistically. She is super easy to work with, makes posing for photos from head shots to engagement photos to Wedding photos a total breeze...and trust me, you look better when things are a breeze! She put both me and my husband at ease and made what might have otherwise been a series of awkward moments into real moments and the best photos of us anyone has ever taken. We feel so incredibly comfortable sharing even intimate moments in front of Hannah that we are sure to use her for documenting every major life event to come. THANK YOU HANNAH! Seriously love this one.

Diane

Married on 05/23/2015

I can go on forever about how amazing Hannah. She is such a sweetheart and such a pleasure to work with...not to mention that her work is BEAUTIFUL, which is why we hired her. I searched for weeks and weeks, trying to find a photographer who fit our style and would capture all the beauty in a wedding. Finally, a friend recommended her, and I kid you not, I stopped looking at other photographers the moment I saw her work and especially once I had reached out to her. She is soooo friendly and she made the wedding planning process that much lighter and easier... and that feeling in itself is worth every single penny. On the day of the wedding, I felt right at ease because I knew she was going to work her magic. She has such a good eye for beauty, and I cannot wait to see the rest of the pictures! My bridal party couldn't stop talking about how sweet and amazing Hannah is. They saw her work behind the scenes and they are just as excited to see how the pictures will turn out. I highly, highly, highly recommend Hannah for your wedding or for ANY special occasion you want to document. Her portraits and photojournalistic style is so unique, you will not regret it!

Emily

Married on 10/31/2014

When you think of the things that actually LAST from a wedding, photography is one of the few things that matter. We are so glad that we chose Hannah to capture our day. I found her prices very reasonable, although now that she is getting the notoriety she deserves, I'm sure the pricing will go up a bit. I fully contend that it is worth it. She is wonderful to work with and can get a sense of even the most difficult groups. Her eye is amazing, and she made her aesthetics match with what was appropriate for who we are as a couple. In the end, she provided us with almost 1000 photos, and every time we look at them we are brought back to the event.

Derrick

Married on 08/23/2014

Hannah photographed our wedding at the Cathedral of Our Lady of the Angels in downtown Los Angeles. The photos were stunning! She takes pictures with a truly artful eye. It seems like every photo is a work of art. Just fantastic!!!

Hannah photographed our wedding in Malibu this past August and we couldn't be happier with our photos. Choosing the right photographer was one of the most important elements of our wedding. As soon as I saw Hannah's photos featured on a wedding blog, I knew she was the one. Her photos are absolutely gorgeous - they capture the emotions of the day in a very artistic and natural way. Leading up to our wedding day, she was such a pleasure to work with – she responded promptly to all my questions and I just knew that she always has our best interest in mind. Once you meet her, you'll see that Hannah is genuinely sweet and easygoing, making the whole process so much more enjoyable. On the day of the wedding, she showed up on time and even stayed late into the night (much longer than we had agreed to) to capture some last shots of the evening. We were BLOWN AWAY by the photos from the day. She did such an amazing job of capturing the raw emotions and beauty of the day. We will treasure these photos for the rest of our lives. Her photos are truly timeless…

Kimberly

Married on 06/14/2014

Hannah was (is!) the most fantastically amazing photographer! Our photos came out SO beautifully and she was such a joy the entire day. She was calming, collected, professional, fun, reassuring, precise, and so many other wonderful things. We really can't say enough how much Hannah made our day that much more special. We will cherish these photos forever and ever :) Next time I need professional photos of any kind, she's it! Her work says it all, she truly captures the "moments" and the sincere feeling of the day, not just one dimensional shots and posed blah. Do yourself a favor and check out her images. You will not want to hire anyone else.

Masato

Married on 04/13/2014

We hired Hannah as a wedding photographer this April and she was a pleasure to work with. She showed up to our wedding on time, worked with a rigorous schedule and snapped so many amazing photos. She was so considerate to our guests and made sure that everyone was documented. Her photos came out amazing and exceeded our expectations. We root for Hannah!

Jennifer

Married on 09/27/2013

Your search for a wedding photographer should stop here! Hannah is so talented and our photos way exceeded our expectations.
She captured the joy of our day and all the little details that made it so special. The photos from our ceremony are so intimate and lovely and I never even noticed her taking photos.
Hannah wrangled my crazy family amazingly well and was so professional.
She also did a bridal boudoir shoot with me before the wedding. I think every bride should have one! The photos she took made me feel beautiful, confident and sexy (and my husband was pretty excited too!).
Have Hannah take your photos. I promise you will treasure them forever, I know my husband and I will!

Padmini

Married on 09/30/2012

Hannah is awesome! She loves what she does which is evident in her photographs as well as her demeanor when she's taking them. My husband and I had a very simple wedding and she just took it head on. It now looks like one of the best weddings this planet's had. She's excellent about taking the time to get to know you event as well as what you want but set her loose creatively and you'll see sparks fly. She's extremely affable and seems very excited to do what she does. Our photos are beyond lovely and we emphatically recommend her for your big day!

Hannah is THE sweetest, most professional photographer you could ever hope to want to capture your special day! She is the opposite of intimidating, highly approachable, easy to communicate with as needed and completely non-obtrusive. She is a highly talented photographer who employs a journalistic perspective making her work much more interesting than your typical wedding photographer. We cannot compliment her enough on our final package or how seamlessly the day went. She is worth so much more than any price she will quote you. We feel our memories are priceless and that she captured them just in that way. Thank you Hannah, you have forever blessed our memory of that day and enriched our family's future.
Are you interested?
Send a message