742 Reviews
Recommended by 98% of couples
Quality of service

4.9 out of 5 rating

Average response time

4.9 out of 5 rating

Professionalism

4.9 out of 5 rating

Value

4.9 out of 5 rating

Flexibility

4.9 out of 5 rating
76 User photos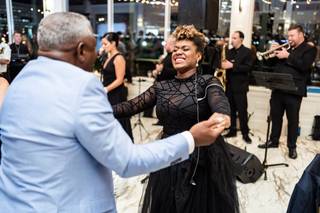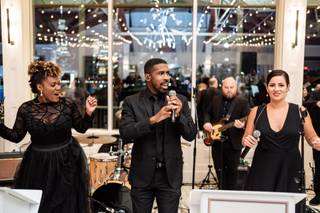 + 72

photos
Ariel S.

Married on 01/01/2023

Incredible experience!

We had Brooklyn Sound at our wedding and they were truly incredible! Jonny, the band leader was so great to work with through the entire experience. He listened to every little detail and made sure the night was absolutely perfect. The music was incredible and the energy of the band members was infectious! Our guests were dancing all night long and even people who don't normally dance were dancing all night because the music was so good! I would absolutely recommend Hank Lane and specifically Brooklyn sound for anyone looking to have an incredible and lively band at their wedding!

Eric M.

Married on 12/31/2022

LUXE - Top Notch In Every Respect

LUXE helped make my daughter's and son-in-law's wedding this past New Years Eve a once in a life time event that none in attendance will ever forget.. They came with rave reviews but they somehow were able to exceed expectations. Dealing with Frank prior to the wedding gave everyone a great sense of security. And he most certainly lived up to his promises.

The dance floor was jammed from the opening moment. The flow throughout the evening was awesome and the range of music gave all attending reason to tell us this was the best band they had ever experienced at a reception.

This was not just my daughter's wedding, it was a New Years Eve party and LUXE seized the evening. Their energy was palpable and they in turn fed off the crowds response. LUXE musically is superb but their personalities and interaction with the crowd made it that much more special. We can not recommend them with greater confidence. Thank you LUXE!

Stacey C.

Married on 12/10/2022

Best Wedding DJ Ever!

Hank Lane came as a recommended vendor from our venue Guastavino's for our wedding on December 10, 2022. We knew we wanted a DJ and saw that they offered this service through their company More Than Music. I emailed an inquiry and within a day received a phone call from DJ Phil Karatzia. Off the bat, he was extremely kind and informative, giving me all the information and pricing I would need to make a decision. He already seemed so excited about our wedding even before we booked which was so nice to hear. He had done events at Guastavino's before and was familiar with the space and their sound requirements which was a huge plus for us! Throughout the entire process of planning, Phil was always eager to help and gave such great advice when it came to day of time coordination. Our biggest requirement was to have the dance floor packed the whole night. I didn't want any guests leaving the wedding feeling bored or like there wasn't enough time for dancing. Well, Phil definitely delivered!!! Our dance floor was the most packed I had ever seen at a wedding before and Phil played the perfect mix of music for all ages to enjoy. My family and friends have been raving about how amazing our DJ was and one of my friends already booked him for her wedding this November! Highly recommend and will absolutely be using him for future events!

Are you interested?

Send a message

Cheryl H.

Married on 11/19/2022

The "Wright" decision for your wedding!

We could not give a more glowing review of The Dane Wright band – they were absolutely incredible. Dane himself was extremely friendly, flexible, and readily available to discuss what we were envisioning for the music for our wedding. We had some nontraditional pieces for the processional music which a subset of his band (pianist, flutist, and violinist) nailed. During the reception, the full band followed our playlist (including several specific songs and genres) to a tee, and avoided everything on our do not play list. Their renditions of many well-known songs was flawless (including Bohemian Rhapsody, which we never heard a wedding band do before), they had great energy which they maintained throughout the entire evening, and most importantly, the band had our guests on the dancefloor until the lights shut off. Several people stopped us during the wedding to tell us our band was amazing, and one person (with a lot of music industry experience) told us it was the best wedding band she had ever seen. In sum, we give the Dane Wright band our absolute highest recommendation.

Barrie H.

Married on 10/29/2022

Cannot recommend enough

The Frank Simmons Band was THE perfect band for a wedding. Frank's musicians sounded amazing all night playing a wide variety of music genres. Frank was extremely easy to work with and knew every song we requested. He was able to blend and enhance our music choices to fit the party. We received tons and tons of compliments from our guests telling us this was the best wedding band they have ever seen. We cannot recommend Frank Simmons more highly!!

Stephanie E.

Married on 10/21/2022

Kevin Osborne - The Best Band of All Time

We had high expectations for our wedding and Kevin Osborne's band blew those out of the water. Kevin and his band's energy was amazing and kept all our guests dancing throughout the evening. They also learned a new song for our first dance, which was really appreciated. The Hank Lane team was also incredibly professional and knowledgeable throughout the planning process. You cannot go wrong with choosing this band!

Jordan S.

Married on 10/16/2022

Marcus Reid Band - Simply the best!

Words are inadequate to describe the immense gratitude we owe Marcus Reid and his band for doing such a SPECTACULAR job making sure our wedding was the most insane, phenomenal, energy-filled night imaginable. As we are sure will not surprise many, the rave reviews about the incredible band have been flowing in constantly to us. We always believed that the choice of band was the most important one we would make for our wedding, and we were never in doubt that we made the right, and only choice ... our wedding was just the night we finally got to enjoy the result of that decision!

The dance floor was packed the whole night, and that is all we could have ever asked for.

It meant a ton to us and some of our closest friends that Marcus did Thunder Road for us, and we could go on and on with 10 other examples of personal touches like that.

Marcus is the man -- his band is the best, and we can't wait to see them out performing again soon.

One of our close friends texted us following our wedding that he and his girlfriend may just have to start crashing Marcus Reid weddings to hear them again ...


Nicole

Married on 10/08/2022

Russ bennett band - incredible

Russ Bennett Band was absolutely incredible. They were fantastic to work with prior to the wedding and extremely professional. They exceeded all expectations on our wedding day. They engaged the guests for the entirety of our reception - no one left the dance floor. Russ is incredible and checked in throughout the night to make sure everything was happening as we had hoped. We HIGHLY recommend them if you are looking for exceptional talent and an unbelievable time!!

Rebecca P.

Married on 10/08/2022

Hank lane jenna wynne band

Cannot say more amazing things about the Jenna Wynne Band! They were just top notch, excellent, amazing vibes, fun people, and beyond talented. The amount of guests that are still talking about the band and asking for the name of the band is insane - Jenna's band left such a mark on everyone! They played such a killer set list totally tailored to how the audience was vibing. The mis of songs was amazing, and the vocals and acoustics were phenomenal. My dad is a singer, song writer and musician. Hes performed with famous artists all over and was totally WOW'd by Jenna and her team. The sax player of Jenna's band sang New York New York. Chills in the entire room during dinner. I could go on and on, but don't look further than Jenna!

Kathy L.

Married on 10/01/2022

Dj matt moro!

Definitely request DJ Matt Moro! He has a great personality. So many wedding guests came up to me on the dance floor and mentioned how they liked his playlist and even wanted to know where they can download his mix/ playlist. He handled the music from guest arrival, ceremony, and reception. My husband and I are so happy DJ Matt made our special day so great!

Jessica G.

Married on 10/01/2022

Beyond amazing!

I don't think my husband & I could have raved more about Dane Wright Band if we tried! Our wedding day was exactly what we wanted, a rager, and we could not have executed our vision without Hank Lane's amazing team. From the planning to execution, the team was extremely helpful. The energy and talent was unmatched - our guests are STILL telling us that DWB was the best band they have ever heard. Thank you Hank Lane Team & the Dane Wright Band!


Margaret W.

Married on 10/01/2022

Can't imagine our wedding without Hank Lane!

Hire Hank Lane for your music and entertainment- you will not regret it! Phil was so easy to work with in the planning process, and we really appreciate his help in finding our perfect band and photo booth. Our band was Nocturne, and they were INCREDIBLE. Nocturne was, without a doubt, the best wedding music we have ever heard... and I'm not just saying that because I am biased! Our guests keep raving that our wedding was the funnest wedding they have ever been to, and it was because the band kept everyone partying on the dance floor the entire night! A few of the musicians played beautiful music for our ceremony and cocktail hour, and then the full band performed for our reception. They were fun, creative, and professional, and they really knew how to read the room. We are thrilled we chose Hank Lane.

Anthony I.

Married on 10/01/2022

Best Band Ever

The Frank Simmons Band is everything you could ask for in a wedding band & more. Frank was an absolute pleasure to work with in advance of our big day & somehow managed to top that with his professionalism the day of. With our wedding coordinator leaving after our ceremony & an inexperienced maitres d, Frank stepped up and went above & beyond as an MC to keep the night on track. That was in addition to leading a band that many of our guests said was, and I quote, "One of the best bands I've ever heard!" I even heard from a few guests who said they felt like they were at a concert because of how magnetic & charismatic the band was. However, that's not to say that they took any attention off of my wife & I - in fact, they invited us up to be a part of the show and we felt like rock stars! Aside from Frank, the other band members have amazing range, allowing them to play any genre of music with ease. I cannot recommend The Frank Simmons Band highly enough. Save yourself the stress of searching for a wedding band and just book Frank - you will NOT be disappointed!

Paul H.

Married on 09/23/2022

Steve Delisi Band

Hank Lane was so helpful in getting the perfect band for our event! Everyone we worked with was extremely professional and showed a great passion for what they did. We went with the Steve Delisi Band and were blown away! They truly made our wedding feel like a concert and all our guests couldn't stop raving about them! The majority of our guests spent the entire wedding on the dance floor as Steve and the band played a wide range of music from multiple eras. They were worth every penny!

Rachel R.

Married on 09/18/2022

Jenna Wynne Band

Jenna, you and your band are truly next level. We knew from the moment we saw your promo video that we'd made the right decision in choosing you as the soundtrack to our wedding. Jenna's voice is incredible, and she can so seamlessly shift between genres. Not only this, but she's also an excellent bandleader. The Jenna Wynne Band as a whole is beyond talented, from vocals to horns to percussion -- everything was so on point. We had the MOST fun dancing and singing along all night long!!!

Colleen

Married on 09/17/2022

Wedding Band

LUXE band was incredible!!! We were completely blown away by their performance and could not leave the dance floor!!! Highly recommend using them for your wedding or any function!

Kristen P.

Married on 09/16/2022

One of the highlights of our wedding day

Allie at Hank Lane was incredibly helpful during the planning process, and the Artie Stuart Band just killed it at our wedding. Guests kept telling me how amazing the band was throughout the night and after., and Artie couldn't be kinder. Highly recommend using Hank Lane.

Sarah C.

Married on 09/16/2022

Michael hart band is a must

Words are inadequate to describe the immense gratitude we owe Michael Hart and his band for doing such a SPECTACULAR job making sure our wedding was the most insane, phenomenal, energy-filled night imaginable. We always believed that the choice of band was the most important decision we would make for our wedding, and once we heard Michael Hart was available on our date, we booked him immediately! We first experienced the sensational Michael Hart band at my brother's wedding and after experiencing a blast that night we knew we wanted the same for ours! The dance floor was packed the whole night, and that is all we could have ever asked for. Our family and friends are still talking about how amazing our band was and how their feet hurt from dancing away the entire night! We are forever grateful to the Michael Hart band for making our wedding a day we will never forget!

Erica W.

Married on 09/10/2022

Best Wedding Band- Nocturne

Nocturne band from Hank Lane was AMAZING!!! Not only were the voices incredible, but they put their full energy, heart, and soul into the performance. The energy was electric all night and they got everyone of all ages up and dancing. People were saying it was the best wedding they had ever been to and I think Nocturne was played the largest part in that. The string quartet for the performance was also amazing! Everything was professional and organized, making our night run smoothly with so much fun.

Deborah S.

Married on 08/21/2022

Spotlight Band- WOW!

We had Kyle and the Spotlight Band at our wedding and we couldn't have been more thrilled with our entire experience! They were so kind and accommodating, even allowing us to rehearse our first dance during cocktail hour, which really calmed our nerves. They listened to all of our guidance and made sure our party fit our personalities perfectly, keeping our parents' generation on the dance floor early in the party, but once they got tired, switching seamlessly to early 2000s angst, which matched our taste and our friends' vibe perfectly! The band was incredible, providing continuous music throughout our entire wedding, somehow getting a very diverse array of guests to all agree, 'the music was great!'. One of our guests described our MC as 'The most soulful man in North Jersey.'

I really appreciated how Spotlight adapted their music throughout the party to keep people engaged and dancing, and every single performer was fantastic. Even after an extremely long day, the band joined us on the dance floor, singing and dancing alongside us as our party came to an end.

True professionals, Hank Lane and Spotlight are vendors you can trust wholeheartedly to make your party incredible. They really were equipped to make our dreams come true, to match and adapt to our style and preferences, and to go above and beyond to make our special requests happen. I couldn't recommend them enough!

Lauren W.

Married on 08/20/2022

Incredibly talented and professional musicians

We hired the Nocturne band and a string trio from Hank Lane Music for our wedding and had such an amazing evening. Every single musician was so talented and energetic. They truly created a wonderful and fun atmosphere that all our guest enjoyed. Hank Lane is a professional run company with brilliant musicians and I'm so thankful to have had them as a part of my wedding day. I cannot recommend them enough!

Matthew C.

Married on 08/19/2022

Hank Lane - Jeff Lubin Band

We had an incredible experience with Hank Lane, especially with the Jeff Lubin Band. Jeff was a true professional in the process and was incredibly helpful in making our night absolutely amazing. He was very flexible with our schedule and worked with us on every single aspect of the night. The band was off-the-charts amazing and we were beyond happy. They absolutely rocked. We would recommend them to anyone and hope to see them at more weddings in the future.

Colin J.

Married on 08/13/2022

Liberty Band - incredible

Liberty band (via Hank Lane) performed at our wedding recently (pleasantdale chateau, aug 13) and were absolutely amazing. There were a lot of highlights that night but Liberty was definitely one of them and all our guests could not stop raving about how good they were. Liberty was able to play literally everything and then ended the night playing 2000s alternative rock (blink 182, fall out boy, etc) for us (via our request) and had everyone on the dance floor jumping up and down and rocking out.

Beyond the band's performance, the entire Hank Lane organization is first class. Super professional, easy to work with, responsive, and totally attentive to all your needs. I highly highly highly recommend Liberty (and Hank Lane in general) for anyone's big night.

Michelle S.

Married on 08/06/2022

Jeff lubin band is theeeeee besttt band!

I don't even know if I can possibly put words to the MAGICAL EXPERIENCE created by Jeff Lubin and his band this weekend. We transcended from my wedding in manhattan to a rock and roll, rap, hip hop concert in the sky! Jeff and his band were quite literally a life changing experience. My guests have not been TELLING me how good the band was, but RAVING AND YELLING about how good they were. From the Beatles to Whitney Houston to Eminem, every song was an experience and a journey that the band was taking us on. We were all sweating and laughing and crying and this band carried my entire wedding. I had many other performers there as well and Jeff and his band were pretty much the only thing my guests could talk about. They were not just playing music, but creating a lifetime worth of memories. I can't recommend Hank Lane or the Jeff Lubin band any more ecstatically. Jeff himself was the pinnacle of professional, kind, and above all, a true master of his craft. THANK YOU SO MUCH AND THANK GOODNESS THIS ALWAYS SOLD OUT BAND MAGICALLY HAD AN OPENING FOR US! 

Alan

Married on 07/24/2022

The jeff lubin band was truly fantastic

The Jeff Lubin Band is truly phenomenal, and Jeff himself was so invested in making sure our day was nothing short of perfect! Jeff spent HOURS on the phone with us leading up to the wedding to ensure he understood exactly what we wanted, and made sure he could convey that to the entire band. Jeff got there hours early to make sure everything was setup properly, and everyone knew what the plan was. He really helped set the mood for the rest of the day.

The band was truly PHENOMENAL and Jeff Lubin, again, is REMARKABLE. Jeff works magic and knows how to run a day so that people are constantly on the dance floor. He had so many fantastic suggestions for us, while also listening to our ideas. He was so incredible and had people rocking it on the dance floor the whole night! They played non-stop until 11pm with a perfect mix that had EVERYONE dancing all night. People were texting us their feet hurt a week later. Jeff is so responsive to texts and calls, spending as much time as needed coordinating with us to ensure they had everything down perfectly. He made sure our wedding was a cohesive party that had people up and dancing the entire time combined with perfectly planned speeches, cake cutting, and sparkler send off. So many guests could not stop raving about out band, The Jeff Lubin band is the best choice if you want a perfect upbeat, dance filled, wedding!! Thank you again Jeff!
Are you interested?
Send a message