Reviews
4.9 out of 5 rating
Quality of service

4.9 out of 5 rating

Average response time

4.9 out of 5 rating

Professionalism

4.9 out of 5 rating

Value

4.9 out of 5 rating

Flexibility

4.9 out of 5 rating
98%
Recommended by couples
30 User photos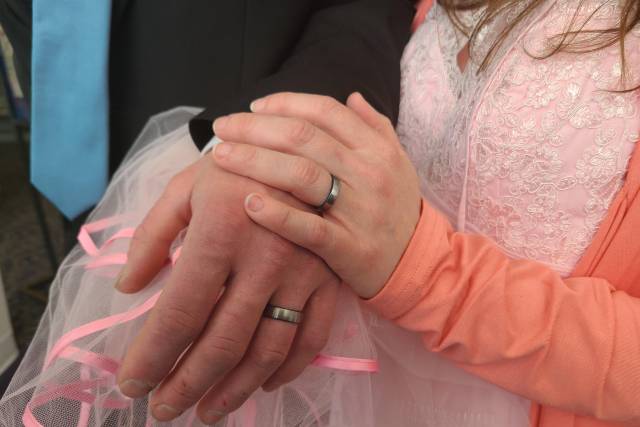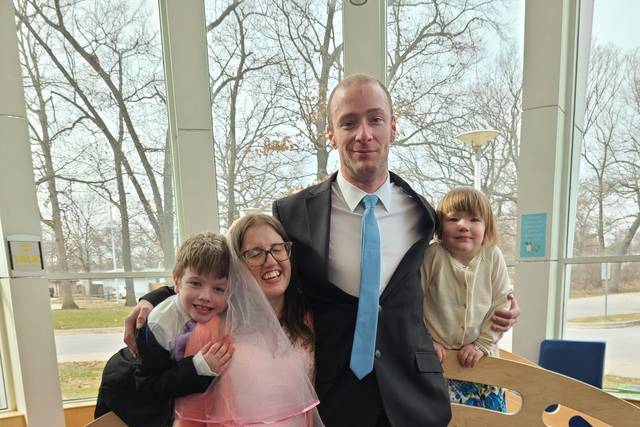 + 26

photos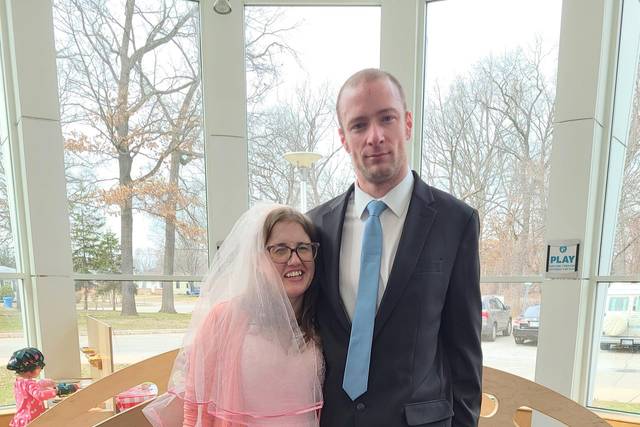 Ruben B.

Married on 08/18/2023

Good I will recommend her to anybody.

Very good a memorable wedding I will never forget.

Charlotte W.

Married on 04/14/2023

Awesome Ceremony

Misty was a very funny down to earth person who makes everyone feel like family. I loved how professional she was. The ceremony was short, but sweet. My husband and I absolutely loved the ceremony and will recommend Misty in the future.

Adora H.

Married on 03/21/2023

Personal and stress free!

Misty gave us the option of following a pre-written ceremony or a custom one. She had several optional add-on segments:

Love Letters - the couple put love letters they have written to each other into a box that also has a container of their favorite beverage. It is stored to later save a grudge-full moment.

Glass Vessel - the couple (and family if desired) fill a glass vessel with their own color of sand. White sand can be included if desired.

Readings and other sections of the ceremony were personal and interchangeable.

We had a custom ceremony and I was pleased with how Misty worded our union based on our consultation conversation. She added several fitting literary embellishments. At first Dylan did not like her perspective but his opinion has changed to, "It was a good day". How did the same situation become something different based on who was doing the looking? How do you determine a working perspective? Does the output of good feelings indicate the effectiveness of a specific perspective? Others may say having stuff is the indicator.

Mindy included a nice selection of photos with her service. Witnesses are also available.

Are you interested?

Send a message

Jo Smith

Married on 11/20/2022

Wedding Officiant. Excellent!!!!!

Misty is very personable and kind. She has many options to offer and great advice. She's also a very nice woman to work with. I would recommend her 100%

Brittany G.

Married on 11/15/2022

Dream come true

Misty was by far the best and most accommodating wedding officiant I have ever seen. I speak English and Spanish and my new husband speaks a little English and all of our few guests were Spanish speaking. Misty in a matter of minutes changed the speech from English to Spanish. And read it in Spanish♥️😍 She is super personable and a great talker! She was super friendly to my very talkative 9 year old. And was educationally explaining things to him. Some people wouldnt take the time of day to deal with!!! She was super easy to sit and get to know and was open and easy to find things in common with. We loved her. And she was super awesome with changing our appointment time due to the snow. She will be doing our vow renewal next year! Thank you so much Misty!! You rock!! I completely recommend Misty GRWEDDINGOFFICIANT.COM

Nichole L.

Married on 10/22/2022

Memorable and convenient

Very wonderful experience. Misty helped to give great suggestions for an amazing and memorable ceremony. She is very creative and also very welcoming.

Megan D.

Married on 06/21/2022

Definitely recommend Misty

So glad we went with Misty, she is so great! Very personable, responsive, kind and fun. We would recommend her to anyone.

Julisa A.

Married on 04/23/2022

So great she is going to be the ordain at 2 more family members wedding

Great experience! Thank you so much!

Jessica L.

Married on 04/20/2022

Misty, Your Service Was EXCELLENT!!!

Misty I don't have words to express how comfortable you made my family and I feel. Thank you so much for your patience, kindness, and you dedication!

Neko K.

Married on 04/02/2022

Very nice and fun :)

We really appreciated how fast she responded to us and was able to fit us in just that weekend! She was super nice and during the ceremony, she had a beautiful voice and you could tell she knew what she was doing :)

Sonja A.

Married on 03/20/2022

Misty is awesome!

Fabio and I are so grateful for Misty. She made our special day so special. She made us feel like home from the interview. She did our wedding in Spanish. Like I said, she is awesome!
She is positive, kind and such a good friend at the end you don't just get a wedding planer and officiant, you get a good friend. We love Misty. Thanks you Misty. Bendiciones.

Janet K.

Married on 03/08/2022

Perfect fit for our ceremony

Rev. Misty was great to work with and made our ceremony special. In these days of COVID we opted as many are for a small ceremony to get married. Misty responded quickly and was able to answer all my questions. She made sure that she included what we wanted in the ceremony so that it was geared towards us. Misty has the perfect personality to work well with the couple and was very flexible as I changed the location a few days before and that was no issue for her. I would recommend giving Misty a call

Yavette H.

Married on 01/15/2022

The best at what she do

She was on time and made me and my guess feel so warm and welcoming I highly recommend her

Jackie H.

Married on 12/30/2020

Couldn't ask for anything better!!!!

Misty was GREAT! She gave my new husband and I exactly what we wanted! Super easy going, kind and loved our Jade and Rue (dog and cat) like they were her own! I think I found a new friend!!! LOVED my day 🙂

Scott N.

Married on 11/08/2020

Touching, intelligent ceremony flawlessly executed by an accomplished organizer.

For the simple ceremony we desired, Misty presented all options well organized and easy to understand. Bright voiced, funny, and professional, Misty put us at ease immediately. Of course, we had last last minute changes. I doubt last minute changes are unusual—Including a last minute change of date! With grace, good humor and skill, Misty helped us reschedule the event even re-arranging two witnesses required for the ceremony. Misty is friendly, and her service has just the right touch of ceremony. We exchanged vows in a pretty triangle park with a waterfall Misty arranged (a more comfortable setting in the time of Corona) Thanks Misty! I would not hesitate to recommend her to any couple! Scott and Natalia

Randy H.

Married on 10/24/2020

Misty was great!

Misty was great, personable and very welcoming. We wanted to get married right away and she was able to get us married today. Thanks Misty for for making our day special.

Bianca F.

Married on 10/06/2020

Exactly what we needed!

Me and my husband were looking for someone flexible and that would capture and understand us and why we wanted something small and Misty was perfect! She delivered everything we wanted and even found us a really cute place for the cerimony.
Me and my husband totally recommend her.

R. K.

Married on 07/04/2020

Exactly the Officiant we needed!

Rev. Misty has a lot of personality. She was a pleasure to plan our very small wedding with. She suggested a beautiful outdoor venue for our July 4 ceremony. Because we got married during the pandemic, she was mindful of social distancing and safe protocols. We appreciated her meaningful words and genuine kindness. We are grateful for the role she played in our special day.

Jasanea G.

Married on 03/09/2020

Good beautiful speech, very flexible would recommend

I loved everything i thought it was a little pricey for what was done, however did have to be in a rush so understandable.... over all loved it

+ 4

photos

Tw!.

Married on 02/05/2020

Wonderful!

This was such a nice ceremony. Very pleasant, funny, professional, and so much more. rev. Misty was such a ray of sunshine. She's the BEST!!!!

Peggy P.

Married on 10/31/2019

fun, pleasant and enjoyable

Misty was fun and a joy to work with. She allowed us to rearrange her space to fit our needs (we put it back when we were done). She gave a wonderful prayer at dinner and we enjoyed her company. Thank you Misty for making our wedding as special as we hoped it to be!

Tay

Married on 10/16/2019

She helped me plan our intimate wedding with an ocean between us! I was in England with my fiance at the time and we were looking to get married in Grand Rapids. I messaged tons of places but none had what I really wanted. Misty did though! Great personality and she did a wonderful job reading the scripts!

Lisa P.

Married on 10/13/2019

Professional and Personable Wedding Officiant

Misty is just wonderful, both on a personal and professional level. She took her time to get to know us. We had great conversations, a fun rehearsal, and as a result, she was able to write and officiate a beautiful wedding ceremony.

Sharmane S.

Married on 10/11/2019

This was the best.

Misty was the greatest she did an amazingly outstanding job joining my husband and I as 1. Misty was kind, patient and did exactly what we wanted done, she even stayed afterwards met the family had dinner with us and wished us all the best she was awesome I have a few friends who need here now I'm going to be sure that happens for her.

Michael R.

Married on 09/23/2019

Amazing officiant for your day!

Misty met with us and crafted exactly the ceremony we were looking for. She even suggested a few ceremony elements that we hadn't considered ourselves that we absolutely loved.

Her professionalism, coupled with how much we could tell she cared about making our day special, absolutely was way more than we could have asked for.

Amanda and I are extremely grateful to her and recommend you utilize her for your special day!
Are you interested?
Send a message