70 Reviews
Recommended by 98% of couples
Quality of service

4.9 out of 5 rating

Average response time

4.9 out of 5 rating

Professionalism

4.9 out of 5 rating

Value

4.9 out of 5 rating

Flexibility

4.9 out of 5 rating
37 User photos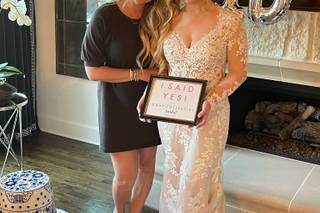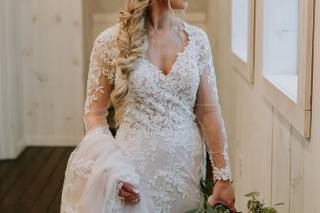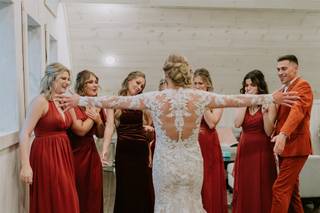 + 33

photos
Featured

Sarah R.

Married on 12/18/2021

Felt so special

Cassidy has an AMAZING shop. My wedding dress shopping experience was the best. She treated my guests and myself with the best hospitality. I went to one other boutique and was underwhelmed with the experience I received. At Gray Collective it was all about me and what I wanted. Best wedding dress experience- and I found the dress of my dreams!!

Emily H.

Married on 11/04/2022

An experience ill never forget

My dress experience is an experience I'll never forget!
Cassidy, the owner, HAND DELIVERED my gown all the way to Texas and gave me a personal yes to the dress experience. This was one of my favorite memories during my engagement. A day full of joy and love, I couldn't have asked for a better experience.
I can't thank Cassidy enough for such a heartwarming and experience filled with love.


+ 2

photos

Gray Collective Bridal's reply:

We are so honored to have been able to help you find the dress of your dreams for your special day! ❤️

Eva O.

Married on 10/22/2022

Bride to be

I seriously am in love with this place, from the moment i walked In it felt so cozy. I'm so happy that i choose this place, Ashley and Olivia were so nice and helped me pick out my wedding dress, i am So so happy with my choice.

Gray Collective Bridal's reply:

Eva,

We are SO thrilled that you enjoyed your time at Gray Collective Bridal! That is everything and more that we strive for and your kind words mean so much! We are so excited for you to take this journey on becoming a Wife and wishing you all of the best and we can't wait for your gown to arrive!!

Congratulations again!
-Cassidy Gray

Are you interested?

Send a message

Monica

Married on 10/17/2022

Best Experience Ever!!

I previously had purchased a dress a year ago from a different company. I Had my second dress fitting and it looked absolutely terrible after I had gained some weight. I only have two months until my wedding. We called Gray Collective from the parking lot of my dress fitting and explained to her what happened. She was SO sweet and helpful, she moved some things around and got me in that day! My experience at Gray Collective was a amazing! It was so different than the other dress shops I have been to. It was a memorable experience for me and my mother. The boutique was so cute and charming, it was very clean and the amount of different dresses and clothing there was great. I picked some dresses and the owner picked some out for me to try on too. The selection of dresses was fantastic and very diverse. I found my absolute dream dress! For what should have been a stressful day it was the most relaxing and fun shopping experience I ever had! Thanks to the amazing owner for helping me find my dream dress. I would 12/10 recommend the Gray Collective Bridal Boutique to any Bride to be!

Kierstyn C.

Married on 04/23/2022

Beautiful options

We had a great experience here! They were very helpful and spent lots of time helping me try on a variety of styles, and I loved everything about the dress I ended up with. Beautiful selection overall!

Cassandra R.

Married on 03/05/2022

Best customer service around

Although I wasn't the one looking for a dress , this was the best experience around Clermont! Olivia was very helpful when it came to suggestions for our bride and what would look best. Unfortunately we we didn't get any pictures worth sharing but that might be because of how much fun we were having!!!

Kaitlin S.

Married on 02/26/2022

Wonderful and very personal experience

I only went to one shop before this one but I know that I could not have found a better place to find my wedding dress. Both of the girls were incredibly sweet and listened to what I wanted. They were super helpful when I wanted to add something onto my dress. My favorite part of this experience was that my family and I were the only ones in the shop which made the experience that much more pleasant and comfortable.

Jordan K.

Married on 02/05/2022

Best experience ever!

Gray Collective Bridal is a dream! Cassidy and her girls made finding my wedding dress the most dreamy and stress-free experience ever! If you are looking for the dress of your dreams go straight to Gray Collective!

Bridget K.

Married on 02/05/2022

A day we will never forget

Gray Collective Bridal provides a very personal and wonderful experience. Cassidy takes great pride in what she does and goes above and beyond to meet whatever needs of the bride are! It is certainly a day my daughter and I will never forget when she said yes to the dress!

+ 2

photos

Sarah

Married on 12/18/2021

Amazing experience!

Found the dress of my dreams! The hospitality of Cassidy, the owner, is amazing. She went out of her way to make me feel so special. Beautiful dresses that were a great price.

Kalee K.

Married on 10/23/2021

Beautiful boutique

The owner, Cassidy, and stylist, Lizzy, were extremely helpful throughout my entire wedding dress shopping process! They were both knowledgeable about the gowns and made this special time comfortable, stress free, and enjoyable. The shop itself is cozy and it is even more sentimental to me to have purchased my wedding dress from a strong woman owned boutique in my hometown!

Ashley G.

Married on 08/31/2021

Stress free

Coming into this appointment I was so stressed that I wouldn't find "the dress". I have been to other appointments where the stylists weren't so nice and made me feel rushed. This beautiful bridal boutique was the complete opposite. They made my experience stress free and I had so much fun with my stylist Ashley! She was very professional and knew exactly how to handle a stressed/ indecisive person! I would recommend anyone who is going to make an appointment at Gray Collective Bridal to request Ashley! She was amazing!

Kathryn W.

Married on 07/30/2021

Great Experience & Highly Recommend!

I highly recommend Gray's! It was such a great experience that was intimate with my friends and family. They had such a wide variety of dresses to choose from & super helpful. They also have great accessories and fun ready-to-wear which we all loved looking at

Veronica

Married on 07/16/2021

My experience with Gray Collective Bridal was perfect!

This boutique was my first stop for wedding dress shopping. I initially went in with an open mind to try on dresses just to get an idea... I ended up finding my dream wedding dress today thanks to Gray Collective Bridal! The owner, Cassidy, helped my pick out styles that I envisioned for my big special day. I felt so comfortable and it was so easy to talk to her. Cassidy really takes the time to get to know you and will not stop working until she can find the perfect dress for you and your wedding day. She and her assistant went above and beyond for me and they were both so down to earth. I could not stop smiling through out my entire appointment. The dresses at Gray Collective are truly one of a kind and absolutely stunning! Please do check out Gray Collective Bridal, you won't regret it.

Shelby F.

Married on 06/12/2021

Perfect Day

My wedding would not have been the same if it wasn't for Gray Collective Bridal. I was so stressed about finding the perfect dress and only had to make one stop. Cassidy made my experience more memorable than I could've imagined. She took great care of my girls while I was getting completely pampered. Everything felt 100% customized to me and my vision. I would send every woman I care about to this boutique. Thank you Cassidy!

Brittan

Married on 04/03/2021

Completely unexpected

I had been to four other very different bridal shops before ending up here. I had a dress in the back of my mind from one of the other stores, and was just basically following through with this appointment.

When I walked in, the dress selection was smaller than I was accustomed to so I started out very nervous. Also, unlike other dress stores, they don't have their inventory online so it was harder for me to go in with a plan.

The consultant (who I totally forget the name of) was super nice and professional when I arrived. She wanted to know everything about my wedding vision. After looking through the racks I had only found TWO I wanted to try on. I liked them, but not enough to turn my head. She ended up pulling one out from the back from a previous sample sale that she said reminded her of my dream dress from the other store.

Guysssss. It was perfect. It checked every box of what I wanted, and fit me like glove. Illusion neckline, low back, fluffy but light, slit up the side, beading. Literally everything.

I ended up calling the store a few hours after my appointment to see if they could put it on a complimentary hold for a few days while I thought about it. They were so accommodating.

I ended up going back in the very next day and purchasing it in full. I haven't stopped staring at photos and I can't wait to wear it on my wedding day.

Gray Collective Bridal's reply:

Thank you so much Brittan for your kind words!! We are thrilled that you enjoyed your experience at Gray Collective Bridal and we wish you all the best on your journey to becoming a wife!

Xo Cassidy Gray

Nicole

Married on 03/20/2021

Amazing shop, you have to go!

I actually went to the Gray Collective just to look and get and idea for what I did and didn't want. I ended up finding THE dress there. They were so helpful and went above and beyond to make sure my experience was what it needed to be. The girls there are so sweet and so easy to get along with. There was no pressuring or rushing. 13/10 would recommend this cute little shop to anyone. The selection of dresses they have are stunning! Love this place!

Annie M.

Married on 01/29/2021

Dress PERFECTION found here!

I am beyond grateful to Elizabeth and Cassidy here at Gray Collective. I had tried on over 100 dresses and had almost ordered a dress that had been the best so far. I went here to try one last salon and Elizabeth had pulled The One based on the vision I described to her for myself and my wedding. I put it on and knew right away. After 100+ dresses, I had not felt this way and just figured I was a bride who wasn't going to get that feeling about a dress. Such great and happy vibes here, they are worth the drive to Clermont. Perfect man, perfect ring, now the perfect dress!

Gray Collective Bridal's reply:

We are SO happy for you Annie! It was such a pleasure meeting you and helping you find the perfect gown with the exact amount of elegance that you were envisioning!!!

Xo Cassidy Gray

Lyndsay H.

Married on 01/23/2021

Nice Helpful and Respectful

I had a great experience! The staff was super helpful and still supportive when I did not purchase a dress, I ended up going back a week later and ordering the dress I fell in love with. The dress was nothing that I thought I wanted but the staff knew better than I did and put me in the most perfect dress while still respecting my budget.

Gray Collective Bridal's reply:

Lyndsay you looked absolutely gorgeous and we are so privileged to be a part of your journey!!!! Congratulations again!

Stephanie P.

Married on 12/29/2020

Wonderful experience!

I visited this boutique with my Mother and a couple of my bridesmaids in hopes to find the perfect dress. This quant little store exceeded all of my expectations! The ladies that helped me were kind and knowledgeable and not pushy at all which was so nice! I ended up finding a beautiful gown and I am over the moon excited!! This is a must visit place!!! I would recommend this boutique 10 times over!

Amanda

Married on 12/11/2020

Had a wonderful time trying on dresses here!

I said yes to the dress here! Cassidy was so helpful when asking about my style and budget. I was able to try on multiple dresses and finally found the one, even was able to bring it home that day!

Brooklyn C.

Married on 12/05/2020

Absolutely amazing

I literally came into the store not expecting much and I walked in with the most welcoming arms! Their presence were so calming yet exciting and amazing! They have amazing dresses and are such amazing people to help you find your dress! I've never been happier 😍😍😍 thank you guys so much 💕💕💕

Holly R.

Married on 11/21/2020

Awesome Experience!

I chose the first dress I tried in. The sales lady was exceptionally helpful in understanding what I wanted and why I came alone. I felt like I was at home trying on dresses with a friend! Definitely recommend!!

Jennifer N.

Married on 10/25/2020

Just wonderful!

I drove two hours to get to Grey Collective for each visit, and it was completely worth it! I was shopping on my own (most of my loved ones live out of state) and everyone made me feel so comfortable and supported as I tried on gowns. Once I found the dress, they offered me a ton of information on local services that were available to help help with the wedding process (where to get alterations done, dress restoration, even information on local florists and venues!) I wish I had lived closer, this would have been a huge help! They were wonderful about staying in touch about my gown, and I was so excited to pick it up! I highly recommend you visit this shop- they have a gorgeous assortment or dresses, accessories, and even non-bridal goodies to check out! Thank you Cassidy for a wonderful experience!

Natalie P.

Married on 10/24/2020

I said yes!!!

Talk about a PERFECT bridal experience! I visited a couple bridal shops before visiting Gray Collective Bridal and I am so glad I did!! The staff was incredibly accommodating and was able to answer all of my questions and more importantly they were able to help me find my dream dress!! Aside from that they have the cutest clothing boutique in the store and my bridesmaids and I found the cutest clothes!!
Thank you so much again!
Are you interested?
Send a message