71 Reviews
Recommended by 96% of couples
Quality of service

4.8 out of 5 rating

Average response time

4.8 out of 5 rating

Professionalism

4.8 out of 5 rating

Value

4.7 out of 5 rating

Flexibility

4.7 out of 5 rating
47 User photos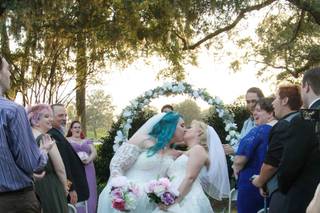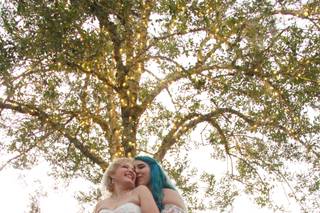 + 43

photos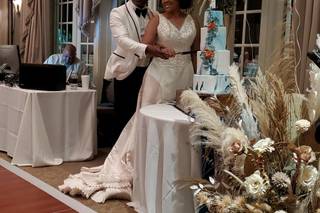 Featured

Laurie C.

Married on 11/11/2022

The Best Venue EVER!!!

Above and beyond doesn't even begin to describe our wedding experience at Golden Ocala. I knew this would be the perfect place for our dream wedding from the pictures alone, but the relationships we formed with the staff and the royalty treatment we received was incredible. Georgie Rarick was our wedding coordinator and she made sure everything went perfectly. We were always in contact before the wedding, she tweaked and changed the final wedding contract for us so many times, and she made sure we were always relaxed and taken care of. She recommended a different salad dressing for us at the tasting that was superb and we went with her suggestions on everything since. She bustled our wedding dresses, she made sure we always had food and drinks, and she pulled us aside to have a heart to heart after the ceremony. Georgie was the absolute best and even though we live far away, I find myself wishing to get a club membership just to come back to the venue. When Georgie had to go, we were also very well taken care of by Ryan. Not only did they set everything up perfectly, they also helped tear down afterwards. They packed up extra food for us because they knew how much we loved the cooking, and as we left the gorgeous place, it was bittersweet. We were happy to finally be married after over 2 years of planning, but we found ourselves missing the venue and the wonderful people who worked tirelessly to give us the best experience we could receive. Thank you Golden Ocala. Thank you staff. We love you so much. Thank you for everything.
Love, Laurie & Devon Colin

Golden Ocala Golf & Equestrian Club's reply:

You both are so amazing! Thank you so much for letting my staff and I be a part of your very special day. I hope your life together is filled with a lot of love laughter and joy!
Lots of Love
The Golden Ocala Family!!

Haley W.

Married on 10/23/2021

Wedding Ceremony and Reception

The Golden Ocala team are true professionals and made our special day beyond what we could have imagined.

Vaqua J.

Married on 10/02/2021

The Perfect Day

The Golden Ocala is a beautiful venue for a wedding. The landscape is impeccable with so many beautiful views to capture your special day. Alisa and her team were very helpful, friendly and professional. The food was superb! I received a lot of positive feedback regarding our wedding venue. I am so happy I selected The Golden Ocala.

Are you interested?

Send a message

Robin C.

Married on 06/11/2021

The Most Perfect Wedding Day at Golden Ocala Golf & Equestrian Club

I wanted to take a moment and thank you ever so much for everything you and Golden Ocala did to make the wedding of Jake and Stephanie so fantastic! It was a dream come true for Stephanie and I.

From the moment we first met you back in January, you were there every moment we needed you. Your staff at Golden Ocala was exemplary. We could not have enjoyed our time at the club more. Every invited guest felt appreciated and commented on how it was the most beautiful and elegant wedding that they had ever attended. I attribute a lot of that to you and your team. From the Spa, to the rented Villas, to the venue. Absolute perfection. Everyone commented on how great the food was.

Beyond all that, we could not have done this without you most of all. I truly thank you for being so warm and caring. As well as, ensuring that Stephanie and Jake had a day of cherished and treasured memories.

Pulling off a wedding like that is no easy task, but you make it seem easy. Again, thank you is not enough but I want to extend our heartfelt thanks to you and Golden Ocala Golf and Equestrian Club.



Allyson V.

Married on 05/16/2021

AMAZING! You will not regret choosing Golden Ocala!

We got married here on Sunday, May 16th 2021. It was absolutely amazing!!! Not only is the venue absolutely breathtaking, but having Alisa help us coordinate everything made the whole experience so stress free. She has an air of professionalism where you know she will get things done and make sure your day is perfect. For example, we had a scary situation where the cake hadn't been delivered yet and turned out the vendor had the dates wrong. Well Alisa told us not to worry about it and she would handle it. When we walked into the ballroom for the reception our beautiful cake was there! Not sure how she did it, but she 100% saved the day for us! I'm convinced she has superpowers! Haha. Georgie, the banquet manager was also amazing! She was so attentive and made sure we had everything we needed. They really took care of us. They alone were worth the cost of the venue. I highly highly recommend checking this place out. We drove from Orlando to find this gem and it was by far the best venue we had seen and the best value! You won't find a more beautiful and elegant venue! We knew it was the one as soon as we visited. We knew our search was over. We are so glad we chose Golden Ocala. We are already looking for excuses to go back! Haha.

Golden Ocala Golf & Equestrian Club's reply:

Thank you Allyson.
It was truly our pleasure! We wish you all the best things life has to offer always.
Congratulations!!

Molli M.

Married on 05/15/2021

Best day ever!

I cannot say enough about how perfect our experience with Golden Ocala was! Upon seeing the venue for the first time, we were confident that it was where we wanted to get married, but the food and service by Alisa, Georgie, Rick, and their teams blew us out of the water. I would choose Golden Ocala as our venue 100x over. They truly made our wedding day the perfect day!

+ 8

photos

Golden Ocala Golf & Equestrian Club's reply:

Thank you Molli,
It was our pleasure to make your day so special.The two families together are just beautiful. We wish you two all the best always.
Alisa

Allyson V.

Married on 05/07/2021

AMAZING! You won't regret picking Golden Ocala!

We got married at Golden Ocala on Sunday, May 16th 2021. It was by far the best decision we made for our perfect day! Alisa Carlino was vital in making sure our day was perfect and everything went smoothly. She has an air of professionalism that let's you know she will get things done and make sure your day is perfect! We even had a scary situation where our cake hadn't been delivered yet and turned out the vendor somehow got the date wrong, but Alisa told us she would handle it and for us not to worry. And when we walked into the reception our beautiful cake was there! Not sure what magic she used to make that happen, but so glad we had her to count on! Georgie the banquet manager was also Awesome! She was so attentive and made sure we had everything we needed. It made for a completely stress free day. You can really tell all the staff there care about their jobs and want to make sure you have a great day. The service alone was worth the cost of the venue. But the grounds are also absolutely gorgeous! You won't find a more beautiful and elegant venue. We drove from Orlando to find this gem and it was by far the besr venue we had looked at and it was the best value too!! I could go on all day about how great this place is. The food was amazing, you can tell the chef really loves what he does. Oh and pro tip, if you do a Sunday wedding you can get the Raspberries restaurant space for free so the whole upstairs is private. It's 100% the reason why we went with a Sunday wedding. Having that beautiful space for the cocktail hour and for the whole reception too was great. I highly highly recommend you at least visit this venue. We knew as soon as we did that it was the one and our search was over.

Kindel C.

Married on 02/10/2021

A Fairy Tale Wedding thanks to GO

My wedding was flawless thanks to the staff at Golden Ocala! From start to finish it was done seamlessly and every detail was perfect. Alisa was there every step of the way, she also was great at reminding me when things were due and decisions were needed. Nikki who assisted Alisa was also phenomenal with helping especially the day of (like when I completely forgot to put my veil on before walking down the aisle, so she ran to the building we got ready in to go get it!) Chef Rick's food received endless compliments from my family and guest- our food tasting was extremely difficult because it was so hard to narrow down our choices, everything was delicious. Robert and his serving team were on point the whole night, if someone had an empty drink or plate they were there immediately there to remove and refill. I really cannot compliment the entire team enough, my wedding was an absolute fairy tale thanks to all of the staff at Golden Ocala!

+ 3

photos

Mackenzie P.

Married on 12/19/2020

Wedding Venue

Golden Ocala was my dream wedding venue for as long as I can remember, and it definitely lived up to all my expectations and MORE! Alisa was so helpful throughout the entire planning process. She made me feel comfortable, informed, and prepared. The day of, both Alisa and Georgie worked tirelessly to ensure that our big day went off without a hitch. They worked seamlessly with our team of vendors to create a wedding day experience that was SO enjoyable. They take amazing care of you as the bride and groom!! Golden Ocala is beautiful and their team is amazing. You cannot go wrong choosing to have your wedding here!!

Golden Ocala Golf & Equestrian Club's reply:

Thank you Mackenzie. It was truly our pleasure to take care of your family and friends. It was a beautiful wedding. We wish you all the best always.
Alisa

Hailey

Married on 02/04/2020

Absolutely phenomenal!

I have wanted to get married at Golden Ocala Golf and Equestrian Club since I was a little girl, and it lived up to every expectation! Alisa and Georgie were so phenomenal and made sure every single detail matched our vision. We had to move our date twice due to COVID and they couldn't have been more accommodating. The scenery is gorgeous but the service is what truly makes this place one of a kind!

+ 3

photos

David

Married on 11/23/2019

Fantastic all around

We recently had our wedding at Golden Ocala Golf and Equestrian Club in November 2019 and couldn't be happier with everything about the day. Alisa was very helpful along the way and flexible to accommodate the ideas and decor we had in mind. The food was phenomenal and the service staff very polite and friendly. Many guests commented on how beautiful the location was, and our pictures turned out exceptional with the breathtaking landscapes and backgrounds. On top of being the perfect venue for what we envisioned for our wedding, it was a fantastic value, wrapping all the costs into one simple package. We highly recommend this venue to anyone looking to get married in Central Florida.

Genie R.

Married on 09/11/2019

Excellent service!!!

This was a beautiful wedding venue and everyone there worked very hard to ensure our special day was perfect and flawless. We are very grateful for everyone there that made our wedding day perfect!!!

Golden Ocala Golf & Equestrian Club's reply:

Hello Genie,

You are so sweet. It was all our pleasure!! It was a beautiful wedding.

All my Best,
Alisa

Noelle C.

Married on 08/25/2019

All Inclusive and Stress Free!

Golden Ocala is the perfect place is you want an all inclusive wedding. They take care of the food, venue, rehearsal dinner, ceremony, reception, and don't over look any details. Any decorations you want on the reception tables or during cocktail hour you just tell them and they will set it up for you. That took off a lot of stress and it was amazing. The location is absolutely stunning and you have so many options to choose for you picture locations. Thank you so much Alisa and Niki for making our special day so stress free and amazing! Because of these two we could enjoy our wedding and being with family and friends!

+ 5

photos

Taylor S.

Married on 07/20/2019

Not stressful

Alicia and Nikki kept us on schedule throughout our whole wedding planning process and the entire day of the wedding. The venue was absolutely stunning and everything ran smoothly. Food is amazing, servers were amazing, the ballrooms have the perfect amount of space. Highly recommend this place if you are looking for a venue that will do everything for you!!

Brittany R.

Married on 06/30/2019

Unforgettable beautiful experience

Golden Ocala was the perfect place to have a wedding. Everything was perfected. The employees were extremely helpful and made everything less stressful. The food was amazing and the place is just gorgeous itself.

Traci

Married on 12/09/2017

i would like to thank all of the staff who helped us make our special day turn into a wonderful experience. They went above and beyond to make sure that the day was going to be perfect. I would highly recommend this facility to anyone.

Ashley

Married on 11/04/2017

The best day ever! Alisa and Niki were absolutely perfect the day of the wedding and before, as well. I have never been treated with such service before in my life! This staff definitely has the best venue and service in all of Centra florida!

Golden Ocala Golf & Equestrian Club's reply:

Thank you Ashley!! The day was just beautiful!! It was truly our pleasure working with you and your families! We wish you all the best!

Warmest Regards,
Alisa

Emma

Married on 04/08/2017

I knew from the moment I stepped foot through the door of Golden Ocala that this was my venue.
I'd spent a lot of time searching venues and going on tours and nothing was cutting it. I was really beginning to think my dream venue was going to be out of budget and I was going to have to settle. Then, I took a chance on a venue that was out of the way and boy was that the best decision I ever made. This place is seriously a hidden gem. From the grand entrance and beautiful tree-lined road to the club house, it definitely packs a punch. Don't even get me started on the chandeliers in the ballroom and the stunning staircase leading down from the balcony. It's classy, elegant and just jaw-dropping. It screams luxury wedding, but doesn't carry that price tag. My guests could NOT stop talking about how gorgeous this place was and how it was one of the most beautiful venues they'd seen!

In addition, to the visuals, the staff at Golden Ocala were amazing and super accommodating. About 6 months out, our point of contact there left and Robert stepped in to take over the arrangements. He helped us navigate planning a destination wedding and was very helpful with timing, addressing concerns etc. Our day-of coordinator Nikki was also incredible. She was so funny and exactly what I needed to keep calm and keep the day moving. She fixed my hair when my comb fell out and messed up my updo. She made sure I had drinks on hand throughout the day and took no sass from my mother and now mother in law when they were getting in the way. The food was delicious. They even made separate dishes for guests with dietary requirements and different dishes for my husband and I without any hesitation.

If I had to do my wedding all over again, I would choose Golden Ocala every time.

Michelle

Married on 03/25/2017

I have nothing bad to say about Golden Ocala. We toured the venue about 1.5 years in advance. We were asked if I wanted to book the date and I couldn't commit yet. When we came back, we found out they reserved the date for us because they knew we would come back. I am so glad we did. When we first started, Julianne was our coordinator. I know there are mixed reviews about her but she was very pleasent with us. A few months before our wedding, Julianne stopped working here. I was very impressed at how everyone came together to answer my questions and take care of me. The new coordinator, Alisa, is amazing. She made sure everything went smoothly and was quick to answer all my questions. My day of coordinator, Nikki, is one of the best people I have ever met. She made sure we were happy and well taken care of from the rehearsal to the day after. She was so attentive and made sure everything was how we wanted it. The rehearsal dinner was at the spa and was perfect. The wedding itself was gorgeous. The garden was set up to perfection. Everyone raved about the food and how beautiful the venue was. I couldn't have been more happy with everything. They made sure it was the vision I had and were so accommodating. If I could do it all again, I would definitely stay at Golden Ocala.

Gabrielle

Married on 10/15/2016

Where do I even begin. From the very first moment my husband and I had walked into Golden Ocala, we knew off the bat this is where we were getting married. Between the several beautiful places to have the ceremony and also the options to have the reception, we were head over heels. The grounds are beautiful and the workers are extremely helpful. The food was so on point that I received many compliments about it. Everything was absolutely perfect. Julianne, who is amazing, seriously helped me since the moment we met her to the very next morning after the wedding. She was so patient and understanding and worked with us the whole time. She made sure my day-of ran as smoothly as possible and it did!! I love Julianne and again want to thank her so much for helping my day come true!!!!! We highly recommend Golden Ocala with Julianne as your wedding planner!

Tiffany

Married on 07/16/2016

I can truthfully say that Julianne and her team made our wedding! I could not have done it without her help. She was there every step of the way and such a pleasure to work with! Her recommendations on vendors gave us the wedding day dream team. Words cannot thank her enough for everything. Golden Ocala is a 5 star venue for a wedding. We first had our hearts set on a wedding in the garden but changed day of to the portico because of weather and I am SO happy we did - it was even more gorgeous than I could have even imagined. If you are even remotely considering Golden Ocala, schedule a meeting with Julianne and I promise you, you will not be disappointed! Chef created the most wonderful cocktail hour and reception food. It truly was a dream!

Janice

Married on 06/04/2016

Everything about our wedding was absolutely perfect, because Julianne truly took such great care of us we did not have anything to stress about! The Venue was breathtaking and our wedding has been the talk of the town because of how nicely it we put together!

Nancy

Married on 04/23/2016

Making the decision of where to declare your never ending love is difficult but it doesn't have to be. If you choose to go with Golden Ocala and Julianne, you are almost done with this aspect of the planning. There is very little else to decide regarding venues. Julianne and her staff were professional, accommodating, knowledgeable, and friendly. The grounds are picturesque and the clubhouse is gorgeous from the portico to the ballroom to the veranda. I cannot say enough great things about Julianne and Golden Ocala. Brad and Courtney's special day was everything they wanted and more. Cheers!

I looked for months at different venues and never was satisfied with the options... until I came to Golden Ocala. I fell in love instantly and knew that no matter what, this is where I wanted to get married. I was pleasantly surprised when I found out how reasonably priced they are! I felt like I was given much more than what I paid for throughout the entire wedding planning experience. I had many meetings with the coordinator, Julianne, who was so willing to help us and accommodate to our needs. They provided an entire meal for the food tasting which was some of the best food that I have had. The venue itself is so gorgeous and well-kept that I found that I did not need as many additional decorations as I might need at other places. We had plenty of spaces and rooms available to us so that the bridal party was able to get ready in our own little areas of the building. On my wedding day, I had the coordinator, a personal attendant, and several other people by my side for the entire day. Everything went so smoothly and I was able to sit back and enjoy the events. Everyone was so professional and impressive throughout the night and completely wowed my guests. I wouldn't have chosen any other place to have my wedding. It was truly magical at Golden Ocala thanks to all the amazing staff!

Gregory J.

Married on 04/10/2016

As a minister for over 30 years, I have conducted and attended numerous weddings. Yet, I can truly say that nothing has come close to the superlative experience we enjoyed at Golden Ocala for the marriage of our son and his bride. We were captivated immediately by the exquisite natural beauty of the grounds and surroundings, matched with grand facilities to create a one-of-a-kind venue. Julianne Cuomo's grace, warmth and thorough professionalism was a joy. She and her staff handled the myriad details with patience, flexibility, and expertise, and the responsiveness to our needs was so reassuring. We chose the option of selecting Julianne as our personal wedding coordinator. Her creative suggestions and guidance helped us immensely. A wide range of fabulous gourmet food was available for creating our reception menu, which we sampled at our private food-tasting. A delightful pool-side brunch with family preceded our rehearsal, where Julianne's experienced leadership helped all participants be at ease with their parts of the service. The ceremony itself was held in the immaculate garden, with our bride descending the stairs like royalty. A cocktail reception on the broad veranda (with signature drinks and appetizers) was followed by a glittering reception under the lights of the gorgeous ballroom chandeliers, featuring sumptuous food served with impeccable attention to detail. A sparkler send-off for the happy couple through the porte-cochere brought a glowing finale to our evening (this area also serves as an ideal rain-out option). We have received countless rave reviews from family and guests. In short, we could not be more pleased with the Golden Ocala experience, exceeding our fondest expectations. Special thanks to Julianne, Greg, Erin, and staff–you created truly "golden" memories we will treasure for a lifetime. I cannot encourage readers enough to contact Golden Ocala–they offer the "total package" of quality and value that can't be matched.
Are you interested?
Send a message