32 Reviews
Recommended by 95% of couples
Quality of service

4.8 out of 5 rating

Average response time

4.7 out of 5 rating

Professionalism

4.7 out of 5 rating

Value

4.7 out of 5 rating

Flexibility

4.8 out of 5 rating
Awards
2 User photos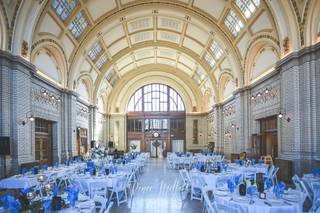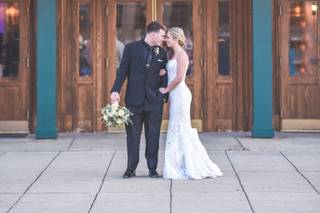 Dan P.

Married on 10/12/2019

Delicious Food and Amazing Service

Everything we had to eat was so good and everyone working our reception was very professional and kind.

Kaylee

Married on 12/30/2017

I had my ceremony and reception at Baker Street Station, which is managed by Goegleins Catering. They were so helpful and flexible as I was planning every detail of my big day. Everything turned out beautifully, and I've gotten so many compliments on the venue and the food!

April

Married on 06/24/2017

Goeglein's is AMAZING! My husband and I chose to have our wedding ceremony and reception at the Homestead. It was a beautiful choice. Amy and her decorations staff handled everything for us. I wasn't stressed out about setting up because they did it all for us. Jeff and his staff met with us several time to decide on food, which was out of this world! Many, many guests complemented us on both the food and venue. If you are looking for an outdoor ceremony site and reception all in one place, I highly suggest Goeglein's. They will even decorate for you which is an amazing added bonus!

Are you interested?

Send a message

Johanna

Married on 06/16/2017

The staff is amazing!! They helped every step of the way for months! The food was great! I can't say enough about how perfect they made our special day. Would recommend to everyone!

Good food good times great wedding

Michelle

Married on 07/11/2015

Jeff and Gina were always great to work with. The decorations turned out beautiful and the food was great!

They are very easy to work with and made our reception planning stress free. Our ceremony is at the same site as the reception. All the food we tasted was divine and the decorator didn't push us to make a sell

Megan

Married on 08/01/2014

I had nothing but great service from Goeglein's. I worked with Jeff and he was such a great help. Their food and service is phenomenal!

Kaylin

Married on 07/19/2014

There are not great enough words that can be shared about Goeglein's.

For starters:
We were married at the Baker Street Train Station, a venue that we immediately fell in love with for its beauty, originality, and history. We also loved that we could use the space for both the ceremony and reception, a big plus for added convenience and monetary savings. Upon our visit of the venue, we learned that we must use Goeglein's for all of our catering needs- what we did not know, is how grateful we would later be for this.

Goeglein's service:
We had the privilege of working with Jeff Werling, a gentlemen who not only quickly responds to emails and phone calls, but also is quite hospitable and friendly. We planned our own wedding, in a city that is not our home town, and Jeff answered all of our questions about the venue (how big are the tables/ recommended lay out, etc) as well as offering references for other companies in the area (Our DJ for example, who also was great).
I also spoke with the secretary Sandy on several occasions, and enjoyed every one of them.
On the evening of our wedding, the catering staff were impeccable. Everything went without a hitch and everyone continued the sentiments of friendliness that Jeff had initially expressed. The bartender was particularly helpful as he checked with us every time a decision would be made that would alter our final bill due to the company.

The Food:
That's what we really need to know about when looking for a caterer, right? Well, I can assure you that the quality is top notch here. Many of our guests made a point to compliment us on how great the food was. And when I snuck in a few bites for myself, the mass quantities that were made for the wedding day tasted the same as when we had our amazing tasting months ahead of time- this is quite the feat, I think.

Absolutely wonderful on all accounts, and quite the savings for true quality!

Kirsten

Married on 06/07/2014

Goegleins Catering was wonderful to work with for our wedding. We did a non-traditional cocktail buffet reception with no sit down dinner and they worked with us through every decision. It turned out great and everyone loved the food!

Marie

Married on 03/22/2014

We were very happy with all of Goegleins services. The only comment would be maybe at the beginning of the process to give a example of how the costs really look. Like the fees, and percentages. This would have helped with our budget early on.

Lisa

Married on 06/15/2013

The food, venue, service, flower centerpieces and bar service were amazing for the reception along with the ceremony venue, chairs and decor. Great experience and with their help I've gotten really good reviews of my wedding from people who came.

Couldn't have asked for anything more.
Top quality, very responsive to emails/phone calls/changes. Always very professional, prices were in line if not a bit better than other places. I feel like they saved me time while they did the catering and decorating. I had total trust in him and I would highly recommend them to anyone!

Kristen

Married on 09/29/2012

Loved the food and loved the staff! They were so helpful and friendly, and the food was great!

Leslie

Married on 09/10/2011

Jeff W. was great to work with. Very down to earth and always willing to answer all of our questions. We had the reception at The Baker Street Train Station and it was a beautiful venue. The staff made it easy to enjoy ourselves. A quick rundown with the reception coordinator and that was all there was to it. The service was awesome and the food was excellent!!!

Matt

Married on 09/05/2009

Goeglein's meal at my wedding was by far one of the most delicious meals I have ever had! It was easy to set up a meeting with them. When my husband, mother, and I came in for the meeting, they had prepared several dishes for us based on what I had said I was thinking of serving at the reception. They were all so good, it was hard to decide! They also had a diagram of the reception hall I was using and were able to help me somewhat with a seating chart. At the reception, all the servers were very nice and professional. All our guests complimented us on the delicious food!

Anita

Married on 08/18/2007

Service and food were both fantastic! They also booked our location, and everything was hassle free!

Angie

Married on 09/18/2004

The food was great and they were super easy to work with.

Brenna

Married on 05/25/2013

I absolutely loved this vendor! They were super flexible with our event time and the food was great! I had lot of people comment on how the coffee had a chocolate hint (I didn't get any because we were so busy) and it was consumed quickly! Excellent meals and the cakes(for dessert) were very well done.

We used Goegleins for our ceremony, reception and catering. This place was great for our 250+ wedding guests! They were very easy to work with and very professional.

Carlie

Married on 03/07/2009

Amazing place. Advice though would be to be in the upstairs hall like we were because of all the people dancing and jumping around I know for a fact the hall below would be able to hear it. Our photography gave that advice to us which we took.
They had to cater the food and alcohol which everything was perfect. No complaints at alll

Jessica

Married on 08/04/2007

I really enjoyed Goeglein's. They were very flexible with the menu. They even specially made mac and cheese for our special day:) We were able to take the food home, and they even put it in containers for us so we didn't have to bring our own. They were on time and were very professional.

Mia

Married on 11/30/2007

Goegleins is one of the top caterers in Fort Wayne. They were great in working with us on the menu and understand our budget constraints. We did a desserts menu and it was so much fun for us and for the guests. Something I would recommend for your reception if there is a tight budget is to provide punch or something similar and anything else is a cash bar. It saved us around 3,000.

Traci

Married on 11/21/2015

We had such a great experience with Goegleins! Jeff was great to work with from day one as we searched for the perfect venue! As the decorating started Genia was a life saver!!! We did family style and the food tasted great and we had plenty!! The only problems were the staff were a little behind on things, no champagne at toast time, no plates when it was time to cut the cake, but they fixed these things right away!!
We highly recommend this vendor!!

Jessica

Married on 05/04/2013

Loved the food, even after we got back from the honeymoon people were still talking about how good the food was.
Are you interested?
Send a message