149 Reviews
Recommended by 90% of couples
Quality of service

4.4 out of 5 rating

Average response time

4.6 out of 5 rating

Professionalism

4.5 out of 5 rating

Value

4.4 out of 5 rating

Flexibility

4.6 out of 5 rating
10 User photos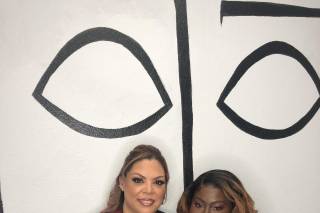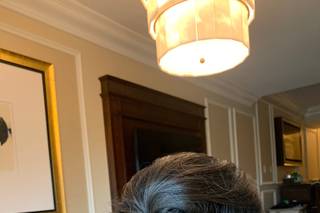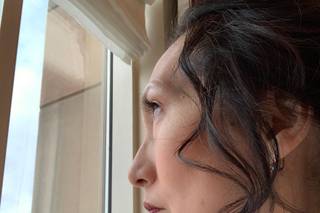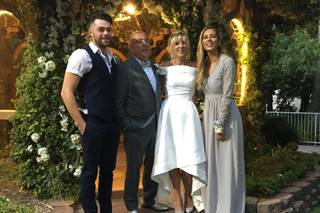 + 6

photos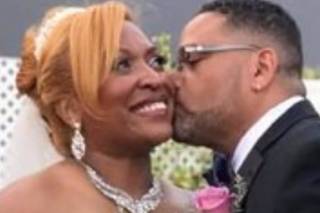 Jackie W.

Married on 12/31/2021

Love Glamsquad 702

Everyone was great sure to see them again when I'm in vegas

GlamSquad 702's reply:

Hi Jackie,
It was an honor to be a part of your big day!
You looked absolutely stunning.
Thank you for your business.
GS702

Maki

Married on 09/15/2019

Felt beautiful on my special day

Thank you GS 702. I felt beautiful inside and out on my special day.

Communicating with Nicky was smooth, and she was professional and informative.
Michelle came to my hotel suite on time, and she was professional and funny.
She did real magic on my hair, my hair was not even shoulder length, yet look like I had a long hair.

Highly recommended for your special day.

Thank you again Nicky & Michelle.

Maki

GlamSquad 702's reply:

Hello Maki, thank you very much for the review. We will pass along the praise to Nicky and Michelle. Thank you again for allowing us to be part of your special day! Congratulations!

Mary G.

Married on 05/10/2019

Beyond brilliant!

I cannot recommend this company enough. From the moment James and his team arrived at my hotel room, they just took over. James immediately placed his hands on my shoulders and told me they would take care of everything, and that was just what they did. I immediately relaxed. The result was just amazing. So unbelievable that I almost did not recognise myself. Everything was to perfection, and they created such a lovely atmosphere too, so comfortable as they worked, I just knew I was in the best hands. Anyone who comes to Vegas, for a wedding or event, look up Glam Squad, you will not be disappointed. They are, without doubt, the very best!!

GlamSquad 702's reply:

Thank you so very much for the kind words! I am so happy to hear this. it was an absolute honor, and privilege to be chosen as your beauty team for this very special day!

Much Love and Happiness to you.... James Carreira

Are you interested?

Send a message

Vernita W.

Married on 05/04/2019

Wedding Make-up & Hair Services Excellent!!!

I can't express all of the happiness experienced in one review. Hired Glamsquad 702 for my destination wedding in Las Vegas at the Luxor. The process with Nikki was easy from beginning to end. The prices were very reasonable for the services offered. My bonus daughter's makeup artist arrived to the room first, and so very friendly. She didn't make her go with her idea, but asked what she wanted, and began with her wishes, while allowing photos of the magic. Now we come to the master, genius, and handsome James, arriving with his assistant for my hair and makeup. His moves were of an expert. I had NO IDEA of what I wanted, and gave him 100% access of his genius to takeover. He didn't let me look until completion, which was perfect. When James finished and I looked in the mirror, there wasn't a dry eye in the room. Utter and total perfection!!! His hands and eyes should be insured by Lords of London!! I CAN NOT express my happiness enough in words with the amazing services given. If you are having any function they can work, hire them!!! You will not be disappointed. I referred them to everyone I know and those I don't know. The groom, wedding party and guests all cried, and LOVED my hair and makeup. James and crew, thank you from the bottom of my heart. You are beautiful inside and out!!

+ 2

photos

GlamSquad 702's reply:

Thank you very much for the review and for allowing us to be part of your special day. We just want to wish you and your family the best and CONGRATULATIONS!

Jen

Married on 10/09/2018

Fabulous Wedding Day Look

Both of the artists that created my look for my wedding day were just fabulous!! I felt amazing and glamorous and I had many compliments on both my hair and make up! Couldn't have been happier with the experience and I was worried as I am from Australia and they hadn't met me before and I am a bit pedantic! I needn't have worried :) Thank you!!

GlamSquad 702's reply:

Thank you very much for allowing us to be part of your special day! Congratulations and we wish you and your family the best.

Lisa C.

Married on 10/06/2018

Hair stylist

He was great! Very sweet and patient with me; kept asking me to check it to see if I liked it! On time and very efficient!

Samantha

Married on 09/11/2018

Amazing airbrushed makeup and hair done for my vow renewal. I was really worried about flash back on my photographs as this happened 15 years ago on my wedding photographs. These lady's put my mind at rest taking photos with the flash on to show me what my makeup would look like. My makeup looks amazing in the pictures and my hair still looked fab the next day.

GlamSquad 702's reply:

Thank you very much for the review. We are very happy that you allowed us to be part of your special day. We all here at GS702 wish you and your loved ones the best and congratulations on your renewal.

Esther

Married on 09/02/2018

Thank you Glam Squad for a marvelous experience and a great job. Loved my hair and makeup!!!!

GlamSquad 702's reply:

Thank you for allowing us to be part of your special day!

Angela

Married on 03/10/2018

I booked GlamSquad 702 to do my hair and makeup for my wedding. My stylist was amazing, and Mitch was super responsive and so helpful to make sure everything went as planned. My husband couldn't stop looking at me, and loved the way I looked. I would recommend them to anyone that I know!

GlamSquad 702's reply:

Thank you very much for your kind words. We feel honored to be part of your special day. We all wish you and your family the best. But most of all, CONGRATULATIONS!

Rachel

Married on 09/23/2017

I got married in Las Vegas on September 23rd, 2017. I decided last minute to get my makeup done professionally and so i called Glamsquad 702 three days prior. They were able to accommodate me for both makeup and hair, at the time I needed, and they came to my hotel room at the W Las Vegas. James and his team were extremely professional and personable and they did exactly what I asked for. Everyone, especially my fiancee (now husband) complimented me on how beautiful I looked on my wedding day and in the wedding photographs.

GlamSquad 702's reply:

Thank you very much for allowing us to be part of your special day. It was our pleasure and we wish you and your family the best!

Chauri

Married on 07/01/2017

Glam Squad 702 was the best decision I made! It was easy to book, communicating was a breeze, and they LISTEN and gave me exactly what I wanted! I highly recommend them!

Barbara

Married on 10/14/2016

James and Mitch are amazing! They made my matron of honor and myself look flawless! We had airbrush makeup, and our hair done by them. They were super professional, and treated us like royalty. Do yourself a favor, and have them make you look even more beautiful than you already are! :)
Barbara Perry Schmidt

Denise

Married on 09/03/2016

Everyone who I contacted was wonderful, knowledgeable and willing to answer all of my questions. And even though it was only two weeks before my wedding, they were able to get me on the schedule. I really didn't know what I wanted outside of curls and winged eyes (ala 1950s). James came out two days in a row (once for photos on the strip and then again for my actual ceremony) and was amazing. Actually, amazing doesn't even accurately him! Everyone complimented my hair & makeup and the photos are really incredible. If we ever do a vow renewal in Vegas, they'll be the first people I call. :)

My hair and makeup artist was Alex. I already wrote him a personal email but I wanted to leave a review for anyone on the fence about using the Glam Squad. DO IT! SO WORTH IT. I usually do my own makeup so I was skeptical about someone else doing it but I decided I would be to nervous to do a good job on my wedding day. Alex was fantastic. He was running a bit late to my hotel room due to traffic, BUT the office staff called me to let me know that he was in route. 5 minutes later, Alex called me also. There was good communication from Alex and the staff, so I didn't panic at all, and I am a control freak! He arrived in plenty of time. Alex was very nice and fast. He was professional but still laughed and talked with me and my crazy family that crashed my room. I gave him a photo of what I wanted to look like and he NAILED IT. Face was flawless, colors were spot on. My curls still looked hot next day! Thank you Alex and thank you Glam Squad. I never felt so beautiful.

Lisa

Married on 03/28/2016

I looked completely FLAWLESS on my wedding day 3/28/16. Nicia came to my hotel room promptly at 1030 AM. We decided to go with the airbrush makeup and some waves in my hair (not to be confused with those ugly sweet 16 curls lol). Let me tell you that her professional, yet warm and friendly personality made this beauty experience absolutely wonderful. I felt and looked like a queen. I suggest getting the airbrush for these events. Its light and airy, but it lasts through all the dancing, crying, and whatnot on your special day.

Emily

Married on 02/06/2016

Glam squad was recommended by the Chapel of Flowers for my wedding day hair and makeup. Alex did an amazing job on my hair making it look exactly like a photo I had as an example of what i wanted. He also did a fabulous job on my makeup and my wedding photos turned out beautifully. Thank you so much!

Andrea

Married on 02/01/2016

This company and all of the employees are wonderful and so fast with responding to my questions and concerns. I had to push back my wedding one year back in 2015 and they gave me no problem rescheduling. My wedding day was on February 1st of 2016 and I was a nervous wreck the whole morning. James is the the owner and the one who came to do my hair, make up and lashes. He was fantastic. Super professional, very nice and he made me feel so comfortable and so much calmer. He was fast but extremely good at what he does. I had no idea of what I really wanted except a very vague idea. He did exactly what I wanted but was unable to explain. I have felt beautiful in my life but never as beautiful as he made me feel for my wedding day. He is a miracle worker and his work was worth every single penny. My photos look amazing and I wish I could've kept my hair and make up like that forever. Thank you James and to Glam Squad 702 for helping to make my wedding day the most wonderful day of my life. :)

Candice

Married on 01/09/2016

Just had my makeup trial for my big day and it was amazing. I know they are going to do a fantastic job and I am excited!! Had a great experience!

Rachelle

Married on 11/07/2015

GlamSquad was absolutely amazing!! A particular thank you to Nicia, who did my hair and airbrush makeup. I was so reluctant to getting a service that I was not familiar with for my wedding day but the service provided was amazing. The ladies showed up on time, made the experience relaxed, fun and enjoyable and not to mention my hair and makeup turned out great and last through out the entire night! Thank you so much for making me feel beautiful on my wedding day!

Brooke

Married on 10/24/2015

AWESOME AWESOME AWESOME!!
i had hair and airbrush make-up done by the Glam Squad 702 and they were amazing. It was so wonderful to have them come to the room - it was so stress free. I want to give a special thanks to Jessy in the office for sending the owner to do my make-up. It was flawless (as was my hair) and my photos look amazing because of it.
Reasonable prices and great service is what the Glam Squad 702 delivers. I would highly recommend them to anyone - for a wedding, or just to glam up for a fun night on the town!!

Elizabeth

Married on 09/26/2015

Where do I start??!! I had an 8:00 am hair apt with Kate (apologies if I got that wrong), she was on time and got right to work. I was pretty nervous as to what magic she would work with my hair since it was pretty short, but 30 mins later, lots of bobby pins and tons of hairspray, you would've thought I had long hair!! It was amazing! Next up was James and his assistant. James transformed me from a fair complected plain Jane to a soft, romantic woman ready to walk down the aisle! He even convinced me to try the false eyelashes which I have never done before and boy did they make my eyes POP for photos!! Great job to the GS 702 team. I'd highly recommend them to anyone having a destination wedding or gala event in Vegas. Love you guys! XOXO

Richelle

Married on 09/26/2015

Amazing quality and excellent execution. I had a few photos I presented for my hairstyle and it turned out GREAT! Everyone was amazed at how my hair looked. My makeup was perfect as well. I wanted a 50's style, but subtle and it looked flawless. I would definitely use GlamSquad again.

Debbie

Married on 09/15/2015

I was married Sept 15/15. I highly recommend Glamsquad702! I booked Glamsquad702 with very little notice, it was maybe a week before the wedding. I was very surprised to have James Carreira himself do my hair and makeup (which I did not know at the time who James was) James and his assistant showed up at my hotel room right on time ...Not only did my hair and makeup look amazing, having the make over, relieved me from so much stress on my wedding day. The price was very reasonable and I will definitely book them again on my next visit to Vegas just for a night of looking and feeling great! Also Glamsquad702 recommended "Glow Natural" for a quick spray tan. I didn't catch her name but the girl that did the spray tan came right to my hotel room the day before my wedding (again no stress) she was in and out in about 30minutes (the whole time I enjoyed a glass of wine) My tan looked great!! and it was a very low cost! Thanks so much Glamsquad!! :)

Michelle

Married on 08/29/2015

My appointment was scheduled from 1-1:30 p.m. and Nicia arrived a 12:55 p.m. - she quickly put me at ease and got to work! It only took her 30 minutes to do my hair and make up and did an amazing job! Very pleased with it for my big day - I would highly recommend this service - just schedule it and don't worry - they will take care of it. Thanks Nicia!

Andrea

Married on 06/14/2015

Thank you so much Glam Squad in particular Nicia and Ayana. I married at the Venetian hotel June 14th, these ladies turned up on time, made me feel relaxed, they were fun but very professional. I showed them picture of how i wanted my hair and it was exactly like that. I had air brush make up which I highly reccomend. The end result took my breath away, "absolutely stunning" my husbands words not mine. Nicia and Ayana I cannot thank you enough i felt every bit glamourous the whole day and night. I lost count of the lovely compliments i received from total strangers. Ladies if you are getting married in Vegas do not go anywhere else for your beauty needs on that special day.....
Are you interested?
Send a message