50 Reviews
Recommended by 99% of couples
Quality of service

5 out of 5 rating

Average response time

5 out of 5 rating

Professionalism

5 out of 5 rating

Value

4.9 out of 5 rating

Flexibility

5 out of 5 rating
2 User photos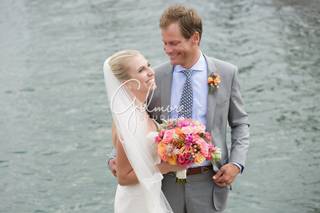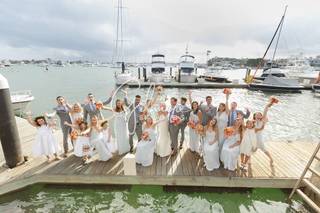 Kelsey B.

Married on 07/24/2021

Amazing Photos

We used Gilmore Studios for our engagement and wedding photos and just WOW! The photos from both days are stunning! Jennifer and Brian were a pleasure to work with and managed to capture my husbands and my big day so naturally. We couldn't ask for more!

Kimberly

Married on 05/20/2017

I would recommend Gilmore Studios over and over again. They are professional and what I really love is the guidance they give when taking photos. They make you feel comfortable and also make it really fun. We used Gilmore Studios as our wedding photographers and they went above and beyond. They are trusting and reliable. They are also GREAT with kids. I was so impressed with how they got all the kids in the photos to smile together! They captured our whole day and the photos turned out absolutely stunning! The photos were ready to view very timely (within a month, with teasers ready even earlier) and accessible online.

Lachelle

Married on 09/17/2016

Jen & Brian are absolutely amazing!! They both are so wonderful and amazing to work with. They captured every little detail that were and still are so significant of the first day of our lives together as MR. and MRS. Smith. We were able to re-live every moment of our wedding day by looking at all of photos taken by Jen and Brian. We also had an amazing engagement session with them. They made it so easy and natural to take the pictures. They truely are an amazing couple and we will be referring any one that needs any type of professional photos taken to Gilmore Studios !! Not only do their pictures speak for themselves, once you meet them you will not want to have anyone else share the special times with you.

Are you interested?

Send a message

Pamela

Married on 06/25/2016

Most amazing photographers. They took pictures of details that would have otherwise been missed. The cake company dropped our wedding cake and Brian called his contact and secured a small two level cake so we would have a cake to cut. Great ideas, stunning photos, nicest people to work with, totally professional. Can't say enough positive, glowing things about Gilmore Studios. I would not hesitate to use again and will refer to everyone I know.

Alyssa

Married on 06/11/2016

I cannot say enough about Gilmore Studios and their quality of service. When we started the process of finding a photographer we chose them because it was a personal reference. The only part I looked at for photographers was their actual photography. Not only does Gilmore Studios establish wonderful photography but through the whole time they were professional, helpful, and prepared myself for the day of the wedding. Jennifer went above and beyond to communicate sending emails with updates on what I should know up until the wedding. I felt so prepared the day of the wedding that I didn't need to worry. When the wedding day came Jennifer and Brian were so calm and knew exactly what to do fixing any problems seamlessly. They are able to work with large crowds of people as well as manage any type of age group. We had a 3 1/2 year old flower girl and they were so good with getting the best pictures of her! All of the vendors and guests we spoke with mentioned that they were very professional the day of the wedding and easy to work with. If you are stuck on trying to find a photographer Gilmore Studios has the whole package!!! I highly recommend using them for your next event!!

Tracey

Married on 03/19/2016

I don't think I can say enough good things about Gilmore Studios! They were beyond professional and fun, they are so good with children and putting everyone at ease. They make you feel like you are the only wedding they are working and like it is their first time too (in a good way, not like "eh we do this all the time"). It was such a great experience to work with them, they are so energetic and it is infectious! They are so flexible and are open to whatever you want to do. HIGHLY RECOMMEND!!

Not being from Orange County originally, Jennifer was so helpful when I asked for some recommendations for other vendors, her recommendations were amazing and helped to make our day absolutely perfect!

We used their photobooth at our wedding, it was easy to use and took great photos. They had several backgrounds and props to choose from and I couldn't have been happier with the experience!

We have received SO MANY compliments on our amazing engagement photos (a few people actually asking for Gilmore Studios contact information for their wedding photos based off of our engagement photos) and now on our wedding photos. They are absolutely perfect, everything we asked for, our pictures were full of heart, love, laughter and they really captured the candid moments.

Todd

Married on 09/04/2015

Gilmore Studios did a great job with photography for our wedding. I would hire them again, and would recommend them without reservation to other couples.

Sara

Married on 08/22/2015

Jennifer and Brian photographed our wedding. There is no words to describe how amazing of a job they did and how thankful we are for their hard work. They work great as a team and exceeded our expectations of capturing the most important moments and all the little details. All of our pictures came out beautiful. Jennifer and Brian are so professional and were a major reason as to why our wedding day went so smoothly. They did a great job directing everyone and making us feel comfortable during the whole experience. I without a doubt recommend anyone who is looking for a photographer to stop looking and hire Jennifer and Brian because I am certain you will not be disappointed!

Gilmore Studios's reply:

Thank you for the amazing heartfelt review Sara! We loved every second of your beautiful wedding day and look forward to watching your family grow ;) xoxo -Bri & Jen

Jennifer

Married on 07/11/2015

My husband David and I were extremely satisfied with our experience having Jen and Brian as our wedding photographers in July of 2015. They are thoughtful, professional, fun, flexible, efficient, patient, and creative. Our day was perfect and we cannot thank them enough for capturing amazing photos and memories we will cherish for a life time. We would HIGHLY RECOMMEND their work and look forward to have them take our family photos in the future. :)

Gilmore Studios's reply:

Your wedding at the Hyatt in Newport Beach was one of the best we've seen there! You kept us busy with all the details (we LOVE details) It was our pleasure photographing your wedding and we can't wait to document your next big milestone :) Thanks for the kind words!

Megan

Married on 02/14/2015

We first met Jen & Brian at my sister's wedding in LA. The bride had the flu the day of her wedding, yet when we look back on the photos, you can't even tell she was sick! Major props to Jen + Brian. We loved them so much, we asked them to shoot our wedding the following year. Jen + Brian are so fabulous. Incredibly quick, professional, and efficient. They had the digitals mailed to us on a usb that arrived on our "one month" anniversary and at our 1 year anniversary this year they sent us a beautiful framed wedding photo. Such a fun surprise! Editing was top notch and we loved the variety of shots and poses. We will def utilize them in the future for baby photos and refer them to all our California friends!! They are absolutely worth every penny and to this day, we love to look back on our wedding photos.

Gilmore Studios's reply:

Thanks Megan!! We love your family! If you are ever back in Newport Beach, we would love to catch up with you guys. :)

Chelsea

Married on 01/31/2015

Jennifer and Brian were absolutely wonderful! From the engagement photos to the wedding, everything was done with ease--they made it more fun than I had imagined!! I can't thank them enough for the work they've done...being able to revisit these over and over is a gift that will last forever. Thank you Gilmore Studios and I hope to work with you again sometime! It was a blast!!!

Gilmore Studios's reply:

Thanks Chelsea! We had so much fun with you guys- let's get together for dinner one of these days!

Nancy

Married on 11/22/2014

Tina and Aj's photos of their wedding were amazing. It was like being there in person all over again.
We loved how fast and specific Jennifer's instructions were in positioning us for group photos and yet how they were able to still capture the candid shots as well. The pictures inside the venue had just the right amount of lighting so that the effect of the venue was still maintained with all the twinkle lighting. The pictures on the beach at sunset were beautiful .We would highly recommend Gilmore studios for any of your photography needs.

Tina

Married on 11/22/2014

If you are getting married in the Orange County area- GET GILMORE STUDIOS!! They were recommended to me by my venue and I am so glad that I went with them. Both Jennifer and Brian were extremely friendly and relaxed (which put us at ease), yet also very professional and organized. It was great to do an engagement session with them beforehand to get to know them. The day of the wedding, they showed up early and stayed until they got every important event. Even through the chaos of the day, they stayed calm and their pacing was perfect for us to get all of the shots we wanted. I received many compliments in regards to them from my wedding party and from guests at the wedding. Thank you so much for everything you did to make our wedding special....and easy =)

Christina

Married on 11/01/2014

My husband (so weird saying that) and I used Jennifer and Brian as our photographers for our wedding on Nov 1st in Laguna beach and couldn't have been more thrilled with the results. As soon as we finished our first meeting I knew this was going to be the one vendor I wouldn't need to stress about (and we were right). We had an engagement session in our wedding package and it was a perfect chance for us to get comfortable in front of the camera. It is awesome having a husband/wife duo or even just a female/male duo because Brian hung out with my hubby and I hung out with Jennifer and we were both totally comfortable being in the spotlight. Fast forward to our wedding day... Brian and Jennifer were super organized and took all the dress/rings/random photos while I was getting ready without me even knowing it. We were able to fit in all the photos of just us 2 and our entire wedding party before our 5pm ceremony, giving us more time to spend with guests. I would also highly recommend opting for the photobooth, this is not your traditional booth that fits 3 people, but a full backdrop that can accommodate 10+ people with a REAL human taking the photos. The results were epic. We will be using the Gilmore's time and time again when we expand our family of 2 :)

Here are some of our photos, hope you enjoy as much as we did!

Engagement: http://www.jennifergilmore.com/blog/engagement-session-san-juan-capistrano-ca/

Wedding: http://www.jennifergilmore.com/blog/christina-shauns-wedding-tivoli-terrace-laguna-beach/

Photobooth: https://www.facebook.com/media/set/?set=a.10152809440049029.1073741961.127738699028&type=3

Shelby

Married on 06/28/2014

Jennifer and Brian were so wonderful to work with! I was looking for a unique photographer to photograph our beach wedding, and instead of one, we found two! As soon as I saw their video, I knew I just had to have them there! They were so flexible and even surprised us with something at the wedding. They truly made our day very special and gave us memories we will never forget with their beautiful photographs. They even took some video which we had no idea they would do. But it made everything that much more special! They kept in touch with us through the course of planning, and always asked how things were going and if we needed anything. When they showed up at our ceremony, it felt like we were all already good friends! We were very comfortable with them and we could not be happier with the turn out! We will definitely be hiring them for events to come in our future. They are wonderful, kind, down to earth and extremely talented! Such a sweet couple! They gave us so much more than just pictures! Worth every penny!! :)

Deborah

Married on 06/07/2014

Gilmore Studios photographed my daughters wedding in NYC. Jennifer and Brian were so wonderful and accommodating in every situation, even on the streets of NY hailing a cab. We couldn't have asked for a better photography/couple to commemorate this beautiful day for our children. The photographs are all wonderful it is very hard to choose, from the Botanical Gardens to the Promenade in Central Park. We couldn't have asked for anything more, they captured the love, joy and fun of the entire wedding.

Lauren

Married on 06/07/2014

Jennifer and Brian were amazing! We could not have been happier with their level of perfection. They captured every moment and emotion through the day and weekend. They even had snippets of video taken that we didn't know they were taking, which was such an amazing surprise since we didn't have a videographer. Their professionalism made us feel comfortable from the beginning. We loved how they got pictures quickly and moved on so we weren't burnt out from all of the photos. You also couldn't tell they were there most of the night, not getting in the way, etc which was really important to us.

Chunky

Married on 10/26/2013

What a great couple to work with!!! The quality of their work is amazing!
Thanks!

Amanda

Married on 09/22/2013

We saw some examples of Jennifer's previous work, and we knew we had to have her as our photographer. She was great through the whole experience! She was extremely friendly and professional. She took the time to get to know us and listened to what we wanted for our event. My Husband and I aren't really picture people. Jennifer was very patient with us and made an effort to make us feel comfortable in front of the camera. We loved our wedding pictures! She definitely has a talent for capturing candid, special moments on camera. Jennifer went above and beyond and even videotaped some parts of our wedding, since we didn't have a videographer. I have already recommended Jennifer to some of my friends.

Gilmore studios went above and beyond when it came to photographing our wedding. Our photographs turned out better then I could have imagined and there were so many to pick from. They also provided tons of other services so I didn't have to go through other vendors, such as engagement pictures, guestbook, and thank you cards. They were so friendly and willing to do anything I asked. They were so organized in taking pictures in order that people weren't standing around the entire time, and making sure me and my husband were wilting in the hot sun all day. I would recommend them to anyone and use them again for other opportunities.

Brooke

Married on 02/16/2013

We selected Gilmore Studios because we felt in reviewing samples of their work that they were able to capture things a little differently than others. After seeing the result from our wedding pictures we are definately glad we selected them as our photographers for our wedding. They were able to work with a couple of areas we liked for backgrounds and came up with some incredibly beautiful and artistic shots. They were easy to work with, took our ideas into consideration and worked them into the shots and were very patient with our amatuer photographer guests. They helped make our special day that much more fun and our pictures really do a great job in capturing all of the events. Thanks so much Jennifer & Brian, we love how they all came out.

Andrea

Married on 12/21/2012

We found Jennifer and Brian purely by chance when we searched online for a photographer for our Newport Beach wedding. We live in Arkansas and so we were at a slight disadvantage as far as knowing who the local photographers were in the NB area. What a perfect choice we made! We were absolutely thrilled with their work…..wow! They were professional and courteous in every way and worked non-stop during the wedding and reception. A few weeks later, when the video arrived, we were speechless! I can't say enough how romantic they made it ~ the video and pictures truly show how happy and in love we are. The whole album simply took our breath away! Thank you so much for the memories that will last a lifetime…
Very sincerely yours,
Andrea and John


Ashley

Married on 09/15/2012

My Husband (then fiancé) researched high and low for a photographer to shoot our wedding. We met with a few different photographers, but nothing wowed us like the work the Gilmore's do. I have to admit when we came to her studio I was impressed by all the bells and whistles she had to show us, but was skeptical thinking their packages would be over priced. I was so totally wrong! Jennifer and Brian Gilmore are such a down to earth couple and they truly take the time to listen and care about what you are looking for with your photos. They were even willing to work with our budget and there was no "oh by the way (insert random person's name here) is actually shooting your wedding". They do it all from start to finish so there is no last minute surprises! The engagement shoot was part of our wedding package and helped us warm up to Jennifer and Brian. When we got our high resolution pictures back (within 2 weeks-fully edited) I was impressed! Firstly by the beautiful wrapping on the package that was mailed to us with all the thought and care that was taken to prepare our photos, but secondly by the quality, variety and unique-ness of the pictures! All our friends who had engagement sessions done were all the same, A few locations, all the same poses, and only one or two that stood out. Our pictures were so beautiful that we had a hard time picking out our top favorites to use our save the date cards. The wedding was no different! Flawless work! Jennifer and Brian showed up on time and captured everything. Jennifer would get the close-ups and have us look over a Brian way in the distance for some stellar cinematic shots! When our friends and family saw our pictures they were impressed and some commented that they didn't remember us having photographers because they were ninjas! They didn't block the ceremony from our guests, or interfere at all! Just captured the magical moments. We got all 900 (fully edited) pictures along with a beautiful slideshow within a month of

I can't say enough great things about Jennifer and Brian. They are a fun, young couple that really know what they are doing. I am not photogenic at all and the thought of posing for pictures is very unnerving. Jennifer and Brian very quickly make you feel at ease. There style is very natural, lots of candids and just enough posed photos. You will not be disappointed!

I have nothing but great things to say about Jennifer and Brian. This husband and wife duo got awesome shots, were so nice and totally worth every penny!
Are you interested?
Send a message