Reviews
4.9 out of 5 rating
Quality of service

4.9 out of 5 rating

Average response time

4.9 out of 5 rating

Professionalism

4.9 out of 5 rating

Value

4.9 out of 5 rating

Flexibility

4.9 out of 5 rating
98%
Recommended by couples
27 User photos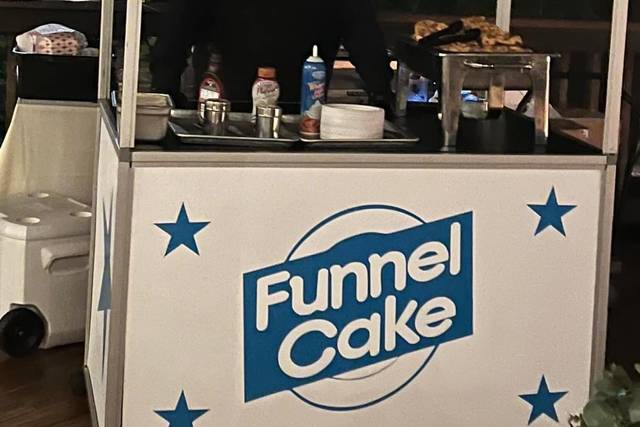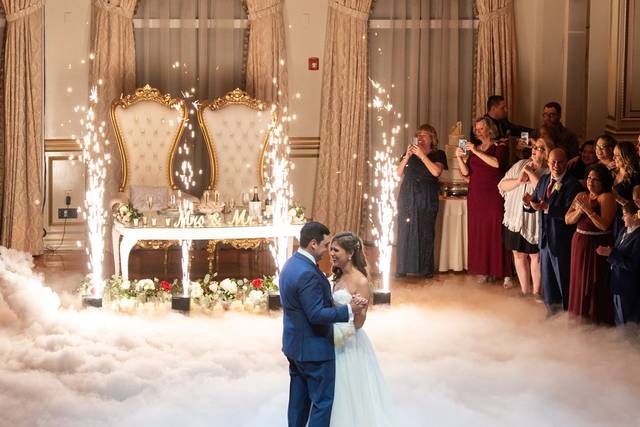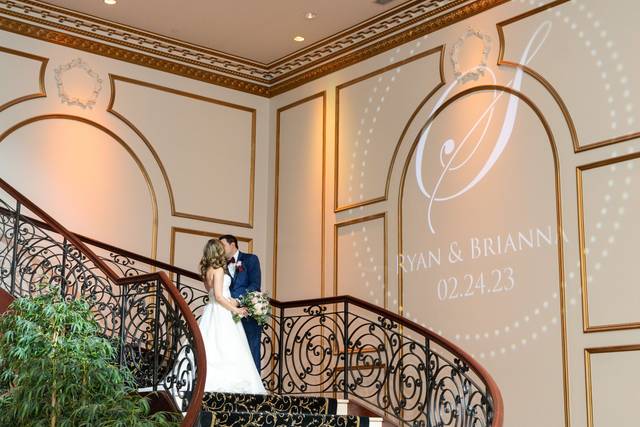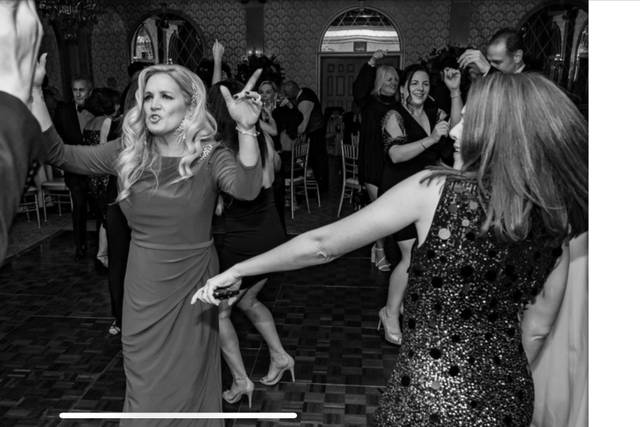 + 23

photos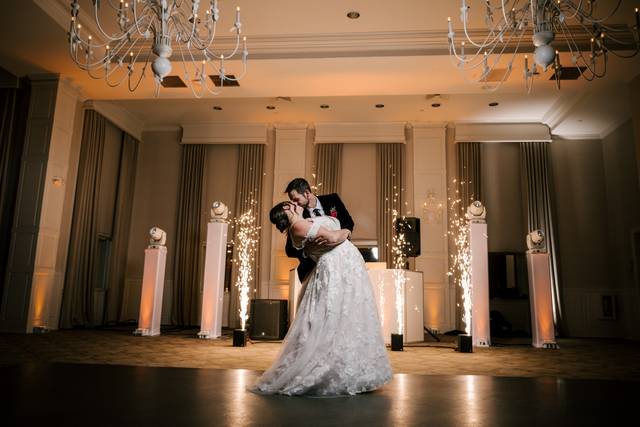 Joseph F.

Married on 09/09/2023

Amazing wedding reception!

Mike at Gemini Productions made our reception incredible! We threw plenty of same-day changes at him, but he made it flow seamlessly. His team did a great job playing a variety of music for both the Latin and non-Latin guests. They did great at 'killing time' as the bride needed to swap dresses. Their communication before each special song or dance was a great courtesy to us. They played all our top requests. Unfortunately, we missed a few opportunities to dance due to photo shoots, but that's the price of being the bride and groom. Really a superb job!

For us, the decision was easy. If you are undecided between a DJ or a band, make sure to check out Gemini Productions website and social media to help you decide. They provide a fun atmosphere and keep the party going!

Alyssa G.

Married on 04/29/2023

Wedding 4/29/2023

We highly recommend Mike and his team to everyone! They kept the dance floor packed all night, even before dinner was served. We got married at Minerals Hotel Sweetgrass Pavilion and it was a chilly night out, but no one seemed to care when the dance floor was crowded all night and keeping everyone warm. Mike was always extremely responsive to emails and we had the opportunity to talk to him and Anthony over the phone and video before the wedding. We went through a list of songs we wanted played and they just ran with it giving us a nice mix of 90s hits, country music and pop music. We added the funnel cake booth, which helped everyone at the end of the night and was a nice addition as everyone was leaving. We also had the photo booth, which everyone loved and is still talking about as it was open and gave enough room for a lot of people to get in the photos. Everyone has been complimenting the DJs and raving about them since the reception. They definitely made the reception and we would happily recommend them to anyone getting married.

Brianna T.

Married on 02/24/2023

Sylvester Wedding

Mike and the team were incredible! Not only did they provide fantastic music for us to dance to all night (we did not leave the dance floor!) but they also provided a beautiful backdrop for us. We opted for the cloud, sparklers, and personalized monogram and they all took our guests by surprise! I loved that we had plenty of choices for the monogram and how the other additions turned out. In addition, mike was super flexible when it came to our ceremony music. Nothing seemed to be impossible. We will remember our wedding for the rest of our lives and the music was a HUGE part of it. Thank you Mike!

Are you interested?

Send a message

Cay M.

Married on 02/10/2023

Incredible, professional, amazing!

Mike and his team were absolutely INCREDIBLE! Our friends and family have been talking about how great the DJ was since the minute our wedding ended. Mike was professional, kind and so easy to work with. He kept the party going and everyone on the dance floor. I would HIGHLY recommend Mike and his whole team for your special event.

Kevin M.

Married on 01/07/2023

The best night ever

We spoke with Mike over the phone a few times before our wedding and he really made everything feel easy. The night of the wedding he really had the dancefloor raging and we loved every minute of it. Everything we asked for from Gemini DJs was exactly what we wanted, from the photo booth and pianist to the DJ set and emcee. I've already recommended them to a bunch of friends and family.

Danielle S.

Married on 10/16/2022

Amazing Night!

What a fantastic wedding night! Mike and the whole team at Gemini DJ's created a night to remember. They were so easy to work with and captured everything we wanted and needed for our special day. I couldn't have asked for anything more! Everyone danced all night!!! Book them if you have the chance!

Jessica Q.

Married on 10/15/2022

The party never stops!

We had 1 request for our DJ - pack the dance floor the entire night. Mike from Gemini Productions absolutely CRUSHED that request! Our dance floor was packed from the first song to the very last. He completely nailed our music tastes and even managed to mash up some crowd-pleasing classics with our EDM nightclub vibe.

Gemini Productions are masters of their craft and super easy to work with. I can be a bit picky about my music selection, but they made all my cinematic moments happen. We booked our ceremony musicians (cello and piano players) through Gemini Productions as well and they were phenomenal. We requested unique songs for our processional and recessional. They found the sheet music and learned both pieces and played them flawlessly (the music even made me tear up before heading down the aisle!)

We will be recommending the Gemini team to everyone we know. They made our wedding unforgettable and we are forever thankful!

Dana N.

Married on 06/04/2022

Amazing!!!

Mike and his team at Gemini DJs were so fun to work with. Their expertise made planning our wedding so easy. We were able to book a cello and piano for the ceremony through them as well as a photo booth for the reception! The dance floor did not stop all night long and they played our requested songs and made a curated playlist based off of our requests that made the party last all night! So professional and easy to work with.

Adam R.

Married on 03/12/2022

Life of the Party!

Gemini DJs was the life of the party! We worked with Mike and his timing, music selection, and ability to read the crowd made for an unforgettable night. Our guests did not get off the dance floor! The additional options we had in terms of live music for the ceremony and late night snacks were an added bonus! We could not say enough about how fantastic Gemini was!

Stacey K.

Married on 12/03/2021

Highly Recommend

We hired Gemini Productions for my daughters wedding this past weekend and Mike and Anthony were awesome! Our guests could not stop talking about how beautiful the room looked with the uplighting we added and how how awesome the music was. They were also awesome when because of Covid we had to change the date and time of the wedding. I have heard horror stories but Gemini was so easy to work with and wonderful I would highly recommend them!

Nicole

Married on 11/27/2021

You (and your guests) will not stop dancing!

When we were deciding between DJs we had two requests 1) A Taco Bell food booth at the end of the party and 2) a team who will make guests never want to return to their seats and Gemini delivered on both!! Mike was an incredible DJ. We received compliments from our guests that they've never danced more at any wedding. Mike listened to our genre requests and did a perfect mix of everything and was excellent at reading the room. We really appreciated that Gemini did not make the event about themselves (other DJs/MCs talk a ton at weddings and they did not do that at all). They focused all of their attention on ensuring it was the party of a lifetime. Gemini also offers food booths at the end of the party like White Castle and when I asked for Taco Bell which wasn't on the list they were able to make it happen and it was the talk of the night. Mike was a pleasure to work with, very easy to get along with, and gave us one heck of a party. The DJ is one of your most important vendors and you will not regret going with Gemini.

Kristine G.

Married on 09/17/2021

Awesome DJ

Gemini was fabulous. Kept everyone on the dance floor and in the photo booth all night long having a blast.

Elaina

Married on 07/31/2021

Great music! Michael and Anthony were extremely easy to work with.

Gemini exceeded our expectations! Great DJs-they know how to read the crowd and keep the crowd happy and on the dance floor. They provided our photo booth and we used their videography company also, which was great. I couldn't recommend them more.

Vanessa S.

Married on 06/11/2021

The best around !! Such a party !

Gemini Productions is, to put it simply, IT. Anthony and Mike (P) Emcee'd/DJ'd our wedding in June and absolutely ROCKED the place. They were incredible. They had everything we wanted (down to the photo booth and smoke machine), provided it all, and did everything with such class. Anthony was available for any questions or concerns we had, worked with my husband and I on all the music, entrances, and themes we wanted, and when it came to make it all real, they did not disappoint. Mike had everyone up and dancing all night long, played all the music we loved, and really made it a party. You're not going to go wrong with Gemini, they really are the top of the top-shelf for event entertainment!


Yuridia S.

Married on 10/03/2020

Music Going, Guests Dancing all night!

Every bride (& groom) knows how difficult planning a wedding has been during this pandemic. From postponing to cutting the guest list down to making sure Covid-19 safety guidelines are followed, you name it! It's been stressful! However, when you have vendors who work with you & understand you, it eases the wedding planning! The entire team at Gemini Productions did just that! From day one, they answered every email/phone call and were so understanding when we postponed our 2020 wedding date. Jaime Leon, our DJ, called a few days before my May 15th wedding to go over the final details. I told him I wanted a little bit of everything- Mexican/Irish/Polish wedding- he said,"Don't worry. I'll make sure your guests have a great time" and he did just that! Jaime kept the music going and my guests did not stop dancing. They are still talking about how much fun they had while still following Covid-19 safety guidelines! Thank you Jaime for going above and beyond and Gemini Productions for such great professional service! I highly recommend them to anyone!

Alyssa M.

Married on 09/26/2020

Great DJ made for an incredible night

Anthony was amazing! He was punctual, friendly and got along great with the guests. After speaking with Anthony on the phone and providing our preliminary song request list- he was able to curate a perfect mix of music. He also did a fabulous job getting everyone on the dance floor and keeping things moving. As both the DJ and emcee, he kept the evening on schedule and fun. Everyone commented on how friendly, upbeat and fun he made the night!

Caitlin M.

Married on 08/29/2020

Gemini- Nailed it!

Gemini DJ's did an incredible job. They were with us through the pandemic and were able to be with us after having to add an extra year when we had to postpone. The DJ, Emcee, and the photographer who took candid pictures and ran our photo booth were absolutely amazing! Our guests shared that it was one of the best weddings they had been to, in part because the DJ kept them on the dance floor the entire time. The music selection was spot on the entire night and the photo booth was also packed all night. Thank you Gemini for absolutely killing it! The night was well worth the wait and that is all because you kept us dancing the night away!!

Ryan H.

Married on 08/28/2020

DJ Mikey delivered

DJ Mikey did our wedding in May and he was excellent. We had a multi cultural wedding and he took the time to meet with us prior to the wedding to go over playlists and get a feel for the vibe we wanted. He had the dance floor packed the entire night. Would highly recommend!

Nizz H.

Married on 02/22/2020

Dancing never stopped!

My now wife and I used Gemini DJ and we could not be more thankful that we did.

We had a dedicated contact throughout the processes and smooth would be an understatement.

From our initial consultation to the week before check-in everything was professional and seamless.

After a year and a half planning the perfect wedding playlist we ultimately tossed that aside to put our faith and trust in Mike.

Mike and his colleague the MC delivered the entire night. As promised the dance floor was electric, everyone was out of their seats dancing the entire evening. We could not have asked for a better experience and will be sharing our high regard and recommendation to friends and family. We have not stopped hearing "this was the best wedding we have ever been to" and "Who was that DJ" from our guests. We still can't believe how amazing Mike and his team are. 5 stars does not do their team justice.

Elise C.

Married on 01/19/2020

Our entire wedding of 300 people, young and old, danced the entire night!

I've said it before and I'll say it again: hands down our FAVORITE vendor we worked with for our wedding. Mike is the BEST. We liked him from minute one. He worked with us and helped us stick to our budget while also giving us an amazing package.

Most importantly, he dealt with me - the music crazed bride - with grace and professionalism. It is very rare for me to find someone who I trust to take control of the music and he did not make me regret placing my trust in him. Mike allowed me to be involved (I sent him no less than three excel spreadsheets 🤦🏽♀️) and never made me feel annoying or overbearing (there are pictures of me in his booth playing co-DJ all night🤣.)

My friends are quite picky with music too... they're the typical North Jersey club heads who have been involved with the club scene for decades. Every single one of them had things to say like "the DJ was ON POINT" or "the music was BUMPIN" or "I didn't stop dancing all night" or "my legs were sore from dancing the next morning." These are very high accolades coming from a bunch of house music snobs.

Even the older crowd had a blast - every single person in the room was dancing the entire time, fists pumping, and smiles glaring.

Furthermore, his presentation and set up was epic. The lights and the LED screens surrounded a top notch booth. The fog for the first dance and floor sparklers are a must.

We opted for the percussionist- HIGHLY recommend. He added an extra something to the vibe that the guests really enjoyed.

The mirror photo booth was a beautiful and classy addition that fit in with the venue instead of an eye sore like the traditional tent booth. For a small fee, Gemini also provided props like glow sticks and sunglasses.

Lastly, I am SO THANKFUL we did the social package with an extra photographer who took photos of our guests and streamed them on the LED screens. This is a MUST.

Not only are some of our most favorite pictures from this photographer, but Mike shared the photos with us within days of the wedding, which was an amazing recap of the night that we got to enjoy months before getting the photos back from our actual wedding photographer. Once you have your wedding, you will understand what a truly priceless gift it was to be able to see these photos while still feeling the energy and excitement of your wedding the week after.

A great wedding has four parts: good food, alcohol, good people, and good music. Thanks again Mike, Anthony, and Kevin for bringing your A-game. It truly was one for the books and it would not have been the same without you!

+ 8

photos

Laura M.

Married on 01/03/2020

The best night ever!!

We are so glad Gemini DJs were our DJs!! From the very beginning, they helped us pick out what we wanted for the venue and they had so many amazing extras! We had so much fun, our guests were on the dance floor all night and we had so many compliments from our guests saying how amazing the music choices were!! Huge thank you to Mike who came through for us in every way and made our night magical! We would definitely recommend booking Gemini DJs! Very personable, flexible, easy to talk to and exceptional service!

Lisa B.

Married on 12/31/2019

Outstanding Entertainment

Where do I begin ? From start to finish Anthony and the whole staff at Gemini treated us as if we were not customers but family ! He made suggestions , helped us through the whole process of picking out everything from music , lighting , Taco Bell at the end of the night for the guests , a mirror style photobooth and even a led robot to ring in the New Year ! Gemini went above and beyond and we would highly recommend them to anyone looking for the best

+ 3

photos

Kierstin P.

Married on 11/08/2019

A little bit of everything

We hired mike and his team at Gemini productions and were extremely impressed .We wanted a good mix of rock ,90s rap,r&b and dance music. Mike definitely understood our selections and picked a perfectly curated playlist for our wedding.Our guests were dancing all night.We would highly recommend!

Rita H.

Married on 09/12/2019

They were informative and give me update, worked with me on payments

I will surely recommend there establishment to anyone. Love their products.

Tiji G.

Married on 08/31/2019

Gemini dj are the best!

Mike was our DJ for the wedding. He absolutely rocked the night! He met with me before the wedding in person and figured out what kind of couple we are and our taste in music. Not one person was sitting in their chairs bored at our wedding. Mike played a good mix of indian music, EDM, top 40s etc. We also hired the robot man through them and let me just say that weeks after our wedding people are still talking about it. Hire them and you won't be disappointed.
They are very very responsive via texts and email. Mike is very nice and he helped me walk through the process without making me feel overwhelmed.
I can't thank them enough!
Are you interested?
Send a message