111 Reviews
Recommended by 97% of couples
Quality of service

4.8 out of 5 rating

Average response time

4.9 out of 5 rating

Professionalism

4.8 out of 5 rating

Value

4.8 out of 5 rating

Flexibility

4.8 out of 5 rating
37 User photos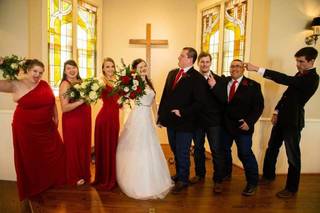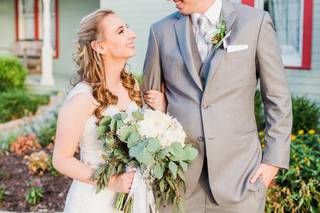 + 33

photos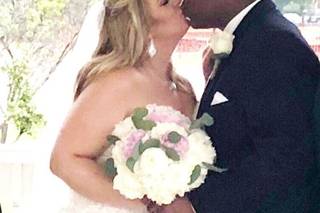 Ron

Married on 03/04/2021

Wedding Ceremony and Reception

Wonderfully beautiful venue for our daughter's wedding. The Chapel is very nicely done with spectacular stain glass windows, pews, and the perfect atmosphere. We utilized the Victorian house next door for the Bride's entourage to use pre-ceremony and it was spacious and ideal for the wedding party to do last minute touch-ups. The grounds offer diverse and beautiful locations for photographic opportunities and is spacious enough to have it to yourself. The reception hall was wonderful in its uniqueness and has multiple rooms to hold different aspects of your reception from a small gathering to a large party.
Brenda Tighe was our contact for the facility and her expertise really impressed us. She was readily available to lend her experience to assure we had the perfect wedding. Without her help we could not have done this as successful as she was able to. Overall, this experience was fantastic and we recommend this to everyone.


Frisco Venues's reply:

Thank you Ron and family for choosing the Frisco Heritage Center for Emily and Sam's wedding. Loved Emily's, Sam's blue suit, decor, food from Fadi's and belly dancer for entertainment. That really made the party fun! All of you put so much thought, love and work into this beautiful day.
Emily and Sam are a very sweet couple. I know there will be many more happy memories for all of you. Best, Brenda

Adrienne S.

Married on 11/27/2019

Great experience

Brenda is very easy to work with and has made everything smooth.

Frisco Venues's reply:

Well gosh Adrienne. I normally don't get reviews before the wedding! So sweet of you. I will work hard to make sure your wedding in the Chapel is a wonderful day for you on 11-27-2019.
Best. Brend.

Ruth S.

Married on 06/28/2019

We had a wonderful experience using the Smith-Muse house.

I am from out of town and needed to have a rehearsal dinner for my son and his bride to be in Frisco were the wedding was being held. They were using the church at the Frisco Hertiage Center which also have these wonderful historical houses available. We used Smith-Muse house. It was beautiful and accommodated all our needs and so convenient. Brenda was professional and very sweet. She helped us from corresponding through emails to being there at 10:30pm helping us clean up. Thanks Frisco your event facility and staff are Amazing!

Frisco Venues's reply:

Thank you Ruth for the awesome review! Your Rehearsal dinner in the Smith Muse house was perfect. Loved the blue checked linens, sunflowers on the table and the pictures of the bride and groom in the royal blue cute holders. Your whole group was so much fun. Glad you were pleased with the event.
Regards,

Are you interested?

Send a message

Karen H.

Married on 06/15/2019

Excellent Wedding or Special Event Venue

We wanted a place that could offer indoor areas for both the wedding and reception for our daughter's wedding. The chapel is lovely and was perfect for the wedding, the house next to it was used as the bridal suite, and we used the train depot for the reception. There are plenty of hotels in the area for guests and restaurants for catering and locations for the rehearsal dinner. Brenda was extremely helpful. She answered questions, made suggestions, was very responsive, and was an enormous help at both the rehearsal and the wedding. The only thing I would change would be the lack of refrigerators. It would be nice if they put a small refrigerator in the house (dorm/hotel room size would be fine) to be able to have cold drinks without bringing a cooler. It would also be nice to have a regular refrigerator in the bar service area in the train depot. (There is a refrigerator in the kitchen, but it is not convenient for the bar.) Our family felt the Frisco Heritage Canter was the perfect place for the wedding and reception and would be ideal for a lot of special occasions.

Chelsea D.

Married on 05/18/2019

Great venue

The venue is a beautiful place to get married, and I loved that it needed very little decoration or that the venue provided some decoration we could use at a small cost. It was perfect for our needs. I also liked that the cost was on the reasonable side.

Frisco Venues's reply:

Thank you Chelsea and Logan and so glad you were pleased with everthing. Angela from Pretty Little Planners did an awesome job of decorating and glad you liked the waves and chandelier that we did for you. You both looked gorgeous too! Congrats!

Alexis L.

Married on 05/04/2019

Baby Shower

All of our guests had a wonderful time! Thank you Brenda for providing excellent service.

Frisco Venues's reply:

Hi Alexis,
So glad you, the couple and your guests were pleased. All seemed to have a great time! The food is always yummy when provided by Babes Chicken. Your themed cookies were so tasty and looked great! Thank you! Brenda Frisco Heritage Center

Julie R.

Married on 03/26/2019

Fantastic Location!

Our daughter Hope was married at Frisco Heritage & we couldn't be more pleased with the location. Brenda Tighe, the coordinator for the venue, was wonderful to work with. She was available by text, email, phone and met us for an additional walk thru. The location has so many possibilities for whatever you can come up with to decorate for your wedding. I highly recommend using Frisco heritage as your wedding venue.

Frisco Venues's reply:

Thank you Julie for the lovely review.
You put so much thought and work into Hope and Daltons wedding. It was beautiful!
Loved the excitement that I could see in the cute couple from the minute you booked.

We appreciate you choosing the Frisco Heritage Center and so glad you were pleased.
Brenda

Alice

Married on 03/24/2019

Alice Mueller, Wedding Coordinator

Beautiful venue with amazing places to take photos, convenient, clean, reasonably priced and Brenda is great to work with. If your date is open, I would highly suggest booking it. Thank you Brenda, you made it so special for our Bride and Groom.

Frisco Venues's reply:

Thank you Alice, You put on a seamless event for Saturday's couple! It was a pleasure to work with you as you always responded to all my questions and requests for signatures, etc immediately.
The decor, food and entire wedding receptions was perfect!
Thank you, Brenda

Sabrina B.

Married on 11/10/2018

Beautiful Venue Located in Downtown Frisco

I had a unique situation - I moved my daughters wedding 3 weeks before the event. Brenda called me within an hour of contacting her on a Saturday. She met me the same day a few hours later and was very helpful from start to finish. She gave me her number so if I ever had any questions, and I did, she would quickly answer me. She has been doing this for quite a few years and has all the answers as well as a lot of contacts that she can recommend. Brenda even directed the wedding for us and it flowed perfectly. Located right in the middle of downtown Frisco, you step back in time with a block of historic buildings but all have been updated with modern conveniences. A beautiful quaint church that holds 120 and needs no decoration - it was perfect! The Train Depot is just a couple buildings down from the church was great for the reception. Great blue tooth sound systems in both the church and depot - you can run music from your phone. Convenient parking right across from the venues. So many great options for photos inside and out. We brought in our own food and drinks and hired our own people to serve or you can bring in a caterer. Close lodging options - one hotel even offered a free shuttle to and from the event - that was great (ask Brenda). I would definitely book again!

Frisco Venues's reply:

Thank you Sabrina. What a great review! You and your family were wonderful to work with. There are some people in life that you truly feel very comfortable with and enjoy conversation and that was you and your entire group! Even though it was a short time frame it came together perfect. Congrats Mom! I loved hearing about how your Grandmother would be so proud of how all of you continue to do so much together and how proud she would be. So glad you were pleased. Brenda

Ben

Married on 08/25/2018

We had a surprise birthday party for my wife here and could not be more happy. The management team was very accommodating with the things we needed and everything was in place / happened on time and without any type of worry.
We will definitely use them when we plan our next party.

Zebbie

Married on 08/18/2018

I loved this venue! I always wanted to get married in a church and this 100 year old church was perfect!
I was very blessed to be able to have our Pastor come to perform our ceremony. The reception was at the Frisco Train Museum so that made it very unique.
Brenda was my coordinator that the Frisco Heritage Center provided for us. Brenda was invaluable to making everything come together. She was very helpful with answering and responding to all of my phone calls and emails. If I wasn't able to reach Brenda then I was able to speak with Joni who was very helpful as well.
The Frisco Heritage Center is beautiful and will provide much class to your wedding .
I would highly recommend this venue!

Frisco Venues's reply:

Thank you Zebbie for the kind words. I too very much enjoyed working with Tracey and you. Your story is so unique and sweet. You both put so much thought into this beautiful wedding at the Chapel and Frisco Heritage Museum.
You both looked fantastic as did everything in the Chapel and the Museum.
I loved the colors (especially the blues!).
Great job and thank you again for choosing the Frisco Heritage Center Chapel, Crozier house and Frisco Museum for your wedding.
Regards, Brenda

Allison

Married on 06/30/2018

My husband and I were married at Frisco Heritage Center in June of 2018. We can't thank Brenda enough for making our day so memorable. The venue and grounds are well-maintained and the Depot is gorgeous. We were even able to take a few photos in the old school house on site. The backdrop of the Heritage Center helped make our wedding a day we will never forget. Thank you again!

Frisco Venues's reply:

Thank you Allison! You two were awesome to work with with never a complaint and always double checking all details as I know you wanted this wonderful day to be perfect and it definitely was. Every detail was thought through.
You both were beautiful as was all the decor! After Joni originally booked your wedding she told me how sweet you both were!
Again congrats and thank you!

De'von

Married on 04/21/2018

I wish I could've given 6 stars! Brenda was amazing to say the least. Super helpful, very friendly and an all around joy to be around. When my boneheaded brothers started getting rowdy she helped me reel them in so that we could all focus on the rehearsal. I'm a bit stubborn at times but Brenda is the most patient and kindest person I've met. You can count yourself lucky if you get Brenda to tend to your wedding and/or reception needs. Right before the ceremony I got nervous and forgot when and where I needed to go. She helped me through it. Thank you so much Brenda for everything. I'm glad we chose you and Frisco Heritage Center for our wedding and ceremony. You helped us created a fun and memorable wedding. Thanks again for everything.

+ 4

photos

Frisco Venues's reply:

Oh Gosh, Thank you Devon for the wonderful review and kind words.

It was a pleasure for me too to work with you both over the last months going over details and suggestions.
You both had love and excitement in your eyes every time we met!

Your brothers were the most polite, excited and fun Groomsman I have EVER worked with. Your parents should be proud and get a pat on the back.

You and Christy were beautiful inside and out and your decor, food and entertainment were outstanding.

Congratulations again and I am so glad I could assist in making this a memorable day for you both.
Brenda

Jasmine

Married on 11/10/2017

This is a REALLY great venue at an AMAZING price. Brenda went above and beyond to make sure that Andy and I had the wedding of our dreams, and I will be forever grateful. I love the charm of this place, and I especially liked that I was able to hold my entire wedding in one place. The chapel reminds me of an old chapel from a movie and the Depot, where the reception was held, provided the perfect rustic feel that I was going for. I can't say enough great things. I definitely recommend this venue.

Frisco Venues's reply:

Thank you Jasmine and Andy for this wonderful review! Of course you know I loved both of you! From the moment you booked I could see that love in your eyes. You were always so fun to work with and very appreciative . Your guests were too fun...especially the Brits. Stay in touch.
Cheers to many wonderful years together.
Brenda

Rosandra

Married on 10/29/2017

Brenda and Joni were great throughout the entire process. They worked with us on everything and made it so easy. It was a perfect wedding at the perfect venue.

Rosandra

Married on 10/29/2017

Brenda and Joni were great throughout the entire process. They worked with us on everything and made it so easy. It was a perfect wedding at the perfect venue.

+ 2

photos

Frisco Venues's reply:

Thank you Rosandra and Robert! We enjoyed helping your family with this exciting time in everyone's life! Wishing all of you a blessed marriage!

Alanna

Married on 09/24/2017

Loved working with the Frisco Heritage Center. They are all nice and wonderful. Very easy to work with and are willing to fit within your schedule for meetings, emails, and calls. Would highly recommend. Venue is very clean and the up keep us impectiable. Love them!

+ 5

photos

Frisco Venues's reply:

I enjoyed meeting all your lovely family and friends. You and Joshua were great to work with and very kind to me. You both looked stunning and I hope wonderful memories were made that day.

Lesleigh

Married on 09/16/2017

Everything was beautiful and Joni and Brenda were wonderful to work with. You could call them anytime with questions. We used BJ's Event and Wedding planning and I could not have asked for a more beautiful, well organized, perfect wedding day. It was great working with all of you and I will be using this event center again. Lesleigh & Eric Heath 09/16/17

Frisco Venues's reply:

Thank you Lesleigh and Eric! You two were so sweet and easy to work with! I am glad your wedding was everything you dreamed of! Hope to see you both again!

Bindhu

Married on 09/09/2017

Beautiful venue! :) Our guests of around 50 enjoyed the wedding. We luved the convenience of the wedding service and reception in the same area. The reception was at the Depot and we used an amazing decorater BJ's Event Planning & Decorating. I highly recommend this venue & best of all you will be working w amazing wedding coordinators, Joni and Brenda. Please check this venue out, you will
not regret it! :)

Frisco Venues's reply:

Thank you Bindhu and Dave! You were such a beautiful bride and the wedding dresses were spectacular! Very memorable wedding day for us too!

Tina

Married on 08/25/2017

Working with Brenda was very easy! She was always available when we had questions whether it was email, phone or text. The venue was the perfect setting for our Casual Country Wedding! Highly recommended!

+ 7

photos

Trudy

Married on 08/19/2017

We had 50th vow renewal and reception. They helped so much with ideas vendors and ideas. Helped whenever we had a problem, so easy to work with and give imput to solve issues. Beautiful chapel and grounds and to have reception at same location!
It was the best day of my life!

Frisco Venues's reply:

Trudy and Mike-
Thank you for sharing your 50th renewal of vows with us! It was such a fun day for everyone and you did a wonderful job planning your wedding day Trudy!!

Jazmen

Married on 07/08/2017

Brenda was fabulous. She worked with us from day one til the end to ensure our day was perfect! She coordinated our rehearsal and ceremony like a pro. I couldn't have found a better place to have my wedding and reception at an affordable price.

Laurea

Married on 07/08/2017

The venue is absolutely charming. Brenda Tighe is a wonderful coordinator. She is friendly and supportive. Our daughter's wedding was amazing!

Frisco Venues's reply:

Thank you Laurea for the kind words. Everyone was so nice and looked beautiful! Regina with Bj's Event Planning and Decorating did an awesome job of decorating, set up and take down. The Pink Satin and Rose Gold Runners were so pretty. Your Aunt's catering was yummy. I know you are so proud of your daughter and new son-in law. Such an awesome couple. I really loved the video that was played during dinner of their engagement and Heritage Center engagement pictures. Your guests and family loved it too. So glad we could make this a dream day for all! Brenda

Anita

Married on 04/02/2017

Joni, was professional and helpful. She was very quick to help and respond to questions. The wedding was beautiful in the quaint depot with specialty lighting added, for an extra romantic touch.

Shea

Married on 04/01/2017

We loved our experience with the Frisco venues! The venue is beautiful, we had so many compliments on our location. The coordinators are so great to work with and made everything easy on our wedding day! Thank you!
Are you interested?
Send a message