Reviews
5.0 out of 5 rating
Quality of service

5 out of 5 rating

Average response time

5 out of 5 rating

Professionalism

5 out of 5 rating

Value

5 out of 5 rating

Flexibility

5 out of 5 rating
100%
Recommended by couples
21 User photos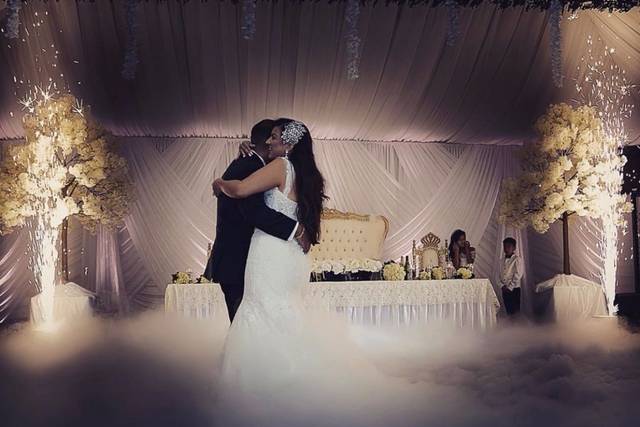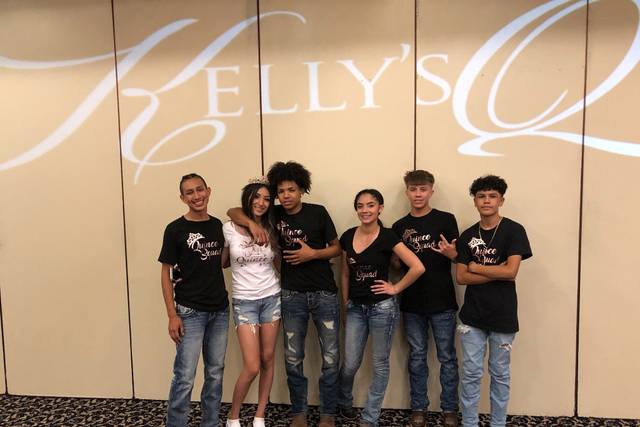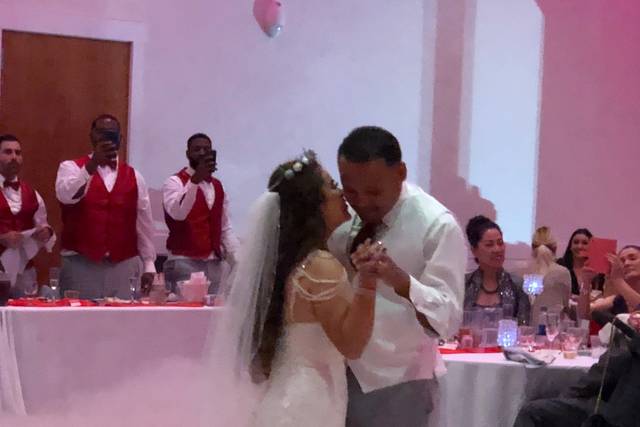 + 17

photos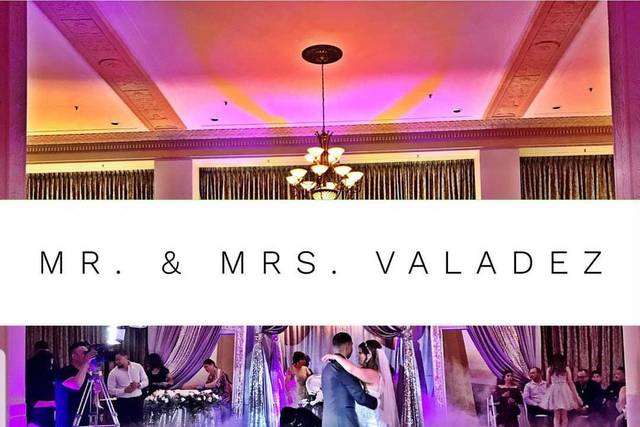 Claudia

Married on 10/05/2019

Claudia & Alejandro 10/19/2019

Planning a wedding can be stressful and picking the right vendors is a must. I remember meeting Miguel ''DJ Lunatiko" at the Visalia Bridal show. His spiel got us but we had to book. Like my fiance then said " He just hustled me." He is an amazing person and is hilarious. I would follow his page and see all the amazing events and would get anxious for our day to come. When the day came he just went above and beyond for us. We heard comments all day and still are hearing "Your DJ was awesome, He is hilarious, He is so organized, etc." We could never thank Dj Lunatiko enough for everything he did. We can truly say he treats you like family and that is how it should be. Thank you once again and like my husband would say #TheDJHustledMe but now #Heiswortheverypenny

Yocelyn G.

Married on 06/08/2019

Simply the BEST

Miguel made our event absolutely one to remember! He connected with my teenage daughter, listen and care for her requests. His engage with my guest made everyone believe we were related! He is simply awesome and because of his awesomeness my daughter's memory of that special Quince day will always be one to remember! Thank you for making my event MAS special!

Salvador G.

Married on 02/23/2019

Our wedding

Last weekend they did our wedding and literally the best there not just the dj but they make sure everything goes down how we expect it to you can sure count on them for that to happen

Are you interested?

Send a message

Jessica C.

Married on 10/27/2018

Left speechless!

Hands down the best dj ever! He has such an awesome personality! He made our wedding day so amazing! He's so well prepared and helped us remain stress free which allowed us to enjoy the party! Best part of it all he made the "tiger" come out of my husband!! We are beyond blessed to have come across one I've his videos and we were able to book a date. Thank you so much Miguel and thank you for working on your birthday to give us the wedding of our dreams!
With much love Mr&Mrs Camarillo

Jelani

Married on 10/19/2018

The DJ you need to hire! You won't regret it!

Highly recommended, DJ Lunatiko engaged with our guests and set a vibe that was on point. Everyone laughed at his jokes and enjoyed an unforgettable moments on the dance floor. He had lots of great ideas and the ability to improvise off the cuff is what sets him apart as a 1st class DJ + Emcee + entertainer! DJ Lunatiko is was very professional, detailed, and really worked to make sure the day was special for us. He always responded to phone calls and late night texts and was easy to work with. He studied our itinerary and made sure we were on time throughout the wedding, coordinating with vendors and venue staff. I can't say enough about their service. Everything was absolutely perfect and my wife and I recommend them to anyone looking for a 1st class DJ in Fresno. He saved the day when our catering company forgot the knife and spatula to cut the cake and he provided an extra one that he brought. Thank you so much!!

Daisy R.

Married on 10/06/2018

DJ Lunatiko is One of a Kind! - Romero Wedding

Miguel! We had an amazing wedding night and you had a big part of that. You were so attentive with us and our family! My friend you went above and beyond to make sure everything was on point. Those hick ups you had nothing to do with yet you jumped in with a quick solution making us feel at ease. We were so impressed on how there's still people like you now a days. People who genuinely care and love what they do! And to top it off after the night was over you took time to help us wrap up. My Family and Friends shared what an awesome DJ we had. Friends thought you were the primo or that we knew you for a lifetime with how well you worked with us. I don't see you as just our DJ. Your our friend who we love and appreciate like Family. Thank you Miguel! Thank You! We will never forget what you've done. And we will never ever book anyone else for our special moments but you! Primeramente Dios you'll be there for all our events in between and 25 years from now! Love you Man!! GRACIAS!

Yuritzy

Married on 09/22/2018

I can't express how amazing dj Lunatiko is! We just had our wedding this past Saturday and my guests are still talking about him. He really was the star, and I didn't mind sharing the spotlight! He was so awesome!!! Our coordinator left and I thought everything was ruined. It seemed like everything was falling apart! However there was no way Miguel was going to let that happen! He was running around filling our guests cups with ice, checking in with me and my husband all day/night making sure we were happy and had some beer at all times.lol From the start he was always so involved and always communicated with us, he made sure we got everything we wanted and more!!! He created the most perfect mix for our first dance and kept the whole night flowing smoothly. He was just sooo much fun, best MC i have ever encountered! It will not be the last time we book him and his amazing crew. There's just simply no one better then him, and I mean that!!!
Thank you so much once again Miguel!!!

Eric

Married on 08/18/2018

Exceeded all of our expectations! First class Professionalism, service, and production. You definitely get your money's worth! No need to look for any other DJ; DJ Lunatiko is the real deal!

Andres

Married on 07/21/2018

I've been in the Dj business for 6 years plus. When it came to my sisters quince. I hired Dj Lunatiko because he's a Dj a Dj could trust. Me and my family where extremely pleased with his services. His mic work, music, lighting, presentation and photo booth etc was amazing.

Nancy

Married on 06/23/2018

Ever since I heard about DJ Lunatiko I knew he was going to be our DJ even if it meant changing our wedding date. I told my fiancé we're getting DJ Lunatiko no doubt about it because if we don't there won't be no wedding lol. We were stressing out trying to figure out what time to do the toast, cut the cake, first dance, etc. Even trying to figure out the order of how things should unfold, well let me tell you DJ Lunatiko did all that for us. We stressed out for nothing. Days before the wedding we met up with him and I'm just a few minutes he had it all organized and by the next day we got the email and were able to forward it to our vendors that way they were in the loop of what time/order things were going to happen. The day of the wedding DJ Lunatiko was fantastic. He interacted with the crowd and in between made sure we were doing ok or needed anything. He even went into the kitchen and brought us a spoon so we could feed our daughter. What kind of DJ does that. He is truly one of a kind and the BEST DJ out there!! I still have people talking about how amazing he was and telling me they're going to book him for when ever they get married. Thank You DJ Lunatiko you made our wedding day a night to remember!!

Jose

Married on 06/09/2018

my wife and I want you give you a huge thanks for the services you did at our wedding we appreciate it! Everything was perfect and we couldn't have been any happier to have had you dj our wedding BEST dj in the VALLEY by far thank you so so much!!

Mary

Married on 05/12/2018

Best DJ on the planet!!!!! We absolutely loved the way he kept our guest entertained and on their feet all night for our wedding. He was very professional and all the music and timing of our schedule was on point. He provided uplighting for our event, which turned out to be amazing!!! He also provided his photo booth and props which everyone enjoyed. Not only was his service great but he was excellent at communicating with my husband and I. He would respond to any questions that we had immediately. I would highly recommend him to anyone and I'm sure my 300 guest would agree.

Shelley

Married on 04/28/2018

Dj Miguel was so great! He's really what made our wedding come together. He was always available for us whenever we needed him prior to our event and listened to all of our wants and needs. What a great person and dj! You really can't get any better!

Maryssa

Married on 04/27/2018

WOW! We are truly blown away by the service that DJ Lunatiko provided for our wedding. When we were trying to decide on a DJ, we kept asking around for recommendations and DJ Lunatiko was always mentioned, and not one person had anything negative to say about him. There were other DJ's who even praised him! We knew we wanted to go with him when other DJ's we spoke to even recommended him, and boy did he not disappoint. He was extremely friendly when we first met with him and his passion for what he does truly showed. He was interested in knowing us as individuals and cared about what we wanted for our big day. The day of the wedding, he was the true star of the show. His energy is amazing! He was constantly involving the crowd and everyone loved him for it. He has a great personality and is definitely made for this profession. The music he played was what we asked for and he knew how to keep the dancing going all night long. We truly believe he is what made our wedding so much fun. We keep hearing from our guests how amazing our DJ was and we couldn't agree more. He went above and beyond and we cannot recommend DJ Lunatiko enough!
-Nick & Maryssa Robles

Jessica

Married on 04/21/2018

First let me start off by saying if your looking for a dj, look no further and pick this guy!! I first heard him at my cousins wedding and knew if I ever got married he was my Dj, didn't care the cost, I even moved my date for him I just knew I had to have him play at my wedding. My husband was and has always been one of those guys who is very cautious on what he spends his money on and I gave Miguel (Dj Lunatiko) fair warning that he had some serious convincing to do with my husband lol, he smiled at me and said "I got this" we met with him and my husband was asking questions and Miguel was answering back so confident and guess what?! With no hesitation my husband said "let's do it, this all sounds great& id love to have him play at our wedding" we left that meeting with full on smiles and hubby was super pumped because Miguel made him feel comfortable with all that he was doing. I didn't know that with Miguel you are not only getting a Dj but pretty much a wedding consultant!! I would text him about concerns I had and he was quick with his reply! The big day came and boy was I amazed by how great he was, he helped with passing out cider bottles, he made sure he was coming up to me to check on us, made sure things were going smoothly! Our big day was made more special because he made us feel like we didn't have no worries that day! Our guests LOVED him, our wedding date was 4/21/18 & let me tell you people STILL talk about "my Dj" at my wedding! And they have asked for his contact information! He left my guest with an awesome impression! We couldn't have picked a better Dj!! Miguel, I am so happy with everything you have done for my husband and I that you best believe you will be playing for our 5 year anniversary!!! Thank you for your services and for being such an awesome person!!

Marcos

Married on 04/14/2018

Best DJ to have for a wedding. DJ Lunatiko was very professional from the first day we met him till the last song played in our wedding. He was so helpful by organizing and customizing our grand entrance. Miguel even got us our first drink as a married couple. My wife and I got so many compliments from our guest saying he was very good at keeping the dance floor full. Some of our guest even thought he was from out of town. My wife and I always knew DJ Lunatiko would do a great job and he exceeded our expectations.

Michael

Married on 04/07/2018

What can I say? Worth every cent! I knew to book Miguel for my wedding months ago and as luck would have it he had a spot open and I booked that same day. He is the consumate professional. He gave us a lot of ideas that we would have never thought of given our busy schedule (parents of a 2 year old.) He kept the dance floor full and was the MC of the night, making everything run extremely smoooth! Guest kept telling us if he was local (Sacramento) and we had to say he was from FRESNO! and we highly recommend him.

Marilu

Married on 03/24/2018

We had the best DJ ever! Dj Lunatiko made our wedding day a PARTY! I have never met a DJ who went out of his way to make sure the bride and groom had what they needed at their table. Miguel did that on top of making sure our dance floor kept going all night. By the end of the night all our guest kept asking for his information. He is the best and we highly recommend him because our family will definitely be using him again. Marilu & Emilio Martinez

Trisha

Married on 03/17/2018

There aren't enough words to describe how AWESOME You are! Our daughter's quinceanera was the best! Your personal touch to our grand entrance was so beautiful, Amaya's custom marquee- breathtaking. Your photo booth is top notch. Everything was perfection. My family and I had the best time. MAS entertainment thank you for making my daughter's quince a night she will remember forever.
Book him now- your event will be epic and be remembered as the best celebration ever!
Miguel Angel Soto is perfection when it comes to a Dj.

Jorge L.

Married on 01/27/2018

DJ Lunatiko is the best DJ in the valley, and I say that with absolute certainty, because I did the research. It was essential that we had great music at our wedding and DJ Lunatiko delivered. He is bilingual, very personable, and professional. He knows how to get the party started and keep it going all night long. If you don't have DJ Lunatiko at your event, you might as well spend the music budget on an auxiliary cord and play one of your Spotify playlists, because that's the quality you'll get from any other DJ.

+ 3

photos

Mayra

Married on 10/21/2017

Miguel aka DJ Lunatiko was our weddings DJ by title but became our go to person for everything! He went above and beyond to make our whole experience one to remember and an easy going, stress free ride. We fell in love at first ear with him at our friends wedding and it was all up hill from there. I remember panicking looking for a great photographer and just had no luck.. We always felt so comfortable with him from the start that I knew I could ask him if he would recomend us to a great photographer and he sure did and saved my life that day! Miguel was always there for us for whenever we needed anything even if it had nothing to do with his DJ duties, always riliable and would respond my texts fast and with a solution, he has solutions for everything!!! And when I mean everything, its everything!! The venue where our wedding happened was suppose to provide us with a working slide show system, for some reason it didnt work out and MIiguel was there to the rescue and fix the problem in matter of seconds.. then also the catering people never got us our cake slicing utensils even after I requested them personally and guess who came to the rescue?.. YUP MIGUEL!!!! he ran to his truck and brought a brand new cutting cake set for us to use and even set it all nice for our pictures! MAN!! This man saved our butts multiple times!!! The party and music was a blast. There was not one second the dance floor was empty, we ourselves didnt sit at all from all the great songs he played. Family from out he country has a freakin blast and they all couldnt stop saying how awesome our wedding was and how awesome the DJ was and all his music. And the photobooth!!! The best! Customized it and his assistant is just as great with posiitive energy.. had pictures printing the whole night. Miguel even surprised us with our own Snapchat customized bitmoji filter that was also a big hit with our guest! I can go on forever and say all the great things Miguel did for us, he is #1 DJ, PERSON!!!

Jesus

Married on 10/20/2017

Miguel (DJ Lunatico) is absolutely the best him and the MAS team really take everything to the next level!!! We first heard him DJ at my best friends wedding then again at another friends wedding, My wife & I said then, yup he's going to be our dj! He really helped out with planning, how our day was going to unfold, he gave us ideas since he's in the business and we really didn't know much of how to plan for the day. If we had any questions he's a quick text away and he gets back to you quick! My wife and I both surprised each other had my glasses all fogged up! He def helped us every step of the way to make our day so memorable. I can't forget about that custom photo booth prints to the custom photo scrap book. I definitely recommend DJ Lunatico for your events he's one down to earth DJ!!!!

Olivis

Married on 10/13/2017

We should be able to give this guy 10 stars because he is awesome. Our guests could not stop talking about how much fun they had at our weddung. DJ Lunatiko is thee best! He not only plays great music, he also helps keep the reception running smooth. He helped make our grand entrance awesome with the music and the lights. I love the design he came up with for our photo booth pictures and the monogram he put on the wall. Easy to work with and communicate with. We recommend him to everyone we know. Absolutely worth every penny!

Victor D.

Married on 09/29/2017

If we could give this man more than 5 stars we definitely would without a doubt. When planning our wedding, we planned our wedding date around his availability because it was that important to us that we have DJ Lunátiko DJ our wedding. Not only does he DJ, but he MC's, provides media packages and lighting, he's a coordinator, he a point of reference, he does it all. Planning a wedding can be stressful but with the help of DJ Lunátiko we knew we were in good hands and he helped us every step of the way. A DJ can make or break any wedding and trust us when we say, he will definitely make it EPIC!! Thank you again DJ Lunátiko for lifetime full of EPIC memories!!

Juan

Married on 09/10/2017

Getting Miguel Soto aka DJ Lunatiko to DJ and provide the photobooth for us was the best decision we could've made. He's very professional at what he does, even meeting with him and the process of planning the wedding he was very helpful. It's exactly what anyone would look for. You provide the information and he will make it happen! He will absolutely make sure your wedding has a smooth flow! Definitely recommend him and his crew! You will not regret it!
Are you interested?
Send a message