Reviews
4.8 out of 5 rating
Quality of service

4.9 out of 5 rating

Average response time

4.8 out of 5 rating

Professionalism

4.9 out of 5 rating

Value

4.8 out of 5 rating

Flexibility

4.8 out of 5 rating
97%
Recommended by couples
57 User photos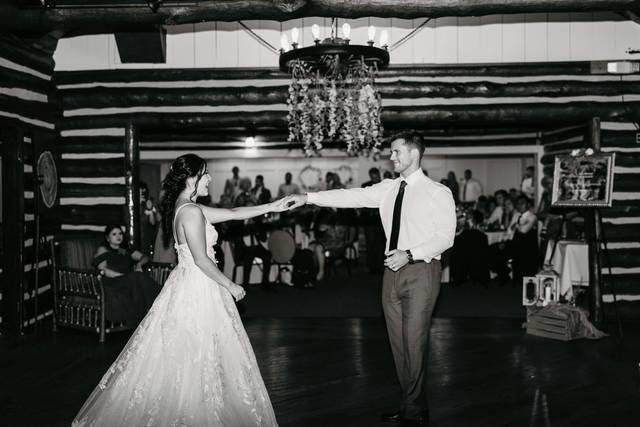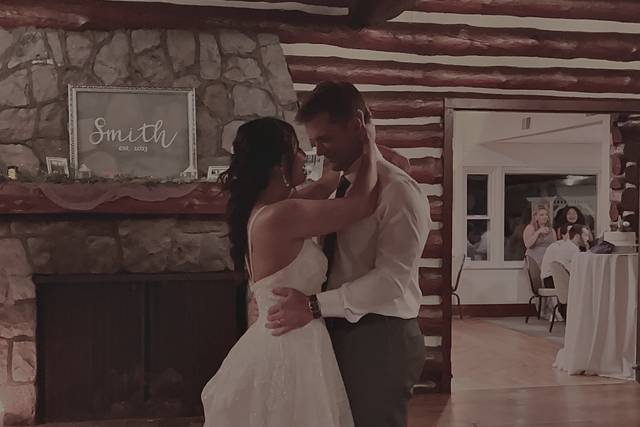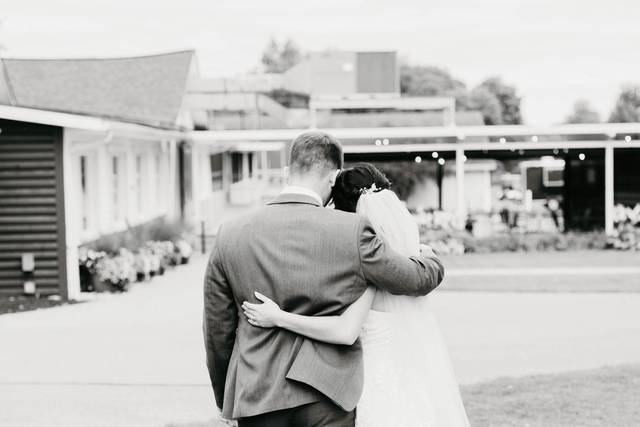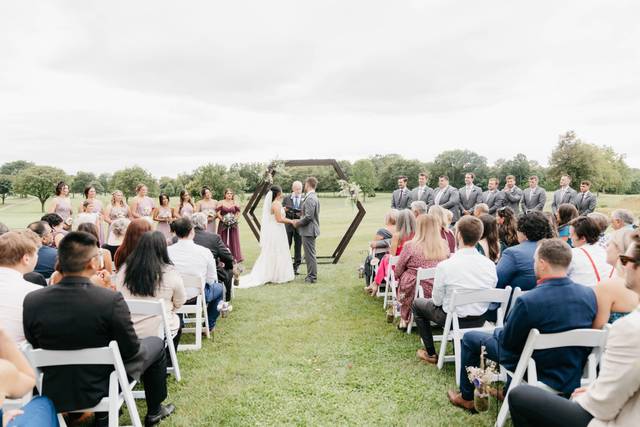 + 53

photos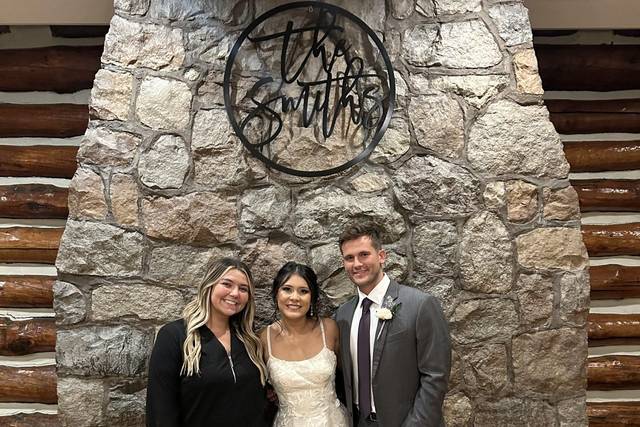 Featured

Sarah M.

Sent on 07/18/2023

Best wedding venue in plymouth, mi!

Fox Hills has a beautiful venue, great food, and an amazing staff. I cannot say enough how helpful Catie and Sam were throughout the wedding planning process. They were responsive and accommodating to Jake and I as we navigated planning a party for over 250 guests. The tasting was so fun. The preparation meetings made us confident in our plan. It was SO easy to understand our budget. They helped us customize our options to best fit our day. Fox Hills was the perfect venue for our wedding! A million thanks to everyone at Fox Hills.

Fox Hills Golf and Banquet Center's reply:

Wow, thank you SO much for your kind words! It was such a pleasure having you and Jake here and we're so honored that you chose us for your big day. Your wedding was absolutely stunning. We're so happy that you enjoyed the entire experience, because we did too! Wishing you both a lifetime of happiness and love. Hope to see you soon!

Kimberly

Sent on 03/11/2017

So, we all know this venue is the most beautiful- that's apparent from the moment you see it. But The Fox Classic's biggest asset is not the historically restored cabin, or stone fireplace coupled with views of the golf course or the garden gazebo. No, the biggest asset is the people that work there. We got married on February 18th, 2017 on an unusually warm day. Every single person at Fox Hills that day and every day leading up to the wedding, were truly a joy to work with. Rebecca and the her team helped us dream up and plan a wedding far surpassing anything I could have imagined on my own. Jay was the most amazing and friendly bar tender I have ever met with a memory of an elephant. It seemed he remembered what every guest was drinking. The wait staff were friendly and professional. From our first visit to the final moments of the reception, every single person at Fox Hills was professional, kind, responsive and most importantly, made us somehow feel even more excited about our wedding each time we spoke with them. If you are looking for a rustic venue, know that not only will you be getting a beautiful space, but a worry free wedding day, because you will have a whole team of people working hard to make sure that your wedding day is perfect. Truly cannot say enough good things about these people, this place, and the experience they provide.

Bianca E.

Sent on 09/12/2023

THIS is the venue

I wanted a cottage core vibe for my wedding and the Fox Classic was EXACTLY what I needed. The staff, oh my goodness…. Amazing! Mike was so nice to us and made sure we had what we needed. The bartenders Tammy and Jacqui were soooo sweet and even left us a card and chocolate 😭.

+ 2

photos

Fox Hills Golf and Banquet Center's reply:

BLOWN away by you! It was an absolute honor to be chosen as your wedding venue

Are you interested?

Send a message

Kelly S.

Sent on 11/08/2023

Fox hills is amazing!

Had such a wonderful experience having my wedding at Fox Hills (Golden Fox Venue)! Catie, the wedding manager, was INCREDIBLE from start to finish! She was so responsive and helpful throughout our entire engagement. And the day-of coordinators handled everything perfectly. The food and drinks were fabulous too! Highly recommended having your special day at FH :)

+ 4

photos

Fox Hills Golf and Banquet Center's reply:

Kelly,
If I could write a review for *you* somehow, I'd give you 5 Stars :) It was an absolute pleasure working with you and we are so thankful to have been able to host your wedding reception.

Levi D.

Sent on 07/16/2023

Great food and picturesque place for a wedding

We had our wedding here in June. Beautiful Sunday wedding and even though it rained we made it work inside the Fox Classic with about 125 guests. Catie is very organized and a major reason why we chose the venue was because it was important to us to have someone who was very good at listening to requests and working with us. Mike, the day of contact, was extremely helpful in making our inside ceremony work and Catie gave us early access to setup decorations on the day of. And everyone was a huge fan of the food! The food quality is really fantastic, we had the chicken veronique and cajun braised pork shoulder with basil orzo and matchstick veggies and boursin garlic mash.

+ 2

photos

Fox Hills Golf and Banquet Center's reply:

Thank you, Levi, for your wonderful review! Your photos are absolutely gorgeous and we loved having you at Fox Hills for your wedding day. Thank you for trusting us with your big day and we're so happy to hear that you enjoyed working with Catie on your planning and that you had a great experience with the food & service the day of the wedding. We wish you both a lifetime of happiness and hope you come back for your next event!

Lydia M.

Sent on 01/17/2022

Best Venue for Large Weddings

Fox Hills was the best location we could have asked for to tie the knot. We were married in the gazebo and had our reception was at the Golden Fox. The venue and garden are beautiful, and the staff are there to help every step of the way. We could have not planned the day of our dreams without Catie, the Wedding Manager. She helped us put our vision into reality and we could not be more thankful. The day of was great as we were able to use golf carts to take pictures around the course, the dance floor was large enough for our big crowd who love to dance, and the wrap around balcony allowed for everyone to get some fresh air. Food, bar service and passed hors 'devours were excellent. They were incredibly accommodating to all of our needs, we could not recommend Fox Hills more highly!

Fox Hills Golf and Banquet Center's reply:

Lydia,
Thank you for such a thorough and thoughtful review. It was a dream to with you and your family! We hope your wedding day was full of love and laughter and are so happy you chose Fox Hills.

Alaina L.

Sent on 11/23/2021

A Million Stars!!!

Safe to say I will forever recommend Fox Hills to everyone I know that is getting married! Our wedding reception in the Golden Fox was by far everything we could have ever asked for. Everything was affordable but very elegant with great food options and bar options for the price. It's a great priced location for being metro Detroit and so close to ann arbor! Catie & Sam were lifesavers on so many occasions. Catie was super fast in getting back to me with the million emails I sent her leading up to the wedding, and everything we asked to be done was taken care of! Our guests said it was the best wedding reception they had ever been to. The photo locations on-site are breathtaking and we had such a great time taking pictures in multiple locations on their property. Terry, our day-of contact that was working on-site the day of the reception was by far one of the best people we've ever met. He would make sure we always had a drink or food or anything else we needed to be done. He even packaged up some leftover GF pizza for me at the end of the night to take home and eat since he saw I didn't eat a ton of my dinner. All of Fox Hill's staff and facilities were remarkable, we could not have asked for anything better for our wedding reception!

Fox Hills Golf and Banquet Center's reply:

WOW - thank you, Alaina, for sharing your kind words! We appreciate everything that you had planned and prepared for on your end along the way. I am so happy that everything turned out remarkably - you and Nathan definitely deserved it.
-Catie

Cindy P.

Sent on 10/29/2021

Outstanding!

The team at Fox Hills stopped at nothing to make sure we had the most perfect day; one that we will truly never forget! We were faced with some major last minute changes due to power outages in the area and we had no idea how everything was going to turn out. They made 2,000% certain that despite all the hiccups, everything would go off without a hitch....and it FAR exceeded any of our expectations. As a matter of fact, the day turned out WAY better than we had originally planned.
The food was phenomenal, the ceremony site was absolutely perfect, The Summerhouse was TO DIE FOR with the August sunset sky and the lush grounds, the staff was so accommodating and easy to work with, making sure that every step of the way, my groom and I had everything we needed and that all of our guests were happy and satisfied. We had quite a few guests with food allergies and special needs, and the chef did not skip a beat and every single request was met perfectly! Our guests could not stop commenting on how amazing their meals were! OH! Cannot forget the appetizers and late night snack....AMAZING!! We also had some guests who had attended other weddings at Fox Hills in recent weeks prior to ours and they were blown away with how spectacular the event was given all the snags we all faced!!
Fox Hills went above and beyond for us and we will never be able to truly express how grateful we are to their incredible team and how thrilled we were with how perfect everything turned out! THANK YOU SO MUCH FOX HILLS!!

Fox Hills Golf and Banquet Center's reply:

Wow - how thoughtful of you to take the time to share these kind words!! You truly deserved a perfect day, especially given all you have been through - and I'm overjoyed to read that you felt it was. Our team works hard on Wedding Day to execute it just the way you planned. Given all of the obstacles that you faced, we are so happy that all of the adjustments and modifications worked out in your favor.
Planning a wedding is never easy but adding long distance, a pandemic and unfavorable weather conditions in and you have truly been through it all. Congratulations and well wishes for a happy future to you and Jon!!

Brittany F.

Sent on 12/20/2021

Fox Hills Wedding

I had the best experience at Fox Hills on our wedding day!! It is a beautiful venue and they were very helpful throughout the wedding planning process; especially on the day of. I highly recommend having a wedding here!!

Alison

Sent on 11/20/2021

Fox Hills Summerhouse

Fox Hills provided great service on our wedding day! We had our ceremony and reception at the Summerhouse. Originally we planned to do the ceremony at the Tree near the Summerhouse, but due to rain we had to move it to the dance floor. The staff was very helpful with the last min weather change. Everyone still had a great time and we are pleased with how it all turned out! Thanks Fox Hills!

Fox Hills Golf and Banquet Center's reply:

We are so happy that the love between you and Jeff weathered that June storm! I still think the day turned out beautifully from the photos you shared. We wish you all the best in your future together and it was an honor working with you.

Katie M.

Sent on 05/19/2021

The Best Experience Ever!

Working with Catie Hatfield and her staff at Fox Hills was undoubtedly the best experience I had during the process of planning my sisters wedding. Every email, phone call, or meeting with Catie made us feel like we were in the best hands. Catie and her team went above and beyond for my sister, her husband, and our families. The entire process from first phone call, to last call at the bar was easy, stress-free, and FUN! The food was delicious, drinks were great, and then Golden Fox venue was clean, and beautiful. I cannot recommend Fox Hills enough. A huge THANK YOU to Catie, Melissa the bartender, Terry the F&B manager, and the entire staff.

Fox Hills Golf and Banquet Center's reply:

Katie,
I can't thank you enough for taking the time to share your experience! We are so happy that it was a positive one - you were so easy to work with and I'm glad that it all worked out. Emily & Levi deserved a special evening and you surely helped them make that happen, too! Thank you, again, and we hope to work with you in the future.
-Catie

Rachel F.

Sent on 03/14/2022

A day I will never forget

We had a GORGEOUS outdoor wedding at Fox Hills. Our wedding took place during a time of uncertainty of gatherings due to COVID and Catie was very helpful and creative in helping us organize our wedding in a way that was safe and still what we were hoping for. Terry and the staff working on the day of the wedding were absolutely amazing and we couldn't have asked for better experience!

+ 2

photos

Fox Hills Golf and Banquet Center's reply:

Rachel, you and Ben deserved a beautiful wedding and we were so happy to be part of the journey! Thank you for handling the whole process with grace and for taking time to share your experience.

Megan P.

Sent on 03/30/2022

A Night To Remember

We had our wedding at Fox Hills in the Fox Classic this past weekend. They were wonderful! We were a pandemic-rescheduled wedding, so we started working with them in 2019. They were super understanding of our reschedule, and worked with us to carry everything over to our new celebration. They really bent over backwards to make sure everything was wonderful for us! They carried over all our previous payments and honored our incentives. We had a couple last-minute requests and a bit of a reorganization of our seating chart, and they handled it all with no problem, and no additional charge. Catie was fantastic throughout the rescheduling process, keeping in touch with us and making sure she had answers to all of our questions! It was a beautiful venue, delicious food, fantastic people, and we couldn't have been happier with our experience!! Thank you Fox Hills for making it a night to remember!

Fox Hills Golf and Banquet Center's reply:

Hi Megan,
Thank you for sticking with us for so many years and trusting us to make your wedding memorable! It was great working with you and Jake - if there is anything you need down the road, we would be glad to have you back.
-Catie

Allyson

Sent on 09/06/2019

Couldn't Be Happier!

My husband and I got married at the Golden Clubhouse at Fox Hills a few weeks ago and we couldn't be more pleased with how perfect our day was! Our guests loved the venue, raves about the food, thought the staff was very friendly, and the facility was clean. The staff was responsive to our questions during the planning process and all turned out as planned the day of our wedding! We had a fantastic time and a great experience!

J Dallacqua

Sent on 07/31/2019

We had a wonderful wedding!

We just had our wedding at Fox Hills, and it was pretty perfect. Everything ran very smoothly, including an outdoor ceremony at the gazebo. Many of our guests commented positively on the venue, food, and service. Rebecca was incredible and answered all of our questions along the way. She was friendly, helpful, and kind, and always responded quickly -- we felt confident throughout the planning that our wedding was going to be everything we hoped for, and it was! The staff was also incredible and we all enjoyed the evening very much. We highly recommend Fox Hills!

An amazing wedding experience!

My daughter was married at the Summerhouse @ Fox Hills. It was an absolutly perfect day! The location of the ceremony was just beautiful, with the water feature in the background gave it that something extra. Rebecca and staff were wonderful to work with and one of the things that I really liked was no ridiculous, stuffy rules. They allowed you to bring your wedding dreams to life! I would describe the Summerhouse as "backyard party meets upscale wedding" It was just perfect. Having many children at the wedding, it was a wonderful place/space for them to run around and let out some energy, allowing the adults to have fun on the dance floor. We brought 2 corn hole games and with the outdoor hightop tables, it was perfect for guests to use and put their drinks on. Ultimately, the weather is the star here, and you are taking a chance on beautiful weather. They do have things in place incase the weather is not good, but when it is, it is just perfect. Fox Hills makes everything so easy with an all inclusive package. They were wonderful at answering my many, many questions and always got back to me in a timely manner. We had a last minute issue with a beehive in the rafters, the day of the wedding and they immediately took care of it. They provided us with ladders for decor, cold water as we were getting ready and were there for any issue or help we needed. I got many compliments on the food, drinks and location. Many people said it was the most fun they have had at a wedding in a long time or ever! Wow! I would highly recommend Fox Hills!

Brenda

Sent on 05/29/2018

Had my daughter's Bridal Shower at Fox Classic May 2018. They made the experience a true delight!!!! Staff was awesome to work with!! The food was excellent!!!! They made a wonderful memory for my daughter and me!!!!!

Alecia

Sent on 08/19/2018

ABSOLUTELY PERFECT! We had our July 2018 ceremony and reception at Fox Hills Summerhouse and from the beginning to the end everything was perfect. We had 200 guests and have been complimented over and over again from everyone about how great the venue, food, and staff were saying it was the best wedding people have been too! From when we booked, Rebecca was on top of everything the entire time answering all questions that were asked, and there were a lot! Our food tasting back in February was perfect and we were given a lot of tips for the day of our event. Our day of coordinator Josh was there every step of the way double checking and answering any questions that we had. The wait staff and bartenders were awesome and were on top of their game the entire day! I was that worried bride that thought about everything from will it be too hot, do I need to rent fans? to what if it rains will everything be ruined? Rebecca had an answer for every single question. Fox Hills has a few fans hanging from the ceiling and with the cross breeze that comes through the temperature was perfect. It rained a little during our reception and the staff was quick to put down the sides until the rain subsided. I would 100% recommend Fox Hills to anyone looking to book the most perfect ceremony and reception site with the best food! We wish we could go back and do the entire day over again, we wouldn't have changed a thing!! Thank you to Rebecca, Josh and all of the staff at Fox Hills for making our wedding everything we could dream of and more!

Shawna

Sent on 07/23/2018

I cannot say enough good things about Fox Hills Golf & Banquet Center for a wedding venue! We were married at the beautiful gazebo and our reception was in the Golden Fox. The grounds and event space made for gorgeous backdrops for our pictures. Rebecca and her team were wonderful to work with. My husband and I had so much fun at the group tasting, we knew we had made the perfect choice for a ceremony and reception venue! Leading up to the big day, Rebecca was always available via phone and email for questions or concerns. They even accommodated a last minute addition to the guest list! On the day of the wedding, Terry was an absolute life saver! His calm yet funny demeanor was exactly what we needed! Any misstep or small mistake was corrected by him immediately. Even getting the ceremony music corrected! He was so patient with our silly and sometimes unruly bridal party and tried his best to keep us on our schedule! His knowledge and experience truly shined. The food was outstanding. Even when the bridal party was running a bit late for the start of dinner, everything was fantastic. We had so many compliments from our guests! The bartenders, wait staff and kitchen had us full and well "hydrated" throughout the evening! A big thank you to Jay, one of our wonderful bartenders, who went above and beyond by helping set our tables with decorations, ensuring that the MOG got her special wine and that we, the bride and groom never went without a drink in hand. For anyone who is looking for a wedding venue, Fox Hills is the complete package!

Our wedding was PERFECT!! We had our reception at the Golden Fox. Rebecca was great through the whole planning process and made everything easy. Terry and all the staff were excellent the day of the reception. We were running a little behind schedule on when we arrived to Fox Hills and Terry made it extremely easy to move things around so they worked for us! Dinner was still hot and very excellent even with us pushing dinner back a half hour. All of the guests raged about how perfect everything was. We are so happy we celebrated our special day at Fox Hills!! We would do it all again if we could. We would 100 percent recommend Fox Hills to anyone!

From start to finish to even after EVERYONE at Fox Hills was and is amazing. The food was great, the staff was attentive and super friendly. Highly recommending Fox Hills for any event.

Chelsea

Sent on 10/22/2017

We could not be happier with how our planning process went and how flawless our wedding was!!! From the first consultation through many back and forth emails, Rebecca and Brooke really knocked it out of the park! They respond to all of your questions in detail and super fast, all of our requests were met without hassle. Ryan was by our side all night helping with every area to ensure the night went flawless and it totally did!!! The grounds were so so beautiful I couldn't think of a better place to have our ceremony and receiption. Everyone complimented us on the food and the amazing service!! If you want a beautiful, helpful, delicious, convenient, affordable, friendly, place to get married...Fox Hills is your venue! Book it as soon as you get engaged!! Take our word for it!! Thank you fox hills team for making our night unforgettable!!! Xoxo Michael and Chelsea 10/20/2017

Fox Hills Golf and Banquet Center's reply:

Chelsea and Michael,
Thank you for writing such a wonderful review. It was truly our pleasure to work with you both. We love being part of such a special day in your lives and we are all thrilled your day was flawless. Cheers to the many happy years to come!!
Sincerely, Rebecca and the entire Fox Hills team!!

Angela

Sent on 09/14/2017

We had a hard time finding the perfect location to have our ceremony and reception at. Just like everyone else you are looking for that perfect venue. Fox Hills was probably our 5th visit. I was loosing hope that we would find the best but Fox Hills was beyond perfect!
From day one of touring the venue to the very last song at our reception, everything was PERFECT!
Rebecca is amazing to work with. She's very calm and pleasant. I was extremely nervous when sitting down with her for the final touches and she was calm and guided us in the right direction. She truly knows how to do her job coordinating your wedding and will make sure it's exactly what you want.
The day of the wedding I met Terry. He was EVERYWHERE! He made sure everything ran smoothly. My husband and I wanted a sunset photo before everyone had the chance to eat. Terry doesn't like to feed the guests until the Bride and Groom had eaten but was willing to bend his rules so we could get our sunset photos. He approached us by name which made you feel like you were important. The bartenders seen you coming and had a drink ready. Other employees came to our head table and made sure we all were taken care of. Everything went perfect because of Terry and his staff!
We were out on one of the greens taking photos and a guy on a golf cart came up and said, "I have some golfers coming. Would you like me to hold them up so you can finish your photos?" Wow! I was so impressed that we could hold up golfers to finish getting our perfect picture.
If you are looking for confident, friendly and stress free venue this is it!

outstanding customer service from the planning process to the bartenders at the reception. everything was top notch.
beautiful venue!

Fox Hills Golf and Banquet Center's reply:

Thank you for your kind review Chuck! We wish you many years of wedding bliss!

Jennifer

Sent on 08/10/2017

I cannot say enough great things about Fox Hills! From our very first appointment when looking at venues, to end of the reception, Fox Hills was our perfect place to get married. We got married on July 22 at the Summerhouse, which gave me the feel of a Michigan outdoor wedding, with a touch of elegance because of the string lights and chandeliers hanging inside of the structure. We had lawn games out, and were able to add flowers and vinery to the pergola that we got married under. Rebecca was absolutely delightful to work with. I am a person who asks a lot of questions and is a super planner, and she was happy to answer all of my questions in a very timely manner at any time. Our tasting for our menu, which was in March, was a great way for us to chat with other couples getting married at the Summerhouse around the same time as us. We got to share ideas, ask each other questions, and there were Fox Hills staff members walking around throughout to give us more information about that venue. The food was AMAZING! We knew it would be because we have been to the Sunday brunch before. The staff made sure that our buffet was fully stocked, they accommodated our guests with allergies or food preferences, and they were overall very attentive to our guests and our head table throughout the entire night. Jim was our Fox Hills manager for the day, and he helped to keep us on schedule and on track for the whole day. He seems very passionate about what he does, and is very detail oriented, which worked out well for me because I am the same way! He even helped us tear down the reception at the end of the night! Our guests raved about the food and overall experience at our wedding, and I owe a lot of that to Fox Hills! We were able to take the golf carts around the golf course for pictures. The grounds are beautifully maintained and the colors really pop in our pictures. Fox Hills Summerhouse surpassed our expectations on the day of and we could not be happier!!!

Fox Hills Golf and Banquet Center's reply:

Jennifer, thank you for such a wonderful review! I am so happy that we surpassed your expectations. From all us at Fox Hills, we wish you many years of wedded bliss!!
Are you interested?
Send a message