46 Reviews
Recommended by 97% of couples
Quality of service

4.9 out of 5 rating

Average response time

4.8 out of 5 rating

Professionalism

4.8 out of 5 rating

Value

4.9 out of 5 rating

Flexibility

4.9 out of 5 rating
2 User photos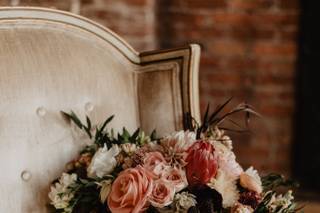 Chiara

Married on 07/21/2019

Amazing Florist

My then fiance and now husband thoroughly recommend this florist. We used them for our wedding at the NYBG on 7.21 and they were amazing. From the moment we connected Dean was attentive and responsive. He provided great advice and guidance along the way. The arrangements were the nicest I have ever seen and am so lucky it was my wedding. I received tons of compliments and am so happy we chose them.

Olivia D.

Married on 09/01/2018

Shelli is amazing!!

Shelli is amazing!! She took the ideas I had and made them 10x better. I knew what everything was going to look like going into the big day, but was still surprised (in a good way) when I saw it in person. It was better than imagined it myself. She'll execute your vision in the best way possible!

Mary

Married on 06/02/2018

Shelli was so wonderful to work with in so many respects during the wedding planning process. I was referred to her from a family member who said Shelli had been in the florist business for 30 years. During my first meeting with Shelli, her experience shown through so evidently, as I attempted to describe a few ideas I thought I liked for flower arrangements and she was able to not only organize those into a complete theme, but show me actual samples that she had on hand. She was also very flexible, responsive, and patient when I mulled over various centerpiece ideas for months. When it came to the day of the wedding, she delivered all of the flowers on time and they were positively gorgeous!! I cannot speak enough to her decades of expertise and quality of her work-- Shelli is the best!

Are you interested?

Send a message

Kimberley

Married on 06/01/2018

Comfortable setting, not pushy at all. Sherri is like talking to a friend when she's getting your ideas and putting things together for you. She goes right to the cooler and puts it together so you can visual see what your talking about and with a lot of different options. She was recommended by a co-worker who used her for her daughters wedding. I can't speak enough about Sherri and her services.

Shayla

Married on 02/18/2018

The one thing I always knew I wanted at my wedding (besides the perfect man) was TONS of gorgeous red red roses. My wedding would not have been the one I'd always dreamed of if it wasn't for Shelli. Her vision perfectly matched mine and everything from the aisle decor to the bouquets (mostly mine) to the centerpieces was literally PERFECT. It made the whole vision come together. It was the pin! The roses were everything. I really wanted a winter wedding and we ended up getting married 4 days after Valentines day. The only flower I wanted was the classic red rose and it ended up being the most expensive time of year to buy Red Roses ;) ! Shelli worked with me to make my dream meet my budget. Even my husband loved the planning meeting. Shes got amazing energy and creativity and she will give it all to you on your big day.

Brigid

Married on 09/09/2017

Shelli was a joy to work with and put together some of the most beautiful arrangements , bouquets and boutonnieres I've ever seen. She took the time to understand the aesthetic I was going for and also provided really great suggestions when I needed them. Could not be happier with how it all turned out!

Barb

Married on 06/17/2017

Incredibly beautiful and excellent value. The florals exceeded all expectations. So many guests commented on the beauty of the floral work.

Holly

Married on 06/10/2017

Shelli did the florals for my daughters wedding.... she far exceeded our expectations
They were absolutely stunning
The Bride & Groom were so pleased!
Shellis professionalism and calm demeanor were amazing. So grateful for her help and guidance in pulling off a stunning wedding!
Thanks Shelli

Lory

Married on 03/02/2017

Thanks Thanks Thanks!!!! =) Super happy with everything you did for us!!

Amy

Married on 11/11/2016

Shelli was amazing to work with (even when you have multiple edits to an invoice) and super knowledgable about flowers. She truly knows how to turn your vision into reality! She also helps you keep your floral affordable! Everything looked wonderful, even our wedding venue vendor commented on how amazing they were and they see a lot of flowers arrangements. We would highly recommend Forever in Bloom Floral.

Amy

Married on 11/05/2016

Shelli was fantastic! She listened to all my needs and wants, made suggestions where necessary and brought my vision to life. The flowers were BEATUTIFUL!!!

Our flowers were gorgeous! Shelli was wonderful to work with and met with us several times when we made changes to our wedding color palette. She completely captured the look and feel we wanted for our day. Not only did our flowers leave everyone talking, they didn't leave a huge dent in our wallet!

Forever in Bloom created the most gorgeous flower arrangements for our wedding. They were absolutely perfect.

Shelli was fantastic!! My husband and I had visited a floral shop near our house and they were terrible. Unprofessional and made me feel dumb because I didn't know much or anything about flowers.
We were later referred to Shelli and wow am I glad we went to see her. We had a meeting her and I had mentioned that I had no idea what I was doing and she reassured me that she would take care of us. I showed her pictures and she gave me so many ideas. She even made a mock of my bouquet and I loved it!
I had mentioned to her that I had my aunts dress who had passed away and I would like to coordinate a piece of her dress on my bouquet. She definitely made it memorable and the piece of her dress looked amazing on my bouquet.
I would HIGHLY recommend Shelli as a florist!! Our flowers were gorgeous!! She takes a lot of pride in what she does and it shows!


Emma

Married on 09/12/2015

Shelli came highly recommended from a friend who used her for her wedding, and she most certainly lived up to the reference! When I first met with Shelli, I had very little idea what I was looking for -- style, types of flowers, etc. -- after showing her a couple of pictures and briefly describing the style of the wedding Shelli stepped away for a minute and came back with an absolutely perfect mock up of what flowers she had in mind. It was beyond what I could have imagined. Shelli was extremely flexible as changes arised and was a pleasure to work with not to mention her costs are extremely reasonable. The floral that Shelli delivered completely blew me away -- from the stunning bouquets, to the corsages, the breathtaking arch that we got married under and all of the gorgeous certerpieces. Thanks to Shelli, the space was completely transformed and the flowers that I was able to save lasted for nearly 2 weeks! I won't hesitate to recommend her to anyone looking for a floral genius.

Amazingly talented, easy to work with, and her flower designs are stunning!!

Wow! We absolutely loved our flowers!!! Shelli is sooooo nice and great to work with. I highly recommend her for your wedding flowers. Prices are very reasonable, too.
You go out to her home in Vadnais Heights for the consultation- but well worth the drive! She makes it really fun! HIGHLY RECOMMENDED! :)

Lisa

Married on 05/30/2015

Shelli was amazing to work with! We met several times to ensure she had my vision correctly. Let me tell you, she surpassed all of my expectations! Her floral arrangements were BEAUTIFUL! She was incredibly professional and on point with timeliness, responsiveness and answering all of my questions and concerns. The flowers were stunning! Shelli is so passionate about her work and clients and it truly shows in her final product! Thank you Shelli, you are amazing!!! Thank you for making our wedding day so beautiful!!!!

Renee

Married on 07/19/2014

Shelli is an absolute joy to work with and truly understands what her clients want. I didn't have a clear vision of what I wanted for flowers and Shelli exceeded my expectations. We had beautiful, full, romantic bouquets and lovely (but not overly distracting) boutonnieres/corsages. I even gave her part of my mother's wedding dress and she creatively wrapped my bouquet with it. Thank you, Shelli for providing our (large) wedding party with amazing flowers and great service the day of the wedding (for a reasonable price!!)!

Shelli was incredible to work with! For starters, she is just the sweetest person. When I first met her, she told me she treats her clients as if they were her own daughters...and this is so true, she really does! Aside from this, her work is absolutely beautiful! I met with Shelli on two different occasions while planning our wedding to talk about my vision. And she couldn't have been more spot on in the end! I loved my flowers so much. I truly don't think Shelli knows how amazing and unique her arrangements are. She is so humble. Additionally, she was BY FAR the most reasonable price-wise. I don't think you can find a better deal and quality for wedding flowers in the Twin Cities area!

We had our wedding flowers done by Shelli. I went to her with one flower in particular that I loved (tye dye orchid) but I wasn't sure if she would be able to get it and what to match it with. Shelli had tons of ideas and books so I could visualize every option. She is so upbeat and positive. I loved working with her. There was no negative aspect to my experience with Shelli. Our flowers were unbelievable! The value you get for such a wonderful end product and service has to be unmatched. She was timely, available and reliable. I would strongly recommend her to anyone looking for wedding flowers. She will not disappoint!

Lacey

Married on 07/27/2013

Shelly is phenomenal! She has 20+ years of experience and it shows! I choose Forever In Bloom because I trusted Shelly, I can be a little controlling over things and knew that I wanted to hire a florist that knew my wedding location / space, and I trusted her that my flowers would look fabulous the day of the wedding. They looked beyond my expectations and Shelly did a wonderful job. I was recommended by a family friend who is also using her for their daughters wedding this August. Shelly's prices are fantastic as well! She is a gem and is known by word of mouth! I highly recommend her to brides and grooms looking for a florist.

I cannot say enough about how wonderful Shelli is to work with. When I walked into her shop for the first time to describe what I wanted my bouquet to look like, she listened carefully and then stepped into the back to pull a few flowers together--and came back with my bouquet. She completely understood what I wanted and provided suggestions and options to make it look even better. She designed corsages and boutonnieres (and provided extras on the day of the wedding). She showed us options for centerpieces that were completely cohesive with the bouquets and boutonnieres. She even provided a flower (and an extra, just in case) for me to wear in my hair at the reception. When I arrived at the reception, I was completely blown away by how beautiful everything looked. She had decorated side tables, high-tops, even the bathrooms (!) without me mentioning anything about it to her. Not to mention, she worked within our budget and came at the end of the night to clean up for a very small fee. Do not hesitate to contact her, she will do an excellent job.

Megan

Married on 09/14/2012

Shelli did such a wonderful job at our wedding last weekend! She is very nice and easy to work with. Really spends time making sure you get what you are looking for at the price that works for you. Got so many compliments on how beautiful my flowers were!!!!

I was blown away with what Sheli can do. She made my flowers exactly how I wanted them and could not have asked for more beautiful flowers. She let us use all of her vases and votives and her creations are incredible. I would highly recommend.
Are you interested?
Send a message