44 Reviews
Recommended by 100% of couples
Quality of service

5 out of 5 rating

Average response time

5 out of 5 rating

Professionalism

5 out of 5 rating

Value

5 out of 5 rating

Flexibility

5 out of 5 rating
12 User photos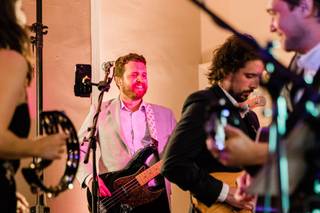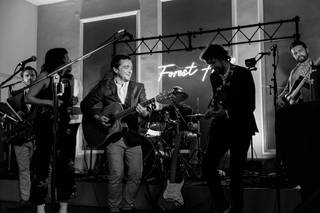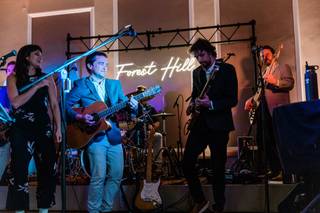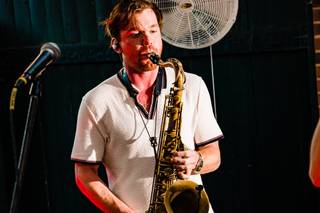 + 8

photos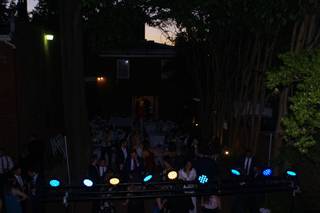 Anthony G.

Married on 11/05/2022

Outstanding!

The Forest Hill Band exceeded all of our expectations. They played a wide variety of songs that entertained our guests for the entire reception. The saxophone is an awesome and unique addition to the band. All of our guests raved about the band and how much they enjoyed it. They were easy to work with and very attentive to our requests. They come with our highest recommendation.

Taylor

Married on 10/15/2022

Best Wedding Band!!

Forest Hill is a must for your wedding! They are professional, kind, and truly care about making your wedding exactly what you want it to be. We saw them at a friends wedding and knew we had to have them and are so glad we did! They engaged the crowd so well, played awesome music, and were extremely memorable to both us and our guests. Nothing but praise for this group!!! They go above and beyond.

Thomas H.

Married on 10/08/2022

Wedding band - forest Hill/Shack Band

Had multiple people say it was the best wedding they'd ever been to, because the band absolutely killed it. They were high energy, the dance floor was full from start to finish and they even played an encore song at the request of the crowd. So awesome.

Are you interested?

Send a message

Courtney L.

Married on 09/24/2022

Wow! What a Night!!!

We booked Forest Hill Band for our Wedding with about 170+ guests (of all ages) and they were AMAZING! Mason and crew were so professional, really accommodating and everyone loved them. They are the perfect mix of a musicians, and great singers who were happy to play to the party and felt the energy of the crowd- everything from jam band tunes, Motown/Funk, 80s, and 90s tunes. We used 2 musicians for our special wedding ceremony and another for the piano cocktail hour- they can do it all! I've had so many comments from guests today saying how fantastic these guys were and loved being on the dance floor all night! No hesitation in recommending them and we know we will see them again soon! Thank you so much!

Robbie L.

Married on 09/10/2022

Amazing music and amazing people!

Not only were we thrilled with Forest Hill but our guests were so impressed with their performance! Mason from Forest Hill was a pleasure to work with and made everything so easy for us both in preparation and on the day of our reception. After a month and a half, our friends and family are still raving about Forest Hill and how much fun they were. Some even said their covers were better than the original songs! We would recommend Forest Hill to anyone who is looking for a fun band for their reception.

Also, Mason's suggestion for an acoustic dinner set was incredible and really set the mood while people were eating.

They played at a volume that allowed for conversation when folks weren't dancing and everyone had such a good time because of their awesome song selection and sequencing.

10/10, can't wait to get married again so we can see them live one more time!!

Andrew G.

Married on 05/21/2022

Perfection - Seriously!

These guys nailed it - Seriously! Best wedding band you could imagine. They kept the crowd engaged and dancing the entire time during their 2 main sets with party favorite covers - good banter between songs - and an overall energetic vibe that was impossible to ignore! In addition to executing the main event - they were incredible to work with on the front end offering their expertise and advice on the setup, flow, and timeline. They nailed it top to bottom with Hunter playing an acoustic set during the cocktail hour - to Mason DJ/MC'ing the entire event including our pre-ceremony playlist, ceremony songs, grand entrance, and the parent dances. Essentially they covered the entertainment start to finish. Could not recommend them more - if you get the opportunity to add the female vocals don't sleep on that - she's a rockstar! Thank you again Forrest Hill for a night to remember!!!!

Sally R.

Married on 05/19/2022

Fabulous Band!

Josh and Mason communicated with us regularly leading up to our wedding. They were very responsive and accommodating to all our last-minute changes. Everyone loved the band, they matched the vibe of the venue and our guests perfectly. We loved having them play. Two different guests reached out afterward about using them for an upcoming event. Definitely, worth it, I can't imagine the day without the music they provided.

Mike M.

Married on 05/07/2022

Incredible band!

Being a musician, choosing a band was one of the most important decisions for our wedding. We wanted a band that was not just another carbon copy wedding band and we could not have made a better choice! Our friends and family couldn't believe how incredible they were! This band is super talented, professional, and was so easy to work with. They covered the music and mc'ing for our ceremony, cocktail hour, and reception without a hitch. They play with soul, know how to work the crowd, and kept everyone on their feet all night. Their song selection was a great mix of older and newer tunes of all genres, but it honestly didn't matter what they were playing because everything was so well done. They catered perfectly to the vibe of our reception throughout the night (including a very cool arrangement of our first dance) and also, I am a stickler for good sound and their sound engineer did an amazing job as well. We are still talking about how good they were a month later! Don't hesitate to hire Forest Hill - I promise they will exceed your expectations!

Tori S.

Married on 03/01/2022

Professional & Soulful!

Forest Hill was a non-negotiable at our wedding after seeing them play at multiple friends' weddings, and other social events. They bring the good vibes with their energetic and soulful sets - would recommend them to anyone who loves to get down to some funky music. Pretty sure some of our engaged friends are going to hire them, as well, after seeing them play at our wedding. Mason was incredibly professional and responsive, and an overall treat to work with. Would give more than 5 stars if I could!

Scott L.

Married on 11/06/2021

Forest Hill stole the show!

I expected Forest Hill to be great after seeing the samples on their website, but great didn't do them justice. The absolutely killed it at our wedding. We couldn't decide who was the best member of the band because they are all so talented in different ways. From the sax, to the guitar solos, to different singers taking the lead on different songs, to the drummer being cool enough for me (the groom) to get up on stage and take over the drums for a song, they had everyone at the wedding having a good time, which was our #1 goal. They played the oldies so well that the young guests loved em, and played the recent hits so well that the older guests enjoyed them as well.

Mason was my point of contact leading up to it and he was so chill and understanding about what we were looking for, and was so flexible for some of our more unique requests.

I've been to many weddings, and even though this was my own, they were the best wedding band I can remember. You will NOT be disappointed.

Carly

Married on 09/25/2021

Amazing band

Forest Hill was incredible!

First and foremost, they are extremely talented. Our guests commented multiple times that they would go to a concert where Forest Hill was playing, that's how great they were.

Moreover, they were so accommodating and listened to everything we asked for. We have pretty specific taste in music and wanted a laid back vibe for the evening and they nailed it. They went out of their way to learn a handful of songs that were special to us for the processional and recession 2 weeks before the wedding - they did this no questions asked.

If you are looking for a super talented, responsive, and nice band, this group is for you! Cannot recommend highly enough.

Nolan B.

Married on 09/18/2021

Incredible Night

This band provides the best live music money can buy for a wedding! They play to their crowd. They played two long sets for us with an encore and the energy was incredible. They setup a PA for the ceremony, music, microphones for officiant and speakers. Very responsive and easy to deal with and will cater to anything you need.

Kat

Married on 09/05/2021

A dream to work with

We are beyond thrilled to have Forest Hill as our wedding band. Mason was so helpful and courteous and made the planning process so easy for us. The band sounded awesome and our guests raved about them. We didn't want a typical "top 40"/"motown" band that we see at a lot of weddings and they really made it unique to our style. I would highly recommend!

Robert W.

Married on 08/28/2021

Wonderful wedding band!

This band is so engaging and knows how to get the party going! There was no lapse between them starting and everyone being on the dance floor. These fellas and ladies know how to get everyone excited for an event and we cannot recommend them enough!

Mason B.

Married on 07/16/2021

Without a doubt, the most fun wedding band ever!

Forest Hill played our wedding last weekend and absolutely knocked it out of the park. They are a group of highly professional and incredibly talented musicians who know how to cater to an audience perfectly. Be it classic rock, motown funk, hip hop (the list goes on), Forest Hill's performance at our wedding had every guest commenting on how amazing the music was. Neither my wife nor I have ever seen a wedding dance floor so full.

Melanie G.

Married on 06/05/2021

Run, don't walk to book Forest Hill!

Forest Hill made our wedding night SUCH a blast. We have received countless compliments about how fun our reception was and it was all because of this band. Not only did Hunter play amazing acoustic music for our ceremony, Mason was a fun emcee and perfectly announced our entrances, speeches, etc. At the end of the night after playing two great sets of music that had everyone on the dance floor, they even got my husband and I on the stage to sing karaoke style--honestly a highlight of our night. Seriously BOOK THIS BAND, they rock and I can't recommend them enough.

Kyra

Married on 05/01/2021

Wildly talented and Incredibly Fun

This band made our wedding and my guests and I could not have danced harder. From the start of the wedding, they guys were professional and on time and managed themselves without oversight. They helped us MC and keep to schedule while keeping the mood fun and casual. And most of all, their light and sound production made it feel like we were back at a concert venue. Cannot recommend this band enough.

Jamie B.

Married on 12/12/2020

Forest Hill Review

Mason made the experience so easy the entire time. Knew exactly what we were looking for after our initial conversation and provided us with multiple great matches. We ended up going with Forest Hill band and would most definitely do it again (and again). Everyone was talking about the show for days after. Great group of guys who have a huge range of music and know how to put on a show! The music was very important to my bride and I and am so glad we went with mason and Forest Hill.

Maggie M.

Married on 09/19/2020

Best Vendor of the Night!

Just incredible. First of all, we split our wedding up in standard Covid fashion, and the band was so accommodating with that. They played as a 3 piece band at our little ceremony, and worked with us as we planned and replanned our wedding reception. They were so positive and we're just ready to play whenever the time was right. We finally had our reception last weekend and they brought the house down!!! They have amazing energy and a broad range of songs so they read the room to figure out what's gonna keep people on the dance floor. Everybody had an amazing night. I had also asked Mason if I could jump up there and sing Valerie with them, and it ended up being a highlight of the night! Energetic, accommodating, attentive, easy going, and so so talented. You'd be foolish not to book these guys.

Kerry S.

Married on 06/05/2020

Best Band Ever!

5 stars all around!

I heard of this group at my cousins wedding and after hearing them we had to use them for ours. We received so many compliments on the ceremony music and looking back, wish we had recorded it to listen back to.

The group even played our Father/Daughter song live which kicked off the reception with a bang.

It was such a special day to our families and the music was a huge part of it. We can't thank them enough for making our wedding such an incredible day.

Jonathan A.

Married on 09/07/2019

Tuckahoe Fantasy Concert (and wedding)

Forest Hill exceeded expectations and made our wedding perfect. The lighting, the setup with stage, the ease of processing and then capped off with a performance of a lifetime. These guys are all extremely talented musicians that anyone would be lucky for the change to hear. Everyone. I mean everyone. At the wedding could not believe we were able to get such talent. Cannot recommend them enough.

Side note: Mason Owen who is in the band helps manage other entertainment options. Mason was an absolute professional (on top of being a world class musician) that can scale and coordinate entertainment for any of your needs.

Do yourself a favor. Contact them.

Drew H.

Married on 06/29/2019

Best wedding band we've seen - book them

Forrest Hill was everything we were hoping for in a wedding band. They are both professional and extremely musically talented. They had relatively few reviews when we booked, but all the reviews were so positive that we decided to pick them and we're very glad we did. They certainly outperformed other wedding bands we've seen in the area. On top of that, Mason was extremely easy to work with and was really flexible to all of our needs. He worked with our day-of coordinator to deal with all the details; we just had to fill out a questionnaire and tell him what kind of music we liked and he took care of the rest. Crowd was on the dance floor all night, and most guests told me how awesome the band was. I can't recommend these guys enough.

Danny

Married on 06/08/2019

Forest Hill- Highlight of the Wedding

I can't begin to say enough good things about Forest Hill. From initial contact, Mason was responsive, professional, and incredibly helpful. He was willing to work with us to craft the soundtrack to not only our reception, but our ceremony and cocktail hour as well. I'm so glad that we utilized every iteration of Forest Hill during our wedding.

We had Forest Hill's Acoustic Duo before the ceremony. It provided an elegant ambiance that kicked off the evening. During dinner, a saxophone joined the duo to continue the great music. Mason was a professional Emcee throughout, keeping us on schedule and creating a natural flow to the events.

When the full band started, all of our guests were amazed at the talent and musicianship of the band. They executed flawlessly on great tunes, including 3 of our own choosing - which were spot on renditions. They read the room and adjusted timing and tempo in their song selection to keep the party running at 110%. Even the shyest guests would not leave the dance floor.

The day after our wedding, more guests contacted me to rave about the band than anything else. "That was an awesome wedding band" "Thank you all for deciding to get married at that awesome rock concert" "Those guys rocked" It was the lasting memory for myself, my friends, and my family.

I cannot recommend Forest Hill enough. However, be prepared to share a little of the limelight on your wedding day, because when they take the stage, your guests' attention will not wander and they'll end up dancing until the night ends.

David

Married on 05/11/2019

Exceptional

Not only did Forest Hill travel 7 hours to play at our wedding, they also playing for what seemed like 7 hours. Mason, Hunter, Gillespie, et al were professional and, more importantly, nailed it. 11/10 - would book them for any event that requires having fun.

Mckenzie

Married on 04/27/2019

The Best Wedding Band Ever!

Forest Hill brought the house down. They delivered an unforgettable night for the wide range of guests that we had - from the musically inclined like my husband to the Top 40 lovers like myself. They really kept the vibe going all night and our guests are still raving over them. They put a unique flare on all the songs that made them perfect for a wedding reception. We also had a few special requests for our first dance and parents dances and their rendition of True Companion still gives me goosebumps. We also used them for our ceremony and cocktail hour music and they were perfect. The were extremely professional and Mason was so organized and detailed and that made everything day-of go exactly as planned with no worry.
Are you interested?
Send a message