43 Reviews
Recommended by 94% of couples
Quality of service

4.7 out of 5 rating

Average response time

4.7 out of 5 rating

Professionalism

4.7 out of 5 rating

Value

4.6 out of 5 rating

Flexibility

4.7 out of 5 rating
2 User photos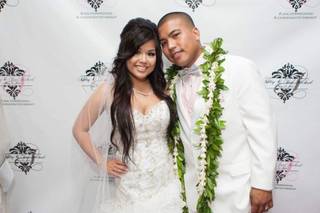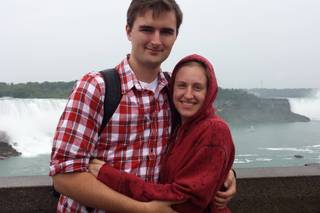 Virginia B.

Married on 09/02/2022

Best Production Company Ever!

When we found FM Event Productions website, they were the first vendor we hired and we were so happy with their one stop shop idea, it was a lot of relief knowing we don't have to search for too many vendors. Our plan was to get a vendor that can do dance floor wrap, uplighting, downlight, spotlight, cloud effect, indoor sparklers, photo booth, and custom stage design, and their website reflect that. The DJ came through with the music. One of my cousins told me that they wanted to go to the restroom, but it was one great hit after another and didn't want to miss out. Even though our wedding was from 6-12 many thought that would be too long, and people were begging for another hour so they could continue to dance. I had a friend dance the soul out of her shoe! The party was so good. I had another niece who doesn't usually dance, the DJ had him on the dance floor all night long. FM Event Productions and his crew were very professional and responded to phone calls and emails in a very timely fashion. I would recommend FM Event Productions to anyone who wants a good party, and I would hire them again without hesitation.

Teri C.

Married on 02/04/2019

Outstanding service and great experience

FM Event Productions did a phenomenal job! The personalized Monogram and UpLighting throughout our venue were perfect for the space and exactly what we wanted. DJ FM met with us beforehand to make sure our vision really came to fruition - and then executed it flawlessly! DJ FM also handles the music, and really the only way to put it is that he KILLED IT! Rare is the DJ who can transition seamlessly from cocktail hour to dinner to dance music. FM is a master of all 3. Our dance floor was packed from beginning to end, and our guests weren't exactly dancing people. DJ FM read the crowd perfectly like the true professional that he is. 5 stars for DJ FM, and the entire FM Event Productions crew. Thanks for making our wedding amazing!

Walter L.

Married on 12/08/2018

Best service ever

Let me start this review by saying DJ FM is excellent at what he does! We had such an incredible time at our wedding and loved every song DJ FM chose. We were on the dance floor from start to finish, which is exactly what we wanted! I booked FM after an hour long phone call just discussing his DJ methods. A year later, we met with DJ FM and he was more knowledgeable than I could have imagined. He helped us with our music timeline & organization, was willing to work with our hopes to have a fun & relaxed event versus your more traditional event, & really went above and beyond to make us feel like he had everything ready for our big day - and he most certainly did! I will continue to recommend DJ FM to family & friends!

Are you interested?

Send a message

Marlon B.

Married on 11/17/2018

Really amazing

FM Event Productions is the best! DJ FM was EXCEPTIONAL and everyone danced all night. We had an endless compliment and some guests even asked if he had a copy of the playlist because it was so good. We are so glad we hired FM to DJ our wedding. He was the perfect DJ and kept the wedding moving with the perfect enthusiasm. He also kept checking on us to see if we needed anything and truly worked hard to make our night perfect. Don't think twice, hire now!

Robert P.

Married on 11/10/2018

Amazing experience with these loving person

We had the pleasure of working with DJ FM. We researched many different entertainment companies -- both DJ and live band alike.
We really wanted to get the music at our wedding right: from the ceremony to cocktail hour, to reception. We had many genres of music that we wanted to implement to set the mood at every stage of our wedding. We also wanted to make it a memorable evening for a diverse guest list from rockers, dance music lovers, to retired relatives and friends. Now in our 40's we have such a diverse music love, but absolutely love great dance music as former "club heads" from NYC and Florida. When we came across FM Event Productions we were impressed with their experience and track record. FM Event Productions is so prompt, professional, and consultative they really won our business. It was so easy to work with them from Virginia and business transactions were a breeze. After our first consult with DJ FM, it was a no-brainer. DJ collaborated with us to understand the best way he could make our day special. He touched base with us along the way from 90, 60, 30 days into the week of our wedding. DJ FM made our day very special and set the mood at every turn. DJ FM kept everyone moving throughout the night. We are truly grateful to have worked with DJ FM.

Micheal C.

Married on 11/10/2018

Best DJ Service ever!!!

We cannot praise DJ FM of FM Event Productions enough! We had the most incredible experience with DJ FM for over a year leading up to our wedding day. We had a Mirror Photo Booth as well as Uplighting from DJ FM and everything was perfect. FM was the perfect DJ for our wedding! We received so many compliments about the music and entertainment value throughout the entire reception. We can't thank DJ FM enough for making our wedding day perfect. We'll highly recommend him.

Bryan M.

Married on 09/28/2018

DJ FM is super to deal with!!!

It was truly a pleasure working with DJ FM. We interviewed multiple DJs before we spoke with DJ FM and we immediately got a vibe from him that we really liked. In addition to liking his style as a DJ, we appreciated that he is willing to help with wedding planning as well. He gave us input on multiple iterations of our timeline and even offered to make it for us from scratch if we wanted. He gave us some great suggestions for our ceremony music and other key songs throughout the night since we didn't really know where to start (first dance, cake cutting, etc). He was always very responsive to emails and was overall very easy to work with leading up to the wedding. On the day of the wedding, he delivered just as he had described in our first meeting. The ceremony music was very good and we received multiple compliments about it. When the dance floor opened, he started with some oldies to get the older guests involved and smoothly worked his way up to newer music. He had really good transitions between songs and there was a good rhythm going from one song to the next. We've been to weddings where the combination of songs feels random and it definitely makes the dance floor lose energy. That was never the case with DJ FM as he kept the dance floor packed all night and was able to keep multiple generations happy throughout. He was really good at reading the crowd, and my parents said they really appreciated that he played music that they enjoyed dancing to. My wife and I really appreciated that he adhered to our do not play list even though I know some of my friends were trying hard to get him to play one song from it. Overall, we couldn't be happier with our experience working with FM Event Productions. The main qualities we were looking for from our DJ were someone that was helpful with planning and that kept the dance floor crowded all night. He did an excellent job in both areas and we highly recommend him!

Joseph B.

Married on 09/22/2018

Superb Service

My friend and I had a hard time choosing a DJ as our budget was a little lower and the DJ services we were finding were a little more expensive than we wanted to pay. When we met with DJ FM, he definitely seemed like he knew what he was talking about when discussing Caribbean music and he was friendly during the initial meeting. He played most of the music we asked for, but not all of it and instead played things we hadn't asked for. Would definitely recommend to my family and friends.

Chinelo

Married on 09/08/2018

Awesome experience

We hired DJ FM for our wedding reception on Cherry Blossom boat in Alexandria. It was a decision we didn't regret. The music was great, flowed perfectly, and he had our guests (plus my husband and I) on our feet all night long!!! I definitely recommend him!

Allan D.

Married on 09/08/2018

Great customer service and resonable prices

DJ FM made the flow of our wedding day very smooth! My wife and I couldn't have been happier with his performance. DJ FM did a great job DJ'ing and he paid great attention to details of what was going on during the wedding. He came up to us on a couple occasions to make sure we were ok with some impromptu guest requests (like someone wanting to sing). He really had our best interest in mind and made sure that the night turned out quite special! I wholeheartedly recommend checking him out if you need a wedding DJ. Don't take my word for it. Here are the comments from two different guests that my wife and I were told during the evening: One was "best wedding DJ I've ever heard" and the second was "I don't have any prospect of getting married but I found my wedding DJ." If we already didn't know that we made the right choice, those solidified it.

Kay S.

Married on 09/01/2018

The Very Best

DJ FM went above and beyond!!!

Daniel Z.

Married on 08/18/2018

Great experience and awesome service

DJ FM and his crew are absolutely amazing. We booked him for our wedding and he definitely gets the crowd going and make the reception run smoothly. He met up with us before the wedding twice and gave us suggestions that were really helpful! Communication is superb and this is definitely a vendor I will always have in my contacts to book for all my events in the future! Do yourself a favor book FM Event Productions their packages include everything you need: Uplighting, Photobooth, Gobo Monogram, Cloud Effect, Dance Floor etc for a great price! Thank you again DJ FM and team!

Paul P.

Married on 07/07/2018

A ton of love for DJ FM!!!

I would HIGHLY recommend FM Event Productions as a DJ company!! When looking for a Wedding DJ, I was looking for someone who could play Persian, Carribean, and American music. I live in Florida and our wedding was in Washington, DC, making my search for a DJ a little challenging. But from the start, FM Event Productions were one of the easiest vendors to work with. Not only did he communicate promptly to any of my concerns but also provided me advice with other none DJ related questions I had throughout. His expertise and advice were so helpful in helping me make decisions from a long distance. If you are a bride, you know how stressful the year of planning is, FM and his team were the least stressful part of the entire process. We had DJ FM himself for our wedding and I am still receiving calls from guests about how amazing the music and DJ were and that they have never danced so much at a wedding before. Prior to the wedding, we met with DJ FM where we went through some music preferences. He listened to exactly what music we wanted from our playlist. I can't say enough good things about this company and would highly highly recommend them for any wedding needs. Thank you FM Event Productions for making our special night memorable!

Mickey L.

Married on 05/18/2018

DJ FM is super for wedding event!!!

We hired FM Event Productions for my parent's 60th wedding anniversary. From the time we decided to use FM Event Productions to the date of the event, DJ FM was attentive and asked questions about the venue, the type of music he needed to provide, etc. We provided a song list to DJ FM as well as the itinerary since we had a few surprises in store for our parents. DJ FM checked with us during the event to ensure we were on the same page regarding the itinerary and the timing of the surprises we had planned. He did a terrific job with the song list and he observed the guests and changed up the music to ensure people continued dancing. DJ FM was professional and a pleasure to work with!

Henry J.

Married on 04/28/2018

DJ FM was outstanding!!!

Excellent! DJ FM did an awesome job on our wedding day! He's professional, talented, and if you're in need of a party boogie he's the one! He is a fun dude who loves what he does! My review is few months late but boy oh boy was he magnificent and made our night special. I'm so glad we went ahead and had him as our DJ, would definitely recommend him to anyone and most definitely would book him for any of our upcoming events.

Loretta B.

Married on 03/24/2018

Outstanding event planner is DJ FM Ever!!!

Huge thank you to FM Event Productions for making our wedding so memorable! DJ FM was our DJ and he was AMAZING! My husband and I were already married so we just wanted our wedding to be a big party for our close friends and family. DJ FM captured exactly what we were looking for, for our special day. Not to mention, he has great taste in music!

FM was just so great to work with and very responsive. He made the entire process so seamless. He was very attentive to detail and went over each aspect of the wedding, even things that my husband and I weren't thinking about.

We got to meet with DJ FM and talked more in-depth about our musical tastes and what we were looking for on our big day. It felt more like a fun collaboration, where we all bounced ideas and songs around. We were open with our playlists, so he played all the songs that we wanted AND mixed in his own great selection of music. Our dance floor was completely full, full of energy with everyone singing along and having a blast! I don't think there was ever a moment where the dance floor was empty. We received SO many compliments from our guests throughout the night and days later, of how amazing DJ FM was, how great the music was and how much fun they had! His flow and ability to keep the evening moving along was perfect.

Absolutely loved working with FM Event Productions. I highly recommend them! Fun, friendly, on point, on time, open to ideas, great taste in music and a great sense of flow, if we ever have another big event we would work with them again in a heartbeat!

My husband and I can't say enough great things about them!

James D.

Married on 02/24/2018

FM Event Productions was amazing !!!

FM Event Productions did a phenomenal job! The personalized Monogram and Up Lighting throughout our venue were perfect for the space and exactly what we wanted. DJ FM met with us beforehand to make sure our vision really came to fruition - and then executed it flawlessly! DJ FM also handles the music, and really the only way to put it is that he KILLED IT! Rare is the DJ who can transition seamlessly from cocktail hour to dinner to dance music. FM is a master of all 3. Our dance floor was packed from beginning to end, and our guests weren't exactly dancing people. DJ FM read the crowd perfectly like the true professional that he is. 5 stars for DJ FM, and the entire FM Event Productions crew. Thanks for making our wedding amazing!

Jenny

Married on 09/09/2017

DJ femi was reliable, puctual, engages his occassion 100percent. No dull moment. You just have to get ready to party and enjoy the rest of your event (mine was a lit wedding). Of course, my guest were very happy and enjoyed the occasion all because of his music and his fabulous sound system. You are the best. Keep ur great work going. I will call anytime I require a DJ.

Ray

Married on 06/03/2017

Femi is well skilled and truly professional!

Sabrina

Married on 05/13/2017

We are so happy that we went with FM Entertainment with DJ FM. It was important to us to work with a DJ that was able to mix, understand us, and keep a party going, and FM went above and beyond!! FM was professional at what he does, fun to work with, quick to respond, and had great suggestions, which was exactly what we wanted. FM was there our entire day, from before the ceremony to set up until after 11pm. He switched locations throughout our venue for the ceremony, cocktail hour, and reception without a hitch, stuck through the heat at our outdoor ceremony. He did a fantastic job of not only getting people on the dance floor, but keeping people on the dance floor. We had some last minute changes and updates that he rolled right along with. Even beyond how great he was to work with, he is a skilled, seasoned DJ and just watching him doing his thing was fun in itself. We felt secure in going with FM Entertainment from our first contact with them and felt that they truly cared about making our day awesome. Their online system is incredibly easy to use and was helpful at keeping things organized for everyone. I had several songs that I expected to be difficult to find, and FM was able to find them all and work with a Spotify playlist that I had for cocktail hour and dinner. A DJ can truly make or break a wedding, and my husband and I can definitely say that going with FM Entertainment and DJ FM made the wedding from start to finish. I cannot think of a single negative thing to say other than I wish that we had an excuse to have a giant party with FM to DJ again. Thanks FM Entertainment and FM!!

Folake

Married on 11/26/2016

DJ FM was our DJ during our annual couples retreat. He was very professional and approachable. His music selection is superb, he kept people on their feet happy and dancing all night! He also has a very nice personality which is good for business in my own opinion.

Michal

Married on 08/27/2016

DJ FM was an amazing addition to our wedding. He took the time to really "get" the style of music we wanted. He created a fun atmosphere that had everyone dancing the entire night. I highly recommend you consider using DJ FM, not just because he is great but because he cares about what he does and will make sure yours is a night to remember.

Rebecca

Married on 08/20/2016



If you need a guaranteed way to keep your wedding guests on the dance floor, go with one of the amazing talents at FM Entertainments. My husband and I hired with FM Entertainments for our wedding ceremony and reception and it was the best party we have ever done. We had to move our cake table out of the way because the dance floor was overflowing-guests from all ages dancing the night away. DJ FM was involved in the music selection and paid close attention to the genres we wanted, to make sure every song was a crowd-please and he did not disappoint us. We highly recommend FM Entertainments!


Michael

Married on 07/16/2016


I cannot possibly say enough about DJ FM ENTERTAINMENT ! We hired his as our wedding DJ, and it was the best decision we made to date! Starting from the beginning he was very energetic, very interested in learning about my husband and I, and truly took the time to understand what it was we were looking for in a DJ. We were sold during the interview process, when he asked us to give him a couple words to describe our wedding and a phrase that we wanted our gusted saying at the end of the night. He wasn't looking to get hired to play music at our wedding, he was looking to make our night all about us and our vision. He offered suggestions and advice on things we hadn't thought of, and helped us create the wedding of our dreams!

Jon

Married on 07/16/2016

Our wedding was a huge success. I received so many compliments from our guests and even from other vendors about how our wedding was the best wedding they had been too. The secret to our perfect day was surrounding ourselves quality vendors. Dj fm entertainment is a master of his craft.
Are you interested?
Send a message