25 Reviews
Recommended by 93% of couples
Quality of service

4.8 out of 5 rating

Average response time

4.5 out of 5 rating

Professionalism

4.7 out of 5 rating

Value

4.6 out of 5 rating

Flexibility

4.7 out of 5 rating
14 User photos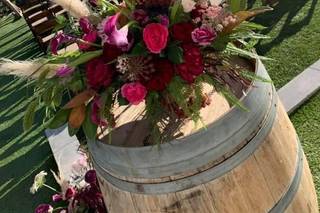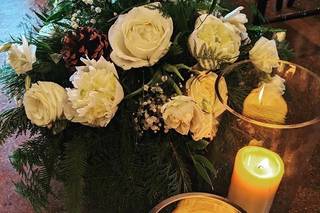 + 10

photos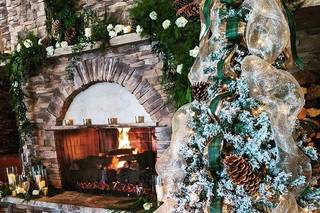 Jessica J.

Married on 11/11/2020

Perfection!!!!! 5 Star review!

Courtney was a dream come true. She went above and beyond for us! I let her work her creative magic and it was well worth it! She's a very talented woman and I feel blessed to have worked with her on my wedding. I am a forever client! I would sing her praises on a mountain top! Thank you so much!!! She was perfection!

Danielle N.

Married on 02/01/2020

A True Artist!

Courtney is a true artist and an incredible value. She turned Spruce Mountain Ranch into an absolute winter wonderland for our January Wedding. When we walked into the venue, we were shocked at how full and beautiful the flowers were. Everyone keeps telling us how stunning her work was. If you tell her your vision and your budget she will maximize it to bring your vision to life! From flowers, to candles, to votives, to signs and lighting, she does it all! She is able to take your vision and bring it to life even grander than you can imagine. She is worth every penny, I give her my highest recommendation!!!

+ 5

photos

Laura

Married on 08/11/2019

Absolutely stunning!

Courtney is absolutely amazing! She brought my ideas to life and all the floral designs were better than I could have ever imagined! She made our wedding absolutely stunning and I got countless compliments on the flowers at our wedding. I cannot recommend Courtney enough!

Are you interested?

Send a message

Aly

Married on 04/09/2016

Courtney was fantastic. We figured out our flowers as one of the last items...which was a little stressful but worked out perfectly thanks to Flowers Forever Designs. Courtney helped us pick out beautiful flowers and designed amazing arrangements all within our budget. The flowers turned out perfectly, were fresh and gorgeous, and the process was so easy. It is a little overwhelming how many flowers are out there and the varying considerations; are they too fragrant, are they out of season and more expensive... Courtney had all the tips to figure out the little details and put together amazing arrangements. I highly recommend Flowers Forever Designs!

Barbara

Married on 08/09/2015

We were looking at the usual offerings at a bridal expo, when we spotted Courtney's original and interesting designs. My daughter loved her unusual bouquets. Courtney and my daughter (a plant biologist) discussed flower types that were news to me, but the arrangements were beautiful. I actually gasped in surprise at the lovely timber arch with flowers that we used in the ceremony, and guests commented on the beautiful decorations at the Washington Park Boathouse. We plan to use the live flowers from the tables in our front garden as a living souvenir of the wedding.

Courtney was very willing to come meet with my daughter and me at my workplace and my home, and we were grateful for her flexibility. She takes time to get it right!

The flowers Courtney created were absolutely beautiful! She took all of my ideas and made them even better! I could not have asked for a better flower vendor for my wedding.

Travis

Married on 08/03/2014

When extra tables were put out, unexpectedly, Courtney easily handled it and still made it beautiful.

Kate

Married on 07/05/2014

Courtney did an amazing job! It was more than I expected for my budget, and exactly what I asked for! If I could give a 10/5 I would!

My daughter was extremely happy with the gorgeous flowers Courtney created for her wedding. We changed the centerpieces from the original design and Courtney was very accommodating and worked up another quote for us. The table centerpieces were breathtaking and guests are still talking about them. My other daughter was married 9 months ago and while her flowers were beautiful also, the value that we received from Courtney was much better. Everything was spectacular! Thanks again Courtney, I will recommend you to anyone looking for an event florist!

Heather

Married on 09/24/2011

Courtney with Flowers Forever Design is by far one of the most talented florists I have ever seen! She has brilliant ideas and will work completely within your budget and vision. She is also very patient! I changed my mind a few times regarding color scheme and style and everytime she met my expectations and then some. When she handed me my bouquet, I literally cried because it was so beautiful; so much better than I had envisioned. All of our other floral arrangements were stunning. We received so many compliments about how much everyone loved them, even from the staff at our venue. Several times I would stand back throughout the day and night and stare at the arrangements in awe; she saw my vision and made it a reality.

Teresa

Married on 09/10/2011

My daughters wedding was 3 days ago - and we are still remarking on the beautiful flowers by Flowers Forever Design. From our initial first meeting, to the end result at the reception, our communication and contact with Courtney was professional, concise and thorough. We enjoyed working with her very much.
Heather's bridal bouquet was stunning. She had very specific ideas on what she wanted her flowers to look like throughout the wedding - and naturally none of them were inexpensive! Orchids, calla lily, hydraengias, dahlias, wine roses etc - but Courtney managed to find a way to work within our budget. She had terrific ideas for some of the arrangements to do "double duty" from the church to the reception that we had not considered.
We stumbled on FFD at a bridal show - which was awesome because we were able to see a ton of the arrangements/bouquets/designs in person. What caught our eye was the sheer beauty of the designs. They didn't look like every other floral designer.
As was expected, there was a flurry of last-minute changes/questions/requests and comments between Courtney and I (the MOB) and no matter what the situation, everything was handled with grace and excellence. On time, on budget, and breathtakingly stunning flowers! I highly recommend Flowers Forever Design,and know that any bride who selects Courtney will be thrilled.

Bailey

Married on 08/12/2011

Absolutely fantastic service! Courtney had incredible ideas for floral design that we never would have thought of, and that made our day even better! Was always professional and was right on time to our big day! She spent extra time tying the bows on the bridesmaids dresses. She went above and beyond her responsibilities. Definitely recommended!!

Angie

Married on 07/23/2011

Courtney was wonderful - full of ideas, examples, enthusiasm and patience in helping me decide exactly what I wanted. She listened extermely well (better than the 2 other florists I met with), and easily integrated her ideas and suggestions into the ideas I came with.

Favorites of working with Courtney:
- In our initial meeting/interview, she heard ideas/preferences that I didn't even know I had - and she was right.
- She also helped me think of flower arrangements for people I had not considered before.
- When the flowers arrived, Courtney noticed that the primary flower color I picked from a website was not the color we had discussed and did not coordinate with my other flowers (the color I picked was more orange in reality, when I wanted a rich gold color). Courtney took the initiative to find the correct color flower, and included that in my arrangements, instead of using what I had "ordered" - which made the arrangements perfect. Her initiative made my flowers glow, and made the experience extremely easy for me. It is because she really listened to what I wanted, and really understood my vision, that she was able to make this game-saving move!

Janelle

Married on 10/23/2010

I love flowers and have a high standard for florists to meet. Flowers Forever Design went beyond my expectations. The bouquets were full, vibrant, fresh and really "popped" in all our pictures. Courtney, the owner, is amazing. No detail went unmanaged and she was given a complicated schedule to meet. She knows her flowers so well, she's able to bring your ideas to reality. She also met my budget needs and was flexible and creative. My flowers were stunning and she gave us the unique flair we were looking for in our flowers.

Angela

Married on 08/30/2008

You will be BLOWN away if you let Courtney do what she wants, She is a pro and you tell her your colors and vision, and let her run with it. you will not be disappointed!! No one person could get over how GORGEOUS the flowers were.

We were beyond impressed with the flowers for our mountain-top wedding. Courtney knew exactly what we wanted and stayed within our budget. She even made beautiful floral collars for our dogs that matched my bouquet! Could not have asked for a better florist to work with-very easy, stress free and incredibly beautiful products.

Kat

Married on 10/01/2011

The flowers turned out amazing! The colors and designs were a million times better than I had ever imagined on my own!

Hope

Married on 08/29/2015

Over all I was pretty happy with my flowers. Often times when I would call the voicemail box would be full and I wouldn't be able to get in touch with Courtney. We made many changes between the time we originally placed the order and the wedding. Courtney worked with me and made it happen. All of the corsages and boutonnieres were great! My bouquet was also beautiful. Some of the flowers were not the color I thought we agreed on in my bouquet. However it still looked great and matched my overall colors.

Kathleen

Married on 08/21/2014

Courtney has an absolute gift for amazing flower design. I am completely lacking in the floral vision department. I brought nothing to the table but a color scheme & things I knew I didn't like or want. In spite of that, she created stunning arrangements that far exceeded what I could have ever hoped for!

Catrina

Married on 08/16/2009

WOW! Courtney did and amazing job! All our flowers were so beautiful. Courtney is very professional. I made numerous changes to the flowers and decorations from the time I booked her until the final change date. She was always willing to do everything I asked. It didn't matter if I contacted her via phone or email she was prompt to respond. She was a full service florist.

Sarah

Married on 10/10/2015

Courtney provided beautiful flowers and centerpieces for our wedding. I wasn't picky on flowers, but wanted some coral pop in bouquets and centerpieces while not being over the top. She provided value by varying centerpieces by value varying from 30-90 each. She was accommodating when our final count dropped from our initial conversation without making me feel bad for dropping about $200 in final payment.

The final product was amazing, but her communication is what keeps from 5 stars. We started with long distance planning and she definitely tried to keep details straight, but a few things clearly were missed, like how we were going to pay (check vs. card) but everything worked itself out. In the last 2 weeks before the wedding, I didn't hear from her for a few days and started to get worried, but she had everything under control and was prompt (early) on wedding day and produced everything exactly how I asked!

Tabitha

Married on 05/21/2011

Courtney was very helpful and friendly. We went through tons of flowers looking for pure white flowers because i hate off white and she was very patient in looking for and pointing out great ideas. I was a little disappointed when the flower in my bridesmaids bouquets ended up looking more off white and brown than white and black. But they all looked beautiful and my bouquet was absolutely perfect!

Genevieve

Married on 09/01/2017

Courtney was great to work with! She was straightforward, affordable and the end product was absolutely gorgeous! I wish I could have kept my bouquet forever. She did a great job listening to our requests and our budget and making suggestions based on what our priorities were.

The only thing that was a downside, my coordinator was the one who picked up the flowers and dropped off all the remaining supplies (lanterns for the center pieces, candles, etc.) However, there was some confusion about the cardboard boxes and some vases that were left behind. Somehow, it was up to me to pay for those to be shipped/replaced despite that fact that I wasn't the one who had made the mistake. In the end, it wasn't that costly but it was a bit annoying to have to deal with the coordination while on our honeymoon in a different country.

Meghan

Married on 10/18/2008

She was an hour late with the flowers, really putting a crunch on us. She wasn't there in time to get the musicians flowers, leaving several extra flowers that didn't get used. She was helpful with the planning process, but hopefully she'll be on time for you.

flowers forever design's reply:

I arrived at the church at exactly the time specified for delivery on our contract, and they had just begun taking photos. I had musician boutonnieres and corsages that the wedding coordinator there said she would pin-on because they were in the middle of rehearsing, but the bride also ordered the incorrect number of corsages and boutonnieres that she needed. I recieved nothing but fantastic compliments, and requests for business cards, as I was delivering both the people flowers, and also when I was setting up the reception. I am distressed about any mis-communication, but cannot take the blame for whatever negative experience the bride is speaking of....maybe she should take it up with the wedding coordinator at the church?

My flowers turned out amazing for my wedding day. Although, Courtney was very hard to get a hold of and took sometimes over a week to respond to an email or a phone call. When I wanted to change some of my flower desings she seemed very irritated and not wanting to work with me or accomdate my requests. Although, my flowers did turn out beautiful she was very difficult to work with. I even sent her an email after the wedding thanking her for her work and never a response.
Are you interested?
Send a message