371 Reviews
Recommended by 99% of couples
Quality of service

5 out of 5 rating

Average response time

5 out of 5 rating

Professionalism

5 out of 5 rating

Value

4.9 out of 5 rating

Flexibility

5 out of 5 rating
13 User photos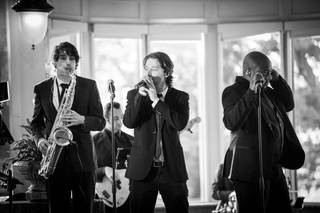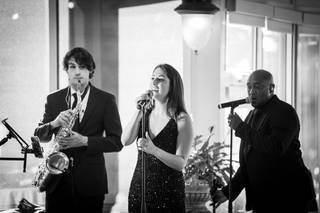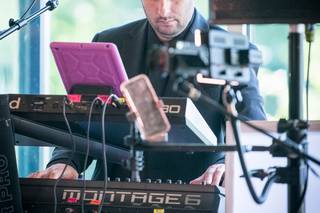 + 9

photos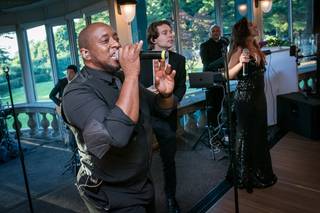 Ali B.

Getting married on 09/18/2023

The best in the business

Somehow Faze 4 exceeded our already extremely high expectations. Our guests are still raving weeks later saying that this was the absolute BEST band they've ever heard (they have high expectations also). We've been to countless weddings ourselves and we could truly say that our band was the most incredible we've ever heard.

Between the song choices and unbelievable vocalists/musicians - their quality is unmatched. Everyone stayed on the dancefloor the ENTIRE night. As the bride, I never had a bathroom break because each song was THAT good! We gave them a list of some song recommendations, and they went above and beyond. It was almost like they were in our heads with some of our favorite songs we haven't even thought of! They kept the night going with high energy music and I swear they didn't take a breath between songs.

Without needing to mention competitor names, this is absolutely the best band in the business - hands down. As I said, we've seen and heard it all from the countless weddings we've been to and there is absolutely nothing like Faze 4. We can't thank you enough for making our wedding so incredibly special and leaving our guests in awe!

Jennifer H.

Getting married on 08/20/2023

Absolutely Amazing!


The Original Faze 4 band absolutely made our wedding night at the Liberty Warehouse the best night ever. Their energy, talent, and professionalism was unbelievable. They created the ceremony and party exactly how we wanted with the music we love. They even performed live vocals at our ceremony which we have never seen before. They got everyone on the dance floor and made the excitement in the room palpable. We're ecstatic with them and would recommend them to anyone!

Brooke H.

Getting married on 05/20/2023

Amazing band!

We used Project Madison for our wedding and they were PERFECT! They had everyone on the dance floor the entire night. They sang all of our songs that we requested beforehand. One of the band members sang my song to walk down the aisle and he NAILED it. Eddie, one of the band members came out on the dance floor a few times with his guitar, which was super fun. We had an after party and used their DJ. The DJ kept everyone dancing and took all of our requests on the spot. Bob was SO easy to work with and communicate with. I will definitely be recommending Faze 4 to everyone we know!

Are you interested?

Send a message

Jessica

Married on 03/11/2023

Amazing the best night ever

Bob and The Faze 4 Band exceeded all expectations on my big day. The dance floor was full the whole night. Such a perfect mix of current music and classics to get the party going. We had the time of our lives and have Bob and The Faze 4 Band to thank for that! We could not recommend them enough!

Jacqueline G.

Married on 01/15/2023

Best Band!

We picked Next Faze as our Wedding Band after much debate (as all of the Faze 4 Bands are so amazing) and could not be happier! Everyone came up to us throughout the night (and are still asking us) what band we used. They kept saying it was the best band they ever heard! The band had every single person on the the dance floor the entire night, and played a mix of songs that made everyone happy! Thank you to Bob and the Next Faze band for making our wedding "the most fun wedding," according to all of our guests! We cannot recommend them enough!

Bonnie J.

Married on 01/09/2023

Overly Accommodating and Flexible in these uncertain times

Bob and the team at Faze 4 have been overly accommodating during these extremely tough times. We've had to postpone our wedding for the second time and Bob has been able to make the process extremely easy and make it one less thing for us to stress about. Whenever our new date is Faze 4 will be there to help us celebrate!

Zoey P.

Married on 12/31/2022

INCREDIBLE!! Michael Kane on NYE in Saratoga!

I don't even know where to begin! Working with Bob from Faze 4 and the Michael Kane Band was the absolute best experience we could have imagined. They traveled from Long Island to Saratoga Springs for our New Year's Eve wedding and we are SO so glad they were part of our wedding. Bob was incredible leading up to the wedding to discuss event timing, song choices, and answer any questions/concerns we had. Night of, the Michael Kane band brought the energy!! They played every song we requested, helped the night flow smoothly, and had the dance floor packed all night long. They sounded amazing and their energy was fabulous. Several guests were asking for their card/info after for their own events. Couldn't imagine our wedding without them!! We love you Michael Kane band!!

Mark F.

Married on 11/28/2022

Amazing! Over the top! Fantastic!

If you want to hire an amazingly talented group of singers and musicians who will keep your guests on the dance floor then Faze4orchestra is the band for your event. Faze4orchestra played at our event in November at the Crest Hollow Country Club, I will say we had an awesome time and our guests are still talking about the band. We love them so much we booked them for an event next year.

Patti G.

Married on 11/28/2022

Greatest Band Ever!!!!!

My dtr and son in law were married 11/20/22 at the Liberty Warehouse in BK. We were inroduced to Bob Forman (proprietor of Faze 4 Orchestras) via his dtr who is a close friend of my dtrs close friend. We were very impressed after speaking to Bob; a Crane graduate and leader in his field; yet such a regular guy. We were told to look through the 10 or so bands; listen and choose. We all looked. Just happened that one of the bands shot a video at the end of our block in Long Beach; in the park she played in as a child. Not to mention that she had me call city of LB to see if she could get married in that park prior to this. The city of LB said no, but they said YES to the Michael Kane Band. Leslie and Michael (at the helm of this fabulous 11 piece group of Uber talented individuals) actually live in the neighborhood. They sweetly signed the Wedding GuestBook too. The Michael Kane Band was sooo beyond any of our expectations. They are so spot on in reading an audience! Highly highly recommend!! Guests can't stop talking about them still.
With Gratitude and Love to Bob and the Michael Kane Band,

Patti Greenberg
MOB

Robin

Married on 11/23/2022

Best Wedding Band!

Bob was incredible to work with! So helpful. Scott Yahney could not have made our wedding more perfect. Everyone was on the dance floor from start to finish, people didn't want it to end. He played such a variety of music that everyone knew every single song. Run don't walk to book Scott, you will not regret it!

Marian L.

Married on 11/20/2022

Great band!!!

We hired Faze 4's Michael Kane Band. They were very easy to work with and were amazing. Everyone danced the entire evening. They made it so easy to plan the event and guided us through many questions we had in regard to the flow of the evening. All I can say is that all our guests are still raving about the music!

Susan

Married on 10/31/2022

Simply The Best !

When they say the band makes the party… they are not kidding !! Michael Kane and his orchestra were beyond fantastic and played music that all the guests enjoyed. The dance floor was packed the whole night, the vibe was so warm and positive and our ears were not blown out !! Bob Norman and Michael Kane's guidance and suggestions and collaboration with the bride and groom were excellent. I can't wait to attend their next party !

Amanda P.

Married on 10/29/2022

Incredible band! Highly recommend!

Bob from Faze 4 was incredible!!! From dealing with our a million questions beforehand to our specific requests to absolutely crushing the set list...the night was perfection!!!

Tara

Married on 10/23/2022

Incredible band!

We had Michael Kane Band for our wedding a few weeks ago and everyone was raving about how incredible they were! They did Michael Jackson, Motown, Lizzo, Blink 182, and all of the Jewish celebration music perfectly. They were engaging with the crowd with singers and a horn player coming onto the dance floor. They read the room perfectly and chose perfect songs all night in addition to not playing songs on our do not play list.

We also had 2 instrumentalists during cocktail hour and ceremony, and it was beautiful. Bob from Faze 4 orchestras was very responsive and helpful, and once I was in touch with Mike, he was a pleasure to work with. They make it easy. We wish we could relive this night over and over to hear them play again!

Amanda

Married on 10/15/2022

Best Band Ever!!

The original faze 4 band was at my bat mitzvah so as soon as i got engaged we knew we were calling Bob to do my wedding. I cannot say enough good things about Bob and the entire band. Bob was amazing to work with and the band kept our guests on the dance floor the entire night. Everyone was coming up to us at the wedding and sending us messages after about how amazing the band was. We cannot recommend them enough!!!

B Press

Married on 09/24/2022

The Faze 4 Band 4 Sure!

If marriages are about hearts filled with love and plans to build life-long memories...weddings are about celebration, milestones shared with friends and family, and uplifting energy. Faze 4 filled our dining room and dance floor with the best of vibes...The music they played sometimes sounded better than the originals, and, even the oldest and stiffest non partyers in our group were on their feet and away from their tables. I felt like there was love and fun in every direction my bride and I turned... The best thing I ever did was ask my best friend in life to marry me...the second best was hiring Faze 4 to help pack our celebration with memories. Faze 4 made our party a party to remember. Bob Forman assured us all would be smooth sailing. If we were to do it all again, we'd make him our captain for sure! He's a seasoned professional whose expertise and years of experience were on display from song one at our cocktail hour through all toasts and times. Oh, and, he even kept my Mom...who worries about everything... cool, calm and content! Amen

Melissa

Married on 09/24/2022

Absolutely incredible!

Next Faze was amazing! We had the best time at our wedding and everyone was dancing the entire night. It's hard to find a good mix between current songs and oldies that everyone will enjoy but Bob handled everything so well. He listened to what we wanted to hear from the band and they executed perfectly. We recommend them for any event!

Jessica S.

Married on 09/04/2022

This band is all you need!!

Stop and look no further, Bob and the Original Faze 4 Band will be the absolute best choice you can ever make for your wedding. It was incredibly easy to communicate with Bob, always professional, supportive and helpful. They play a great variety of songs! If there is a song you want, they will truly make it happen. The band has an upbeat energy that keeps everyone on the dance floor. Your guests will certainly need flip flops from all of that dancing. I thank Bob and Original Faze 4 for an outstanding night! All of my guests have been telling me how incredible they were. If you're looking for a band to bring it, look no further!!

Mia S.

Married on 09/04/2022

wedding night to remember! Thanks to Faze4 the Next Faze!

This past weekend 9/4/2022 my daughter got married at Pine Hollow Country Club. When her and her now husband got engaged, I hoped they would chose to get married on Long Island. They as well as all their friends live in Philly & Cherry Hill NJ. I said my one request is to use a New York Band! I wanted all those out of towers to experience a NY wedding. Not only did they chose to marry on Long Island, they let me pick the band! From the second I spoke to Bob at Faze4, I knew we were a match. His friendly demeanor was a plus. He new of the few venues we were deciding on (even the Philly venues). Once we chose the date and venue, I knew I had to hire Faze4. I had my heart set on the Next Faze because I had heard them at a prior wedding and could not get off the dance floor. I decided to hire the Next Faze an add a few singers and instruments, but thats because I wanted a variety of talent. They were AMAZING!!! Some guests were blown away, saying they sounded exactly like the actual performer (Bruce, Whitney, Barry White, K-C &JoJo....)! The dance floor was packed at all times with young, old and in between! If you want to have the best wedding with the best music that will keep your guests dancing all night long, then hire Faze4's the Next Faze, or any Faze4 bands!! Bob's the best!!

Lori B.

Married on 09/04/2022

Scott Yanney Band

We were recommended to Scott Yanney and his band for our daughter's wedding on 9/4/2022 by a friend of ours. The band absolutely made the party. Scott and Bob (office) listened to what was important to my daughter and son-in-law and delivered in every way. The dance floor was full all night! We would definitely recommend them. We couldn't be happier!

Sam

Married on 08/21/2022

Phenomenal experience with a fantastic band

Picking the right band was something of extreme importance to my fiancé and me. We wanted a band that would captivate our guests, bring them to the dance floor all night, and also be able to play a solid horah. Alex Gold and the team provided a phenomenal experience from our first meeting through the end of the night.

Bob, who runs Faze4, has tremendous knowledge and helped us avoid common pitfalls such as timing our first dance incorrectly. He also helped us accurately convey our song choices to the band and redirected us when it came to picking the cocktail hour music.

Faze4, and specifically the Alex Gold Band, were the best vendors at our wedding without question!

Haley S.

Married on 08/20/2022

Scott Yanney's Band was phenomenal!!!

Scott Yanney's band from the Faze 4 Orchestras made our wedding night a dream! They were so incredibly easy to work with from start to finish, and truly made the party come alive. Nearly every guest told us how unbelievable the band was, and we can't thank Scott, Bob, and the rest of the band for making our wedding an absolute party dream! Thank you, thank you, thank you!

Rachel S.

Married on 07/16/2022

Best Wedding Band

Bob Forman and the original faze 4 band is amazing. They truly were the highlight of our wedding. They kept the party going all night long. They were easy to work with and truly made our wedding a night to remember for us and all of our guests. I highly recommend them. Thank you all for a great night that we will never forget!
Rachel and Ian Samlin

Mardi M.

Married on 07/05/2022

Michael Kane Band MADE our night!

Before we were announced to the reception as husband and wife, our coordinator had us sneak a peak in the room to see that EVERY ONE of our guests was already on the dance floor - before the bride and groom were even out there! That says it all! Our venue said "wow we've never seen this energy before." From the moment our reception started, we knew we made the right choice in picking the Michael Kane Band. They followed all our requests - even some unique intro/first dance choices - and they played a great variety of music that kept everyone of all ages on the dance floor and appealed to the masses. They are so talented, sound like the original songs, and have great energy - I love that they got on the dance floor with us. We continue to hear from our guests that they were the best band they've ever seen! We can't thank Bob at Faze 4 and the Michael Kane Band for giving us the party we really wanted.

We also booked a DJ through Faze4 for our after party. We didn't give him much direction but he immediately understood the vibe we wanted, artists we liked, and kept the party going!

Alyssa D.

Married on 07/04/2022

Metropolis was unforgettable!

We used Faze 4 for our wedding at The Liberty Warehouse July 2022 and could not have had a better experience. From our first interactions with Bob, the owner, we knew we wanted to work together and valued his personability and flexibility to align with our vision and expectations. Bob was easy to communicate with and answered all of our questions promptly. We booked the Metropolis band, and we were blown away. Metropolis consists of some of the most talented musicians and masters at their craft. - they are rockstars and threw us the party of a lifetime! During the reception, the band kept everyone on their feet all night! Every member of Metropolis has incredible talent. They performed every song, including our requested songs with energy and passion. We loved that they interacted with the crowd and they truly seemed like they were enjoying every minute of it. We loved their plan for the flow of the evening, which maximized the time on the dance floor - we've attended other weddings where this was not the case, and it was very noticeable! So many of our guests raved about how good the band was, and have asked for their information to recommend them for future weddings - everyone enjoyed themselves so much and all of our guests were out on the dance floor all night.

Our guests were raving about the band for days after our wedding and we definitely recommend them to anyone. We truly did not want the night to end, just so we could continue dancing and partying with Metropolis.

We also had live music through Faze 4 for our ceremony (violin & keyboard) and cocktail hour (sax & keyboard.) And we were absolutely thrilled!

Thank you to Bob & Metropolis for truly making our wedding day absolutely unforgettable!

Are you interested?
Send a message