58 Reviews
Recommended by 98% of couples
Quality of service

4.9 out of 5 rating

Average response time

4.9 out of 5 rating

Professionalism

4.9 out of 5 rating

Value

4.9 out of 5 rating

Flexibility

4.9 out of 5 rating
86 User photos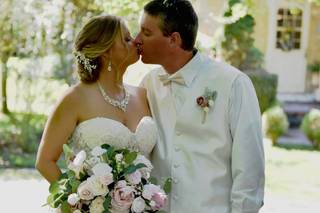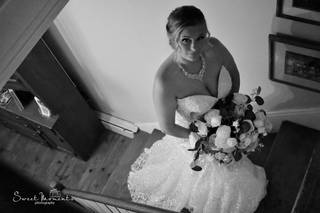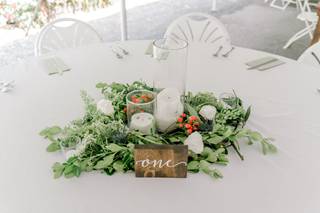 + 82

photos
Featured

Kendra C.

Married on 06/04/2022

Wonderful and magical

Wow, just wow! Kim not only owns one of the most beautiful venues I've ever seen, but after over 16 years of having weddings there, she knows how to make the whole wedding work like a finely oiled machine. I noticed no problems on my wedding day, only fun and laughter, because Kim was making everything run so smoothly in the background. Her and her staff handled most of the decorations the morning of and completely handled parking. Kim was very communicative with me in the months leading up to the wedding, answering any questions I had and working creatively with me to meet the vision. The whole place looked like a magical forest! I cannot recommend this highly enough!

+ 6

photos

Smg88

Married on 08/13/2022

Dream come true

Our day was an absolute fairytale! We have had so many compliments about how beautiful and unique this venue is! My husband and I opted out of decorating the ceremony area (except for the arch) because it is so beautiful on its on! Kim and her staff are amazing! The breakfast and brunch that was included with our pkg was so delicious and my wedding party loved it!

Nina K.

Married on 06/11/2022

Dream Come True Venue

We are so incredibly thankful to have chosen Fallen Tree Farm B&B as our wedding venue. Kim was so helpful and professional during the entire process. She was truly more like a wedding coordinator in the way she could help with so many details. She is so easy to talk to and very down-to-Earth. She's a true expert when it comes to weddings. We chose the petite package since our guest count was small. Kim organized almost EVERYTHING for us - it was SO easy! Her punctuality in emailing was also amazing.

The venue itself was breathtaking. Go there - visit, and you'll be wowed. All of our guests commented on the beauty of the views and gardens. Most of our guests were from out-of-state so it was fun showing them a bit of South Central PA in its finest. They loved the roosters and horses! This venue will make all of your dreams of a garden wedding come true. The photographs of the scenery are stunning.

We rented out the entire B&B the night of the wedding and we highly recommend doing so. We had a post-wedding hangout with our wedding party on the patio with the leftover apps. Our wedding party stayed in the house with us, so we had an AMAZING breakfast the next morning with our closest friends. Renting out the whole venue also allowed us to have multiple rooms to put our things, get ready, use restrooms, etc. I rented out the Botanical Library Room for the night before the wedding just for myself (bride) and my mother - I feel like this was a necessity. When we had to leave super early for our hair & makeup, Kim even left out some ziplock bags and cinnamon bread for us since she knew we'd miss breakfast.

For the ceremony, we were extremely lucky that our 70% chance of rain turned out to be some clouds. However, Kim had bubble umbrellas ready-to-go if the rain happened, so I feel like things would have been perfectly fine. The venue allowed our two dogs to walk in the ceremony and take photos on-site with us. This was a detail that was very important to us and we were so thankful for.

+ 2

photos

Are you interested?

Send a message

Rose K.

Married on 05/28/2022

A beautiful venue!

When I first found Fallen Tree Farm B&B online I knew I had to see it in person. It was my first venue tour and after seeing the place in person and meeting Kim we knew it was the venue for us. Kim's assistance with coordination was invaluable, due to her and her staff our wedding went smoothly and we could just enjoy ourselves. They handled the set up of all the rentals and decor which was so wonderfully arranged. All of the food provided by the B&B was absolutely delicious. Our guests kept gushing about how beautiful everything was. I could not imagine having my wedding anywhere else, and I highly recommend this amazing venue!

T Haines

Married on 10/10/2021

So happy we chose Fallen Tree Farms!

Fallen Tree Farms is such a beautiful venue! We couldn't have asked for a prettier setting for our wedding. The bed and breakfast is lovely, and we will definitely stay again in the future. Kim is a pleasure to work with. We would highly recommend this venue to anyone getting married.

Fallon F.

Married on 10/09/2021

Wedding Venue

Where to begin?! The Fallen Tree Farm was nothing short of exceptional. My husband and I didn't have a set vision when we began looking for venues. From the moment we arrived, we knew this was the place. Kimberley was amazing to work with! Professional, welcoming, knowledgeable, she talked us through the process and answered all of our questions. Over the next year, she was always prompt to reply, even to the smallest of questions, and made us confident that everything would go well. I was a pretty hands off bride and my only goal was to enjoy as much of the day with my husband as possible. Kim and her team ensured that happened! They set up the ceremony and reception site SO beautifully and with little need for direction! I can't tell you how many compliments we received on everything. Our guests couldn't get over the natural beauty of the property and kept saying, "Where did you find this place? It's incredible."

Getting married at the Fallen Tree Farm really felt like a fairytale. The venue alone is amazing, but the extra perks of having the B&B for the weekend so our wedding party could stay with us, the little extras that were included and the incredible service that Kim provided were more than we could have hoped for.

I'm only sad that the weekend passed by so quickly. We hope to relive some parts of it by celebrating anniversaries at the B&B!

Thank you, Kimberley and staff, for helping make our wedding day the absolute best day of our lives!

Jennifer A.

Married on 09/12/2021

Amazing venue and staff

The venue itself was gorgeous and my husband and I fell in love with it the first time that we saw it. The ruins were a beautiful place to get married and was the perfect backdrop for the wedding photos. We had the intimate wedding package which included officiant, cake, flowers and a room for the night with breakfast the next day. Kim and her staff were so lovely the day of the ceremony with taking care of the food and preparations. It was very helpful on an already stressful day. The food was amazing and we had good options to choice from. It was the perfect place for us to get married at the perfect price. Thank you so much Kim and her staff for everything on our special day.

+ 5

photos

Fallen Tree Farm Bed and Breakfast's reply:

Thank you Josh and Jen for choosing us. It was an absolute pleasure to host your special day. Hope your travels bring you our way again for an anniversary stay with your pupper!

Abigail M.

Married on 09/05/2021

Wedding of my Dreams 🤍

My sister got married here 8 years ago and I got married here 2 days ago... it was everything my husband and I dreamed of and more. Kim and her staff were so attentive and made every little detail exactly as I wanted it (which is hard to do)

I will never forget this day and the magic that came along with it. Anyone looking for a venue, this location would be the best decision you will make! I will definitely be coming back for my anniversary every year to stay at the bed and Breakfast ❤️❤️❤️

Fallen Tree Farm Bed and Breakfast's reply:

You guys are like family now! So honored to have been chosen to be your venue and glad to have been able to help you begin your journey with Sean. Best Wishes for a lovely future!

Elizabeth H.

Married on 09/04/2021

Perfect Weekend

This venue was amazing. Not only were they extremely friendly and responsive, they also provided a number of services (and provided suggested vendor lists that ended up being PERFECT!) that made our day go off without a hitch! We booked the venue for the whole weekend and it was a perfect place to be with family and friends. Fallen Tree provided food and drinks -on the morning of and brunch after - for those staying as well as a number of other perks! Being able to have dinner at the venue for the rehearsal was beautiful and simple, our family loved relaxing by the pond and being able to visit the property. Kim is very quick to respond to any and all questions and her knowledge of the area and the local vendors/supplies was beyond helpful. She kept us organized and moving along and allowed us to enjoy the weekend completely without having to worry about taking care of all the small details (Kim and her staff do an amazing job with set up, organizing, etc!). 10/10 recommend Kim and her staff at Fallen Tree, beautiful venue with knowledgeable and helpful staff!

Fallen Tree Farm Bed and Breakfast's reply:

Bizzy, I'm so so glad you chose us to host your wedding weekend. It was a pleasure working with you and Dave and your families. Best wishes in your new beginning!

Holly D.

Married on 07/24/2021

Perfect from start to finish

I was so very happy with everything about our wedding .
Kim made this the best day ever for us

Julie B.

Married on 07/03/2021

My fairytale wedding❤️💕

Words fall short when it comes to describing how amazing of a venue Fallen Tree Farm B&B truly is. Kim was amazing to work with leading up to our wedding day (responsive and so helpful). On the wedding weekend, Kim and her team were so attentive to details, so flexible, and truly made everything so peaceful and not stressful. My guests cannot stop talking about how beautiful the venue was, and my husband and I are so thankful we had our special day here.

+ 13

photos

Tiffany D.

Married on 05/29/2021

Perfection

I do not even know where to begin with writing this review. There are not enough words to describe how amazing my day was. We are a couple that was scheduled to get married at the height of COVID. We had to postpone our wedding twice, you know what they say.. third time is a charm! Kim was an absolute pleasure and worked to make sure my day was everything I wanted it to be. I dreamed of my wedding day and it was all I wanted it to be. The venue was beautiful, our flowers were perfection, the food was amazing, and the staff was out of this world. There was not a second of the planning process where I felt stressed. Kim was always a phone call or email away and was also so kind and willing to answer my questions or deal with my ever changing ideas. If I could go back and do it all over again, I would not change a single thing! I look forward to going back and celebrating our 1 year anniversary there!

+ 2

photos

Abby S.

Married on 12/22/2020

The most magical experience, BOOK NOW!!

It has taken me about three weeks to write this review, because I have been at an absolute loss for words. My husband and I feel like the luckiest people in the world to have found Kim and the haven that is her property, Fall Tree Farm B&B. I reached out to her on very short notice about a potential elopement, but had very few details as my husband is Army. And as you may know, the Army does what it wants, when it wants to. She replied to me so quickly, and with such kind reassuring words. Despite the fact that we were talking about an elopement, during the winter, in Central PA, during a pandemic. Every step of the way, she was responsive, helpful, and above all, kind. She reached out to collect details for the day, such as what we would like for dinner, what flowers I wanted to carry, what type of cake we wanted, our song choices, and more. Not once did I ever had to go out of my way to ask her questions. She always beat me to it, anticipating my every need. I have worked in hospitality for years, most of it in the wedding industry in fact, and so I tend to be extremely picky. My standards are high. I've worked hundreds of weddings and have always feared that my own would not be able to match the elaborate events I've helped put together. I have even worked for years as a bridal attendant. How could I sit back and enjoy my wedding, I thought, when I have worked so many before? I know exactly what goes on behind the scenes. How will I be able to just turn that part of my brain off and be the bride? Well, Kim. That is how. She works like a magic fairy godmother, appearing just as you need her or even think of something you may need. With that being said, she was not intrusive. She gave us so much space to just be with one another and enjoy our time together. She allowed my fiancé and I to check-in late, on our own time. When we entered, our room had the fireplace on and was so welcoming. We wandered the property, with the twinkly lights hanging from the trees and glowing on the fresh snow, picking out the spot where we would say I Do. It was breathtaking, and a moment I will never forget. It was so quiet, and the most perfect beginning to a perfect couple days. The pictures on the website do not even do the home and the property justice. I mean, we pulled up to the home and our jaws dropped. We walked in, and our jaws sunk through the floor. It is a wonderland, with absolutely stunning, preserved architecture, and such attention to detail in every piece of decor and every landscaping decision. And the food!! Kim cooked us breakfast the morning of our wedding. In fact, she also cooked us dinner that evening and breakfast the morning after. I can't even begin to describe how delicious every single meal was. Her homemade butter was to die for. She even sourced our cake for us. I'm not going to lie, I barely even thought about the cake until I actually ate it. I've eaten hundreds of wedding cakes (whoops) from working so many weddings over the years, so when we cut into and ate ours I couldn't believe it was the best I'd ever had. And the breakfast she delivered right to our door the next morning?! Blew us away. It was beautiful and delicious, complete with mimosas, tea, and coffee. My husband and I set up our little ceremony area, and without us even asking she added sweet little candles to it that matched perfectly, and remembered to light them when I completely forgot it had to be done. She set up our dinner table and our champagne that we had brought while we were outside taking photos. She played our music for the ceremony. She drove to pick up our officiant. She moved tables and other furniture so that we could get married inside. Our day was perfect, and it was completely all thanks to Kim, and Fallen Tree Farm. There will never be enough words to properly thank her, or explain how much her hospitality meant to us. My only suggestion is to book your wedding with her and host your perfect day at her absolutely gem of a property. And see for yourself, when you are filled with this warm, glowy, calm, how magical Fallen Tree really is.

Fallen Tree Farm Bed and Breakfast's reply:

Aww,Abby! Your review brought tears to my eyes! I'm so glad circumstances brought you and JC to us. So pleased and proud to have hosted your special day and wish you both every happiness in your new journey together. Hugs!

Amber

Married on 10/17/2020

Everything you can dream of and MORE!

Beyond amazing! Kim went above and beyond to make my day easy and special! She took the time to know exactly what we wanted. The venue was gorgeous!

+ 3

photos

Lamis A.

Married on 10/10/2020

Incredible Wedding Experience

Words cannot describe how amazing our wedding was at Fallen Tree Farm Bed & Breakfast. We chose to have an intimate wedding with fifty people total and it couldn't have gone any better. Kim was absolutely fantastic and answered all of what seemed like a million of my questions. Everything was organized and she even helped with the rehearsal since we weren't really sure what we were doing! She was incredibly responsive and made sure our wedding day was exactly how we envisioned. Fallen Tree Farm is a beautiful venue and she worked very hard to make sure everything was set up and ready to go once we got there. At one point I asked what I could do to help while she was setting up and she told me "Nothing! You go and relax! This is your wedding day!" We've seen a few previews of our photos and they all are incredible! The scenery is beautiful and there are lots of places to have photos taken. Being able to stay at the Bed & Breakfast that night with our closest friends and family was icing on the cake. Brunch the next day was great too! Throughout the night guests kept coming up to me and complimenting our decision to have the wedding at Fallen Tree Farm. I highly recommend this venue for any wedding!!

Annasthasia C.

Married on 09/19/2020

Perfect wedding

Fallen Tree Farm was the perfect place for our wedding. The ceremony area is stunning and we fell in love with it as soon as we saw it. Kim and her decorating team did an awesome job and everything looked even better than I imagined it would. It was great to be able to stay there Friday and Saturday and not have to worry about transportation for us and the bridal party. I highly recommend Fallen Tree Farm, especially if you want to get married outside.

+ 2

photos

Jenny H.

Married on 09/05/2020

A magical day!

We absolutely adored everything about Fallen Tree Farm. We loved being able to stay on site for the whole wedding weekend. My in-laws even stayed an extra couple days because they live out of state. It was great that they were able to stay there the entire time they were in town, instead of switching between hotels. We were able to decorate and do so many other things on Friday, that Saturday was much more relaxed than I expected. Kim was on the ball, prepared, and organized for whatever we asked. She even made boutonnieres for the guys with some of our extra flowers. We had a much smaller wedding than originally planned due to COVID but Kim was adaptable, flexible, and always responded promptly when we needed to switch up the plans. Also the entire property is absolutely. beautiful. The ceremony space truly feels like something out of a fairy tale. We got compliments from both our in person and virtual guests about how gorgeous it was.

+ 2

photos

Emily

Married on 08/08/2020

Absolutely amazing

Thank you for making our vision come to life and for putting up with all the details we brought in. You did an amazing job making it elegant and beautiful! It was such a magical day and I cannot express it enough the comfort you provided and the service as well. We are so grateful to you and we are so happy that we had the honor of holding this special day on your beautiful property! Highly recommend Fallen Tree Farm! 💗💗

+ 6

photos

Fallen Tree Farm Bed and Breakfast's reply:

It was an honor to help you plan your special day and host your family and friends. I'm delighted we exceeded your expectations and hope we get to see you again on your anniversary! Best wishes for a beautiful future!

Paris

Married on 07/18/2020

Amazing value and service

We havent gotten married there yet but we are so excited to work with Kim. Shes awesome and the property is beautiful!

Claudia N.

Married on 10/26/2019

Enchanting Fairytale wedding

The ceremony space is so beautiful! Our guest count was 133. Kim is great about responding to any questions you have throughout the planning process and always got back to me within 24 hours! I am so grateful we picked a venue that we were able to stay at all weekend. After arriving at noon on Friday we were able to bring all the wedding decorations and start setting them into place. We had the rehearsal dinner outside by a fireplace and the innkeeper, Kim, provides the tables, chairs and linens. It was awesome to get to have my bridal party all stay at the bed and breakfast on Friday night. On Saturday Kim made us breakfast and served a light lunch and her staff helped set up centerpieces and coordinate between vendors! My husband and I got to spend our wedding night here and Kim even provided a delicious brunch for 20 people on Sunday morning. What a flawless weekend!

+ 2

photos

Jennifer

Married on 10/12/2019

Positively Perfect!!!

When we went to Fallen Tree for the first time it was in the middle of winter and it still took our breath away. The house and grounds are gorgeous! The ceremony area is very unique and beautiful. Kim makes the whole process easy and fun. We got so many compliments about the venue on our wedding day. We look forward to returning to the bed and breakfast for anniversaries.

Fallen Tree Farm Bed and Breakfast's reply:

We so enjoyed helping you and Tyler plan your big day. It was a pleasure to work with your friends and family. Come back and visit for your anniversary!

Harley B.

Married on 06/22/2019

Absolutely beautiful.

What an amazing place for a special day. The venue was absolutely beautiful. Kim helped us out tremendously. We did the petite package with 50 guest. All we needed to do was show up with out certificate and she took care of the rest. I gave her ideas on what I looked for in a wedding and she did more than expected!!

Adriana

Married on 05/25/2019

Country Oasis meets Secret Garden

Fallen Tree is such a beautiful venue. The ceremony area initially drew us in but there is something picture-worthy on nearly every part of this secluded site. The B&B, itself, has so much character. Kim and her staff are amazing and made sure that everything ran smoothly through the weekend. With 145 guests, our wedding was so stress-free and THE BEST time. All of our guests raved about the wedding and the venue. This is the perfect intimate venue whether you are looking to have a small wedding or something on a much larger scale.

Danielle W.

Married on 10/14/2018

My Dream Wedding

I got married at The Fallen Tree Bed and Breakfast on October 14th and it was perfect. The property is beautiful, peaceful and serene. Kim and everyone else at the property were very nice and accommodating. I had a small wedding with just my parents, son, makeup artist and photographer in attendance. After our outdoor wedding my husband, myself, mom, dad and son had a beautiful indoor dinner in a separate dining room. Our dinner was fantastic. The rooms were very nice and the next morning we had a delicious breakfast in the main dining room. My wedding was perfect and I couldn't be happier. We will definitely be back.

Leanne

Married on 09/22/2018

Everything I had hoped for!

We decided on Fallen Tree Farm because of the location and the rustic feel. We were definitely not disappointed! Also, everything that was included in the price of renting the venue for the weekend was more than fair.
Kim was wonderful to work with and very easy to talk to through the entire planning process. She was very helpful and answered every question I had along the way, and she always got back to me quickly. She was also very accommodating to all of our needs.
Our wedding day was everything we ever hoped for & it was so beautiful. Kim and her crew did a fantastic job getting the site decorated for the wedding day and everything was perfect!

Fallen Tree Farm Bed and Breakfast's reply:

We loved hosting you and Matt on your special day. You have a wonderful group of family and friends who came together to help you celebrate. Best wishes for a fabulous future together!

Are you interested?
Send a message