Reviews
4.9 out of 5 rating
Quality of service

4.9 out of 5 rating

Average response time

4.9 out of 5 rating

Professionalism

4.9 out of 5 rating

Value

4.9 out of 5 rating

Flexibility

4.9 out of 5 rating
98%
Recommended by couples
80 User photos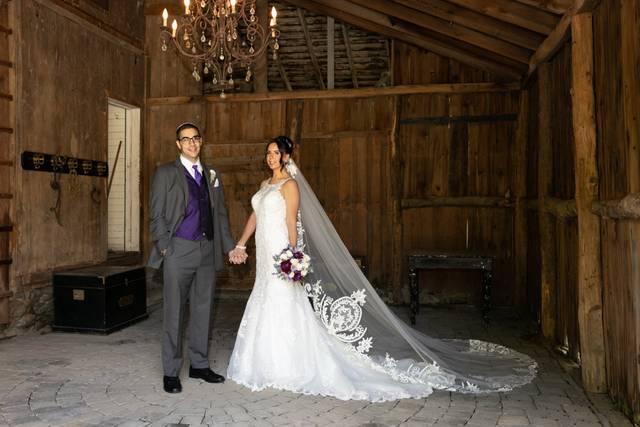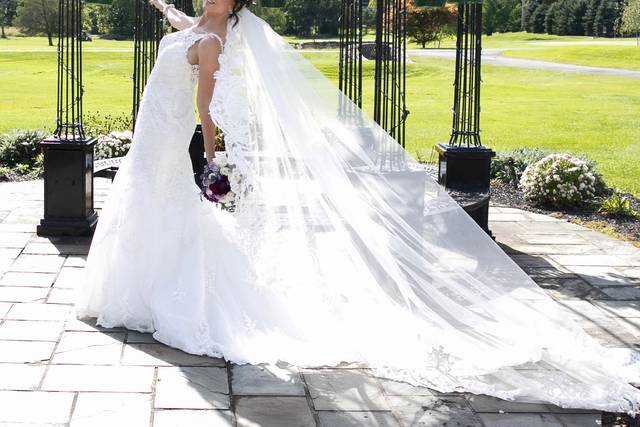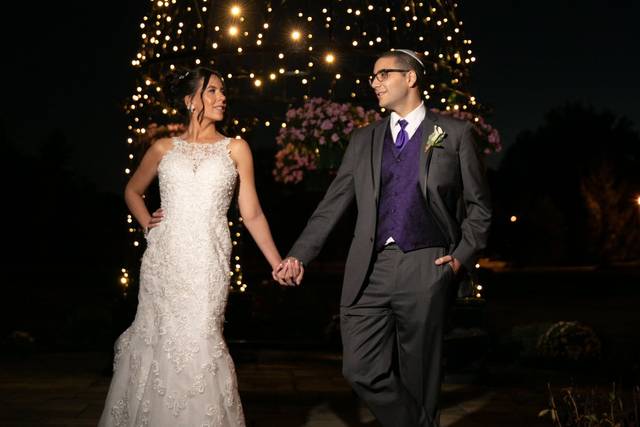 + 76

photos
Katherine A.

Married on 09/24/2022

March Wedding

We got married in March 2023 - our wedding day was perfect. It rained on the day of our wedding but the team was flexible and set up outdoor and indoor seating for the ceremony - we ultimately chose indoor given the drizzle and overcast. The cocktail hour food and dinner service was amazing. Our DJ and MC also did a great job getting the party going. My husband surprised me with fireworks on sight which was a huge hit with the guests. I was told by multiple people that it was the best wedding they ever went to. I would choose this place over and over again =)

Shannon B.

Married on 09/26/2021

Wedding of our dreams

Falkirk made our wedding our most perfect day. From the first appointment everyone was warm, caring, and friendly. We not only needed to reschedule due to COVID, but we also moved to Florida during the planning stage. Karen Corson was more than happy to work with us through every challenge and was always upbeat and positive.

The staff welcomed my family at the rehearsal and made everyone feel cared for. The grounds were breathtaking.

On our wedding day the staff was on their timeline and focused. All of the staff were kind and had warm things to say.

We cant thank and recommend Falkirk enough.

Liz F.

Married on 09/04/2021

Amazing from start to finish!

We planned our wedding with Falkirk twice (thanks covid) and they made us feel special and important every step of the way, even through unprecedented times. We first booked with Falkirk in 2018 for a 2020 wedding. Then 2020 happened, and we postponed it to 2021. Throughout the whole process, Karen was always available, upfront, helpful, and honest. We were always able to reach her via email or phone and she had a way of making us feel calmer during stressful times. Through many changes in mandates, capacity rules, etc. Falkirk kept us up to date and was flexible with us. Our big day finally came on September 4, 2021. It was everything we could have dreamt of and more. The scenery at Falkirk can't be beat. We had an absolutely gorgeous background for all of our ceremony photos, and guests loved being able to move around inside/outside for cocktail hour. The food was delicious. We have had so many guests comment on how good the food was. The staff the day of were all amazing. They made sure my husband and I were fed, and that our glasses were never empty. I wish I could go back and relive the day over and over. We truly cannot thank Falkirk enough for making our dream wedding a reality.

Are you interested?

Send a message

Christopher M.

Married on 07/12/2021

NYE Wedding Spectacular

WOW! I can't even begin to express our gratitude to the Falkirk team. But I'm gonna try! Tommy took care of us right from the start and after our first tour/meeting we were sold. The venue itself is gorgeous and speaks for itself. But Tommy really made us feel like family. He is so kind and encouraging and made our decision to choose Falkirk an easy one. Tommy and his magical team took the night over and beyond our expectations. Every person who had been to a wedding here before gasped when we told them our wedding would be at Falkirk. They raved about the venue, the food and the service so much that it seemed too good to be true! Well it was that and so much more. The FOOD the SERVICE! It's been over a week and we are still receiving such wonderful compliments from the guests in attendance. The Falkirk staff make you feel so important and so well taken care of. We couldn't have asked for anything more.
Tommy, Karen, Michael and Michelle, this is our love letter to you. You made this day in our lives truly the greatest. We cannot thank you enough! We are so sad to think that our time with you has ended. Don't be surprised when we pop by for a visit.

Ashley H.

Married on 06/05/2021

You need to book this venue!!!

We are so beyond happy and thankful that we decided to have our wedding at Falkirk. From the start Karen was helpful throughout the whole planning process and went out of her way to constantly update us with the constantly changing COVID restrictions. Then the day of, Karen made sure everything was absolute perfect. It was so nice being able to get married and just enjoy the day without having to worry about any of the logistics of anything. Everyone could not stop raving about how great the food and venue was. We are a little over 2 weeks out now and I still am in awe of how perfect it was. I could not recommend Falkirk enough!!!

Antonio A.

Married on 11/10/2020

Our daughter's wedding event was a perfect dayOur great experience at Falkirk

Our daughter's reception was held in Falkirk Estates on October 19, 2019. Words cannot describe the great and magical experience we had at Falkirk. It was a perfect day!
Falkirk Estates is a world class organization that is 100% dedicated to customer service.
We had zero hiccups during the even and the entire team at Falkirk (from waitstaff to management) was was 100% dedicated to ensure we had a marvelous experience (which we absolutely did).
What impressed me the most is that the entire staff at Falkirk was committed and dedicated to ensure the event was a success
from the very beginning when the buses arrived to went the last person left the venue.
The management (which includes but it is not limited to Tommy, Karen, will and Barry) made our process painless and friendly from the first day we went to visit them right to the day after the wedding when we went back to pick up some pictures.
I strongly recommend future couples to seriously take into consideration doing business with Falkirk for their wedding venue. I am sure your experience will be the same as ours

To all of Falkirk Staff. Thank you, Thank You and thank you. You made our day.!!!!
Tony and Laura Diaz (parents of the bride)

Samantha N.

Married on 10/31/2020

Absolutely Amazing

Karen is fantastic to work with and is extremely accommodating! I can't wait for our wedding there next year!

+ 3

photos

Jennifer

Married on 08/09/2020

We couldn't have asked for more!

We're so incredibly grateful to the entire team at Falkirk Estate and Country Club, especially Karen, Michael, and Michelle, for giving us our dream wedding. As soon as we saw the venue we fell in love with it and knew it was where we wanted to have our wedding. The grounds are so beautiful, the food was amazing, and we loved that they only host one wedding at a time. The entire planning process was so smooth and Karen really made it a fun experience! When the pandemic hit and everything was put on hold, Karen and the rest of the team went above and beyond to accommodate us. They were able to give us a new date, easy our worries, and still give us our dream wedding! The lengths they went to to ensure everyone's safety gave us such peace of mind. Choosing Falkirk was the best decision we made throughout our wedding planning process. We can't recommend them enough and can't wait to visit again for future events!

Brittany M.

Married on 06/13/2020

Wedding didn't take place, but we worked out our contact

We were a true covid wedding. June 2020, we decided to have a back yard wedding although we already had a deposit with Falkirk. We were able to resolve our contract and come to a friend agreement. We will be looking forward to having our baby's christening with them in the fall.

Dennis M.

Married on 03/07/2020

Everything we wanted and more!

While my now husband and I were planning our wedding, we were trying to find a venue that would treat us with the same care and respect as traditional weddings would be. Falkirk Estate not only made us feel completely comfortable and accepted, but they were on top of everything! From photography, to the ceremony, to the schedule, I was completely blown away by the professionalism and experience by Tommy and the rest of the Falkirk team. We were married right before New York went into lockdown for COVID-19 and everyone is still talking about how it was the best wedding ever. The space is beautiful and legitimately something to see to believe. I will highly recommend to anyone who will listen,

Erica F.

Married on 03/06/2020

Best decision ever! Book now!!

My Husband and I got married at Falkirk in June 2019. The first time I saw the venue online I knew we had to go check it out right away! The venue is absolutely gorgeous and the grounds are breathtaking (during the day and night)! You get the backdrop of the mountains, the golf course and two beautiful waterfalls –truly romantic! In addition, they have a barn with a beautiful chandelier where you and your spouse can take your first look photos! It was such a special private moment. The reception room is huge and it has this beautiful bar setup within the room. The food was delicious and my guests were truly impressed with the cocktail hour. The staff at Falkirk is incredible –from the first day we met them to the very the last minute of our wedding day – they took care of every single detail! Everyone worked together as a team and genuinely cared about our special day – that made all the difference! Our wedding had about 270 guests and there wasn't a single glitch!

From the very beginning, Tommy (General Manager) and Karen (Event Planner) were amazing! Karen's attention to detail meant everything to us and she really made us feel so comfortable. Having a great relationship with your event planner is key and Karen is the one you want! Having our wedding at Falkirk was truly magical and is still being talked about by our friends and family. If you choose to get married here, it will be one of the BEST decisions you make when planning your wedding! Can you tell we LOVED Falkirk?! Don't wait....book them asap!

Alicia P.

Married on 02/22/2020

Amazing Experience!!!

We are from Connecticut and were looking for a space that had a separate cocktail  and reception space.  From the moment we stepped into Falkirk, we knew this was our venue! Karen was amazing to work with and made the planning process so easy.  She was always available to answer our questions.  Our guests have not stopped raving about our wedding, from the food, atmosphere, helpfulness of the waitstaff, the compliments are endless! We are so happy to have had our wedding at Falkirk, they made our special day incredible! When we walked in to see the reception space before guests arrived, the wait staff all stopped what they were doing to offer us congratulations.  The attention to detail was amazing!  Multiple people complimented the wait staff on their service.  Michael and Michelle were on top of everything, letting us know when things would occur and making sure we were having a great time throughout. We had beautiful weather for February and Michelle made our day so special and was so attentive in making sure we had everything we needed for pictures outside.  We have been told by multiple guests it was the best wedding they have ever been to and they keep asking how we found Falkirk since none of our guests had been there previously. We are hoping one of our guests will get married at Falkirk one day so we can experience it again!!
Marc and Alicia 
02/22/2020

Lori M.

Married on 11/17/2019

Not just a venue, it's family.

There is so much I can say about Falkirk and it's hard to put all my thanks into words.

Falkirk was the first and ONLY venue we looked at. My mom had heard of them through a client of hers and hot nothing but rave reviews. Upon seeing the venue and meeting Tommy we new right away this was our place. He made us feel like family off the bat and that was important to us.

We were weary about our choices in venue and vendors because we are an LGBT couple, but we felt comfortable in our decision the second we walked in. It didn't matter if we were gay, straight, purple or polka dotted, we were treated just as
special as we hoped to be.

Since the moment we had our first appointment until the end of the wedding, everything was handled extremely professionally and run like a well oiled machine. I am somewhat of a control freak but Tommy & his staff made me feel completely at ease and that I had nothing to worry about.

The day of the wedding couldn't have gone any smoother. The team of people I had treated me with the upmost respect and were incredibly kind and comforting. I was a ball of nerves but they kept me calm and collected the whole way through. They led me everywhere I needed to go, and every single aspect of the day ran PERFECTLY. The food, the ambiance, and every single one the staff were AMAZING! I could not stop receiving compliments from our guests about how good the food & venue was. 3 weeks later, people are still calling me up to tell me it's the best wedding they ever attended.

I could go on forever about how gracious my wife and I are for Falkirk and how everyone should have their wedding here but I will say this in conclusion. As a lesbian couple, we faced a lot of issues with family not wanting to attend our wedding because they didn't agree with it. It was a very hard road leading up to our special day, and at times I was not sure I wanted to even have the wedding. BUT thanks to Falkirk I'm glad we did. Being accepted and treated as equal as other couples was a huge fear of ours but I have never felt more welcomed and cared for by people I barely knew. As I said before, Tommy and the rest of the staff made us feel like family, and to us, that meant everything considering some of my family would not attend. They made the day so incredibly special that I forgot about the missing pieces because they filled it with so much happiness and warmth.

To us, Falkirk is more than just a wedding venue. It didn't feel like we were just another couple for them to get money from. We were not just another transaction to them. It felt like home. I would go through all the tears & stress I endured with my family 100 times over again to relive our day there. They made everything all worth it.

If you don't book here, trust me when I say this, you are making a big mistake. No other place can live up to Falkirk, I can say that with 1000% confidence.


Kimberly

Married on 10/19/2019

Best day of my life

My husband and I had our wedding reception at Falkirk, and what an incredible experience! The entire day was a dream come true from start to finish. Working with Tommy and Karen during our two years of being engaged was another great experience. Their warm personalities, knowledge, and excellent taste were some great traits we admired during our experience. The venue itself was gorgeous on the day of my wedding, the fall foliage along the grounds and extra attention to detail made it look like something right out of a fairy tale. The wait staff was amazing, and made my husband and I feel so special on our big day. This was truly one of the most magical days of our lives, and it is an event our family will be talking about for a long time!

Ali O.

Married on 09/28/2019

Best wedding ever.

There are no words to explain what we experienced when we had our wedding at Falkirk besides saying that quite literally everything was perfect. When we were searching for venues, I remember a review that said "you are crazy if you don't book Falkirk" - and I have to reiterate: you are CRAZY if you decide not to get married at Falkirk!! The ballroom, all of the outdoors, and the barn/farm where we took pictures were all absolutely beautiful. My husband and I were blown away with the care and professionalism that Karen, Tommy, Michael (our maitre'd), Michelle (bridal concierge), and every other staff member exuded throughout the entire planning process and wedding. The service of every single bartender & server was fantastic - we got multiple comments from so many people on how their drinks were constantly filled and how kind and caring every staff member was. Karen is a master at weddings, she was unbelievably organized, super responsive to emails/phone calls, and gave us advice that made our day so special. Michelle was a wonderful, pleasant person who made our day multiple times (she held my lipstick all day, kept giving us food and drinks without us even asking). Michael was also extremely organized and made our ceremony a breeze even with a large & loud bridal party that he had to take care of!! We also got a ton of comments on how incredible the food was, especially during cocktail hour. Multiple people told us it was the best wedding they have ever been to (one person even told us at 8pm, when the reception just started!!) My husband and I were not stressed about anything at all throughout the entire time - it was the best wedding we had ever been to as well, and we had a blast thanks to the staff making sure we were as care-free as possible. We picked Falkirk because of its ridiculous beauty, having only 1 wedding PER DAY (we took pictures for 3 hours there before the ceremony), and because of the reviews of the service, but there was so much more that we didn't even know was in store. Everyone at Falkirk truly cares about making your wedding the absolute best day of your lives. We are so happy.

Melissa M.

Married on 08/23/2019

Best venue, food, and staff

The Falkirk experience is magical! The venue itself is gorgeous - between the beautiful fountains, flowers blooming, horses in the barn, and a fabulous sunset... But what truly makes it special is the staff working there. From day 1, Karen and Tommy treated us like family, asking what would make the day a dream come true for us, and then executing to make that happen. Michael made sure both us and our parents had drinks all night, so we could just enjoy the moments, and Michelle helped me carry my dress during all the photos. Everyone we worked with, from setup to cleanup, was excited to help us in every way we needed. Our guests are still raving to us about the food (the famous Falkirk Chicken, Chateau Briand, Coconut Shrimp, Bacon wrapped Scallops, Lamp Chops, Oysters, etc.) and the unbelievable firework show. We would pick the venue and this team to work with, over and over. Thank you so much for the best day ever!

Melissa

Married on 08/10/2019

Dreams Do Come True!

We cannot say enough great things about Falkirk Estate and Country Club! Our wedding absolutely surpassed our expectations due to the sincerity, professionalism, courtesy, and attentiveness of ALL of the Falkirk staff. Karen, our event planner, was calming and helpful thought the entire process. She made sure the decorations were perfect and kept our timeline on point. We absolutely loved Karen and all that she did for us. Tommy, the general manager was there on the day of our wedding making sure we were happy and that the wedding was a success. Tommy made us feel like family. Michael, the Maitre D, was funny and friendly and went above and beyond making sure every detail was carried out as planned. Michelle, the bridal concierge, was an absolute delight. She was extremely helpful and attentive. She even helped me by tying the corset built into my gown. Michelle made sure we were well fed and always had a drink in our hands. I don't know what I would've done without her?! Peter, the waiter assigned to my parents' table, was awesome! He made sure my parents and their friends and family had whatever they wanted over and over again....they didn't have to lift a finger. Peter, introduced himself to me, which I thought was very polite and sincere. He promised that our wedding would be everything we wanted and more. How right he was! We have to say, we heard from all of our guests that the service and food was outstanding! The facility itself is breathtaking from inside out. The outdoor landscape is a picture perfect view of what makes the Hudson Valley so special. The outdoor patio and ceremony area are impeccably manicured from the pavers, to the rock walls, waterfall and gazebos. It is a picturesque place. The cocktail hour room and pub as well as the Grand Ballroom have a very stately appearance. From the pristine floors, to the granite countertops, exquisite woodwork and detailed moldings, to the fireplace, mantle and chandeliers, everything is elegant and beautiful. I cannot thank Falkirk enough for making my dream wedding come true!

Vincent A.

Married on 07/04/2019

Phenomenal

Summary: Falkirk was phenomenal in every way - I couldnt imagine having my wedding any other place.

I usually do not write reviews, even for venues that offer great service and exceed my expectations. I know that is not helpful or right, many places deserve to get honest feedback, but I usually just dont have the time to put in the effort. Falkirk was different - it is a pleasure for me to write this review.

1. Falkirk is extremely professional

~The process of planning a wedding is fairly intricate, but Falkirk was there for every need and displayed a unique sense of calm and diligence despite the pressure that comes with a wedding.
~Tommy and Karen are always available for questions and concerns - they draw from a wealth of experience and it shows in the execution of the wedding day.
~Everyone was well dressed, polished, and polite for all aspects of the wedding process.
*The service of the wedding day is EXCEPTIONAL - from the wait staff, to the greeters, to the banquet director, to the bridal concierage - I can go on and on. Everyone was fantastic.

2. The property and grounds

~ The golf course is expansive. The waterfall is majestic. The dance-floor is huge. The view from the ballroom is to die for. Don't even think you are going to find a nicer piece of property in the Hudson Valley Area.

3. Organization of the festivities

~ Tommy and Karen run a fantastic operation - it's seamless. Nothing was late, nothing was messy, nothing was out of place. Everyone knew where to be to fill your every need. When you wanted water, they had it ready. When you wanted to rest, they were prepared. When you were hungry, food was waiting for you.

4. The Food

~Food was amazing - I didn't get a chance to meet the Chef, but I wish I did - he or she must have been trained in a culinary institute.
*I really wish they wrapped up a bunch of the appetizers we had to go - the scallops with bacon are insanely good (I dream of them sometimes)
- The appetizers in general are the best of the best, I need someone else to get married at Falkirk so I can go back to enjoy the appetizers again.
~I need to find out what type of coffee they have - it was sublime, (I wish I got to finish it :( ...)

5. Tommy

~Tommy is truly fantastic at what he does. He has a great sense of humor, is genuinely caring, and will go above and beyond to make your day special.

6. Conclusion
~Stop wasting your time comparing venues and choose Falkirk, you will not be disappointed.

Janine

Married on 06/14/2019

Stop your search NOW!

Quick Recap:
Food - PLENTY AND AMAZING
Drinks - Any assortment you want can be accommodated
Venue - Beautiful both inside and out, spacious, private and only one wedding a day.
Service - The Absolute best! The Servers were on top of their game and friendly. The Director extremely helpful and welcoming. The Management staff makes sure everything runs smoothly before and during the wedding.
Price - Worth every penny! Very reasonable and you actually get more bang for your buck than you would elsewhere. We know, we went to see 10 venues.

Stop your search now, this is the place you want your to be wedding! This venue is magical. From the absolutely breathtaking views to the incredible staff, there is no way to fully articulate how exceptional Falkirk is. We can't even begin to express our gratitude towards the hardworking staff at Falkirk. Over 2 years ago we went on a search for the perfect venue. When we first walked in, we met Tommy (the director). He took us on a tour and we could not stop smiling. Not only was the place gorgeous but Tommy's personality felt like we had known him for years. He is very hands on but in the best way. Tommy thinks of every last detail and makes sure all your concerns are taken care of, allowing you to really enjoy your day. We left, and actually went to see a few more places that we had already scheduled visits with but we could not get Falkirk out of our minds. So, we went back.
Our wedding was June 14, 2019. During the entire planning process, we visited Falkirk many times. We do not live nearby... We just couldn't help ourselves because we felt like they became our family and we just wanted to spend time there envisioning what our day would be like. However, we could never imagine how absolutely perfect it would end up being.
We definitely did not have a traditional wedding. Tommy listened to all of our crazy ideas and requests and helped us execute them better than we ever could have imagined. Every time we would talk to him, we would have something else out of the ordinary to add and he would laugh and just make it work.
Michelle was the bridal attendant for the day of the wedding. This woman is an ANGEL! She made sure that every detail was perfect. Her patience was out of this world. She had a way of telling our photographer to move it but remained respectful and sweet. She made sure every detail of the day was running on time and we were where we needed to be. Her and Tommy came out when we were taking a few pictures during cocktail hour to bring us some of the food on a golf cart.

Every guest at our wedding has told us how the venue was STUNNING. "How did you find this place?? It's gorgeous!" They complemented the service. "Our server was the best server we have ever had in our lives". The food was outstanding. We come from Italian families so our biggest concern is always, will there be enough food and will it taste great? Well, with Falkirk, you do not have to worry because it checks every box you can think of.
I could talk about this place forever and probably will BUT to wrap this up, Falkirk and the beautiful people that work there, made our dreams come true. They took us under their wings and into their family and helped us make our wedding day unforgettable. Thank you Falkirk!

+ 15

photos

Kacy M.

Married on 05/25/2019

Truly Amazing

From the minute we looked at Falkirk Estate, we knew that we wanted our special day to be at this beautiful venue. The grounds are beyond beautiful and the ballroom is just gorgeous. Our wedding day was nothing shy of perfect and every single person involved exceeded our expectations. Tommy, the general manager, went above and beyond from the minute we met him. He catered to our every need along the way. The event planner, Karen and the Maitre D, Michael, made sure everything ran smoothly the day of the wedding. Their dedication to making sure our day was perfect did not go unnoticed. And they both had a smile on their face through it all. I had no idea what a bridal concierge was until I met the most amazing, Michelle. Michelle treated me like a princess and I felt that she was my fairy godmother, seriously catering to me and every need. There is not enough good things to say about the food. If you leave a wedding at Falkirk, hungry... you're doing something wrong. The food was delicious and there are more than enough options to please everybody. The wait staff was very attentive and were raved about by guests. My husband and I could not have asked for a more perfect day. We can both truly say that not one thing went wrong, and that is all thanks to the lovely staff at Falkirk. There is nothing we would change about our wedding day even if we wanted to. For the past month we have heard nothing but amazing things from our wedding guests. Many guests of all different ages raved that this was the best wedding they have ever attended. Thank you to Falkirk Estate and all of its staff for going above and beyond and making our wedding truly perfect.

Katherine

Married on 04/12/2019

Absolutely Perfect Wedding

From the first photo I saw of Falkirk Estate & Country Club, I knew they were my venue. Meeting Karen Corson and the Falkirk Team sealed the deal. From that moment through our entire wedding day, they went above and beyond for us and our guests. They took away the stress and worry, thinking of all the details that I didn't.

The venue is stunning - it's classy and elegant - and the gardens are picturesque. We loved taking photos at the barn and stone house. It really captured the tone we wanted for the wedding.

The food was phenomenal - guests are still contacting me raving about the food and service. We didn't want for anything! When we couldn't make up our mind, Falkirk offered additions to our menu.

Overall, it was an absolutely perfect day. The venue is jaw dropping, the food is amazing, and the staff are the best. Everyone treated us well and made sure everything fell into place for an amazing wedding. Thank you!

Jenna

Married on 03/09/2019

Falkirk Fairytale

We couldn't be happier with our decision to have our wedding at Falkirk! The venue is absolutely stunning both inside and out. Our winter wedding was truly magical!

From the moment we walked through the doors, we knew our venue search was over. I cannot say enough good things about Falkirk! We received so many compliments from our guests. Everyone had an amazing time, which was so important to us!

Karen and the rest of the staff went above and beyond to make our day perfect. We looked at a lot of venues and talked to a lot of event planners, and Karen was one of the main reasons why we chose Falkirk. We planned our wedding from 2000 miles away, and Karen was still able to walk us through every step like we were right there. She really made us feel comfortable that everything would be taken care of.

The food was delicious and the service was unparalleled. The decorations were beautiful and the drinks were fantastic. The attention to detail in all aspects was stunning. The staff was kind, attentive, caring, and professional. Our guests raved about how amazing the wait staff was! Falkirk truly delivers the full package. I could write an essay on the cocktail hour, the bridal concierge, the maitre d, how they took care of us, made sure we ate dinner, kept us on schedule, made us take moments for ourselves, and always had a drink refill waiting for us! The list goes on and on. I felt like I was living in a fairytale the entire day!

+ 3

photos

Melanie C.

Married on 12/31/2018

Stop what you're doing and book Falkirk!

Falkirk has surpassed our every dream for our wedding day. My husband, Mike, and I got married at Falkirk on New Years Eve 2018. The pictures on the website don't do justice, go visit Falkirk now! Trust me! The grounds are impeccable, a ton of photo opportunities in several spaces (the barn is my favorite), the cocktail hour and venue space is superb. Falkirk's service is unbeatable, Michelle and Michael made our day stress free and fun. When we met Karen and Tommy it wasn't like any other experience we had shopping around for venues. They were genuine, accommodating, straight shooters and answered our extensive list of questions we had throughout our engagement, graciously. And the food? You and your guests will talk about it for months! No corners were cut! Cocktail hour had our guests delighted and full. Their food fresh, with so many options to choose from and presentation is remarkable. The entire staff the day of treated my family like their own, in every way. Falkirk gave us the wedding of our dreams, a New Years our friends and family will forever remember and we can't thank them enough!

Jennifer H.

Married on 12/29/2018

Outstanding

Outstanding! That is the word that best describes Falkirk and its staff. From start to finish our day was perfect. When we first went to Falkirk and met with Tommy we knew that this was our venue. Our wedding turned out to be above and beyond anything we could have imagined. Tommy and Karen were there every step of the way and had so many great suggestions and ideas to make sure everything was just the way we pictured. Michelle, Will & Michael were so attentive on our wedding day and made sure everything went off without a hitch. They made the day so stress-free and made sure that we enjoyed ourselves. We truly felt like royalty the day of our wedding. Our guests are still raving about how amazing the venue was, from the food and drinks to the wait staff. We were told from many guests that this was the BEST wedding that they have attended. Our family and bridal party still are commenting on how stress free they felt, and how everything was flawless. Will and I cannot thank Falkirk enough for exceeding our expectations on our wedding day. It was truly amazing. I would highly recommend them, you will not regret it!

Allison M.

Married on 11/10/2018

Best venue!

Thank you, thank you, thank you, to Falkirk for exceeding our expectations on our special day. Tommy, Karen, Michelle, Michael and the rest of the staff, we truly thank you from the bottom of our hearts for all the work and expertise you put into making our wedding day truly special. We received so many compliments saying the staff was exceptional, the food was delicious, and the overall experience was incredible, and we could not agree more! It was really great to hear our guest say it was the best wedding and venue they've been to! The staff made sure my husband and I were able to enjoy the food, cocktail hour, etc. and that is important because the day does go by so fast (so I can understand how brides say they didn't have time to eat) But not at Falkirk, they make sure you do! We were so happy we were able to eat EVERYTHING our guests did. The staff put together a nice display of cocktail hour food for us in the bridal suite so we had our moment alone together before we headed down to cocktail hour to see our guests for the first time. Every table had their own wait staff. Nobody had to get up and get a drink, and their drinks were NEVER empty. Our parents were treated exceptional and had their own wait staff as well. Although it was a little cold out, our guest were still able to enjoy the outside from the heaters that was provided. The detail from the outside lights, to the table settings, was perfect and it was everything I envisioned since I was a little girl dreaming of my wedding day!
Falkirk was the ONLY venue we went to see, and that was because as soon as we walked in, met Tommy, Karen, and Michael, and saw the venue, we knew this was the place! During the planning process, we were able to contact Tommy and always get in touch with him. Tommy always made me feel like I was special and not just another bride asking a million and one questions. He took his time and answering every single question, satisfying every need and gave advice when needed. Everything went so smooth from beginning to end.
Thank you so much Falkirk for building these amazing memories for Kevin & I to share. We are so happy and grateful we picked you as a venue!
Are you interested?
Send a message