26 Reviews
Recommended by 93% of couples
Quality of service

4.6 out of 5 rating

Average response time

4.6 out of 5 rating

Professionalism

4.6 out of 5 rating

Value

4.7 out of 5 rating

Flexibility

4.6 out of 5 rating
Awards
22 User photos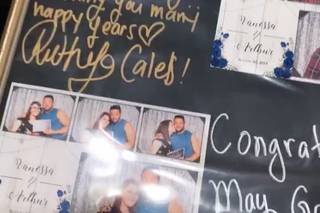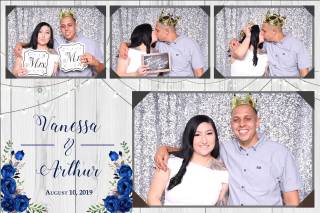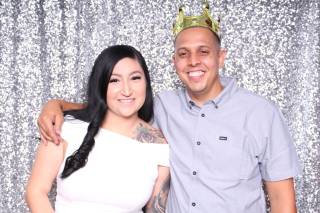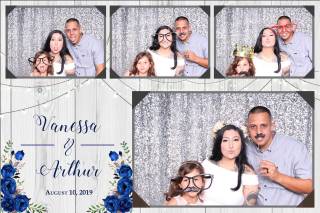 + 18

photos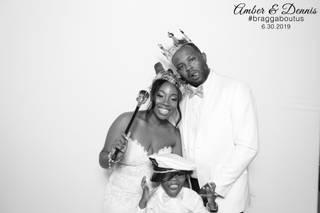 Ruth E.

Married on 02/02/2020

Black&white photobooth

the best photobooth experience my guests have ever had. they have the black & white photobooth yall... they are so professional and even offered to extend their time there to accommodate to guests. they were awesome!

Vanessa R.

Married on 08/10/2019

Perfect photo strips & Full photos

I loved that they literally worked on my template exactly to how i wanted, changes, details to the point. I changed my template twice and they did it without hesitation, the photos were beautiful and the photo guestbook was amazing ! They sent me photos full size of the shots, so great!

Juliana

Married on 07/27/2019

EY photo booth was amazing! I hire them for my sisters wedding and they made the whole experience unforgettable. Everyone from adults to children were having a blast with the props and taking goofy pictures. Will definitely hire them again on our next event. I highly recommend them, they're simply the best.

Are you interested?

Send a message

Amber

Married on 06/30/2019

Best part of the wedding!!!

So happy i followed my impulsive decision to hire eyphotobooth after my friend had them at her engagement party. The very next day i contacted them and booked them for my wedding, which was like 4 weeks away. I made the final payment the week of my wedding and the day of they arrived on time. Everything went so smoothly. The photo booth was such a hit and the quality is amazing. The very next day i received the link to all the pics which was great, we were able to relive the night in our honeymoon. Also this is a great party favor. People will cherish photos over mints any day.

Devine

Married on 03/09/2019

Loved them at my wedding!!

Such a great experience! Everyone LOVED the photos, they are very great quality which is why we hired them after seeing their work at the Pasadena Bridal expo! We got the highest package which included the red carpet unlimited pictures a picture book, they also give you the option to get th pictures sent to your phone! Highly Recommend their business thank you so much for a great time!!!

Crystal B.

Married on 02/14/2019

So much fun!

I wasn't 100% sure if I wanted a photo booth for my wedding and I am SO GLAD I decided to hire EY photo booth. I received so many compliments about how fun and entertaining it was.

Ron S.

Married on 02/09/2019

Great experience!

Definitely made a good chose hiring EY for our wedding reception. Everyone loved the booth and it was a great hit. Will definitely recommend them to our friends and family!

Victoria

Married on 10/14/2018

Amazing value!!!

This was by far the least expensive photobooth I looked at, and I was worried it would show compared to some of the pricey ones with intense marketing. It was PERFECT. They will totally customize your photo strip design including the layout and the fonts/colors. They have fun props that everyone loved (or you can supplement your own) and lots of backdrop options. They were low maintenance and independent (no stress for me). A great experience.

Jacqueline

Married on 05/11/2018

I absolutely loved EY Photo booth and by the pictures I'm pretty sure all my guest did as well. It was the cherry on top and just what my wedding needed. Emmanuel is very professional and very prompt in responding to all the questions I had. I love how my quest were able to have their picture texted to them as well as a hard copy. I loved the design of the template they made. I just sent them my wedding invitation and they were able to know exactly what I wanted. I hope to use them again in the future and I highly recommend them. Thank you EY Photo booth.

Allyson

Married on 04/27/2018

All of my guests loved the photobooth and our attendant was so patient and nice. The photo quality was superb we got double prints through out the night, Emmanuel was prompt and professional when responding to emails, texts, phone calls. I will definitely work with them again and I would definitely recommend them!!!!

Iris

Married on 04/21/2018

Emmanuel and his team are absolutely amazing! Our guests really enjoyed the photo booth at our wedding. He was so prompt in his responses and I loved the way our template came out as they designed it especially for our wedding. I even got all the pictures that were taken that night sent to me so that I could save them all. The scrapbook is also such a nice keepsake! I would highly recommend them!

Stefanie

Married on 03/31/2018

I have to say choosing EY Photo Booth was a great decision. Emmanuel responded quickly and designed the perfect photo strip for us. He understood the theme of the wedding and brought a back drop that matched perfectly. His staff was professional and helpful and his equipment was state of the art. Each guest received a photo strip and they also sent the photos electronically to them and the very next day they emailed every picture to us. We made changes last minute and Emmanuel was completely flexible and accommodated our every wish. Thank you again EY Photo, your the best.

Caitler K.

Married on 03/03/2018

EY photobooth did an Excellent job at my wedding. Everyone loved this photobooth! Great service! Quick response! I will definitely hire them again in the future!!! Thank you soo much!!

Priscilla

Married on 02/17/2018

Such a great experience working with Emanuel and the rest of the EY photo booth team. Great quality photos, and great pricing. Our custom made template is exactly what we wanted. The pictures were lit beautifully, making anyone look good lol The girls on-site were friendly and easy to work with. Thanks so much guys, can't wait to book you again for my next event!

Adrian

Married on 11/24/2017

The service was just excellent! We were very satisfied with everything you guys provided and how you guys did everything

Yoselin

Married on 11/18/2017

They were on time , very professional staff, guests loved our event complimenting our photo booth choice! :)

Lurdes

Married on 11/04/2017

Great experience with this company. Fast communication, they design your template or you get to pick one from a made one. The experience was fun for our guests, the picture quality is the best I've seen around which was the reason I hired them in the first place. Price is also really good for what you get. You also get to download your pictures after your event which I thought was awesome. Thanks Emmanuel! We'll be back!

Elizabeth

Married on 09/16/2017

I totally recommend them..Dont think twice and book them. Loved that I hired them for my wedding..Quality is really good. My family loved their pictures and are always comparing to other photo booths at other party's and tell me how no one compares to EY photo booth from professionalism of the staff to quality of pictures.

Gabrielle

Married on 06/10/2017

Everything was great! I would definitely use him again!

Alyssa

Married on 06/03/2017

Very awesome! Would definitely recommend

Belle

Married on 05/06/2017

Great Photobooth my guests loved it and have used this vendor for all my kids birthdays !

Eric

Married on 06/03/2017

They were great! All my guest enjoyed the experience.

Chelsea

Married on 04/28/2018

My husband and I booked EY Photo Booth for our wedding reception and I am so glad we did! Emmanuel and his team were very flexible in working out times for the photo booth and the pricing was reasonable! I first discovered them at a Bridal Expo and kept their contact info for a year and a half while planning. They were great to work with and were very professional! The quality of the photos was top notch and our guests really enjoyed being able to take home a copy of their photo. I was impressed with their package offering a custom template to match our event and everything turned out great! I will definitely be booking them for future events! Thank you!

Leticia

Married on 03/31/2018

Overall great service! Just a small hiccup they ran out the flash. So half of my pictures were not so sharp.

Eugene

Married on 10/20/2018

Horrible experience!

I rarely write reviews but I had to share my experience with EY PhotoBooth for my wedding in October of 2018. In planning our wedding, my wife and I benefited greatly from others' reviews, and we wanted to make sure to pay it forward.

Initial Planning and Communication (1/5 stars):
We chose EY PhotoBooth for their reasonable price and 5-star Yelp reviews. Their responses were quick when we were asking for quotes and packages. But after we committed to hiring them for our wedding, their communication with us dropped off significantly. We submitted the questionnaire that described our photo templates on 9/10, almost 6 weeks prior to our wedding. They didn't come back with any communication. My wife followed up again on 9/25, still nothing. Finally a week and a half before our wedding, my wife HAD TO follow up with them again and they said the first draft would be ready on the coming Sat, which would be just one week before our wedding. The Saturday had passed and STILL NOTHING! My wife had to email them again before we got a response of "See below. What do you think?" And of course, as we expected, there were a lot of things we had to fine tune. I don't need to mention all the back and forth emails and stress my wife endured during those 6 days. At various points throughout the process, we were worrying whether they would ever get back to us at all. We wish we could've spent those days fully enjoying our time with family and guests who had arrived early from out of town.

Day-of Service (0/5 stars):
Per our contract, EY's photo booth was supposed to be set up at 6:00 pm and be ready at 7:00 pm to provide a 4 hour service. By 8:00 pm, we noticed the photo booth was not around, so we asked our wedding coordinator about it. She said she'd been trying to get a hold of EY PhotoBooth ever since 6:00 pm, but there was NO RESPONSE. We were prepared for things not going perfectly at our wedding, but to have a vendor simply not show up, we were feeling pretty upset and disappointed in the middle of our reception.

Eventually at 8:45 pm(?!), EY PhotoBooth finally arrived and didn't start the photo booth service until 9:15 pm, according to our coordinator. Our guests ended up forming a long line to get their first pictures. Some guests also had to leave early and ended up not taking any photo booth pictures. And here's the worst part... before EY PhotoBooth left, they approached my wife while she was dancing with guests on the dance floor in order to ask for the final balance of the contract. She was quite shocked and upset. My wife refused to pay the attendant the amount requested because they weren't there for the entire contracted time and she didn't know how long they actually provided the service for, excluding the set up time. The photo booth attendant persisted and said his boss required our payment before they would leave. I wasn't around to handle the situation, but fortunately our wedding coordinator saw what was happening and stepped in. Our wedding coordinator had 3 other assistants with her, and dressed in all black, they were always easy to spot. They had been in touch with the EY PhotoBooth in the weeks leading up to the event to coordinate logistics. Wouldn't the obvious choice be to approach one of them about the payment, rather than the pocketless bride?

Our coordinator ended up paying EY $320 that they insisted on having at the spot for the 1 hr and 40 mins of services they claimed. We later found out their original 2 hour service package is $350. Quick math shows that $292 would be the proportional charge. So that means instead of providing a discount as a gesture to show how sorry they felt about their mistake and the frustration they caused, EY PhotoBooth actually charged us a premium for their tardy and reduced service! My wife emailed them to request a refund. And of course, there's been no response ever since. We had a photo booth album for guests to leave their photos and messages in it, and it wasn't even 1/3 full. My wife was so disappointed browsing the album the day after our wedding. A couple of our own purchased props - USC and UCLA foam hands - were also gone after that night. The photo booth attendant might have ended up taking them, which we assumed was an honest mistake but we'll never know.
Are you interested?
Send a message