28 Reviews
Recommended by 99% of couples
Quality of service

4.9 out of 5 rating

Average response time

5 out of 5 rating

Professionalism

4.9 out of 5 rating

Value

5 out of 5 rating

Flexibility

4.8 out of 5 rating
Awards
20 User photos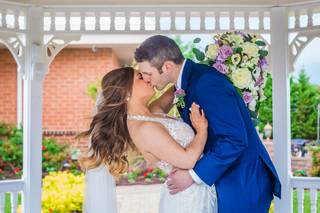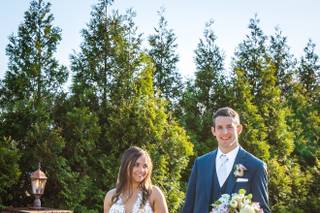 + 16

photos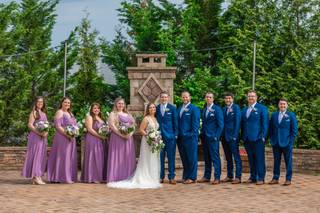 Brianna E.

Married on 07/10/2022

One of the best days of my life!

I had my wedding here 7.10.22 and It was amazing! The venue is beautiful and spacious, the food was delicious and the service was great! People are still talking about the food and how nice the venue is. The staff was very helpful and friendly. I had no worries that day because everything was handle so well! Pam (coordinator) was so amazing! She made sure me and my bridesmaids were taking care of and always was available for all my questions. I am so happy I choose this venue for my special day!

Alexis V.

Married on 05/23/2021

The Best Wedding Ever

I don't even know where to begin with Executive Banquet Center! My husband and I originally booked a different venue. After having issues with the previous venue due to the pandemic, we withdrew from the contract. We came across the Executive, and fell in love with it. Not only is the ballroom and grounds beautiful, but the staff goes above and beyond expectations. The staff made sure the entire day went smoothly. They also made sure I did not have to lift a finger! They set up all the decorations, and broke down/packed up our decor and gifts. My husband and I didn't really have a chance to eat, so the staff packed up a little "to-go" box to make sure we ate later, in addition, they packed up our cake as well. Anything my husband, I, or my guests needed they took care of. Almost every guest we had complimented the food, drinks and service! I could keep going on about this venue, but that would end up being a novel! If you're looking for a place with great food, and great service you've found it!

Madi

Married on 05/08/2021

A hidden gem - exceeded expectations

We heard of and toured the banquet hall after a recommendation from my husbands co-worker. Surprisingly, it ended up being a great fit. The team did an exceptional job that exceeded all our expectations. This is a hidden GEM - a great value provided by amazing staff. At a point, I was concerned about it being in a industrial center. But, the day of and looking back at photos, you wouldnt have noticed and it was beautiful! Picking a venue was our biggest decision - you put your wedding in the hands of the venue more than any other vendor, and I would pick this venue/team again in a heartbeat. We keep getting comments from family and friends that they were so impressed by all their efforts - their flexibility with COVID and the rain we experienced, custom work on the menu and set up, all of their spot-on vendor recommendations, and they did it with a smile. They cared about our day and I felt we really could rely on them. I cannot be happier with the Executive and am so grateful with how helpful they were during challenging moments!

+ 13

photos

Are you interested?

Send a message

Kelly O.

Married on 09/11/2019

Wonderful people and venue

I highly recommend Executive Banquet and Conference center. It is beautiful venue with a lovely outdoor patio area but the people are what truly make the place top notch. Planning a wedding is stressful in the best of times. During a pandemic, with everything constantly changing, the stress is multiplied, however Ronnie and Pam worked closely with my daughter and her husband every step of the way. They were understanding, kind and flexible helping to make the wedding day unforgettable. In addition, the flowers and wedding cake from Bing's Bakery were wonderful making the whole day complete success.

Lauren

Married on 07/13/2019

Wedding was perfect

Loved brad he was very accommodating. Got so make compliments on the food. Thanks for a great night

Mahvish

Married on 04/08/2018

Brad and his team are true professionals. They go above and beyond to acommodate you in every way possible.
Due to inclement weather we had to move our ceremony inside the hall instead of on their beautiful patio, and the entire team worked with us to redo the entire hall under 25 minutes to get it opened back up for the reception.
Ronnie was our banquet captain sincd Brad had to be out of country, she made our wedding an absolute hit. Cannot thank these people enough for making our special day so much more special and hassle free.
Not even a single complaint. Highly recommended!!!

Mary

Married on 11/11/2017

I could not recommend the Executive Banquet Hall enough for your wedding or event. We had our wedding on here on November 11, 2017 and it was absolutely perfect. If you are looking for a place that will reduce your stress while being personal and reasonably priced- this is it. They were able to accommodate personalized (and non-traditional) requests, but also made suggestions and had ideas for what has worked best from their experience. Brad was very attentive throughout our planning process and even though he was on a trip the week before our wedding, things went so smoothly that I never would have known! Everything was set up perfectly the day of the wedding and I literally did not have to worry about a thing. Don't let the fact that they are in a corporate park discourage you, once there you would never know-even when you are outside. Their facility is beautiful, outdoor patio fantastic, quality of the food and bar amazing, and service on point. They really were more than just a venue- they were did it all!

Amanda

Married on 05/20/2017

I couldn't have ask for better place for my daughter's wedding or better service than what Brad and his staff provided. The entire wedding process was amazing and Brad was always available whenever we called or emailed and if he was not he contacted up back within hours. The Executive overall is a beautiful place and when the doors opened into the ballroom it took your breath away, every little detail was thought out. We had a candy bar and had provided Brad and staff some details as to how we wanted it set up but left it up to them as they have much more experience in setting it up. The candy bar was beautiful and was a big hit, all of the adults were like kids in a candy store!!! The food was delicious and I did not have one complaint from any of our guests. We received nothing but positive feedback from everyone about how beautiful the place was to how delicious everything was!!!

Not only was Brad himself awesome, the same goes for his staff. They were around all night long and they even knew what we needed before we even asked for it. They treated the Bride and Groom with the utmost respect as well as all of the other guest. I would highly recommend the Executive to anyone who is looking for a wedding venue or even to have meetings there, you certainly can't go wrong.

Thank you Brad and Staff for the most amazing day, it was my daughter's dream come true and we can't thank you enough!!!

My daughter's wedding was at the center on 5/21/16. Service from Brad and his staff was excellent. There was nothing they wouldn't do for us. Had to make a change due to the weather (raining) couldn't use the outside patio. But other than that, weather did not effect this celebration. We had the ceremony and reception there. Beautifully set up, food was excellent, fun night for all. I would recommend this venue and Brad and his staff for weddings or any other function you may need.

Kathleen

Married on 12/31/2015

Best venue! As an Officiant, I go to a lot of venues and nothing beats Executive Banquet. The food is fabulous, it is big, clean, spacious and beautiful. The staff is excellent, attending quickly to every detail with a smile. The sound system is superb and it is always beautifully decorated, lovely table settings etc. The light show is out of this world, but I have to say it is the level of professionalism that takes it all to the top.

There is not one bad thing I could say about this venue. Brad is amazing in everything that he does. He took the time to answer my million and one e-mails quickly, was always available to meet me to show me linens or work on finding the perfect shade we wanted for our uplighting. The staff is the nicest people, and Ronnie was literally my saving grace on the night of my wedding. To this day, we are getting nothing my compliments on how beautiful the venue is, and how fantastic the food was. There is no other wedding venue package around like the one you get when you book the Executive. The phrase "bang for your buck" goes a long way with this place, and the food choices are amazing. You don't get the typical "wedding food" here!

Nikki

Married on 10/10/2015

We had such a great experience having our wedding reception here! An outdoor patio was recently added and we were the first wedding to host our cocktail out there. It was as beautiful outside as it was inside. I would highly recommend having your wedding there! You get way more for your buck! The catering company that runs the Executive actually catered my parents wedding back in the 80s. Great service for many many years!

Cheryl

Married on 08/22/2015

I could not say a bad thing about this venue. Brad and his wonderful staff made my daughter 's wedding such a memorable night we could not ask for anything different . If I could tell anyone who is planning a event that they want only the best then this is surely the place. Brad and his staff receive a 10 in my book and i give this place a A+ rating. Thank you so much Brad.

Erin

Married on 05/24/2015

Brad and his staff were excellent. They were very accommodating as if the event were their own, and quick! The food was excellent! They really did make our day very special

Carly

Married on 11/08/2014

Just got married 11/8/14. The venue looked unbelievably awesome and Brad was great to work with. He made all of our choices easy and smooth. He was great at suggesting what should be done or what he has seen in the past at previous weddings. His knowledge of planning weddings came in very handy! His lasers were awesome and all my guests absolutely loved them!

The food at the executive is wonderful! The caterer is unreal and we had tons and tons of appetizers. We highly suggest going with the Italian apps!! they were a hit!

I chose to rent the draperies from Make A Memory for the hall and they just made the hall so much more inviting and romantic.

The whole reception was beautiful and we couldn't have asked for more! Thanks brad and team!

Executive was the perfect venue for our wedding. The food was amazing, the service was outstanding, the drinks were tastey, and BRAD was wonderful. They did all of the set up for us, and they did everything exactly how I wanted it. I could not be happier with this venue.

Melitza

Married on 09/06/2013

This was the first venue we saw and absolutely feel in love with it. Brad and hi staff did a great job on our wedding day. The staff was polite, the food was great, the reception room was incredibly beautiful. You will not go wrong if you book this venue.

We planned our wedding from Florida and Brad made it possible. He answered emails quickly and at all hours of the day and night and was incredibly helpful, knowledgeable and professional. His staff was also perfectly helpful, professional and they ran like a well oiled machine. I loved that the package included just about everything and they have preferred vendors (though they are just as happy to work with outside professionals) and so I pretty much just had to show up and get married. It looked great, it's easy to find, and I've not had one guest complain about anything there! I would recommend it to anyone, particularly those planning from afar who can't or don't want to be involved in every tiny detail or deal with renting everything separately. I would get hot an event or get married there again!

The Executive is a a must see if you are planning a wedding! When we first toured the facility, Brad showed us the entire "behind the scenes " tour which included the main room (of course) and the kitchen, bar, and everything we wouldnt see on the day of our wedding. We booked Executive shortly afterward since we were very impressed and none of the other venues could compare with everything that was included for the price! Brad was always quick to respond to our inquiries leading up to the big day. Brad and his staff did an excellent job with our reception. Upon arrival in our limo, one member of the staff guided us quickly to the bridal suite where the bridal party had their own waiter and set of appetizers awaiting us. My only complaint is I wish the night lasted longer! We have already recommended this venue to many of our friends!

The hall was very flexible and they helped in anyway they could!!!! They also have all different types of packages that to meet everyone's budget!!

Kathryn

Married on 10/01/2011

There isn't enought space to tell you how wonderful this venue was. Brad was exceptional. I almost felt as though there were two of them as he accomplised every task with such speed and efficiency. The food was excellent. Served HOT. So many of our guests remarked that it was the first wedding were the food was served to them hot. Of course, it was delicious. I am telling everyone about this reception venue.

Courtney

Married on 09/24/2011

This venue was amazing! The guests loved having the ceremony and reception at the same place. The food was delicious! I highly recommend this venue, Brad was awesome to work with and the wait staff were great! They are very easy to work with and everything turned out perfect!

Carolyn

Married on 05/16/2010

My daughter still talk about her wedding.I had to write about this even thought years pass by. Brad is second to none when it come to catering. The food is excellent you don't need salt and pepper .The room are beautiful especially the bridal suite. They have a package to fit your need. The venue is amazing and Brad is excellent.

Holly

Married on 10/17/2015

Professionalism/Responsiveness - As soon as we arrived at the venue, there were waitresses awaiting us with drinks. They pampered our entire wedding party with drinks, hors d'oeuvres and any special requests that we had. My bustle on my dress kept ripping (it was annoying) but a female staff member took me aside multiple times and sowed my bustle back up to its proper position. Without her... I would be looking a mess as I didn't have thread, needles, or pins. Brad also communicated with Bing's Bakery (the cake was gorgeous and it was delicious) and Elaine's Florist so I had minimum stress about the upcoming wedding.

Food: Usually when you attend a wedding regardless of the location of the venue, the food sucks. It's either cold, way undercooked, over cooked, or hoards of fat surrounding the meat. The food at The Executive was amazing! We had a prime rib station and there was little fat on it which was shocking for a wedding. I spoke to many of my family members who are brutally honest and they were very impressed with the food. I didn't hear one complaint from anyone who attended our wedding.

Whatever was happening during our wedding, we did not notice. Brad and his staff took care of everything and did not bother us as he took charge to make sure our wedding day was memorable. I would 100% recommend having your reception here. If we could get married all over again at this venue we would do it in a heartbeat!

Jacqui

Married on 07/12/2013

great place to have a wedding. everything went smoothly. My only complaint is that they ran out of my favorite appetizer during cocktail hour.
Are you interested?
Send a message