41 Reviews
Recommended by 100% of couples
Quality of service

5 out of 5 rating

Average response time

5 out of 5 rating

Professionalism

5 out of 5 rating

Value

5 out of 5 rating

Flexibility

5 out of 5 rating
14 User photos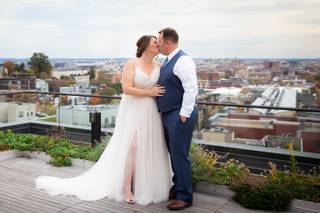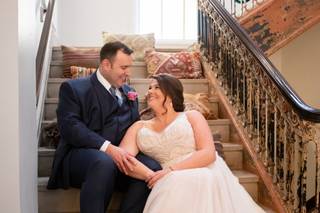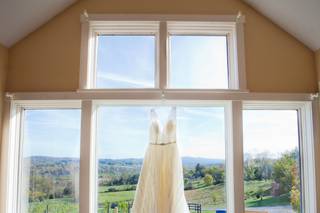 + 10

photos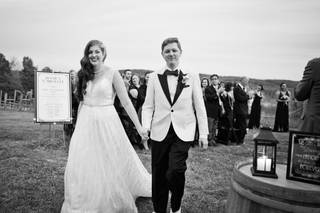 Rachel C.

Married on 10/25/2019

Fantastic Photos!

Laura was recommended to us by a friend, and she was the first vendor who actually took the time to interview us. She spent time getting to know who we are as individuals in order to get a better idea of what we wanted to have as memories 20+ years in the future. Her positive attitude, professionalism, and sense of humor helped things run smoothly on our wedding day. The photos came out just as we'd hoped and we absolutely recommend her as a valuable member of any vendor team!

Caroline

Married on 11/17/2018

Laura is a GEM!

We had the hardest time finding an affordable photographer who was available for our day. When we found out that Laura Scheidt from Exclamation Imagery was available to travel to Charlottesville, VA from DC, we jumped! We had an instant connection with Laura and she really *got* us as a couple. Throughout our engagement shoot and wedding day, Laura made us feel happy and at ease. She's been responsive, fun, professional and easy to work with since day one. And our pictures are AMAZING. I can't recommend her highly enough!

Sara G.

Married on 07/29/2018

Excellent experience

Laura was wonderful to work with. She was extremely responsive, seemed to know right away what we were looking for, and made sure it happened! We have been very happy with our photos and the experience she helped us create on our wedding day. Highly recommend vendor!

Are you interested?

Send a message

Lianne

Married on 06/24/2018

I can't say enough nice things about Laura, she made us feel comfortable from the first moment and managed to get beautiful, natural shots with hardly any posing and was always present without being distracting. I knew we were in good hands when we first had a phone meeting to plan out the day, she knew exactly what to ask about to ensure she had all the details in place, even things I hadn't considered yet! During the reception, she even came to my rescue with a tide wipe when my wife's makeup rubbed off on my white shirt. We loved working with Laura and loved every picture she took!

We used Exclamation Imagery for our engagement session and our wedding. Laura and her assistant, Liza, were true professionals. Laura really made it a point to understand what types of photos we wanted, and what our priorities were. She was incredibly organized, and as a result everything went very smoothly. Laura also captured truly wonderful candid photos of our family and friends throughout the evening. Thanks for documenting our big day!

+ 7

photos

Andrew

Married on 09/04/2017

We had an unorthodox situation that we hope no one would have to experience (a wedding ahead of an emergency surgery). Laura made herself available in every way. It quickly became clear that the team at Exclamation Imagery was committed to documented this precious day in the most respectful way possible under the curcumstances. Despite the overarching theme (being hospitalized) the photos and the joy captured by our photographers was unparalleled. I would recommend Exlamation Imagery to anyone who wants a team of professionals that chose to do this because of the beauty they are able to document through their talent.

Our event was much shorter than traditional ceremonies.

Adam

Married on 07/08/2017

Laura is a wonderful photographer! We used her for both our engagement photo shoot as well as for our wedding and we were pleased with the photos from both. Laura and her team were extremely easy to work with and we would recommend Exclamation Imagery with a 5-star review!

We chose the perfect photographer. What sold us was her experience and her package has a second photographer. They captured memories of us and our guest on our special day to treasure forever. The leather album is a jewel. Thank you Laura and Meredith!

Gabrielle

Married on 09/10/2016

Before, during, and after the wedding, Laura was a joy to work with! She and her assistant Andres didn't miss a single shot that I wanted and even took some I hadn't thought about. Also, when we were taking photos outside before the ceremony, something purple got on my dress(!), but Andres was ready with a stain pen and helped us get it out. They thought of everything!

Every photo was absolutely beautiful and the album I received today is now my most prized possession. Even the flash drive our pictures are on is gorgeous. Seriously, I can't say enough about how great this company is.

John

Married on 09/04/2016

Laura did an outstanding job--this is why you pay for a professional. She was a delight to work with, super professional, and her pictures were beautiful. She was flexible about meeting us and planning with us, and very responsive to emails and calls. Everyone in our wedding party was impressed with her, and she put everyone totally at ease. We love the fact that she lets us keep the rights to our photos so we can order our own prints down the road. Above all, her pictures are really, really good. Couldn't have been happier.

Exclamation imagery was the absolute best to be with! We had them in Fredericksburg and they made the whole experience enjoyable! Thank you!!!

Kathryn

Married on 10/26/2015

Laura is AMAZING! She has shot my engagement, wedding and professional headshot photos. I will definitely be contacting her for baby portraits ;)
She was able to get my headshots done in an incredible amount of time and she's always super responsive. She creates such a wonderful and relaxed atmosphere and really listens to what you want. And when you don't know what you want she has tons of great ideas and helps you find your direction. I cannot sing her praises enough! She is the best!!

My husband and I cannot recommend Exclamation Imagery highly enough! Owner Laura Scheidt and her assistant Andres captured our big day beautifully. We met with Laura very early in the planning process and did engagement photos. When we saw them we knew our wedding day memories were in great hands. Laura is incredibly sweet and funny. It felt like we were spending the day with our best friend. I cried tears of joy when our wedding photos arrived. Laura and Andres managed to capture moments that I never thought possible. You can't find better photos for a better price either. We will recommend Exclamation Imagery to anyone and everyone!

Laura was absolutely awesome to work with from start to finish. From the beginning, she was always super responsive, accommodating and professional, and went the extra mile to help out with whatever I needed, both beforehand and on the day of. She helped me think through things in advance that helped the day of run really smoothly, and had a great assistant, who we also loved. My father in law (who has 3 other married children) said she was the most professional photographer he'd ever worked with. Because she was so efficient and organized, we finished the family shots quickly on the day of and had more time for other photos of the two of us. She was super focused on getting great photos all day and it totally paid off - they are beautiful! Besides, she is a great bargain compared to the rates of other photographers in the area, especially considering that her fee includes an assistant.

Masresha

Married on 07/13/2013

The wedding photographer is who you have to spend the majority of your day with and I'm so happy it was Laura and her assistant Bonnie. We had the luxury of time and interviewed 10 photographers for our big day. I needed a person who was going to be able to wrangle my very large family, keep me on time, and get fun pictures. My husband and I did a photo shoot at the White House, Union Station, and the Capitol before heading to the wedding venue. My husband and I met on a D.C. bus and wanted to incorporate this; we have photos kissing in front of a Metro bus that looks amazing but took some work to get. Laura is assertive, and when she's "got it" I know she does. I will never regret my decision to have Laura as my photographer and recommend interviewing Laura first!

Kate

Married on 06/29/2013

If we could give Laura 10 stars, we absolutely would! From the moment we initially met for a consultation with Laura last year, we've felt completely at ease, in good hands, and without doubt that our photos would exceed expectations (and they did!). Laura goes out of her way to connect with you on a personal level, and you feel completely in your comfort zone/relaxed on your big day.

Laura was on time, organized, and captured absolutely everything to a T! Her work truly captured the essence of the event and highlighted her obvious ability to capture people and moments flawlessly and at just the right instances!

I would ABSOLUTELY recommend Exclamation Imagery's photography to any couple planning a wedding (or looking to photograph another special occasion!).

Mia

Married on 05/25/2013

Laura Scheidt, the lead photographer of Exclamation Imagery, LLC provided all of the photography for my wedding in May of 2013. The day of, she and her assistant did a wonderful job. They were both prompt and professional, yet warm and so easy to talk to. I really appreciated how confidently and easily they both interacted with my family and friends.

One of the best things about Laura's photography is her ability to capture raw emotion without being invasive. I have great pictures of myself, my husband, family and friends with tears of joy in our eyes and radiant smiles. The great thing is we really weren't aware that she was even snapping pictures. The photos were stunning!

Finally, Laura took all of the requisite/standard wedding and reception shots and made it a point to ask in advance for any specific family or group shots that we wanted. This helped things go smoothly immediately after the ceremony.

My husband and I did not hire a videographer, we relied solely on Laura for a visual record of our wedding. We have no regrets. I recommend, without hesitiation, her services. She takes beautiful pictures and is great to work with.

Other reviewers' comments mention a number of things I agree with wholeheartedly, from Laura's preparation, flexibility, and professionalism, to her ability to produce hundreds of album-ready photos. Our own wedding photos felt very organic - exactly as we hoped - thanks to our engagement shoot experience (both were shot in locations Laura had never been to before, but nevertheless captured with creativity and intelligence).

That said, despite our interactions leading up to the wedding, we didn't fully anticipate her ability to draw out the setting, atmosphere, and experiences of our guests. Thanks to Laura's photographs, we have a chance to enjoy it as our guests enjoyed it and means for remember it as they might, which has been such a gift. Beautiful pictures, happy faces on friends and family - I can't recommend Laura enough.

Emily

Married on 11/10/2012

I cannot say enough good things about Laura and Exclamation Imagery. Laura was amazing to work with. My husband and I both felt comfortable with her from our first meeting. We went in to our engagement shoot not really knowing what it would be like or what to do, but Laura made it feel so relaxed and easy, and the photos came out better than we could have hoped. She was flexible and very helpful leading up to the wedding. Our church had some pretty strict rules on photography and we knew our timeline was very tight, but Laura handled everything, she coordinated with the church assistant so I wouldn't have to stress out about do's and don'ts, and she kept everything moving, but still got all of the family shots we wanted. We received our photos so quickly. They were truly incredible photographs. Laura was able to capture some really beautiful moments between me and my husband, and among all our guests throughout the night. Plus, she was really great to work with in person and over email. We couldn't have asked for anything better. She was our favorite vendor!

We were thrilled to have selected Exclamation Imagery for our wedding, Laura was an amazing photographer. She had been highly recommended to us by friends whose wedding photos we loved, and seeing her gallery and meeting her in person sealed the deal. We had met a few photographers before meeting Laura, and we immediately felt comfortable and relaxed around Laura and knew she would be a great fit. Her prices were very reasonable, and we appreciated the flexibility in her packages. She was great to communicate with in the months leading up to the wedding, letting me know what information I could give her in advance (types of shots we wanted, who we wanted in the family formals, etc) to make things go smoothly and efficiently on the day of.

On the day of the wedding, Laura was exceptional. She and her assistant/second-shooter arrived early, and got started shooting right away. My husband and I had never had formal photos done before, and I really appreciated that Laura was very straightforward but easy-going in directing us, which made us feel comfortable. She had great ideas for settings and poses for the artsy-posed shots I wanted, and they turned out stunning. She was also super-efficient organizing and directing us through multiple sets of family group photos after the wedding, making sure to get all the group shots we wanted, but moving through it quickly, as we didn't want to miss too much of the cocktail hour. The rest of the night, Laura was great-- she was always around snapping candids, but never intrusive.

The photos turned out beautifully-- we literally have hundreds of shots that we love and are album-worthy material. The formals are exquisite, and she also did an amazing job capturing expressions and movement and emotion as the night went on and on the dance floor. She did an amazing job with each photo, determining what would look best for each (black and white, vintage tint) so that we have a really great variety. Highly recommend Laura!!

Donna

Married on 08/18/2012

The pictures that Laura Scheidt took of my daughter's August 18, 2012 wedding are absolutely beautiful. Laura has an amazing talent for capturing all the important joyful and loving moments of the day. She got all of the shots that we requested and so much more. We love every single one of the pictures. Laura and her assistant were great to work with in every way. At the initial meeting Laura clearly explained the pricing, how she works, and the product. She answered every question we had and was always patient, forthright, and professional. The engagement photo session went great and she made a special effort to get back the pictures in time for my daughter to use them in one of the wedding preparations. On the day of the wedding, Laura was very efficient and kept the formal photo sessions right on time. I greatly appreciated that she really listened to what the bride and groom wanted. I am so glad that we chose Laura to photograph my daughter's wedding. We will always cherish these wonderful pictures. I highly recommend Exclamation Imagery.

Stephanie

Married on 06/16/2012

One meeting with Laura, and my husband and I knew we found our wedding photographer. She has such a warm, friendly presence and her work is just phenomenal. It's hard to find a talented photojournalistic photographer at a reasonable price in the DMV area, but Laura (and her assistant, Elysia!) surpassed our expectations on every level. She was very open to working out timing, coming early, and going to several different photo locations on our wedding day. From the moment the wedding was over, I was itching to get a look at the photos - we got an amazing preview about 2 weeks after, then the full gallery just over another 2 weeks later (which is really good in the wedding photography world!). The thing that stood out most to both my husband and I is how how good Laura was about capturing moments and people - I don't think I've ever seen so many happy, beautiful, feel-good pictures in my life! Every time we go through the pictures, we're transported back to that day. I can't thank her enough for everything she did for us!

Exclamation Imagery photographed our wedding and did a fantastic job. Laura and her assistant did a great job of being unobtrusive but also took great photos which captured the day. They also moved quickly through our formal family pictures so that we could enjoy the cocktail hour. We received a CD with all of the photos so that we could make whatever prints we wanted to and did not have to order them through Exclamation Imagery. The package we picked also included a wedding album. We picked out the photos we liked the best which was hard because there were so many great ones. Laura arranged all of the photos and had them printed in a photo book. It came out great. She did a wonderful job and was a pleasure to work with throughout the entire process.

Gareth

Married on 05/05/2012

Laura was fantastic. We really clicked with her right away and loved her style of photography, especially her black and white work. We had also seen lots of her work in interesting architectural venues, and this was another reason we decided to go with her. We had two photographers for our wedding. Both Laura and her assistant were always in the right place without being pushy. We got over 700 photos in a mixture of color and black and white. Laura was even able to photoshop out some unfortunately located exit signs.

Georgia

Married on 07/04/2011

I had first heard of Laura through my friend who wed last year. Her pictures were wonderful and decided to book her for my own wedding.

We went to the Lincoln Memorial for our engagement shoot. My fiance was hesitant about taking professional pictures but she quickly put him at east with a morning mimosa. Our pictures looked great.

The day of our wedding, Laura arrived early and captured events prior to the ceremony throughout the rest of the night. They were there for more than 8 hours.

We paid a little bit more and got a photobooth. Our friends loved it. Cant wait to see the pics.


Are you interested?
Send a message