Reviews
5.0 out of 5 rating
Quality of service

5 out of 5 rating

Average response time

5 out of 5 rating

Professionalism

5 out of 5 rating

Value

4.9 out of 5 rating

Flexibility

5 out of 5 rating
99%
Recommended by couples
7 User photos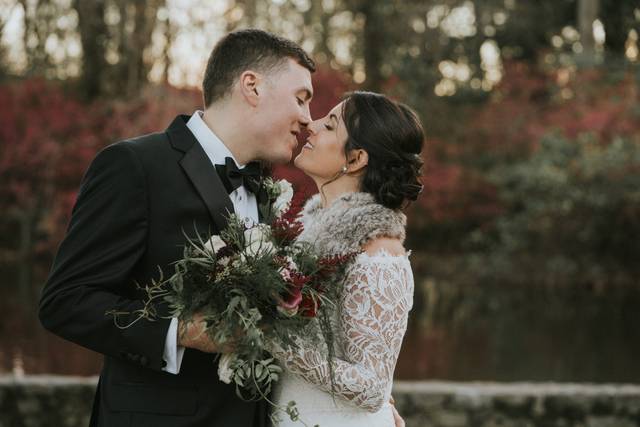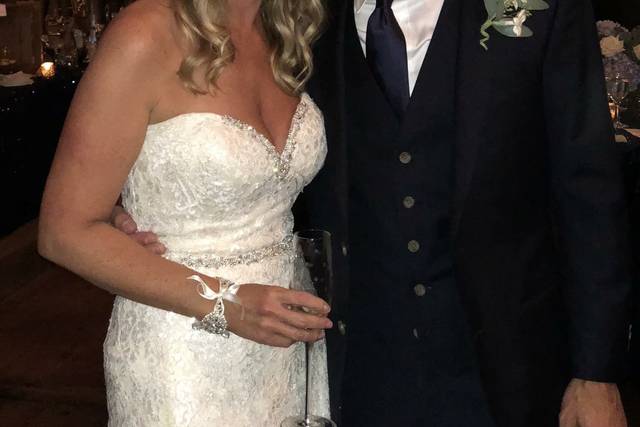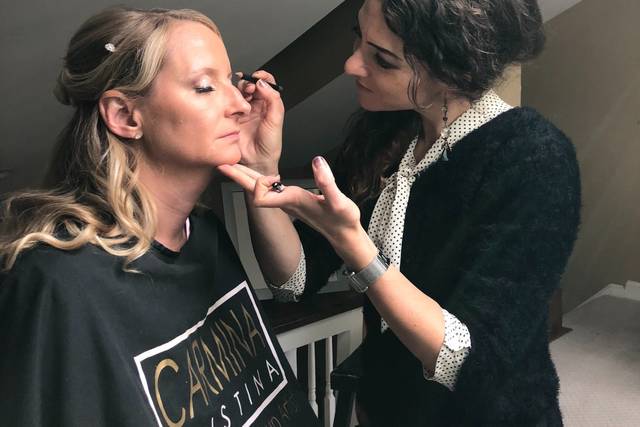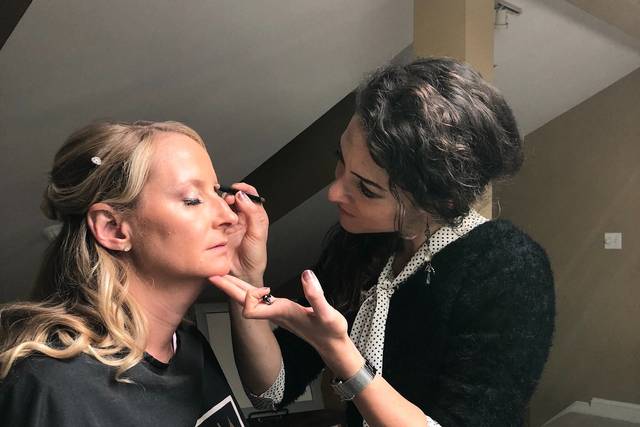 + 3

photos
Nicole

Married on 10/13/2019

Looking back she was one of my best vendors. She was helpful, talented and fun to work with.
I promise you that she is worth every penny and you will be more than satisfied with her.
I've never felt more beautiful and I have Carmina to thank for that.
There's only one Carmina Cristina!!

Kate V.

Married on 06/01/2019

Fantastic Professional Makeup Artist!

Carmina creates beauty everywhere she goes! From the initial contact over the phone, to the trial session, to the day of my wedding, Carmina has been easy to contact, responsive, supportive and knowledgeable. Her studio in Camp Hill is cozy and comfortable and she graciously came onsite to do my makeup along with my mother and bridesmaids at our wedding venue. Carmina made me look and feel incredible on my wedding day!

Michelle

Married on 05/25/2019

Wonderful experience!

It was so wonderful to work with Carmina! She went above and beyond and made sure everyone had a look they loved. My mom and mother-in-law rarely wear makeup, and they were so impressed and raved about it for weeks after the wedding. I would highly recommend her!

Carmina Cristina's reply:

Michelle, thank you so much for taking the time to share your personal wedding experience with others. I absolutely loved being part of your Special Day and make a small contribution to the memories that will be forever cherished ...

Are you interested?

Send a message

Sheena

Married on 05/11/2019

Top Notch Makeup Artist

Carmina is very thorough and professional, but at the same time, she has welcoming and friendly personality. Her skills are top notch and personalized. Highly Recommended!

A.j. B.

Married on 10/13/2018

Total professional! The absolute best in the area!

We are incredibly lucky to have a make up artist as skilled as Carmina in central PA! She was a total professional and took my ideas for my wedding day and ran with them! It turned out exactly as I had envisioned. My make up was perfect and made me feel absolutely beautiful on my big day. I would highly recommend her for any special occasion and can't wait to use her again!

Jeannie B.

Married on 10/13/2018

Awesome Make Up Artist!

Carmina is amazing! I first met her in 2010 when she did the makeup for my daughter in law's wedding. She made us look beautiful and feel so special. When my daughter was to be married last October, I called her immediately to save the date. As usual, she was incredible and helped to make the day even more special for all of us. Carmina is a master at her craft and I would recommend her to any bride who wants to look beautiful and feel special on her wedding day!

Marcie

Married on 09/29/2018

Highly recommend Carmina Cristina!!!!❤️

Carmina is AMAZING to work with! She set up a trial before the wedding to go over how I wanted to look for my wedding day and, she made me feel absolutely beautiful on my special day! She is super easy to work with and one of the kindest people you will ever meet! My bridesmaids, mom, and MIL all loved their makeup! Thank you Carmina for being a part of my special day!

Elizabeth

Married on 12/31/2017

I wanted a different look for each of my bridesmaids as each of them had such unique personalities, and boy, did Carmina deliver! Everyone felt so beautiful, not just because of the makeup, which was flawless, but also because she brought a positive energy that is so hard to find. She was genuinely happy to be with us, arriving almost 20 minutes early to an already early start because she just wanted to make everything perfect.

To highlight some of the best parts: one of my bridal party members, a gentleman, had a bad acne outbreak and was feeling a little nervous about all the photos being taken. She worked him into the schedule, and gave him a barely noticeable airbrush. You could only tell it was there if you were 10 inches from his face and really LOOKING for it.

Also, Carmina didn't just give me a lip color for the day. She gave each girl a full tube of the lip color they were wearing for the day! It is some of the best I have ever worn. Most lip products tends to pill on the inner edges of my mouth creating a line of product that has to be scraped away. It deters me from wearing lip products other than balm. Hers didn't. Not only that, but all the products she used, which are mostly her own makeup line, are top notch, and left me without a single breakout. In fact, no one who had makeup done spoke of issues afterwards which is pretty amazing considering 9 people were done.

If you can book her, do it.

Carrie

Married on 10/08/2016

Carmina's work is excellent and she is such a delight! During our initial conversation, Carmina took the time to answer all of my questions. We had a make up trial for my engagement photo shoot one year prior to my wedding. I was very happy with the results. She kept detailed notes for the big day. I had something come up just prior to the wedding and decided I wanted an extra trial; she made sure to accommodate me in her schedule. On the day of, Carmina and her assistant (that I requested) arrived on time and completed their excellent work in a timely manner which was no small task considering there were nine adults and two children. The moms, bridesmaids, flower girls and myself all were very happy with the end result! Carmina is friendly, knowledgeable, easy going, and fun to work with...I highly recommend her! Thank you, Carmina!

Janelle

Married on 06/04/2016

Carmina is just amazing. She is the sweetest and most talented makeup artist I know. I had never had my makeup professionally done and I thought she did such an amazing job, I felt so beautiful. It was pretty hot and humid/rainy on my wedding day...so between the moisture and the sweat...my makeup lasted all through the night! Carmina has so much wisdom and experience with brides and bridesmaids of all ages...I would definitely recommend Carmina in a heartbeat!

Cara

Married on 05/29/2016

Oh my! Carmina is simply the most talented make up artist around! You will be blown away by her abilities. She simply transforms you into a more fabulous self! Above and beyond everything, she is such a kind and warm person. She treats her brides as though they are part of her own family and goes above and beyond for them on their wedding day. Trust me, you will want her there for your big day. I simply can't thank her enough. Everyone in the wedding party loved working with her too!

I was thrilled with my bridal makeup experience with Carmina. I had been a little worried about the whole process having never really liked the way I looked after being professionally made up. Because of that, I did a lot of research before choosing Carmina and was sold by seeing her do a bride's makeup in one of her videos. Carmina responded quickly when I reached out to schedule the appointment, and we had a great conversation on the phone.

The trial turned out to be a lot of fun. Carmina has a very pleasant shop in Camp Hill, where I had never been before. When I was late for the appointment, Carmina was not only understanding but took additional time to help me relax since she could tell I was stressed. We talked awhile about what I had in mind, and because I was uncertain about what colors I preferred, she did two different options for the eyes to let me decide. I was very happy with the makeup but also really enjoyed the whole experience, including chatting with Carmina and checking out the other shops she recommended in the area after we were finished.

I should also mention that I have sensitive skin, and it had been pretty irritated leading up to the trial. I was worried that having my makeup done would further irritate it. Not the case. All of Carmina's products felt great on my skin, and she recommended a treatment that I used leading up to the wedding that really nursed my unhappy skin back to health.

Carmina was ahead of schedule on the wedding day and got everything set up in my hotel room. She did makeup for me, my mom, and my MOH. Everything went very smoothly, and we were all really happy. What we wanted was to look like an amped up version of our normal selves, and she was able to deliver on that.

You hope to look your best on your wedding day, and Carmina definitely got me there. It was worth every penny, without a doubt.

Laura

Married on 10/10/2015

Carmina did a great job with me and my bridemaid's makeup. I am still waiting on the rest of my wedding pictures but I am very pleased with what I have seen so far. I will admit that I was not sure whether to get a makeup artist for my wedding and was worried it would end up being a waste of money but I have no regrets with my decision and I am very glad that I went with Carmina. Having someone else do my makeup was one less stress on me and as I said, she did a wonderful job. She was very easy to talk to and explained what she was doing and why and gave suggestions. I highly recommend her makeup services.

Kelly

Married on 10/09/2015

Carmina was wonderful. She made me feel totally comfortable throughout the whole process, from the consultation to my wedding day. The airbrush makeup looked flawless and felt totally comfortable. My mom even decided to have Carmina do her makeup after seeing how good mine looked!

Very talented make-up artist. Very professional and responsive. I had to book Carmina last minute but she was very responsive, easy to work with, and very good at what she does.

It was an absolute pleasure to have Carmina do my wedding makeup. I've had my makeup professionally done by other makeup artists in Central PA, but no one holds a candle to Carmina. She is extremely skillful at creating your perfect look that lasts all day and night! Everyone from my bridesmaids to my mother-in-law looked stunning with Carmina's touch. Her talent is worth every dollar!

Carmina is a true professional-- friendly, knowledgeable and never pushy. She helps you find the perfect shades and colors for you so there is no guessing to whether or not you look good or over-the-top. If you have a problem area of your face, she works with you to find a solution that makes you feel truly beautiful. She pays special attention to everyone's unique features and uses techniques that work for you--it's never a one-size-fits-all approach.

The makeup trial is very helpful to pick the look that you want, and Carmina can recommend products and colors that look best on you. Before the wedding, she made sure our timeline was realistic so there was no rushing on the big day.

ABOVE AND BEYOND: On my wedding day, we planned to get ready at our hotel. When Carmina arrived (extra early to make sure she had time to set up), the hotel said the room was not ready for us. We were not yet there and Carmina went above and beyond to make sure the hotel gave us the room we needed in a timely manner. She saved the day!

Carmina is an amazing and extremely talented make-up artist. She really has a passion for her career and it shows. During our trial, she asked me lots of questions and really took the time to get to know me. Together, she helped me to figure out exactly what I needed for my wedding day. I'm not used to wearing make-up and I was nervous about wearing a lot of makeup, but she really put me at ease and made me feel comfortable. I was surprised how light, comfortable, and natural feeling and looking it was! She truly made me feel special. My makeup was absolutely flawless - a better version of my natural self, just what I wanted on my wedding day! I got so many compliments on my make-up. :)
She also did the make-up for my bridesmaids, mother and my mother-in-law. They all turned out perfectly, and they also enjoyed being pampered as we got ready for the wedding. Carmina is knowledgeable and experienced with all ages, skin tones, and styles. She is professional, relaxed, a genuine sweetheart, always early, & very well prepared for her appointments.
She is definitely worth the investment. My make-up lasted well through the night (even through all the happy tears and hours of dancing!) and looked flawless for all of the pictures. Please look no further if you need a make-up artist for your big day!!

Jamie

Married on 09/20/2014

The final look for my wedding day was GORGEOUS! The best part of it all was that it didn't look or feel like I was wearing too much makeup. Oh and the fact that it was "tear proof" was key! Carmina was very easy to work with and willing to make any changes I requested after seeing my trial makeup. It is well worth the money to feel pretty and pampered on your wedding day!

Megan

Married on 09/13/2014

I could not have asked for a better makeup artist for my special day. Myself and my bridesmaids looked gorgeous thanks to Carmina and her outrageous talent. You will not regret going with Carmina Cristina on your big day !

Krista

Married on 08/22/2014

I can not wait until I have the chance to work with Carmina again! Not only was her work absolutely fabulous but she brought such a positive energy to my wedding morning! She connected with everyonr and provided such a stunning end result! I use Carminas make up as well and am in love with it! I will never use another primer again ! Hers is the best!!! Highly recommend Carmina Cristina!

Kacey

Married on 08/16/2014

Where to begin? Carmina is a beautiful person and a wonderful makeup artist to have on my wedding day. She was able to make my bridesmaids and mother even more beautiful then they already were. Her work was flawless and her attention to detail created a beautiful cohesive look amongst all my girls. She listened extremely well to all of my thoughts and ideas and made me look absolutely beautiful. I am so grateful I was able to have Carmina there on my big day!

Laura

Married on 04/12/2014

Excellent all around, from start to finish.

Tabitha

Married on 04/04/2014

Carmina was like one of the bridal party! She was so personable yet professional and knows how to accent your best features and natural beauty!

Jaime

Married on 02/22/2014

Carmina Cristina was truly wonderful. Her talent, professionalism, fun personality, and passion are evident. I can't say enough positive things about her and I cannot recommend her enough. My makeup for my reception was flawless and I'm lucky to have had her as part of my wedding celebration!! If you have the opportunity to work with Carmina please take it! You will be thrilled with the results.

I can't say enough wonderful things about Carmina! I had a New Year's Eve wedding and wanted a glamourous look to match and she gave me the most wonderfully dramatic, sparkly makeup - exactly what I asked for - and it lasted the entire night! By midnight I was sweaty from dancing, but you couldn't tell bc the makeup was still in tact!

She also did all my bridesmaids' makeup. Some of them didn't want as dramatic a look as I did and she was very attentive to that, giving them subtle sparkles that they were still comfortable with. It was so much fun seeing the glitter on their eyes catch the light all night. They all looked gorgeous!

She was also a dream to work with, showed up on time and stuck to our schedule, but still had fun. It was great having her around while we were all getting ready. I've already been recommending her and will continue to do so. She's the best!
Are you interested?
Send a message