Reviews
5.0 out of 5 rating
Quality of service

5 out of 5 rating

Average response time

5 out of 5 rating

Professionalism

5 out of 5 rating

Value

5 out of 5 rating

Flexibility

5 out of 5 rating
100%
Recommended by couples
2 User photos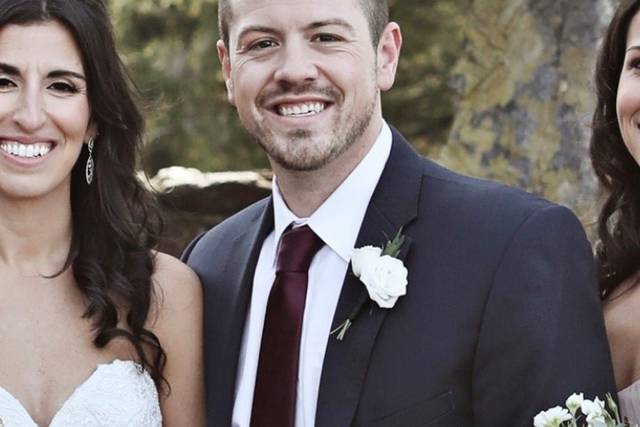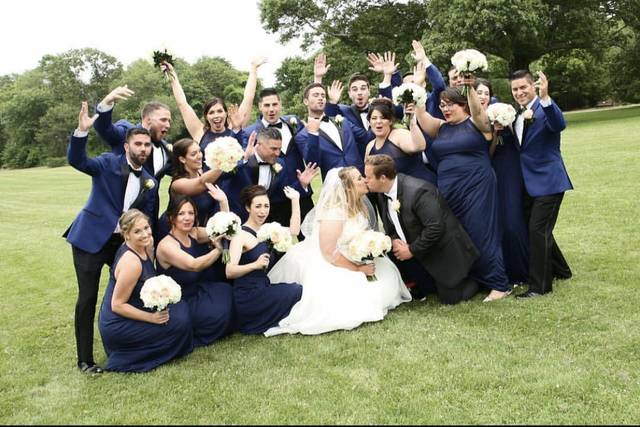 Brian H.

Married on 05/27/2023

Esquire is the best!

I highly recommend Esquire Tuxedos!!! The Esquire team handled the tuxedos for myself, groomsmen party, my father and father-in- law for my wedding. Esquire was very professional and a pleasure to work with during the entire process. I was in constant contact with the owner, Michael. Michael and the rest of the team were helpful with any questions and prompt in their responses.

The tuxes fit perfectly for my entire group. We all received many compliments from our guests. Esquire did a tremendous job and their expertise in the tuxedo business clearly showed. Going through the wedding process can be stressful but Esquire really made the tuxedo planning a seamless experience.

If I ever need a tux again, I will definitely go back to Esquire!

Marlena K.

Married on 04/17/2021

Great Tux Experience!

Mike was awesome and so helpful along the way! He helped with all questions and any changes we had promptly and with ease. He made the process pain free even for those who were out of state and was always willing to go the extra mile. Highly recommended!

Alex M.

Married on 02/10/2021

Amazing experience - Thanks Tyler!

I recently got married in the fall of 2019 and used Esquire for my suit as well as my groomsmen. I could not have been more pleased with the experience. Not only were the suits perfectly tailored, they were also current in style. I have had bad experiences with places such a Men's Warehouse as the suits are very outdated and baggy-legged. They even made it super easy for groomsmen of mine that do not live locally.

Not only were the suits perfect, but the customer service was outstanding. We worked with Tyler, who I could not rave enough about. You could tell her truly cared about our wedding and was invested to make sure everything came out perfectly. He made us feel at ease and made sure to have all areas covered. Anytime I called he recognized my voice immediately and was eager to help with any questions I had. I was beyond impressed with his work ethic as well as personal touch.

Highly recommend Esquire to anyone who is in need of a suit or tuxedo rental. Truly great experience!
- Alex

Are you interested?

Send a message

Daneille

Married on 07/03/2019

My Handsome Husband

Let me start by saying my hubby and his crew were all 10's! That being said when I made the appointment at Esquire, everyone there took the time to show my husband, his mom and I the different choices and colors as well as explain to us everything we needed. They offered my hubby a free tuxedo and he wanted to have that split among his crew so everyone paid less, but it was great that we were given that choice! We got married on a HOT July day. When the men went and picked up their tuxes Esquire threw in extra shirts just incase everyone sweat through their shirts (which they did).

This vendor was a 1000000/10 and I couldn't have been happier with how kind they were along with how amazing everyone looked!

Jessica

Married on 10/28/2018

Honest, reliable, high quality professionals

Esquire Tuxedos went above and beyond for us and exceeded our expectations. I made a mistake after the wedding which the owner could have charged me for, but he chose to let it go which he did not have to do. It was incredibly nice of him and there are not many people like that out there. Aside from this, the tuxes were all so sharp, my husband and groomsmen looked so handsome. The tuxes came in on time, and everything went so smoothly.

Gina T.

Married on 10/21/2018

Amazing, perfect!

Top notch! Mike was such a professional and knows his stuff! Every tux fit to perfection, even for our nephew who is 4. We returned everything the next day with only 1 missing bowtie. Mike said because out of 10 tuxes that was the only thing missing, he didn't charge us. Highly recommend!!

Wissy

Married on 08/16/2018

Best place for tux

We had the best experience with them. They were very helpful, professional and flexible . My groomsmen loved the tux that we chosed and so did my husband. I was recommended by my bestfriend who had previously got married and used them. I will definitely recommend them to my friends and family. Thank you Esquire tuxedos

Daniel

Married on 07/13/2018

High Quality

The tuxes were very high quality. The whole experience was fantastic. Very customizable and understanding to my needs. They were helpful dealing with groomsmen who were living not nearby. Everything fit well and came with everything needed. It was reasonable for the price as well. I have used several tux places before, and this was the best one. Thank you!

Meghan

Married on 06/30/2018

Esquire was great! Thank you Bob & Mike for giving us great service and making the men (& young men) look stellar! These guys were also able to turn my father-in-law's tux around same day! In addition, thank you for saving the day when my nephew's shoe broke! Great service, easy process & very accommodating!

Jennifer

Married on 06/24/2018

We booked Esquire Tuxedos for our wedding on 6/24/18. From the moment we walked in, we knew we had found our tux place. We met with Mike who walked us through our options, and we chose a charcoal tuxedo for our wedding. We wanted to have matching pocked squares and Mike was on the job making sure we had them in time. Even when he was having minor issues finding them he kept us up to date and ultimately let us know about a month before the wedding that he had them all and was ready to go. One of our bridal party members was from out of state, and when Mike saw the measurements, he called our groomsman to confirm because he wanted all of our guys to be comfortable. In addition, we had one of our groomsman go MIA and got measured within a week of the wedding, and Esquire was still able to accommodate (even thought we totally wouldn't have blamed them if they couldn't accommodate, but that's the level of amazing service you get with Esquire!). Finally, one member of our party had their shoes split and Mike apologized and let us know he took care of that situation. Amazing, amazing service! We can't say enough great things about Esquire!

Meg

Married on 06/23/2018

My husband and his groomsmen looked amazing! Very professional business and incredibly accommodating. They had a wide selection of suits and fit everyone amazingly. I would recommend them to anyone looking to make their wedding day special.

Joe

Married on 03/24/2018

Used Esquire Multiple Times and Great Every Time!

Esquire was absolutely great. My friend used them for his wedding, I used them for my wedding, and I recommended them for another friends wedding. Every time the tuxedos fit perfectly and everyone looked great. They were extremely helpful and made the entire process easy. They were awesome.

Kyle D.

Married on 03/17/2018

Highly Recommended!

Great service, wonderful staff to work with and great looking tux. Highly recommend for anyone looking to look sharp on your big day!

Nicole

Married on 10/22/2017


My husband recently used Esquire Tuxedos for our wedding in October. They were so easy to talk to, the tuxes came in on time, and everybody's fit. They provided great service and made the whole experience stress free!

Will C.

Married on 10/07/2017

The perfect fitting tux

I couldn't be happier with the service I received at Esquire. Everywhere I've gone for tuxedos in the past has had an issue with my body type, but in one fitting Esquire gave not only me, but all of my groomsman the perfect tux.

Anna D.

Married on 08/13/2017

Nicest quality and amazing fit!

Michael at Esquire was AMAZING when we were selecting our tuxedos for our wedding. They had a very nice selection and was very accommodating. We were amazed at how nice the tuxedos were for the price we got them for! We also appreciated the program which allowed our groomsmen who lived out of state to send in measurements instead of being fitted in their store. It all turned out perfect. There were no issues with tuxedos, all of the guys had tuxes that fit perfectly and they all looked so sharp! Thank you Michael!

David

Married on 08/06/2017

Couldn't have been happier with my experience from Esquire Tuxedos in Merrick. Mike and Tyler and the rest of the team did a fantastic job helping me create the perfect look for my wedding party. They were friendly, accommodating, and provided spot on measurements for all of the guys (which included 6 groomsman and 2 parents). They even helped me track down a particular color shoe that had been discontinued so I could have the exact look I was hoping for. They go above and beyond for their clientele and are very reasonable in price and with payments. I highly recommend them to anyone having their wedding on Long Island.

Jon

Married on 07/22/2017

Great experience, highly recommend!

I've used this business for 4 weddings over the past 8 years, one of them being my own. The owner, Mike, and his team are excellent. They are very helpful with picking styles and colors, and are very accommodating. I've always had a great experience getting tuxes from here

Michael A.

Married on 07/21/2017

Extremely satisfied

Michael was excellent...very helpful and professional.

David

Married on 06/25/2017

Keeping it local worked!

After going to several places (including big chains like men's warehouse) to find tuxedos for myself and my groomsmen, I stumbled upon Esquire Tuxedos. A good friend of mine had gone there for his wedding, so I decided to check it out. Not only were their prices fair, but the attention their staff gave to me made me feel like my business mattered to them. And this was even in the height of their busy prom season! I was so happy to work with this shop. I highly recommend their services to everyone. Keeping it local worked out so well. These guys not only made sure myself and my groomsmen looked great, but they remembered me and made sure I was all set for my big day. It was the least amount of stress I felt during my wedding planning and I am forever grateful. Thank you Esquire!

Christin

Married on 05/26/2017

Esquire tuxedo was definitely the best tuxedo place that we came across during our search. Everyone at Esquire Tuxedo is helpful and knowledgable. The owner is especially accommodating and he even ordered a few different tuxedos for my husband to try on before selecting his. They also had the widest selection of tuxedo colors and styles. They even had a ring bearer tuxedo to make the groom....it was adorable! One of the groomsmen lived in South Carolina and Esquire tuxedo worked with his over the phone to get the correct measurements, and everything fit perfectly! My husband and his groomsmen loved working with esquire tuxedo.

Alex M.

Married on 04/07/2017

Great Experience!

We rented tuxedos for myself (the groom) and all my groomsmen for our wedding and were very happy. Definitely recommend!

Sal

Married on 10/24/2016

Had a great experience at Esquire Tixddos, preocfesional swrvice and compliments at our wedding with the tuxes. Thanks!!

Anthony

Married on 10/01/2016

Mike is just awesome. Used them many times before my wedding and it was always smooth. Mike and his team went above and beyond. They got me a tuxedo in a just a day before my wedding. Esquire Tuxedos should be your only place tuxedos hand down.

Scott

Married on 09/10/2016

They were great! My groomsmen and I loved the way we all looked even the bigger guys in the group.
Are you interested?
Send a message