21 Reviews
Recommended by 80% of couples
Quality of service

4 out of 5 rating

Average response time

4 out of 5 rating

Professionalism

4 out of 5 rating

Value

4 out of 5 rating

Flexibility

4 out of 5 rating
7 User photos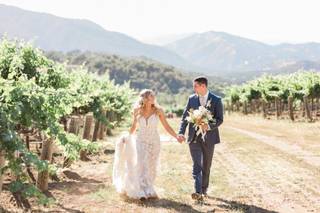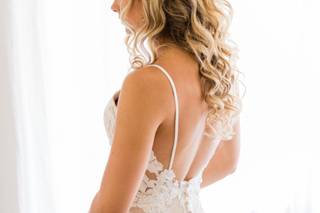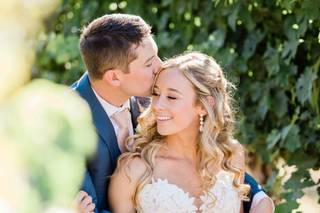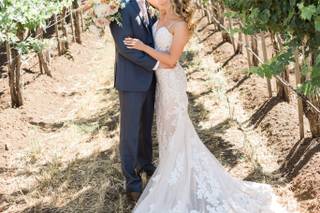 + 3

photos
Emily

Married on 06/25/2022

Amazing Dress!

I had a GREAT experience at Epiphany Boutique working with Christine. I had significant alternations made to the dress which Christine so graciously listened to each request and created the most perfect dress for me. Living on the East Coast, I had to schedule fittings when I was back home visiting. Overall, we were able to do several fittings which made me feel very confident about the dress. Christine was very accommodating and flexible with her schedule. I am so grateful for the Epiphany Boutique team!

Ashley

Married on 09/02/2021

Great Experience, Beautiful and Affordable Dresses!

I had a wonderful experience working with Christine at Epiphany bridal boutique in Carmel-by-the-Sea. She is responsive and flexible as to meeting times and dress alterations, and always willing to help. The dresses are also affordable and very elegant, and there's wide selection. Thanks, Epiphany!!

Ryan

Married on 07/17/2021

Alterations

Christine was fabulous. She was very diligent and did my alterations to my wedding dress perfectly. I looked beautiful and Christine made my day happen. She also was able to do alterations to a bridesmaid dress I was wearing for another wedding. Would highly recommend.

Are you interested?

Send a message

Amanda H.

Married on 09/06/2020

Amazing alterations

Epiphany provided amazing alterations for my dress. Christine's work is flawless, my entire shopping and tailoring experience was great. They made me feel so beautiful and comfortable in my body on my big day.

Haley B.

Married on 07/20/2019

Best Dress Shopping Experience Ever

I stopped by Epiphany to check out their selection of wedding dresses and ordered my dream dress that same day! The owner is very talented and was able to pick out a variety of beautiful dresses based on a few things that I told her I was looking for. After I picked my dress, she helped me in the following months with fittings and alterations. She was even able to make me a veil using some fabric from my mother's wedding dress. All of this was very affordable. I loved my experience with Epiphany!

Alicia

Married on 12/08/2018

Amazing Dress and Skilled Alterations

I got my wedding dress here and the experience was AMAZING! Christina was very sweet and did a wonderful job pulling out dresses that I never would have picked myself. I walked out with a beautiful Essense of Australia dress that I LOVED! The alternations and a custom veil were included with my dress and Christina was pleasant and helpful every step of the way. She made sure I was completely happy and that my dress fit wonderfully! My custom veil is beautiful and the changes she made to my dress were perfect. The straps were odd at first and wrapped around my arm only and she recommended moving them down so they were normal straps. This change made the whole dress fit better and more comfortable. I highly recommend Epiphany for anyone who is looking for a wedding dress!!

Alyssa N.

Married on 12/08/2018

Excellent experience with Epiphany Boutique

I really enjoyed my experience with Epiphany Boutique. I started my bridal dress shopping experience in the Bay Area, with no luck. I initially had my eye on a specific Pronovias gown and could not find anything that compared. I called around to several shops and finally found one that carried the dress in store. However, after trying it on in person, I couldn't fathom purchasing it from a strip mall in downtown San Jose filled with pushy employees.

Being local to the Carmel area, I couldn't pass up the opportunity to get in touch with Epiphany (wishing I would have much sooner than I did). I reached out to them to see if they could order the specific Pronovias gown I was looking for and was pleased to find out they could. I made an appointment and tried on a few other gowns in their shop just to make sure I was making the right choice. I eventually went ahead with ordering the Pronovias gown that I loved and am so glad that I did.

The shop is fairly small and a little tight, but the overall feel of the place is welcoming - customer service is excellent. This is a no-fuss type boutique, they get you in the dressing room within minutes of walking in. The ladies don't follow you in to assist you, but are definitely nearby to help if you need it. I liked that about this shop, I wasn't too fond of being followed around the entire time at other shops. The couch area is comfy and inviting, my bridesmaid loved coming with me to my appointments due to this. We both appreciated how straightforward the employees were, their honesty throughout the process was much appreciated.

I luckily slipped into the 'free alterations and veil' deal they had a while back. Although they do not offer this deal anymore, I would still highly recommend this boutique for alterations and veil. I was more than happy with the way my dress turned out and was thrilled to see that it was thoughtfully steamed before I picked it up. I can't say enough good things about Epiphany - don't waste your time, just check them out!

Thank you so much for taking such great care of me leading up to my wedding, I am incredibly grateful that I chose Epiphany for my bridal gown experience!

Laura

Married on 09/30/2017

I absolutely LOVED my dress! The ladies at epiphany helped me to feel at ease during the wedding dress shopping experience. They listened to what I wanted, and ensured that I had my perfect dress. She even altered the back completely, to create a low back dress. The selection of dresses at epiphany is for ALL budgets. The talent at epiphany is incredible, and their work is unsurpassed.

Cynthia

Married on 07/16/2017

My daughter had a wonderful experience at this small boutique. They were very attentive and knew exactly what she wanted. I would recommend this place to anyone.

I purchased my dress at another bridal shop, but had Epiphany do the alterations. They did a great job, always pleasant and did 5 fittings. The dress came out perfectly! There were a few details on the original design that I wasn't thrilled with and Christine saw my vision and made it a reality. Great job!!!

Sara

Married on 05/04/2013

Great service and fast alterations. Will be going back for a bridesmaid dress for another wedding.

Sarah T.

Married on 03/23/2013

I had a GREAT experience with Epiphany! It was a little far from San Francisco, so I started with a very responsive email correspondence to the shop, making sure they had the dresses I was interested in trying. They knew their stuff, had recommendations to make based on what I liked, were very accommodating for appointment times since I didn't know how long the drive would be. They include alterations and really have the knowledge and background to tell you what is possible to alter and how feasible it will be. They were patient with me as I stood around their store indecisively going between two dresses. They worked with me very fairly on a good price for the perfect dress. I highly recommend them!

Jenna

Married on 04/17/2010

Great selection of dresses. Found my dream dress and stayed within my budget! Alterations and a veil were included, so that saved me even more.

Heather

Married on 04/03/2010

After shopping at bridal shops all over the SF/San Jose area, I found this small bridal boutique in Carmel. For such a small shop, the selection was right up there with the bigger stores, but the service was finally convinced me to get my Watters gown there. I am telling all my friends! It is wonderful to be treated so well. Put this store of you must sees!

Christina

Married on 12/29/2006

The perfect dress from an incredible place! It was stunning and made me feel amazing!

Danielle

Married on 01/05/2013

Although I didn't buy my dress at Epiphany, I did have them do all the alterations and purchased a bridal belt that really made my dress spectacular. My dress originally had straps, but the Epiphany team was ready and willing to help make my strapless dress dreams come true and it could not have turned out better. Having many of my bridesmaids fly in a different points, they were flexible in letting us come in numerous times to do fittings and try on veils, earrings, and belts. They were gracious hosts and helped make the whole process so much fun! The day before the wedding, I was so busy setting up and getting ready, I let time get away and they stayed open an extra 15 minutes so that I could pick up my dress!!! It was amazing! If I hadn't bought my dress before stepping into Epiphany, I know I would have fallen in love with on of their amazing dresses from their huge selection!

Alanna G.

Married on 11/06/2022

Beware - stained my wedding dress

Terrible experience overall. I was flying from
Chicago to Carmel for my wedding and wanted to make sure my wedding dress was not wrinkled for the big day. Epiphany boutique assured me they would professionally steam my dress and when they deliver it back to me open it up to review together.

Well, when my dress was dropped off it had a large water stain on the front of my dress and another one on the back of my dress. It was shocking. No one said a word about it when the dress was dropped off. When I called to ask about the stain, they accused me of buying my dress second hand and already getting it dry cleaned because the garment bag had "Davis imperial cleaners" on it, which was my tailor. Let me be clear, my dress was a brand new jenny yoo dress that I had double checked before ever dropping it off to epiphany boutique. The customer service was appalling and I straight up asked why I never was called prior to steaming if they noticed a stain and they said we just assumed I bought a second hand dress.

Do yourself a favor and take your dress anywhere but here. You are probably better off even steaming your own dress than trusting them.

Toni L.

Married on 11/13/2021

No Refunds Without Court Order

Another sad review about the owner thinking she's entitled to her "no refund under any circumstance" policy, which the law didn't agree with today, just so you know. There's a star here only because I can't post without one...

My daughter's wedding was supposed to be in April this year, but the absence of a certain dress was the final straw in the decision to postpone. June 2020 and my daughter "Said yes to the dress" only to find out eight months later that the style was from 2018 and should have never been in the rotation for try-ons! Phone calls? Many voice mails from me, none from the owner.

Feb. 1, 2021, the owner returns my daughter's only voice mail six hours later and apologized for the late response, but she was sick the previous week. Mm, what? Anyway, the dress was discontinued and she had someone "putting something together." It took her eight months to tell us this and 2-1/2 months before the wedding date. I left her my last message the next day, informing her that we weren't given the choice of a knock-off, cancel that effort and to return the deposit within two weeks because, per her website, the dress was never ordered, which renders the "no refund" policy moot.

Today a Small Claims judge in Monterey County ordered that she refund the deposit, court filing fee and service fee within 30 days or the next step is legal enforcement. Of course, she couldn't be bothered to show up, so she'll get a letter soon.

Tyler

Married on 04/06/2020

Closed down due to COVID holding my dress!

I bought my wedding dress here off the rack. It was gorgeous. The woman who helped me with it was very nice.

Fast forward to April 2020 and COVID is here. We had to cancel our wedding, but decided to still get married and just broadcast the ceremony over the internet to all the guests. Only problem... epiphany was closed due to COVID and still had my dress! We called multiple times, left messages, drove past the store to see if anyone was there... we couldn't get ahold of anyone. No problem, these things happen. And after having to cancel literally everything else about my wedding, I was pretty flexible by this point! I bought another dress from Nordstrom and married my love :)

But now, things are reopening and I FINALLY got ahold of someone at epiphany and explained my situation. The woman responded with "we don't give refunds". But wait... they held my dress hostage for my wedding and I couldn't even get it! I tried to get ahold of them and got no response! I HAD TO BUY ANOTHER DRESS LAST MINUTE! Mind you, the dress I bought from them was off the rack so it's not like they had to special order or ship anything. I tried explaining this to her but she held firm (in a rather rude tone) with her "no refunds" policy. So, I asked her if I could finally come pick up the dress and she said "we're not currently open". Like...what?! So now I'm out the money I paid and I still can't get the dress! This is unreal...and probably legally actionable.

Moral of the story... don't bother with this place! They truly do not care about you or your wedding day and will rip you off if they have a chance!

Stephanie

Married on 08/18/2012

So, I am just a bridesmaid in my future-sister-in-law's wedding...so not being a bride might have an impact on the service I have received. I am not sure even where to begin...We were asked by the bride to have our measurements into Christine by the end of January with payment. It took several calls to even get my measurements in - and that was with leaving messages!

Now it is beginning of March, and we JUST heard from Christine regarding our order. She stated that the order was placed, sent the credit card authorization form, and emailed us a copy of our receipt. AND I can't begin to tell you how WRONG the order was! I have now emailed and called her, but haven't heard anything in 24 hours. I haven't sent in the credit card form, so at least I'm not out money. My main concern is for the bride. She doesn't need extra stress at this point! AND if the wrong size was ordered, then all dresses have to be reordered to be in the same dye lot...WHAT A MESS!!!

Mar

Married on 07/20/2013

HORRIBLE EXPERIENCE: THEY NEVER ORDERED MY BRIDESMAID DRESSES! DIDN'T REALIZE THEIR "MISTAKE" UNTIL 2 WEEKS BEFORE MY WEDDING.

I came to this "boutique" early in February with plenty of time to order bridesmaid dresses for my wedding in late July, 2013. I live in Sacramento (about 3 I/2 hours away), but since my wedding was going to be in Carmel and most of my bridesmaids live around that area, I carefully selected this place after reading all the nice reviews.

My bridesmaids and I came to Epiphany in February and selected the gowns that they would be wearing. My maid of honor would be wearing a dress from a different designer. All of my bridesmaids paid a deposit on their dresses and some of them even paid for their dresses in full. As anticipated, we knew the dresses could take a few months to come in, so I was okay with not hearing back from the shop for a couple of months. However, I still would call from time to time to check on the order and they would say, "They're coming in. It takes months for these dresses to come in".

Two weeks before my wedding I get a phone call from my maid of honor saying that Ephiphany contacted her to get my phone number. How in the world do they not have my number? I speak to Angela and she says my dresses were never put through the system. Yes, as in never ordered. Yes they took deposits and payments, but no they never actually checked to verify that the dresses were really "coming in" as they would so eloquently say.

This is an unprofessional "business" with fluctuating and inconsistent business hours. And by the way, the name boutique... far from it. My closet is probably bigger than this hole in the wall. Expect bad customer service and a condescending attitude from these people... Except for your first visit... Yes, they will be really nice before they take your money.

Are you interested?
Send a message