83 Reviews
Recommended by 100% of couples
Quality of service

5 out of 5 rating

Average response time

5 out of 5 rating

Professionalism

5 out of 5 rating

Value

5 out of 5 rating

Flexibility

5 out of 5 rating
45 User photos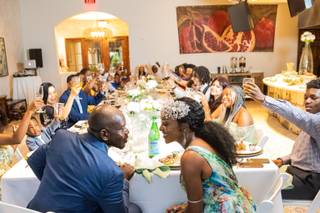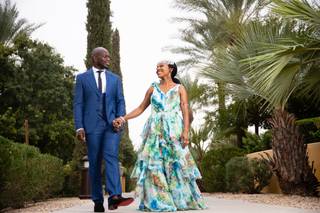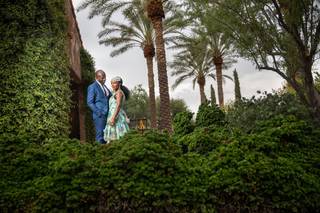 + 41

photos
Sherrie K.

Married on 11/12/2022

Absolutely Amazing!

I just want to thank Encanterra for all they did to make the ceremony and reception so special. Those events could not have been any better and my guests are still talking about the amazing evening.

Everyone has been raving about the food and the servers. The numerous comments I received are basically that they have never been to a wedding of this size where the food came out hot, cooked to perfection and so good. Please relay that from myself and our guests and thank them for making the meal so special.

Other comments I received were the Encanterra staff was so attentive and "the lady in charge" never stopped hustling to make sure everything was so special. They were obviously talking about Ashley. She was so attentive to every detail, so friendly, professional and an absolute joy to work with.

Alyssa D.

Married on 10/29/2022

Amazing wedding venue!!

We had the BEST experience at Encanterra Country Club for our wedding. I couldn't imagine having my wedding anywhere else. We had the most beautiful set up, both are he ceremony space AND reception. Our pictures came out absolutely stunning!! So many of our guests complimented our wedding. Not only was Encanterra a beautiful venue, Ashley and all of her staff was the best part! Ashley was amazing during our whole planning process and on the day of, her and her team went above and beyond to make sure our day ran smoothly and everything was perfect!!!

Mark A.

Married on 10/29/2022

Glad we found Encanterra for our event

The venue and the service were great. Ashley was awesome from first meeting through a long wedding day and night. We had a great time. Thank you!

Are you interested?

Send a message

Mallory Q.

Married on 10/22/2022

The Perfect Wedding!

Truly a beautiful venue and we had a stress free, seamless wedding. Ashley was AMAZING! She is so sweet and made sure all the details were exactly what I asked for, was very responsive, ensured the wedding party and guests were where they needed to be per our timeline, coordinated with all the vendors, and made sure her staff had everything setup exactly the way that I had asked. There was not a single thing that went wrong on our wedding day. Every detail was in place, every person knew where there were supposed to be when it was time, and I could not have asked for a better coordinator than Ashley. Thank you to Ashley for our dream wedding coming true!

Annette D.

Married on 10/08/2022

Encanterra Wedding 100822

This was the best decision we made having our beautiful wedding here at Encaterra. Ashley spent time with us ensuring us our vision and it was everything I hoped for. Highly recommend having your wedding at Encanterra and having Ashley and her staff make your dreams come through.

Melly R.

Married on 10/01/2022

Absolutely Amazing!

The Encanterra Country Club is a beautiful venue for any type of event, and it was so insanely gorgeous for my wedding. But it was Ashley who made the event run so smoothly. I cannot begin to express what a pro she is! Ashley was so helpful and accommodating in taking me around the venue prior to the wedding to make sure I could plan all my effects. She handled all my special requests leading up to the event and she kept things calm and on-course all throughout the day of the wedding. Additionally, her attention to detail was beyond spectacular! All my guests were blown away, and everybody had a great time! The pictures were beautiful, largely due to the incredible backdrop the venue provides. The whole day was a complete joy!
I loved working with Ashley and the team at the Encanterra CC, and I will seek opportunities to recommend her and this venue to anyone looking for an exceptional locale for their important, cherished event!

Patchelie P.

Married on 07/30/2022

Vow Renewal made easy by Ashley & Tess from Encanterra

I don't do parties because I can't deal with the stress that comes with them, so when my husband and I decided to renew our vows for our 20th wedding anniversary, I was anxious. We picked the perfect venue for our intimate celebration of 30 people. The setup was beautiful, the staff was awesome, the service was great and the food delicious. The entire event coordination was handled by Ashley and Tess who made sure everything was perfect and made my anxiety vanish. These two ladies went above and beyond to make sure my day was special and memorable, Thank you! I do parties now 😉

Caitlin S.

Married on 05/15/2022

Amazing Venue

Great location with an amazing staff. Ashley was very knowledgable and helped us manage the meals the vendors the setup and tear down, etc. She was so sweet and really went out of her way to ensure we had a very special day. I've already recommended this place since getting married and I'll do it a thousand more times. You won't regret getting married here, if you got the dough you gotta go!

Dana R.

Married on 04/09/2022

Excellent, Memorable, Highly Recommend

April 9th 2022 was the best day of my life. Encanterra and ASHLEY truly exceeded any of my dreams and made them a reality. Ashley made sure the day went smooth and stress free for me as possible. Everything flowed so perfectly. THe staff was all great. Set-up was perfect! I would highly recommend this venue to anyone. the pictures are beautiful. The food is delicious. The best memories that will last a lifetime here!

Jannene B.

Married on 03/20/2022

Encanterra Country Club

I loved every step and moment spent with Ashley planning my wedding. My wedding was beyond my dreams! Encanterra really exceeded my expectations.

Melissa M.

Married on 09/18/2021

Amazing & So helpful

Duke & Madison did an amazing job helping us through all the trials that came along with planning. When it came to actual wedding day we unfortunately had to deal with wind and rain but that didn't stop them from making sure everything ran smoothly and that we were taken care. Thank you for my wedding day amazing and being so helpful.

Bobbi D.

Married on 05/28/2021

Best Wedding Ever!

Wow is all I have to say! Duke was absolutely the best wedding coordinator! The event was flawless and beyond our expectations. Don't hesitate booking at Encanterra!

Kiley

Married on 04/17/2021

Phenomenal!

Duke was phenomenal! We loved the venue and all the staff were super tentative day of. I would recommend this venue to everyone!

+ 2

photos

Lakin K.

Married on 03/01/2021

Professional, accommodating, puts your wants and needs first

Duke helped make our wedding everything we could have dreamed of. He catered to our every need and worked closely with us to make everything perfect. We couldn't imagine having a wedding without him. Encanterra is a beautiful beautiful place, all of our guests would tell you the same. Everyone is so professional and accommodating. Would highly recommend this venue !!!

Don P.

Married on 11/21/2020

Great from start to finish

Kathy and I had the distinct pleasure of getting married at Encanterra. Duke and his team were a wealth of information and assistance from beginning to end.

Theresa

Married on 11/15/2020

Duke Wizner-amazing

Our wedding day was absolutely magical!
Duke was amazing and the reason everything turned out so amazing!

Samantha S.

Married on 11/14/2020

Encanterra is AMAZING!

I am absolutely blown away at how amazing Encanterra is and how perfect it was to celebrate our day. Everything was flawless. Our first wedding, postponed by COVID, was at a big well known resort in Phoenix and was cancelled 17 days prior to our day - so we had done ALL of our planning with them. After cancelling, we found Encanterra and there is absolutely no comparison to the service we received. Encanterra blew them out of the water and I am so happy we made the switch to them. Duke, our wedding coordinator, was attentive, easy to communicate with, extremely helpful and worked so hard to make sure our day was perfect. He is fantastic! Ashley, the chef did an outstanding job with all of our meal choices including our rehearsal dinner. She is amazing! I am so happy to have had our special day here and I would recommend them to anyone searching for a venue. Thank you!

Brittany S.

Married on 11/07/2020

Best experience ever!

We celebrated our wedding on November 7th 2020! After almost two years of planning, Duke and his staff at Encanterra made our wedding day come to life in every way. We had a vision for how we wanted to use the beautiful space and it was executed even better than I had imagined it.

Nicolette

Married on 10/24/2020

Incredible experience start to finish!

From start to finish, the team at Encanterra Country Club was incredible. We loved every moment of planning with them.

I wrote a pretty lengthy review, but that's because the longest reviews were the most helpful to me in planning my wedding! I'll put a tl;dr up here for anyone who wants a shorter review:
-Encanterra is an incredible value for the price.
-Food was outstanding
-A gorgeous venue - many of our guests complimented the location!
-Perfect for an outdoor wedding during the cooler parts of the year
-Duke and his team are real pros

We signed with Encanterra for a late October wedding just before COVID really hit the US. We weren't sure how COVID would impact the planning process or even the day-of execution of our event, but Duke and the team at Encanterra could not have been more accommodating.

When we did our tasting in the middle of the summer, we came to Duke armed with a lot of questions. Top of mind for us was having the event safely. We knew we would be providing masks for our guests, but there were other things we wanted to do, like have as much of the event outside as we possibly could. No matter what we asked, Duke was more than accommodating.

Because of the size of our wedding, we were able to have the ENTIRE thing outdoors - ceremony on their gorgeous ceremony lawn, cocktail hour on the lovely patio adjacent to the ceremony lawn, and dinner and dancing on the lawns adjacent to the patio. The whole event flowed really well from one space to the next, so much so that we would do the same exact thing even if COVID hadn't factored into our plans.

Our wedding was small (~50 people), and we took extra precautions to ensure we could have adequate distancing during dinner in particular. As such, we had 11 tables that would typically seat 8 people placed on the lawn, with plenty of room to spare in between. During non-pandemic times, the lawn could certainly accommodate a larger wedding than ours.

The dinner area is incredibly well-lit thanks to the bistro lights strung up above, and the dance floor was neither too light nor too dark - it felt inviting and intimate, just like we wanted. Our centerpieces included floating candles to add extra ambiance, which I highly recommend if you look to host your event outdoors as well. Encanterra was also able to provide votives on each table for an added touch that really took everything over the top.

We looked at a lot of venues online, but nothing could match the remarkable beauty and value we got with Encanterra. Their pricing on food & beverage is incredibly reasonable (especially considering the quality - this is some of the best food I've ever had at a wedding), and they have plenty of food options to satisfy every guest. I would recommend going with a plated meal if you select Encanterra. The portions are more than generous - no guest will go hungry! - and plated meals are more affordable than buffet pricing. There are all kinds of extras you can add - s'mores are available to take advantage of the fire pit near the ceremony space, for example. It's nice that they do all their catering in-house, and the whole catering team really seems to know what they're doing. We had glowing reviews of the food from our day.

One of the reasons we chose Encanterra was because of the beauty of the venue. While it's not as centrally-located as other venues, you cannot beat the value for the price, even considering the drive. Situated in a private country club, you and your guests will check in at the front gates. Once inside the gates, you will drive for about another mile on a road winding through the most beautiful parts of the golf course. Finally, you'll arrive at the Mallorca Events Center. One of our guests commented that it was like entering Narnia. This was exactly what we wanted - to feel like the rest of the world was melting away and that you were entering a really special place. Encanterra did that for us. It felt special, private, and secluded.

I love that Encanterra has partnerships with Southwick Linens and Piece of Cake. You get basic linens included with your package and can then upgrade to your heart's content. Laurie over at Southwick is a DREAM - she gave us so many ideas for our wedding. Laurie also knows Encanterra intimately, so she was able to knowledgeably consult with us on what we wanted. She has everything you could possibly need to go all-out with your linens, place settings, and chairs. We opted for some simple upgrades in the right places, but that's because our theme was fairly simple in the first place.

Also, the CAKE! We received so many compliments on our cake. The partnership between Piece of Cake and Encanterra means that the cake is INCLUDED in your overall package - we loved that! We just had to schedule a tasting and make our selections. The folks at Piece of Cake dressed our cake with the flowers we provided and it looked just stunning. I'm sure we could have opted for some upgrades to our cake if we wanted to, but we were more than happy with what came standard.

Duke is a real pro, with many years in the weddings and events industry. He shared early on in our planning process that he felt totally comfortable being our main POC the day of to coordinate the officiant, DJ, photographer, florist, etc. We opted to hire a day-of coordinator anyway, mostly because we were doing a few things off-site (hair and makeup) and needed assistance in assembling our centerpieces on-site. On the day of the wedding, Duke and our coordinator (Miranda of Miranda Madison Events - a pro!) were a seamless team. It appeared as though they had worked together for years. I attribute that to their experience in the industry and overall professionalism.

The only real con I can think of is the location, but that really depends on where you live. For us, Queen Creek was a bit of a drive, and the closest hotels aren't exactly across the street. However, there are ample AirBNB and VRBO options in the surrounding neighborhoods, and there are some hotels just outside of Queen Creek in Gilbert that are close enough to make it work. I wouldn't let that dissuade you from putting Encanterra at the top of your list, however.

All in all, we had an incredible day made even more incredible by the terrific team at Encanterra.

+ 3

photos

Tiffany A.

Married on 10/03/2020

Simply amazing!

we were SO happy with Encanterra!!!! I can't even put into words how amazing they were! Professional friendly staff, helpful, attentive, absolutely stunning views, very accommodating and affordable! It's a drive but we honestly couldn't have found a better venue! 5 million stars! Highly recommend!!

Brittani

Married on 09/19/2020

Beyond Impressed

Like many others, our wedding was postponed due to covid-19. Encanterra stepped up tremendously to help us reschedule without a hitch. Duke, the director of sales went above and beyond his responsibilities at every opportunity possible. Every guest we had noticed and commented on how helpful and outstanding all the staff members were. Chef Sear gives Gordon Ramsay a run for his money. The food was phenomenal! The venue itself is impressive and picturesque. I couldn't have asked for a better wedding day, all thanks to Duke and the staff at Encanterra!

+ 2

photos

Aubrey U.

Married on 05/30/2020

The best day of our lives 💕

We could not have asked for a more perfect wedding! The venue was beautiful and the event went off without a hitch. When you get married here not only do you get a beautiful venue, you get delicious food and a team of incredible people to make your day the most special. Duke made the entire process so easy, he was so kind, helpful and went above and beyond in every way. Planning a wedding in covid was so stressful but he made so many accommodations to make it happen. We could not imagine a more perfect day! We highly recommend it! To Duke and the Encanterra team, we cannot thank you enough for making our wedding day the most magical, perfect day! Love- Los Calderon

Christa

Married on 02/20/2020

Simply Amazing

Beautiful venue, beautiful community, wonderful staff. Casey was a dream to work with. I literally could not have asked for more. I am more than thrilled with my experience!

Helena

Married on 02/09/2020

Excellent venue and vendor!

The start of our journey at Encanterra had been nothing but good and expceptional. At the beginning, we were with Duke where we suddenly found ourselves with so many questions. When Ashley stepped in, it was as if I was listening to an angel! She helped ease us into the biggest day of our lives. If I could give her a 6 star I truly would. Both my husband and I knew we were in amazing hands once the ball got rolling.

The evening was fantastic. Ashley gave us the time we needed and didn't bother to bring any concerns to me on the big day. The only thing I would suggest for the venue is that although the bar closes at 8 PM, we found some guests paying while lets just say over the wall. As a bride and groom, you don't realize how things can go from 0 to 100 so fast. I would suggest the bartender to stop giving drinks when they see a customer has exceeded their limit. Overall, the night was one for the books. Guests laughed, made memories, and even cleaned their plates CLEAN. We give the kitchen a 5 star. Ashley even came up to me to remind me to EAT. She is really something else and if it were up to me I would give that woman the biggest raise of her life. So much love and so much gratitude in finding this venue. Thank you for everything!

Patricia

Married on 12/07/2019

Exceeded All Expectations! Staff is Amazing!

Just had my wedding at Encanterra December 7th and I my family loved everything about the venue. From the moment you enter the gate and County Club it's just beautiful! Casey and her staff at Encanterra made it such an amazing experience and helped take the stress off our shoulders. They really work with you. Thank you for making our day amazing!

Encanterra Country Club's reply:

Thank you so much, Patty! It was absolutely our pleasure! Talk about beauty and grace - that's you! Best wishes for a happy marriage!
Are you interested?
Send a message