48 Reviews
Recommended by 100% of couples
Quality of service

5 out of 5 rating

Average response time

5 out of 5 rating

Professionalism

5 out of 5 rating

Value

5 out of 5 rating

Flexibility

5 out of 5 rating
146 User photos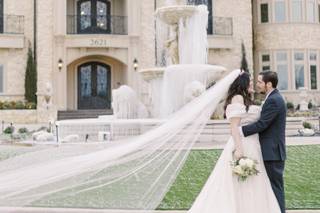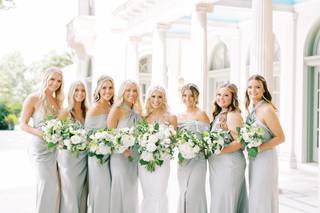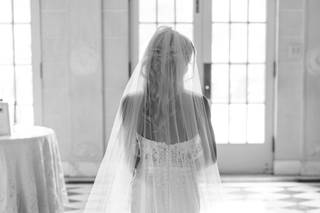 + 142

photos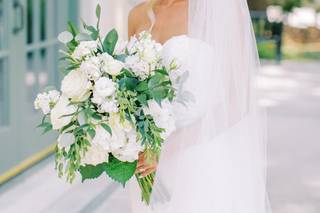 Haley D.

Married on 02/24/2022

The best photo/video team out there!

I can't say enough good things about Emily and her team. My husband and Emily were high school friends so it meant so much to have her shoot our wedding. I knew I could trust her to capture our wedding perfectly and she did! You will not find a more talented photo & video team than Emily Nicole Photography.

Kelsey

Married on 10/10/2021

Cannot recommend Emily enough!!

Emily was an absolutely phenomenal photographer! From the very first call she was so kind and knowledgeable. During our engagement shoot she had the best ideas on where to shoot, time of day, and made us feel so comfortable. We could not have asked for someone better the day of! Emily was great at helping us think of a timeline so we could take the best advantage of daylight, helped us think of 1st look locations and captured all of our special moments. Emily is the best and I cannot recommend her enough!

Caroline A.

Married on 06/26/2021

Emily & her team went above and beyond our wedding day!

We hired Emily and Katrina for our wedding day after she was recommended to us by my wedding planner, Nicole Allen Events. Once I looked over her instagram I was sold, her work speaks for itself! However her beautiful photos are not the only thing that made working with Emily Nicole Photo so amazing. Emily and her team went above and behind for us on our big day! I had a lot of personalized items and special details on our wedding day that I wanted to be photographed, Emily made sure that every detail I had mentioned to her was captured in numerous photos. We unfortunately had to change our ceremony plans at the last second due to rain but Emily and her team still made sure to photograph every special design detail from my outdoor ceremony before the rain came. I could go on and on about every little thing Emily and her team did well but the most important thing I remember is how helpful and kind she and her team were. After my ceremony had been delayed and then changed, we were on a bit of a time crunch as we were now about 45 mins behind schedule due to the delay, Emily and her team ran up to my dressing room and gathered all of my belongings and made sure I had a moment to collect myself and freshen up before my husband and I would have our grand entrance into the reception. This may sound like a minor detail but to me I felt so grateful, they did not have the attitude of " I am just here to take photos" the entire team stepped into many roles and offered help to ensure our day was nothing but the best. Emily's work is absolutely stunning, I am in love with all of our photos! She has such a gift for capturing every intricate detail of each special moment. I loved getting to see photos of special moments shared between my guests. My wedding album features so many different perceptions from our big day! I have been recommending Emily Nicole Photo to everyone!!

+ 3

photos

Are you interested?

Send a message

Emma D.

Married on 06/12/2021

Absolutely incredible

Where do I even begin? Emily photos are one of the best we have ever seen. Our wedding photos are better than we could've ever imagine. They truly feel they came out of a magazine on how PERFECT they are. Our friends and family continuously complement us on our photos! ❤️Emily pictures are so bright and truly captured my husbands and I relationship! We booked Emily 3 years ago. In that amount of time we had rescheduled our wedding date 3 times and my bridal portraits 2 times as well! Let's say we were on Covid schedule! Each time Em was so sweet and very understanding about the date change. Weddings are very stressful but Em makes the process very enjoyable and stress free! She is one of the most giving, genuine, sincere persons you will ever meet! My husband is a shy person and hates the camera but she made the experience so enjoyable. If this doesn't conviene you; I was two hours from leaving to Tulsa for my bridal portraits and my hair/makeup lady got the stomach bug and couldn't go. I called Emily in a panic. Within 2 hours she found someone for me. This is just one testament of just how amazing she is! We def built a life long friend and can't wait for her to one day capture our family! We love you Em!! ❤️

+ 6

photos

Mattie S.

Married on 05/29/2021

10/10 would recommend!!

WOWWW!! Can't say enough about our experience with Emily and her team🤩 I provided Emily with a bunch of photos that matched the simple but elegant vibe we were going for… she nailed it. Nothing was rushed, everything was planned out, and she made it so fun for us and our wedding party!! The photos are unreal and are even better than what we were wanting! Her videographer Katrina made one of the best videos we've ever seen - and it's ours!!!😍 We are so so happy we found Emily.

Blakeleigh M.

Married on 05/07/2021

Emily Nicole Photo ❤️

Emily Nicole Photo is beyond my wildest dreams. To say she brought my vision to life would be an understatement. Emily and Katrina captured and provided me with some of the best memories I will experience in my lifetime to hold on to forever. Not only was I blown away, but our wedding guests were amazed with their professionalism, dedication, kindness, and attention to detail. Every single picture was memorable and enjoyable. They made everyone feel comfortable and happy with their loving presence! Every single detail of our special day was captured because of this amazing team ❤️ I feel like I should have paid double the price because the experience was that amazing! From the bridal portraits, to the rehearsal dinner, videography and endless photos..I could not be more thankful, and I could not recommend Emily Nicole Photo enough!!!

+ 4

photos

Hire Emily - It'll Be Your Best Wedding Decision!

We hired Emily Nicole for photo & video after loving her work from a friend's wedding. I did my engagement, bridal and wedding photo/video with her and it was the BEST decision. She exceeded our expectations, helped keep me on schedule and truly had fun on our day. Emily and her team will be dancing alongside you, capturing all the best memories! I honestly cannot imagine working with anyone else on our day and can't wait to have Emily photograph our lives for years to come. Hire Emily, you won't regret it!

Sofia C.

Married on 04/03/2021

Pictures out of a fairytale

I cannot recommend Emily enough! She made me and my very camera shy now husband feel so incredibly comfortable in front of the camera, which was so important for us so that we didn't look awkwardly posed in our photos. Our engagement pictures were a perfect run through session, and we both got very comfortable with her. We laughed a ton and everything was so easy and fun! On our wedding day, she was incredibly professional and made sure that we stayed right on schedule without making us feel rushed. She made me feel like so beautiful and comfortable, and was able to manage our large bridal party with ease. We had so much fun with her, and her energy was high the entire time. She knew our venue, the Dallas Arboretum, really well, and when she pushed us to get photos in a specific location after our ceremony, I was hesitant because I was so tired. However, the photos here are some of our favorites from the entire day, so I'm so glad I trusted her! She captured our day SO perfectly, and I can't imagine better pictures! Our photos truly look straight out of a fairytale. We are still in awe every time we look at our pictures, and EVERYONE cannot stop giving us compliments on all of our pictures.

+ 9

photos

Chandler L.

Married on 07/24/2020

Best Wedding Photographer

We hired Emily based on the fact that her photos looked timeless and classic. I love how her photos don't appear filtered and trendy. However, what I ended up loving most about Emily (and couldn't have known based on her instagram profile) is the level of care and service she'd provide on the day of our actual wedding. Emily made me, my husband, our wedding party, and our families feel so comfortable. She truly captured every photo I could possibly want. I joked with my mom after the wedding that Emily was my personal paparazzi at the reception. Any time a guest requested a photo - there she was! It was incredible.

Maddison R.

Married on 06/06/2020

Emily nicole

She is very accommodating to your needs

Caroline B.

Married on 12/31/2019

Highly Recommend!

Emily & her team were top notch! We are forever grateful for the role they played in our wedding day. Not only were they amazing on-site the day of the events, but the final photos and video are unreal!

Sasha

Married on 11/16/2019

Amazing!! I am so glad I used Emily Nicole Photo

Emily and her team are amazing. They captured my wedding beautiful, and didn't miss any special moments. Her attention to detail, editing style, and creativeness are just a few of the many great things about her. Your photos will be totally unique, as she takes the time to get to know you and your spouses personality. I highly recommend using Emily Nicol Photo!

Teresa

Married on 10/26/2019

Best photographer ever!

Emily was one of the BEST decisions for our wedding. We are not picture people at all but she made us look so natural. She was able to pose us -- which I looked for in a photographer. I didn't want any awkward or cheesy poses. The photos turned out beyond amazing. She did an incredible job. My sister-in-law found her and told me to look her up. I instantly fell in love with her photos. I love that her photos are bright and natural and not dark. Another weird thing I was looking for in a photographer that all her photos were "centered" (LOL). I have seen photos where the photos weren't centered and there was more space on one side of a group photo. She was our personal HYPE WOMEN and kept us laughing and had music playing. She got along GREAT with our videographer and everyone kept asking me if they knew each other but in reality, Emily is just a sweet and loving person. I had 320 guests at our wedding and she did GREAT. She was able to get all the family photo, bridal party photos, and all the great details of our wedding. Words can't describe how please and happy we were with Emily. Oh and she had told us we'll get our photos in 8 weeks -- and it was EXACTLY 8 weeks. When we receive the photos, I kept looking at them constantly because they were so amazing. Thank you, Emily for capturing our special day. We can't thank you enough!

Karly

Married on 06/29/2019

Perfect choice

Emily is so talented. She knows how to make people feel comfortable in front of the camera and you can tell that she truly loves what she does. Emily can command a group of people with grace and respect. I had a big wedding party and she handled the group pictures with poise and confidence. Not to mention her pictures are absolutely breathtaking. Emily was easy to communicate with and she made it evident that she was there to support you every step of the way. She is a homerun photographer - I cannot recommend Emily and her perfect photography enough!

Drew

Married on 06/05/2019

Amazing!!!

Emily did our engagement photos and did the most amazing job! She is the absolute sweetest and makes you feel so comfortable! We can't wait for her to photograph our wedding next year in Mexico!

Jessica

Married on 11/24/2018

Emily has already made our dreams come true and she's only done our engagement pictures. We cannot wait for our wedding pictures!! She is amazing and I could rave about her all day! We are so incredibly blessed to know her and to be a part of her beautiful work. We'll love these pictures forever! The best decision you'll make while wedding planning (other than choosing to marry your best friend) is having Emily capture your day!!

+ 3

photos

Anna

Married on 10/27/2018

Emily is absolutely amazing! My fiancé and I had the opportunity to work with Emily for our engagement sessions in White Sands, NM and the pictures are an absolute dream. Emily was incredibly accommodating, driving 10 hours for our shoot! Not only did she drive the distance, but she was out there early, finding the perfect place among miles of sand for our shoot. Emily embodies professionalism and passion within her craft and we are so lucky to have worked with her!

Shelby C.

Married on 10/19/2018

Best Wedding Photographer Ever!

(Cliff notes version: Emily is incredible and you should go ahead and stop your search for the perfect photographer now. Book her, I can guarantee you will NOT regret it.) As Kevin and I began planning our wedding we knew choosing the right photographer was our main priority. Pictures are my favorite part of any event but especially weddings. Emily came highly recommended from our florist and several of our friends raved about her personality and professionalism when she shot for their wedding. We chose to have our engagement photos and then of course our wedding day captured by Emily. Oh my goodness did we choose the perfect person. She makes you feel like so comfortable in front of the camera and strives to showcase the genuine love that you and your spouse share. On our wedding day, it rained so much. Emily came prepared with clear umbrellas and even a clear shower curtain for a few outdoor rooftop photos. Those pictures turned out stunning. She made sure to shoot every single detail of our day and when we got our photos back (earlier than promised might I add) we got to relive every moment. And we will for the rest of our lives. Emily is extremely talented, makes you feel like you are a supermodel, and has the biggest heart for people. She truly is the best ever and we could not have picked a better person to be our photographer.

+ 2

photos

Tori G.

Married on 10/12/2018

The best photographer ever!

Where do I even begin?? Emily is perfect! She handled our wedding day more perfectly than I could imagine! While at the alter it started raining and Emily looked at me and motioned an umbrella and I had one within seconds, and it was clear and made our photos even better honestly! She is just so great and talented, she worked wonderfully with our other vendors and she even danced with me a bit! If you need a FUN, professional, and all around amazing photographer she is your girl, you won't regret it!

Haley

Married on 10/06/2018

BEST choice hands down!

I have known Emily since high school and I have seen her work flourish over the years! She has done my sister's high school senior photos, my college senior photos, our engagement pictures, my bridal portraits, and now our wedding! To say that I recommend Emily is an understatement. When I first started talking to my fiancé about who I wanted to take our pictures, there was no decision to be made! She made him, who is reluctant to be in front of the camera, comfortable and kept us laughing throughout every session! She is so sweet and steady in knowing exactly what she needs to do in order to get the perfect shot! Emily made our wedding day one of the best days of our lives not just by taking the pictures we will cherish forever, but by smoothly transitioning us to exactly where we needed to be. I will be forever grateful for sweet Emily and her IMPECCABLE talent!

Sue F.

Married on 10/05/2018

Emily is the real deal!

Can't begin to tell you how much we love Sarah and Brock's wedding photos. I asked Sarah what made her decide on Emily. She said she was a Godly person, and talking to her was so comfortable and fun. When I was seated as mother of the bride, Emily was right in front of me very softly singing the spiritual song being played. That was about the cutest thing to me. She is the real deal, kind, funny and so talented. Thank you so much for being the best photographer we could have ever hoped for. We are so grateful for these beautiful memories.
Tom & Sue Finn

Sarah M.

Married on 10/05/2018

Emily made our wedding day dreams come true!

Emily was incredible. She Photographed every moment so perfectly. She cared so much about our big day! I chose Emily bc of her Godly vision, her kindness towards people, and her amazing talent. Not wedding she does looks the same. She puts the perfect touch on each bride and grooms big day! I think that's my favorite thing about her. She's unique and she is most definitely the entire package!

+ 4

photos

Abi

Married on 08/10/2018

Emily is seriously the most amazing photographer! Her personality is the sweetest, she is fun and goofy! Our photos exceeded all expectations and well worth every single penny we paid for Emily! I would have paid twice as much just because we loved Emily and her staff so much! She had so many great ideas and asked us what we proffered and just made us feel special that day! She was prompt, her timeline went just as planned and she was flexible with our family photos, she got every shot we wanted! 10/10! Brides you need to pick Emily!!

Rebecca

Married on 07/21/2018

priceless photos!!

Choosing Emily as our photographer was the absolute best decision that we made in regard to our wedding day! Her photographs are amazing and I couldn't ask for anything more. It's hard to even express how impressed we were with how perfectly she captured our wedding day. There were so many special moments that were captured that we will be able to look back on for the rest of our lives! If you've seen Emily's photographs you already know how talented she is, but something that you don't get to see through the pictures is how great of person she is. Emily is one of the nicest people you will ever meet and she makes taking pictures fun. Throughout our engagement pictures and our wedding day we both felt extremely comfortable and confident. We will cherish these pictures forever!!

Kelsey

Married on 07/20/2018

Highly recommend

Emily came to our rescue and shot our wedding in July 2018 on relatively short notice after the photographer that we had originally booked went MIA (which turned out to be a blessing, because it led us to Emily). She saved the day for us! She helped us find a package to fit our budget, offered assistance and reassurance during the hectic process of finding a new photographer, and was nothing short of amazing on our wedding day. She is professional, fun, positive, and just a genuinely kind person. She was direct when she needed to be, managing a relatively big wedding party and big, loud families (on literally the hottest day of 2018) with ease, patience, and without a single complaint. But she could also be found dancing with us while capturing our reception. We had family members and guests compliment about how fun and sweet she was, and several of my already married bridesmaids even said "I wish I would have known about her when I got married!" The icing on the cake was that she got all of our pictures back to us only 8 weeks after our wedding, and they are stunning! We could not recommend or thank Emily enough!
Are you interested?
Send a message