52 Reviews
Recommended by 99% of couples
Quality of service

5 out of 5 rating

Average response time

5 out of 5 rating

Professionalism

5 out of 5 rating

Value

4.9 out of 5 rating

Flexibility

5 out of 5 rating
18 User photos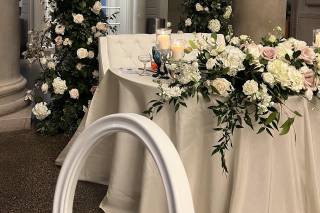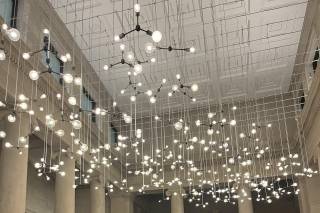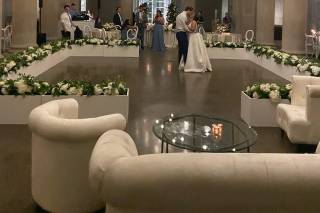 + 14

photos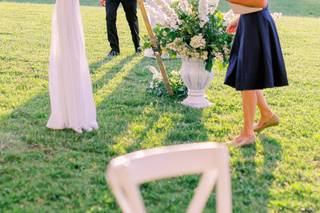 Madison W.

Married on 09/16/2022

Amazing experience!

Chatara & Vanessa really helped put my mind at ease & let go of control knowing that things would still be done to my liking & standard. I would highly recommend hiring them for the day of your Wedding!

Alex T.

Married on 05/21/2022

Lauren is Everything!

Legitimately, where can we start. Our journey with Lauren started in 2019, when we chose her as our month of coordinator for our May 2020 wedding. After the third postponement, we upgraded to planning services, and Lauren helped design a special package for us to fill in the gaps we still needed to plan. Lauren is THE MOST responsive (probably the only person I've met who emails as quickly as I do), and she took our original ideas and refined them for what our new day would be. We could go on, but ultimately what we'll say is that our wedding day was PERFECT. Lauren truly took my bare bones Pinterest board and a color scheme and came up with the most gorgeous design. Whenever anything came up on the day or before, Lauren was quick to handle it, and when she had to fix something, it turned out even better than it had before. We'll miss planning with her, but we're so grateful we found her for our day. She was so kind and lovely throughout our entire process, and the day was everything we dreamed of and more! Thank you, thank you, thank you for everything!

Morgan

Married on 06/15/2019

Extremely talented planner and wonderful person too!

Jillian Jenkins is just pure magic! Our wedding weekend was everything we dreamed it to be and more and I owe that to Jillian of EED (and her team.) Friends and family still talk about how our wedding was the best they've ever been to, and comment on the high level of attention to detail. With over a year working with Jillian in the planning process, she always made me feel like I was her top priority. I often joked with her that she had the uncanny ability to read my mind. From many many meetings with various vendors, to helping me make those hard decisions that nobody else understands (like what shade of gray to use on our invite, haha). She was there for it all – she is the perfect balance of experienced professional and friend. She was truly invested in every decision we made, and always made me feel like she cared about the little things just as much as I did. When our wedding day finally came around, I didn't have to worry about a thing because I knew Jillian had it more than under control. (see attached photos of my husband and I's reaction with Jillian to our tent reveal) Jillian and EED's connections within the wedding industry made the entire process so easy. Without a doubt she was the absolute best decision we made in the planning process. She engineered and orchestrated the entire day, the details, the décor and of course the events with ease (and always with a smile.) Not only is she extremely talented at what she does with amazing taste, but she is the sweetest most down to earth person you will meet. Jillian started out as our planner but by the end, turned friend. We could not be more grateful for her, and are positive that we couldn't have done it without her. You've found the absolute best- I can't say enough about her. I miss her already!

+ 6

photos

Are you interested?

Send a message

Monica

Married on 05/18/2019

INcredible planner/coordinator - really exceptional experience

Oh my goodness where to start!! We worked with Jillian and has the most AMAZING experience. My fiancé and I call DC home but live in LA so we wanted someone to help us with everything from 3K miles away who we could trust, understood our priorities, had impeccable taste. Jillian was all of that and so much more!!! We opted to use her for a coordination package starting a month prior, plus a design package add-in. This meant she helped us with our vendors and design choices during the planning process, and on our wedding day, she made sure that it all went sooo smoothly -- we got married at the Chesapeake Bay Beach Club, and when my sister/MOH said her feet were hurting but that she forgot her backup shows, she immediately went all the was over to the Inn to get them for her! My husband and I were so grateful she was there running things for us. She was amazing and worth every penny (even more!!)

Mrb0707

Married on 07/07/2018

An amazing wedding and weekend

Jillian planned a beautiful wedding weekend for us.

We were looking to create a beautiful, relaxing, elegant but understated, intimate celebration on the Eastern Shore of Maryland for family and a handful of friends.

Enter Jillian. Jillian is an experienced and enthusiastic wedding planner who knows what it takes to get the job done. Jillian knows the Eastern Shore well and has great relationships with vendors for the key items (flowers, cake, chairs, venues, invites, hair and makeup, etc.) and this was hugely helpful in planning a cross-country wedding, as well as a weekend full of activities (yoga, boat cruise, crab feast, golf). We wanted to keep things relatively simple, but Jillian made sure we didn't neglect any important details that would be important to achieving our vision.

In the end the weekend was a dream, exactly what we wanted. We are so grateful to Jillian for pulling it all together and ensuring a wonderful wedding celebration for us and our guests!

John

Married on 06/16/2018

Simply Amazing!!

No words can describe how amazing and professional Jillian and her Elle Ellinghaus Design team were for our wedding. From the first moment we walked inside their office we could immediately see the professionalism and experience that EED offers. When we first met Jillian we both knew that our wedding would be an excellent hands and we weren't wrong at all! Our wedding was back in June and it was truly the best day of our lives and Jillian was definitely a huge reason for it.

My wife and I honestly did not have a true vision of how we wanted our wedding to look. The colors, the designs, the feel, everything was completely challenging and new for us; however, when we sat down with Jillian she helped guide us to the perfect colors and theme that we both loved so much!

Honestly, we are not sure how our wedding would have worked out without Jillian's help and guidance. She helped us with all of the vendors and definitely helped us stay within our wedding budget which was no easy task at all.

Our wedding had a combination of Greek and Egyptian culture. In fact, we got married in a Greek Orthodox Church and Jillian was at the rehearsal and ceremony helping things run perfectly!

My wife and I both feel that not only did we receive an amazing wedding planner but also a great friend.

Thank you so much Jillian for making our wedding dreams come true!!

Lauren

Married on 06/09/2018

The Elle Ellinghaus Designs team is ah-MAZING. Jillian was an absolute joy to work with. My original wedding in Georgia was cancelled due to hurricane Irma and my husband and I were left trying to pick up the pieces. After making the decision to move the wedding to a future date, we moved the venue north closer to home and we found Jillian and the Elle Ellinghaus Design team. Of all the planners we contacted, she was prompt in her response, was there with a hanky to let me get it all out, and was ready to start planning! Jillian is prompt in her responses, so thoughtful in the details, and organized beyond anyone I've ever met. I knew with the wedding in her hands, it wouldn't be anything short of amazing. She was there for numerous vendor meetings (venue walk through, linens, catering), she got in touch immediately whenever anything needed to be changed, and provided assistance in décor, DIY and purchases. She helped us choose the best vendors and it was worth it. Everyone at the wedding had an amazing time and complimented on the décor, music, and details. On the day of, Jillian and Chelsea arrived to help with anything we needed, and brought a suitcase full of supplies. She made sure everything was in place and everyone was relaxed before the big day. I couldn't have planned something as amazing as our wedding was without her. If you do anything for your wedding, hire Jillian and the Elle Ellinghaus Design team!

Katharine

Married on 09/23/2017

I have been dreaming of my wedding ever since I was a little girl. Over the past 20+ years I had several visions and revisions of my wedding so that when I finally got engaged to the man of my dreams, I had no idea where to begin in the planning. That compounded with my resident physician schedule which left me with somewhere between 4-6 days off a month left me overwhelmed with daunting process of planning a wedding. Enter Elle: the miracle worker, dream maker, stress reliever, fairy god sister of weddings. She broke the process of planning the wedding into little pieces that were easy to complete and always left me wanting to know what was next! Over the past year, she created the most ethereal, stunning, breathe taking wedding that was far better than anything I could have dreamed of. She was there whenever I needed her and knew expertly how to defuse any stress or panic that I managed to bring upon myself. She was able to find me engraved mallets overnight after my Etsy order was ruined and tirelessly searched for a henna artist for our after party which ended up being everyone's favorite activity. She made me always feel like a priority and that I was the only bride she was planning a wedding for this year although I know full well that is not the case. I felt I always had her undivided attention and she was always coming up with new and creative ideas every time we talked that made me more and more excited for the wedding. After 13 months of planning, the wedding was even more spectacular than we could have imagined. Elle outdid herself yet again. Two weeks later, I miss the emails, the laughing, the chatting but most of all, I miss my beautiful friend Elle and am looking forward to the next event I can plan with her. I can not say enough about Elle and her team of fabulous ladies at Elle Ellinghaus Designs and would recommend them 1000x over.

Virginia

Married on 09/23/2017

Elle Ellinghaus of EED is a bride's dream come true. Not only because she has such a sunny, cheerful personality that puts the bride AND her mother at total ease but also because she truly loves what she does and her whole being is dedicated to making the bride's vision a reality - and doing so in style. Elle has an amazing list of vendors with whom she has worked so that the bride has a broad range of possibilities to select a videographer, photographer, band, DJ, etc. who will fulfill her wishes and she can do so with complete confidence. Elle's can-do attitude about everything made us feel that if there was a problem all we had to do is turn to her for a solution. Her organization and attention to every detail ( just envision a twenty page master timeline for the day of the wedding) you can imagine made us totally comfortable that nothing would be missed - and so it was. On the day of the wedding everything went seamlessly and the bride sailed through her day on a cloud of happiness. You can't do better than getting Elle to be your wedding planner and the bonus is that she will also become your friend.

Kimberly

Married on 08/26/2017

We don't even know where to start thanking Jillian from Elle Ellinghaus Designs for our amazing wedding day. We had such an incredible day from start to finish and we really felt like we could relax and soak in the day because everything was planned so perfectly and felt effortless. We were just on cloud 9 the whole day. Jill really helped our vision for the day come to life and so many people have told us it was the most beautiful and fun wedding they have ever been to, which was our main goal for the weekend! Jill was the glue that held everything together, and we can't thank her enough for her patience, guidance and sense of humor throughout the process and for helping us make our day feel personalized! We can't wait to see all the photos and relive the day again, should we do it all over again in a year?? We've already recommended Jill and her team to all of our newly engaged friends because we cannot sing her praises enough!!

Jennifer

Married on 08/19/2017

Writing this review makes me a little sad because it means my time with my AMAZING wedding planner, Jillian Jenkins is over. When I got engaged I knew instantly that we would be hiring a planner and I knew in my heart who it would be. About a year before I got engaged a friend attended an event planned by Elle Ellinghaus Events and sent me their Instagram account because we have similar styles. Even after interviewing a couple other planners I just knew that Jillian would be the one after our first meeting. I reached out via their website and was contacted by Jillian in less than a day with our first meeting at their studio exactly 2 weeks after our engagement. Jillian is warm and welcomed us with a sign with our names and mimosas. She got to know us during the first meeting and we ended up hiring Jillian as a partial planner and worked with her for around 10 months on our August '17 wedding. She attended numerous meetings with me (florals, linens, venue walkthrough, etc.) had in-person appointments with my husband and I and did countless other things to make our day perfect. She was almost always available to me and I took full advantage running ideas by her on a regular basis (even when I completely changed our colors 5 months before the wedding). Her ability to explain to my husband the "vision" and her eternal excitement for our day was worth every penny (and more). She went above and beyond to make our vision come to life with her creative ideas and practical suggestions. We went into this wedding with a really distinct vision and even then she was able to make it "us" but better. When we entered our reception space I couldn't have reacted any more authentically (pic included) and my Fiance was in awe. She made our wedding absolutely perfect; I just can't say enough great things about this "southerly sophisticated" design firm and its planners. They managed to give this Jersey girl (and her Jamaican husband) a wedding that was beyond their dreams.

+ 2

photos

Emily

Married on 04/23/2016

Elle was the most amazing friend and person to work with throughout our wedding planning process! From the moment we met her at her studio, we could immediately tell how amazing she was going to be!! Elle is detail-oriented, organized, super sweet, and trustworthy. She made our day absolutely incredible and she is THE reason our day was as perfect as it was! She led us to all the BEST vendors in the area, and accompanied my mom and I to all of our appointments. Elle not only captured our 'vision' of how we wanted our wedding day to look, she exceeded our expectations x 10000. Working with Elle was hands-down the best decision we made throughout the whole process. During our wedding weekend, I was about as stress-free as I could've possibly been, and I truly believe that was because I knew she would take care of everything. She checked on me throughout my wedding day to see how I was feeling and if I needed anything. She is ABSOLUTELY INCREDIBLE - you will be thrilled if you work with her for your wedding!

Steph

Married on 10/03/2015

I seriously can't say enough good things about Elle. She is so amazing and talented. She put together our wedding day with such ease and every detail was so beautiful. We spent almost 2 years planning our all outdoor wedding and then 4 days before we had a hurricane warning. Those few days before the wedding Elle bent over backwards and did everything imaginable to make our day perfect, and let me tell you IT WAS AMAZING! She spent countless hours with the rental company rearranging the layout, changing the ceremony location & putting up the huge tent. I don't know what I would've done if it weren't for Elle. She is so prepared for everything. Seeing everything come together because of her hard work and dedication brings a tear to my eye, we are so grateful for everything that she did for us to make our day nothing short of amazing. I wish we could do it all over again!! Boys & girls, set up a time to meet with Elle and you won't be disappointed!!!

Amy

Married on 09/19/2015

If you've been searching for a wedding planner, you can stop here! My experience working with Jillian from EED was beyond perfect. I originally found EED through many online searches and just fell in love with the aesthetic that they create - I HAD to meet the EED girls. Jillian was so wonderful to work with!!! She helped me to determine the exact package that would meet all of my needs, recommended fabulous vendors, did so much leg work for me, was always a voice of calm for me, and truly was always two steps ahead of me in the best way. Her attention to detail, professionalism, artistic eye, and organization cannot be beat. When I say that every wedding dream that I had came true, I am not exaggerating. Everything was so perfect, absolutely beautiful, and really personal to my husband and me. In one single minute, Jillian sewed a part of my dress that ripped and then whipped out her cell phone in order to captured my flower girl and husband walking hand in hand. The whole team of ladies truly care about making your wedding day as memorable and fabulous as can be. I cannot express my gratitude or recommend them enough! Happy wedding planning!!!

We could not have higher praise for Jillian and her team. This is the best investment you will make. The below does not begin to describe or give justice to the amount of work and effort they put into our wedding and the value that they added. Leading up to the wedding and the day of, Jillian and her team did everything we asked of them and more. They were extremely accommodating throughout the process and provided very helpful and meaningful advice; whether it was color schemes, bands, transportation, food, and everything in-between. In addition to the help throughout the planning, Jillian and her staff made our wedding day go seamlessly. The amount of coordination and planning was fantastic. The entire bridal party, bands, photographer, videographer, etc. all got detailed itineraries leading up to the wedding. Jillian spoke with each of them the month and week before. The team coordinated everything the day of and we didn't have to lift a finger or worry about a thing. I could not imagine what our day would have been like without them. We would recommend the Lady in Waiting option for the bride which was a great additional service they offered.

Jillian and her team were amazing. We cannot put into words the unbelievable job they did.

Thank you Jillian and Team!

Evan & Liz

Jessica

Married on 06/28/2015

Elle is phenomenal. Working with her was extremely easy and a pleasure throughout the process and we really don't know what we would have done without her. She is extremely organized and made planning a 275-guest wedding manageable. Her sense of design and style is fantastic. We told her we wanted modern and nothing too "froo-froo" and she got us immediately and delivered an amazing final product. Not only is she capable of her trademark style of design and themes you see in much of her work, she also was able to do a more masculine-themed "speakeasy" at our wedding which was one of our guests' favorite spots. She is very easy to work with and a very bright and energetic person. Her personality was one of the reasons we chose her over another planner - not that the other planner was bad, but we found that Elle's personality was easygoing and felt like a better fit. Her "big day" execution is also extremely efficient. From managing vendors to her "bridal emergency kit" to her handling of minor glitches, she was able to make sure that everything planned came to fruition. Another one of the major reasons we picked Elle over another planner was her promise that we would be her only wedding of the weekend, which the other planner would not promise. As a Sunday brunch wedding, it was very important to us to have our planner fresh and on her game, which would likely not have been possible had she been working another wedding the night before. We truly could not have been happier with Elle as a planner and highly recommend her.

Kimberly

Married on 06/27/2015

I worked with Jillian with Elle Ellinghaus Designs for my wedding. From the very start, I knew our wedding was going to be breathtakingly beautiful. Jillian met with me and my fiancé (now husband) to discuss our vision. She understood it almost immediately, and we just clicked. I had a demanding job that didn't give me a lot of free time, and Jillian made my life so much easier. I was involved enough to feel like I was really part of the planning process, but I completely trusted her to work with the vendors and bring my vision to life. I had the most fun going to her beautiful studio and brainstorming design ideas.
Jillian made our wedding extraordinary. The design and theme just made it so special and memorable. She and her team worked hard the day of to make sure everything was taken care of - from vendors arriving on time, to making sure the bridal party was dressed and ready, to set-up, to taking all of our items to the hotel at the end of the night. We didn't have to worry about a thing. The wedding itself was beautiful. So many guests commented that it was either the best wedding or most beautiful wedding they had ever attended. If you want your wedding to be extraordinary like ours, I highly recommend Elle Ellinghaus Designs.

Stacy

Married on 05/02/2015

After two years of planning my daughter's wedding with Elle, due to circumstances out of our control, we had to re-plan everything in five days. I cannot imagine anyone pulling it, off but Elle did. She pulled together her team, her resources, her skills and her experiences to create the absolutely best Plan B ever. The wedding was just as beautiful and magical as my daughter dreamed.

Many times during the planning process I marveled at Elle's talent and ease. She worked with the bride, groom and their parents keeping everyone happy, on time and on budget. Pulling off a new wedding in five days that was exactly what we spent a year planning makes Elle Ellinghaus a legend.

I highly recommend Elle Ellinghaus to help you plan the wedding of your dreams. Stacy Sapper stein

Sarah

Married on 03/28/2015

Wow. Elle and her team are AMAZING. We worked with Elle for a little over a year to plan our wedding. We knew we needed a wedding planner since we were planning a wedding out of state, and we were so lucky to get Elle! Every detail was taken care of and she had an answer to every possible question before I even thought to ask it! She helped so much during the planning process that it made planning a wedding from another state so easy! On top of that, her design skills and attention to detail are breathtaking. She works with you on the vision for your day, somehow understands exactly what you want (even when you are terrible with design and describing your ideas like I am) and makes the look and feel of your day more than you could ever image. She is so professional but it still feels like you are talking with a close friend every time you email, call or meet. If you are lucky enough to have Elle available on your wedding day, lock her down now!!! We cannot imagine our wedding day without her! Not only did she put so much work in to making the wedding day amazing, on the day of she is so on top of everything! If any mishaps happened (as they often do during large events) we truly had no idea - instead of worrying about getting the tips out or ensuring a vendor made it on time, my husband and I spent the night talking to our families and friends, jumping in the photo booth with our wedding party and dancing all night with our guests - and that is truly something special and we are so thankful to Elle and her team to allow us those amazing memories. One of my many, many favorite memories of the day was walking into our venue space with my new husband and taking in the amazing view that Elle and her team put together for us - and then giving Elle a huge hug for making our day such a beautiful, calm and special day! Thank you Elle!!! Love, Sarah and Rob

Our venue required a wedding planner and we knew of Elle-she was absolutely amazing. Responsive to every e-mail, call and text- she would even e-mail us ahead of time when she was away on vacation or away with another wedding to let us know she'd be hard to reach at that time. Every vendor she referred was amazing, on time and cost effective. She creates a very detailed, color coded timeline of the night before for the rehearsal and the day-of. Of course, not everything goes according to plan, but you would never know that when working with Elle. She contacts all of the vendors for you and sets up their times to set up and clean up. I work full time- she contacted all of the vendors to follow-up and make sure everyone was good to go, she set up our hotel room blocks, she did sooo much to make our wedding day absolutely amazing. I highly recommend Elle and the girls of EED-their friendliness and caring nature is exactly what any couple needs to battle through the stress of wedding planning. I cannot thank her enough for an absolute gorgeous wedding day that I will never forget!

Bailey

Married on 11/22/2014

I came to EED after a year and a half of pinteresting, DIYing, and planning after it felt like I was about to host a craft fair instead of a wedding. I had entirely too many ideas and no organization for my big day. I was initially just looking for a day-of event designer to put to order all of the wedding clutter I had accumulated over my 2-year-long engagement. After stumbling upon EED's website, I knew I had come to the right place. I ended up with a month-of coordination package with Jillian because it was so reasonably priced for the amount of assistance I would receive; it just made sense. I met up with Jillian a month before my wedding day (she stayed sooo late waiting for me in traffic). At our first meeting, she had everything organized in beautiful blush-toned schedules. Her day-of schedule had EVERYTHING. Not one second of the day was unaccounted for. I had never seen such attention to detail (in such a beautiful color palette). From that day on I really just let go of the reins. She answered all of my random questions at all hours of the day and night and when I had a last minute vendor miscommunication near-disaster, she cleared it right up. There was literally no rock left unturned for my wedding (or not spray painted gold). Then on the actual wedding day, she met me in the morning to drop off her adorable emergency kit, checked in with me and made sure everything was going well, then was off to the reception venue where she and her assistants turned an otherwise drab space into cream, gold, and blush magic. My sister said she literally lost her breath walking into the space. Besides being a complete visionary for space design, Jillian's the type of coordinator who will fix your hair, make-up, settle fights between your drunk brother and the DJ, and make sure everything is packed up at the end of the night and back at your (parents) hotel. She absolutely made my wedding!!

Katherine

Married on 10/25/2014

I hired Elle for decor planning and day of timeline/set up assistance. Let me be clear - I definitely do not think my wedding would have been half as beautiful and well put together if I hadn't had Elle and her team. She makes herself so available through the entire planning process - after just one meeting she just got me and my husband and knew exactly what we wanted. She even anticipated quite a few things and I loved every idea she had. On the day of she was there to help me through all the ups and downs (but mostly ups!) of the hectic process of actually having the wedding!

Any question you have, any help you need she's there for you. She's also just a really cool and amazing person! A joy to plan my wedding with - I'm actually sad it's over and I won't have an excuse to chat with her! I may need to hire her to help me with any party I plan in the future! :-P


Katherine

Married on 10/25/2014

Elle and her team are absolutely amazing. They made my wedding beautiful. The attention to detail that Elle provides as well as her commitment to make everything exactly as you've pictured it is remarkable. I'm so glad I had her for the planning and day of.

Ashley

Married on 08/31/2014

Oh, my Elle! *\0/*

First off.... how did I ever find such a sweet, caring, detail-oriented and gosh-dang-hard-working wedding planner??? Well, quite simply put..GOOGLE. I spent days looking through wedding blogs in search of THE Elle Ellinghaus. If my wedding didn't already give it away, I will tell you right now that I am a "that-is-gorgeous-and-I-need-to-have-it" girl, and when I saw Elle's website filled with glittery pretties, "sprinkles" of soft pinks and blushing brides... I KNEW that I wanted to plan my wedding with her.

Elle is all things lovely, and that was what first drew me to her business. We first met Elle at a local coffee shop--her hair in a bun and dancing around in turquoise heels--she ordered a soy latte and it was love at first sip! She was basically our best friend from that moment on.

Elle went above and beyond what a planner "does".... she was always one (stiletto-heeled) step ahead of what we could ever need. She answered emails as if she telepathically knew you were emailing her... at... that... very... moment! There was never a time that I felt alone, which was very important for me as I planned my wedding while my (then) fiancé was deployed.

On the day of the wedding Elle took care of details I had not even thought about... the next morning when we were packing up the hotel room we went through boxes of items that we would have absolutely left behind, had it not been for her! Items that would be sorely missed from dusty keepsake boxes and reminiscant stories we will tell our children and grandchildren.

Elle has a wonderful "day of team" that we would also like to extend our most sincere "Thank You" to...a team I didn't even realize was there because they allowed me to enjoy EVERY SECOND OF MY WEDDING DAY!

I cannot rave enough about Elle... to be honest, my husband and I were upset that the wedding was over because we were going to (and continue to) go through Elle withdrawals!

All our love, A & Prez

Mary K.

Married on 05/24/2014

I met Elle after already singing contracts with florists, caterers, venue, etc... so what I really needed was design, coordination, and sanity-assistance. Elle was absolutely amazing. We had our wedding on a boat, which meant very little flexibility. She pulled it off and gave us a nautical-glam wedding of our dreams, all in budget for decorations. It was absolutely magical and we loved every minute. I couldn't imagine a more charming design on that boat than the vision she had.... I am so glad we went with Elle!
Are you interested?
Send a message