18 Reviews
Recommended by 100% of couples
Quality of service

5 out of 5 rating

Average response time

5 out of 5 rating

Professionalism

5 out of 5 rating

Value

5 out of 5 rating

Flexibility

5 out of 5 rating
Awards
43 User photos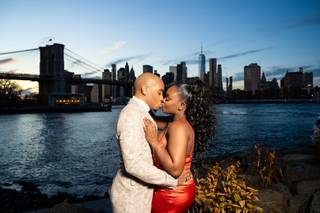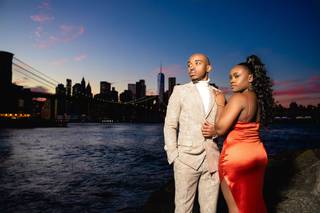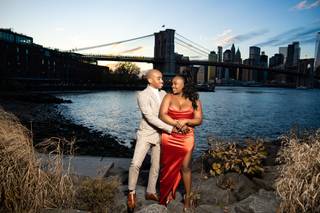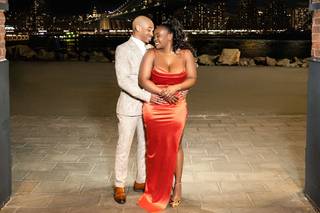 + 39

photos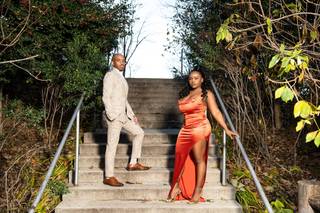 Britany J.

Getting married on 03/23/2023

Great Photographer

I'm so glad this person was recommended to me from a Facebook Wedding group. He is so responsive, great communication, takes and edits amazing photographs. From the start he kept an open communication with me I loved that. He has a client for life from now on. He made my vision come to life. And had an amazing turn around time. He makes himself available for you and works well. Great person to have has your photographer.

Eddi Cruz Photography's reply:

The style that you two bring to the table is amazing. Put that together with the great vibes and many jokes and we created magic. Thank you for allowing me to be there for you all!

Alisha

Married on 11/28/2022

Engagement photos

It was amazing working with Eddie. He made us both feel really comfortable, as we are not photogenic people. He made sure we hit all the poses we had saved in different locations in dumbo. He gave us the perfect time where we can still have some sunlight and catch sunset. It was very cold by the water, especially in November but he made sure we had jacket breaks and kept us laughing so we wouldn't feel it. He went above and beyond for our photos and we are extremely grateful. The hardest part was choosing the top photos when they were all so good!

+ 2

photos

Shirley B.

Married on 09/04/2022

Great photographer

My fiancé and I wholeheartedly recommend Eddie Cruz for your photography needs! Earlier this month, we met Eddie at a beautiful park for an engagement photoshoot. My fiancé and I never had professional photographs taken and were a bit nervous going into the experience; however, Eddie quickly put the nerves to rest. From the second we met him it felt like we'd known Eddie for years. Before you know it, we were laughing and at ease.
Eddie took us to gorgeous locations in the park.I never thought We would have so much fun at a photoshoot and the photographs reflect this to be true.We were floored.The amount of care Eddie put into each photograph was touching. He captured our best selves, now preserved for perpetuity.
We strongly recommend Eddie Cruz for your photography needs. He
provided us with an experience of a lifetime and will surely do so for you as well-I guarantee it. Thank you, Eddie


Eddi Cruz Photography's reply:

Wow wow wow! You both looked amazing with a capital A. Thank you so much for the beautiful review. You were so brave to pose for the shots we took and created awesome photos. Everyone walking by regarded you as celebrities. I'm so glad you enjoyed yourselves. It was such a fun experience and I'm proud of what we created.

Are you interested?

Send a message

Melia B.

Married on 06/24/2022

Best experience never any issues. Please look him up let him do your party your wedding birthday whatever it is you will not regret it

Eddie & his crew are amazing. He did my daughter's Baby Shower & Friday June 24th My granddaughter's 1st Birthday. When I tell you he is respectable the nicest guy. He captures all pictures even when you're not looking. I would recommend him to anybody his crew is fabulous. Thank you Eddie for always capturing the beautiful moments of my family you guys are so good at what you do.

+ 5

photos

Eddi Cruz Photography's reply:

Thank you so much for being so wonderful. I'm always happy to be there for the family. It brings joy to my heart every milestone that we get capture together!

Natalie A.

Married on 06/23/2022

Wedding Day

I couldn't of ask for a better person to capture one of the most special moments in my life. He was so patient and kind. He makes you feel so comfortable in front of the camera. The professionalism was outstanding. But, his positive energy is what makes working with him so amazing. Which is something that is need on a hectic wedding day.

Eddi Cruz Photography's reply:

I'm so happy to have been there for both your engagement and your wedding. You two are amazing and positive people who will lead a wonderful life together. Thank you for allowing me to be part of your special days. I'm glad to say I've made some new friends!

Tce V.

Married on 05/06/2022

Best photographer in the business!

We've been working with Eddi Cruz Photography as vendors for over a decade. In the time we've collaborated together we noticed a high attention to detail and personality. Needless to say, these are necessary traits to succeed in an environment where quick thinking, preparation and people skills are key. This company has been a joy to work with and our go to photographers since 2010. We can only say good things and recommend them highly.

Eddi Cruz Photography's reply:

Working with your talented and creative team is always a pleasure. The way we learned to work together seamlessly and bounce ideas is something I and my team wouldn't change for the world. Thank you for the great years we've teamed up and looking forward to many more.

Kedelyne

Married on 05/01/2022

Photographer and videographer

Eduardo such a great photographer, very patient caring. It was such a pleasure having to work with him. Not only that he good with what he does very punctual.

+ 2

photos

Eddi Cruz Photography's reply:

Thank you folks so much. You both were amazing and took directions like champs. The photos came out great because of your wonderfully positive personalities even in the worst weather. Thank you again for the opportunity to be there for you.

Ms Pearl

Married on 03/26/2022

Salena's Sweet 16

His pictures were so clear and I love the memories that were made. He was super nice and funny to my daughter and her friends, plus I recommend him for any event! The experience we had was splendid, I will definitely hire him again !! He's absolutely amazing !!

Eddi Cruz Photography's reply:

Working with you all for such a wonderful experience. and the beautiful review. I'll make sure to be there for you when Salena gets married!

Amira W.

Married on 02/22/2022

Worth a thousand words…loved it!!!

It was really so much fun having Eddi as our photographer. Everyone enjoyed how funny and inviting he was. It was so worth the price to have someone there to guide us through things. He even gave us some tips before our wedding and answered us whenever we had a question. It was important to us that we have a photographer we could vibe with and Eddi was the vibe! We loved our pictures. You're our photographer for life.

Eddi Cruz Photography's reply:

I appreciate you both for the kind review. The wedding was spectacular and your family was wonderful. It was such a pleasure!

Bre D.

Married on 02/18/2022

Best Wedding Photographer

From inquiry to final pics, Eddi was professional, friendly and very willing to make our wedding experience 100% memorable.

+ 4

photos

Eddi Cruz Photography's reply:

I'm so very glad your experience with me was wonderful. It was a great and memorable time with you as well. May you be blessed with many years of happiness and success together.

Lisa R.

Married on 02/04/2022

A+ Service

Our wedding did not go anything as expected. COVID had a lot of our bridal party drop out of our wedding. Add to that a snapped bra, a snagged zipper, a rainy day and you have a gloomy wedding. Eddi was calm as my mom took over an hour to find me a bra and helped us with his bag of tricks. He gave us some large pins to fix my dress and the photos looked as if nothing happened. It wasn't a perfect day but I'm happy to be married and glad we had a great team.

Eddi Cruz Photography's reply:

Thank you Lisa for the great review. It's really appreciated. I'm so grateful that I was able to help.

Janet G.

Married on 12/23/2021

Nothing short of amazing

My experience with EddiCruz photography is nothing beyond amazing. Eddi did our engagement shoot this past December in 30° weather that felt more like below zero but he made the environment sooo comfortable that I forgot about how cold it was, lol. Our pictures, our pictures turned out amazing!! I can't stop looking at them!! Thank you Eddi

Eddi Cruz Photography's reply:

Even in the cold you two were wonderful. I'm so glad to have been your photographer and really look forward to your wedding! Such an awesome couple.

Kimberly S.

Married on 12/03/2021

One of a kind

Hiring Eddi was one of the best decisions I made while planning my sister's wedding. His professionalism and heart are what separate him from the rest. When I say that he cares, I mean he really cares! My sister was nervous due to the cake being late and make-up taking a little longer than we thought but Eddi was a sweetheart throughout the ordeal. He made my sister laugh and reassured us that everything was going to be alright. Eventually the cake came and we forgot about why we were worried in the first place but we won't forget Eddi for being so kind.

Eddi Cruz Photography's reply:

Thank you for this! It means a lot and I'm glad I was able to brighten up your sister's special day.

Shem R.

Married on 10/10/2021

Simply Amazing

Eddi Cruz was simply amazing in satisfying our needs during our wedding process. I highly recommend him and for sure will use him again.

Eddi Cruz Photography's reply:

Shem, thank you so much my brother for the great review. It was an honor photographing your engagement and wedding. You and Shontel are so stylish that you made every photo look wonderful.

Featured

Saydul N.

Married on 10/02/2021

Phenomenal & Wonderful Photographer!

Eddi was the photographer for our wedding, Eddi has been very candid from the beginning to the end, he was exactly what we wanted for our wedding, and he was so unique with his style and structure. He felt like family, every moment we spent with him capturing our moments felt so heartwarming. He recommended the best spots in Brooklyn for my Fiancé to take our engagement pictures. It was our first time capturing our engagement photos on the Brooklyn Bridge Eddi worked so well in making sure my Fiancé and I were captured in such a beautiful manner. The lighting and quality of his photos were phenomenal, he allowed you to see your photos after he had taken them, if you felt that that picture was not taking a shot right he would work with you to make sure you are satisfied. What we love about Eddi is he captures every detail without you having to say anything. Every detail he captured had so many emotions and memories associated with them. Eddi made our engagement photoshoot so phenomenal that we just wanted more of his photos. We couldn't wait to capture more pictures with him. Eddi was very flexible with us in terms of timing, for example when my fiancé had scheduled with him for a specific date and time and due to the inclement weather, Eddi was very responsive with responding back to us. He was very accommodating with his time and made sure we met for our following photoshoot. His time and value alongside his professionalism are above and beyond. When it came to our big day Eddi showed up on time with his entire team ready to work with us together as a family. Eddi and his team are worth every moment and time. Eddi has an amazing personality and that in itself made it so easy to work with him and the rest of his team. We shared moments of laughter, tears, and lots of memories. The pictures from our engagement followed by our two days of an Indian wedding, following up to our Nikkah and Wedding receptions photos were all so vibrant and stunning. Eddi has a talent and gift for attention and details, we go about saying this because my Fiancé and I were doing so many things that week and day for the wedding Eddi didn't even have to ask us what we wanted, he already had it captured. We were able to relax, knowing that our wedding photographs would be in good hands. Eddi, my husband and I cannot wait until we have our little Nadeems so you can capture every memorable moment of our baby shower. Ladies and Gentlemen are you looking to capture your next event or memorable moment then don't think twice or hesitate about Eddi, he is definitely your man.

Love Always, the Nadeems

+ 3

photos

Eddi Cruz Photography's reply:

Wow, this really means a lot to me! I can't put into words how much. God bless your union and wonderful hearts. I can't wait to continue being there for you during your next milestones as the Nadeems.

Ayicha D.

Married on 09/06/2021

Fantastic Person

Professional, friendly, precise, funny, easy to talk, just an overall amazing person

Eddi Cruz Photography's reply:

Ayicha thank you and Al for making us part of your special day. Since our first call you were amazing and now we're practically family. Thank you for such a lovely review, you're the best!

Elsie

Married on 06/17/2021

Excellence!!!

Eddie is a very personable and professional photographer!!! As a Wedding Officiant, I have often worked with Eddie and he always exceeds the expectations!! Not only is he a great photographer, capturing great moments, he's also making everyone feel like royalty while creating the perfect shot! I will continue to recommend him to all my future brides & grooms as I believe he's the best guy for the job!

Eddi Cruz Photography's reply:

Working with you is always a blessing. I'm looking forward to creating magic together like always. The work you do is amazing!

Martha G.

Married on 07/16/2019

Best Experience

I took long to give this review but after looking at my wedding photos with my family I decided to give the photographer a review.

Wow all I can say is AMAZING! Eddi Cruz Photography came through and delivered everything we hoped for. Our photographer Eduardo made our wedding look so beautiful that we cried when we received the photos.

Initially we were nervous booking a smaller wedding venue but he guided us through all the angles and poses to make us and everything look grand. We had a mixture of an African (Kenyan) and Latino (Dominican & Puerto Rican) wedding with many cultural traditions and I wasn't sure we would get all the nuances of both me and my husband's cultures. I was wowed at his attention to detail in capturing everything. He even captured the engraving on my grandmother's ring which means so much to me. Every step of the way we felt comfortable as if we knew Eduardo for years. We had so much fun at our wedding and our guests raved about how helpful and funny he was. It's safe to say we had the best photographer. Eduardo you are our friend for life! Me and Chris send our biggest thanks to Eduardo.

Eddi Cruz Photography's reply:

Martha, I'm glad that we were able to provide such a wonderful service to you. We are very happy to have met you and are glad to have a new set of friends in you and Chris. We're looking forward to being there for your next milestones in love. Thank you so much for welcoming us!
Are you interested?
Send a message