Reviews
5.0 out of 5 rating
Quality of service

5 out of 5 rating

Average response time

4.9 out of 5 rating

Professionalism

5 out of 5 rating

Value

5 out of 5 rating

Flexibility

5 out of 5 rating
99%
Recommended by couples
6 User photos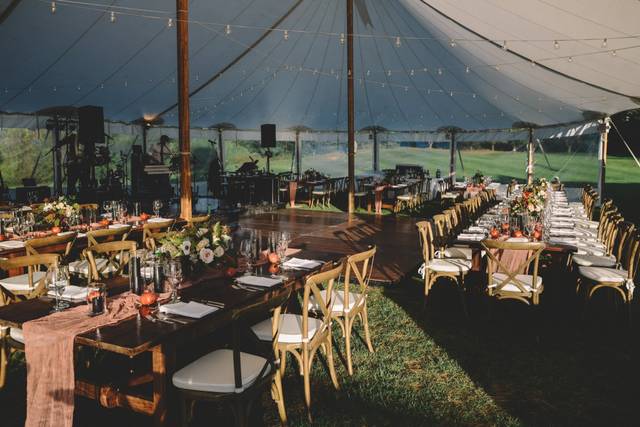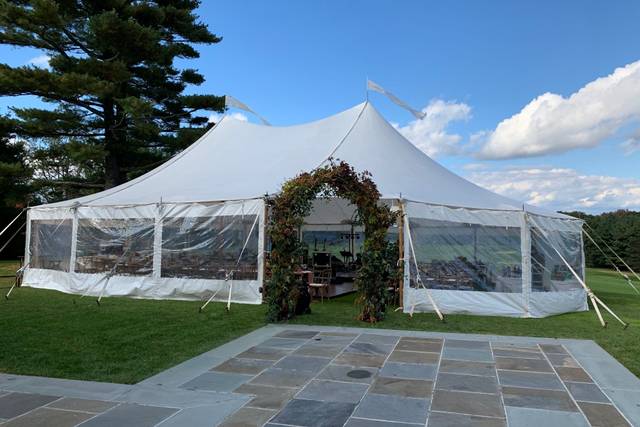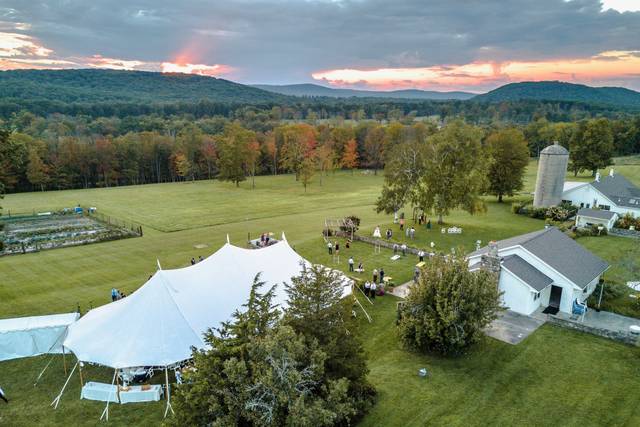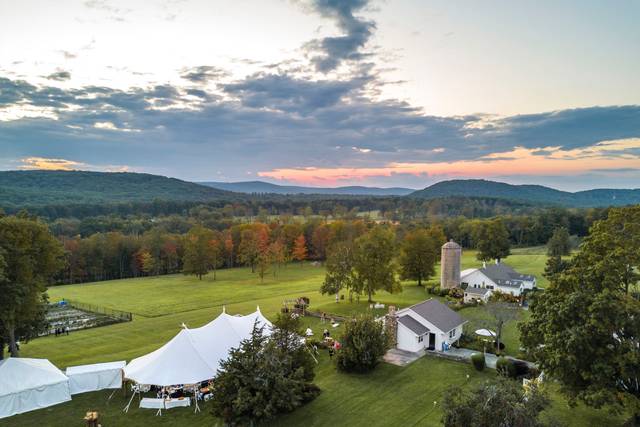 + 2

photos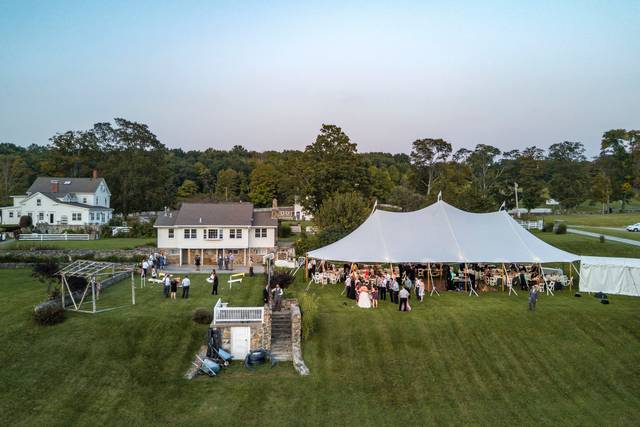 Katie S.

Married on 10/20/2018

Absolutely Perfect

Dena and Jeff were so great to work with on the tent and event rentals for my Fall wedding. Dena was extremely responsive and professional - always happy to get on the phone and talk through any questions. Jeff even took the time to go out to the site to measure and make sure that everything that I wanted could be accommodated on my wedding day. The tent, tables, chairs, lighting, dancefloor.. everything looked absolutely perfect and I couldn't have been happier. It was stunning. Thank you

Anna

Married on 09/15/2018

Beautiful tent and service!

We are so glad we used Durkin Tent for our wedding. The tent was absolutely beautiful. We had our wedding in my parent's yard and we weren't certain what size tent we could fit or whether it was a feasible location. The people from Durkin came by and measured and let us know a few options for sizes of tents and gave recommendations of where to put them. When the landscaping of the yard changed, they came by again and reassessed where the tent should go and what size it should be. They gave amazing advice and were thoughtful and professional throughtout the process. The set up and take down of the tent went so smoothly and it looked SO beautiful inside and out. We are so glad we chose to work with them and can't thank them enough!

Nicole

Married on 09/16/2017

I would tell you to look no further for a company if you are having your wedding at Candlelight Farms Inn, but I need you to know you should look no further, PERIOD, regardless of the venue. Durkin's is comfortable with Candlelight Farms, knows the set up, goes there frequently. But the truth of the matter is, they are a fantastic rental company no matter the venue. Their sailcloth tent is to DIE for, and the staff, especially Jeff and Dena, are so warm and welcoming. The tent added the perfect touch to our rustic wedding, but working with Jeff was something we were so grateful for. Humbling people make up this company, and their work and their tents, were absolutely top quality. Our wedding on September 16, 2017 at Candlelight Farms was one we won't ever forget. The tent was great!

Are you interested?

Send a message

Donna

Married on 10/15/2016

If you are having your event at Candlelight Farms, don't look anywhere else. They know the venue, frequently set up there, and their products were top of the line. We used Durkins to supply tenting needs, tables, chairs, bar, dance floor, bandstand, and linens for our daughter's wedding, cocktails, and reception for an October 2016 wedding. It was flawless and we would recommend them without reservation for your wedding needs. We worked with Jeff and his team. They made it easy, were always available for questions, explained options and costs, and coordinated seamlessly with our venue. They frequently set up at Candlelight and know what needs to be done. The setup was done flawlessly and professionally - looked beautiful and functioned well! It's not inexpensive, but is reasonable and worth what you pay for. Thank you Durkins for a job well done!

Sara

Married on 09/24/2016

Durkin Tent & Party Rental is the rental company to use if you are getting married at Candelight Farms Inn in New Milford, CT as we did back in September 2016. Jeff and his team know the venue inside and out like the back of their hand (that put me at ease right away). Using a rental company for a wedding like ours seemed overwhelming at first, but the second we signed on with Jeff & his team at Durkin's, we knew everything would be taken care of with the utmost professionalism. Jeff is always willing to meet with you to go over rental needs, design changes, etc. He was reliable, trusting, and flexible throughout the whole process. Their rental items are of high quality and they serve all styles. Look no further, Durkin Tent & Party Rental is the company to use!

Leighanne

Married on 09/10/2016

We chose Durkin's for our wedding which was held at Candlelight Farms Inn in New Milford, Ct. Durkin's was highly recommended to us by numerous people including many of our friends. After meeting with Jeff, we knew instantly that this was the company we wanted to work with. His personality and professionalism really helped us make an easy decision. They set up the tent three days prior to our wedding; there was a potential for rain so doing so prevented the possibility of the grass being wet under the tent. We thought this was really thoughtful and much appreciated. They have a wide array of table linens, chairs, tents, etc. to choose from. We even had the option of beautiful farm tables. Jeff and company were a breeze to work with. A big thanks to the crew at Durkin's for making our day perfect.

Megan

Married on 08/06/2016

Amazing! we had a huge sail cloth tent and it was beautiful! They provided all the tables and chairs, too. Prettiest tent Ive ever seen! Jeff was super helpful and very responsive!

Victoria

Married on 07/02/2016

Jeff from Durkin's was the best vendor we worked with the whole wedding! He always answered emails immediately, re-wrote contracts any time I made changes (and I made lots of changes) and never changed the cost. He was flexible, responsive, and made a special trip to our venue to let us see how big the tent is and where it should be placed. He acted like we were the only wedding he was working the whole summer, it really made us feel special. Jeff was the best-I can't say enough great things about him!

Cristina

Married on 09/19/2015

Durkin's was so incredibly great to work with because they were so friendly, helpful and flexible! I decided to (perhaps foolishly) have our wedding at my parents house which is conveniently located on a huge hill. The wedding turned out soo beautiful and a huge part of that was because Jeff (and really everyone there) was so willing to help out. I was concerned we wouldn't find a rental company who would be willing to work with us but Jeff didn't hesitate. Not only that, but their selection of linens, chairs, tables, etc. was really beautiful. Thank you so much to everyone at Durkin's for making our wedding look like a real fairy tale!

Durkin's's reply:

Thank you so much! It was an honor to be a part of your big day. Good luck in your future endeavors and thanks again!

Rebecca

Married on 06/27/2015

Durkin was so helpful. They did our tent, chairs and tables for our wedding. The quality of the items was great, they were easy to talk to and were willing to be flexible around delivery and set up times. They came on site to help with the tent rental. After there was an issue with it (there was holes made where there weren't suppose to be because of a miscommunication, these things happen!) they immediately took ownership and handled the fix on their own, no arguing or anything needed. We would definitely use them again!

Wendy

Married on 05/23/2015

We hired Durkin for an outdoor wedding and they provided us with the most beautiful sailcloth tent. It was stunning, clean and perfect! The crew was so professional setting the tent up and was willing to accommodate us earlier in the week for set up in the weather looked bad. However, it was a perfect day with a perfect tent. The dance floor was also provided by Durkin and was so professional looking.

Jeff and the workers at Durkin are AMAZING! We rented tents, tables, chairs, linens, napkins, etc for our spring outdoor wedding. Everything arrived with plenty of time for set up and the workers did not come break down until the event had been over for hours! Prior to the date of our wedding, Jeff at Durkin had noticed that the weather was going to be a bit chillier then normal and contacted me about other services they can provide to make myself and my guests more comfortable at our outdoor ceremony and reception. Without this we would have all FROZE as it dropped to 45 degrees that evening! The heaters worked perfectly and they were not loud or in the way at all! All of my guests raved about the beautiful tent and farm tables and were happy they had the heaters to keep them warm! A+++... Highly recommended!

Carly

Married on 05/16/2015

Excellent company! I would definitely recommend this company to anyone I know. I rented a clear top tent for a backyard wedding. We had around 150 guests and every one of them was awed by the beauty of the tent. I can't say enough good things about this company, but a few would be: Great communication (fast and honest), Professional/Friendly staff (Sales and Setup crew alike), Confident with their product as a venue (Beautiful, quality product, involving good planning). They came and set the tent up on Thursday, we were able to have the rehearsal dinner there on Friday, and wedding saturday. Then the came and took it down Monday. I liked the fact we could enjoy the tent 2 nights. If I were to do it all over again, I wouldn't change a thing.

Could not have had a better experience. Jeff, at Durkins, was always extremely professional in his ability to help us in the planning stages, provide ongoing reassurance leading up to the event, and send his great crew to do the installations. We had last minute decisions which he handled in a way that was calm, reassuring and efficient; while always being friendly and instantly accessible. 5+ stars to Durkins.

Troy

Married on 08/30/2014

We had an outdoor wedding on August 3oth 2014, and really wanted a sailcloth tent. After speaking with multiple vendors we came across Durkin's Tents from a recommendation from our caterer. Jeff at Durkin's tents is vastly knowledgeable, down to earth, and just a great guy to work with. Jeff explained to us how the sailcloth tent is not fully water proof, and the company had invested in translucent peek tents which looked exactly like a sailcloth. He was right the tents looked amazing with the cedar posts and the center flags on the top (Very classy look) really made the tent. Everything a bride could want on her wedding day. Jeff had great prices and amazing service. Every bride wants her wedding to be perfect and when one of the bistro lights was out before the wedding, Jeff came right down to replace it. Jeff made sure the tent set-up went perfect and came out to the property twice before the initial set-up. I would highly recommend Durkin's Tents and Jeff for any future tent set-up. I actually recommended them to a good friend who loved working with Jeff and loved his tent! Thanks Durkin's Tents!

Sarah

Married on 08/09/2014

The beautiful round sailcloth tent that Durkin Tent & Party Rentals provided for my wedding made the whole day! I was amazed at the quality of the tent and more importantly, the customer service that came along with it. Jeff Ginty was a pleasure to work with, he made everything flow seamlessly, assisting us in coordinating the tent & all of our other party rentals.

When we were first choosing our rental company, Jeff came out to our house prepared with suggested layouts for tents and a number of tent options that he thought would work for our small backyard. He provided photos of other events Durkin had recently done that were similar to mine so I could really get an idea of what the space would look like. I'm not going to lie... I was really skeptical about getting a tent initially, but Jeff put all those fears to rest! After we spoke with a few other tent companies the decision was an obvious one... no one else even came close to Durkin's professionalism! Jeff remained in contact throughout the entire wedding planning process, and during the week before the wedding he came by on multiple occasions to show me exactly where the tent was going to be placed in the yard, and then finally on the day of set up to assist all of his guys in actually setting up the tent. My parents and I were really impressed!

I also rented farm tables for my wedding through them and they were such a hit! Beautiful, reclaimed wood tables that it would be a crime to cover with a linen! Durkin was incredibly easy to communicate with and were always prompt on responding to calls and emails.

I would recommend this company to anyone and everyone. Seriously, do yourself a HUGE favor and go with these guys!

User1751020

Event on: 08/02/2014

Thanks to Jeff and team for helping me pull off an amazing event! I can't leave enough positive feedback about the Durkins experience - definitely use them for your party!

Jeff and his staff did it again! Set up for a great Commissioning Day at Saugatuck Harbor Yacht Club. As always, Jeff is professional, prompt, and easy to contact and communicate with. Beside being able to schedule and event with Jeff, I can also call him in a last minute scrabble for a set up for an unexpected event.
Jeff Ginty with Durkin Tent & Party Rental are a great vendor to have in your corner. Thanks as always Jeff


This is the only tent company to use. They deliver exactly as promised and then some. I had spoken to another tent company and they simply could not execute what was required for our event. Jeff Ginty from Durkin Tent came in and found a way to give us the tent we wanted. They expertly erected the tent, provided plenty of heat, and lit the entire inside beautifully. If ever there was the perfect tent company we found it in Durkin Tent. Simply put, they are the only people to call if you need a tent.

A pure pleasure to work with this company and in particular Jeff Ginty. They deliver exactly what they say they will do and more. This is the company to use for your event. I give them much more than a 5 out of 5!
Highly Highly recommended..........absolutely the best!

Bruce

Married on 07/20/2013

Jeff did a great job for us. There was a last minute scramble to change the tables that had been ordered, this was done with no problems.

Jeff even contacted me the day of the wedding tom make sure that I had everything that was needed.

Could not ask for more.

Betsey

Married on 07/07/2013

I have had the pleasure of working with Jeff Ginty on a number of occasions. Most recently we collaborated on a wedding in early July at a stunning house over looking Candlewood Lake in New Fairfield. Because the backyard was not conducive to a traditional tent, Jeff had customized a beautiful awning that was the perfect fit for the occasion.
Jeff is a consummate professional. He pays attention to every detail, and goes the extra mile to insure that your tenting needs are met.
I highly recommend Durkin Tent and Jeff Ginty for any tenting need you may have.

Jeff and his team provided a custom solution for our event that overshot our expectations but undershot our budget. While other vendors were pushing their budgets higher leading up to the event, the Durkin numbers we the only ones that actually went down.
We couldn't be happier with the service we received. I would recommend Durkin without hesitation.

Keli

Married on 06/29/2013

Jeff Ginty was easy to work with. He knew just what we wanted. Very flexible with us changing our minds!

Lois

Married on 06/29/2013

Jeff was awesome to deal with. Always accessible. The day was perfect in part to their professionalism.
Are you interested?
Send a message