Reviews
4.8 out of 5 rating
Quality of service

4.8 out of 5 rating

Average response time

4.8 out of 5 rating

Professionalism

4.8 out of 5 rating

Value

4.8 out of 5 rating

Flexibility

4.8 out of 5 rating
96%
Recommended by couples
2 User photos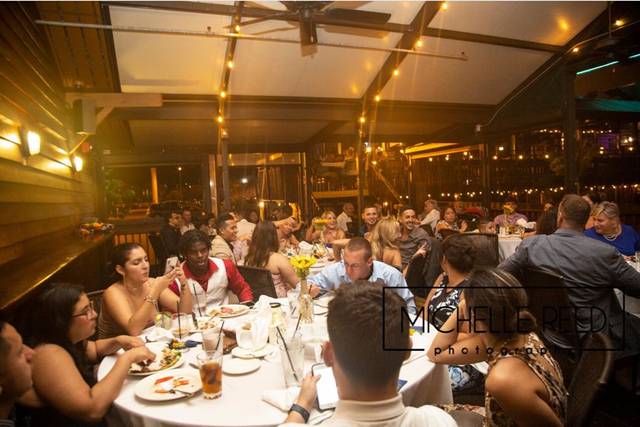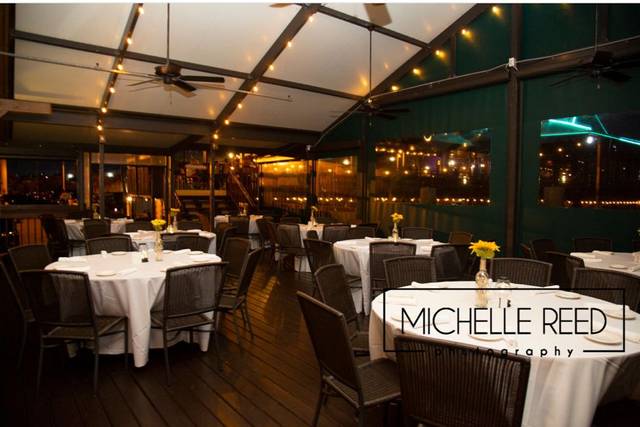 Kelsie R.

Married on 01/09/2021

Great vendor!

This venue is beautiful and Meredith was super responsive to all of my emails and questions. However we wanted to have a beach ceremony more, so we hired another venue (it was a very difficult decision). We've also had dinner at Doc's and the food and service is exceptional! I have NO DOUBT that if we chose them for our wedding, it would have been perfect. If you still want a waterfront wedding and have a smaller guest list, this is the place!

Erin P.

Married on 11/16/2018

Perfection

Where do we begin?! Doc Ford's was the perfect place for our wedding. We had our ceremony, cocktail hour, and reception/dance at Doc's House and it was perfection. Planning a destination wedding was extremely easy with Meredith's help. Eric and Jeff were amazing the day of the event, and we truly felt like we could relax! The food and service was excellent (as always), and our guests had a wonderful time. Every single thing went exactly as planned and we are so happy we chose Doc Ford's!!!

Maria

Married on 09/22/2018

We got married at Doc Fords a few weeks ago. We did our cocktail hour & reception there and had our ceremony aboard Salty Sam's Pirate Ship. This was a perfect combination as the ship was able to pull right up to the docs seamlessly. We fell in love with the Doc Fords event venue as soon as we saw it and have absolutely no regrets. The space is on the water and lights up beautifully at night. Meredith worked with us to get every detail taken care of before the wedding (even coordinating with he pirate ship captain!). We are low key and she made planning easy and painless. She was also super patient with us and answered every single question that came up, even after hours and on days she was off. The team that worked during the event, including Jeff, Eric W, and Reid also did an amazing job. They were attentive to everything our guests could possibly need and very professional. The food also exceeded all our expectations. We went with the Captiva package and couldn't be happier, the prime rib was amazing. The chef also made sure to accommodate special food needs like GF and vegan options. Again, we have no regrets and highly recommend Doc Fords for any private events!


Are you interested?

Send a message

Debra

Married on 05/25/2018

This was our choice for our rehearsal dinner!
Complimented our "destination island" themed wedding weekend. The private venue offered a spectacular view of the bay! Event coordinator Meredith and her staff went above and beyond to make this a truly memorable experience for all. They exceeded our expectation in regards to quantity and quality of food - their attention to detail in the room presentation and decorations - and their friendliness and professionalism - making this night memorable for all! We continue to receive compliments from the wedding party, friends and family !! It was a wonderful kick off for our wedding weekend!!

Brandy

Married on 03/17/2018

We loved it. The location of Doc Ford's was perfect. We married on the beach 5 minutes away. The view from the room was beautiful. Tge room eas yours all day. They made sure no one parked their boats in front on the dock. The food was excellent. They even remined us if a few items we had forgot. Meredith and Violet were wonderful. They even pack the extra food for my my family to take home. I was lucky. They aloud us to decorate the day before. Because there was no party the day before. Overall everything went great.

Tracy

Married on 11/18/2017

We choose Doc Ford's for our destination wedding venue and could not have been happier. Everything was perfect. We got married on November 18. The atmosphere and food were fantastic. The staff were so helpful and worked hard to be sure everything went smooth and it did. Meredith and Violet went over and above for us. They helped get the top of our wedding cake back to us in PA and we can't wait to see how it will be on our one year anniversary. A couple of days ago we received a beautiful bouquet of flowers from Doc Ford's wishing us a lifetime of happiness. I highly recommend checking out Doc Ford's for any event. If you do not have an event to plan, check out the restaurant and bar. The mojitos are delicious!

Codi

Married on 10/07/2017

We had our wedding at Doc Ford's 10/07/17 and it was spectacular. It was a beautiful venue and the food was amazing!! I had multiple guest say that it was some of the best wedding food they have ever had. They were on point and super affordable. I 100% recommend it.

Jodi

Married on 06/24/2017

Spectacular venue ... We had our daughters wedding here in June. It was a destination wedding ,my daughter Jamie wanted a venue right on water ,where she could arrive by boat. Doc Fords was perfect, sits right on back bay with own private dock. Venue has all glass sliders that give you amazing views of bay . Meredith & Violet was outstanding to work with. The food was exceptional ,from hors d'oeovres Yucatan shrimp, spring rolls, coconut chicken ,etc to the prime rib,chicken piccata & fish w crab stuffing all was outstanding. The bartenders Adam & Jeff were phenomenal !!!! Our family and friends all came from Rhode island & CT and had a wonderful time and so many compliments on Doc Fords . Thank you again to everyone at Doc Ford's, And extra special thanks to Meredith ,Violet, Adam ,& Jeff for making our special day extraordinary . Jodi & Jim 6/24/17

Caitlin

Married on 06/17/2017

While we ultimately did not have our reception here, I have to commend Doc Ford's for having such excellent event staff and planners. I had responses in record time and they were willing to go above and beyond to accommodate our reception. (Unfortunately June in Florida is just too hot for some people to be outside!) This would also make for an ideal venue for a rehearsal dinner or just a great spot for out of town guests. A fun place to visit on Ft. Myers Beach!

Suzanne

Married on 05/20/2017

Our wedding reception at Doc Fords was amazing!! The food was delicious, Meredith our event coordinator made sure everything went as planned, the staff was accommodating, and everything was just perfect. The view on the water was beautiful. Thank you Meredith and Doc Fords!!!

Elizabeth

Married on 05/09/2017

A month ago this week, we got married and had our reception at Doc Fords. From the very first contact with Violet and the staff members, the planning process was a breeze! The day of was just as easy. The food was TO DIE FOR! Violet and Eric went above and beyond to take care of us and our guests. If we could do it all over again, we wouldn't change a single thing.

Thank you Violet, Eric and the rest of the DF staff for making our reception a night to remember!

Caitlin

Married on 02/02/2017

When planning our destination wedding we knew we wanted to have a reception in a unique location. Doc Ford's was an easy decision. Being right on the bay with the marina right there was beautiful and the indoor/outdoor space had so much character we really didn't need to add much decor to make it feel special. Meredith was so amazing to work with, the process could not have been easier! She made sure to take down all of our specific notes and pass them onto her amazing staff so we wouldn't need to worry about a thing. All we had to do was drop off our items and they set everything up for us. Aside from the space and great people to work with the food was insane. All of our guests were blown away by how delicious everything was. Just another perk of having your reception at a restaurant and not a stereotypical banquet space. The night of the reception everything was flawless. Meredith was even there making sure every aspect was taken care of and going well. I could go on forever so bottom line is if you choose Doc Ford's for your special day you won't regret it and all of your guests will be wowed.

Helen K.

Married on 10/29/2016

Having my daughters wedding at Doc Fords was great.The food was delicious and the water view was

beautiful. They got married outside and the reception was inside. Enjoyed everything about it

April

Married on 10/22/2016

We had our wedding at Doc Fords and couldn't be happier! The venue is beautiful (pictures don't do it justice!).
Meredith and the rest of the staff were extremely friendly and made everything so easy for us. Our guests couldn't stop complimenting the food!!! ( or the bartenders!) Highly rrecommended!!

Tevis

Married on 09/17/2016

I would definitely recommend this venue! We had a wedding reception there for my son and his new bride September 2016 with about 50 people and it was the perfect location with great food, drinks and setting. The food was exceptional and they were very flexible with the menu and the prices are reasonable. The party was early evening and were allowed to come in earlier in the day and set-up the tables the way we wanted and bring in our own decorations which made it very personal. We can not say enough about the staff and how accommodating and professional they were. We would highly recommend the Doc House for any occasion and plan on using them again for future milestone events. A big thanks to Meredith and the staff for helping us celebrate this special day!

Michelle A.

Married on 01/01/2016

This place was absolutely AMAZING!!!!! Everything came out perfect and all of our guests commented on how beautiful of a venue it was. We did hors d'oeuvres and everyone absolutely loved the food (stuffed mushrooms were delicious!). They were extremely accommodating and all of the servers did an outstanding job. We are boaters and were able to show up on the boat which really made for a unique entrance! Our Main contact was Meredith through the entire process and she was even there the night of the reception. She made sure that my wife (love calling her that now!) and I were WELL taken care of! If you are considering them for your reception I would look no further..

Sheila

Married on 11/14/2015

I feel so lucky that we chose Doc Ford's as the place to host our wedding! It was perfect from the start of planning all the way to the end of our celebration. I worked mostly with Meredith who was always in contact with me, so helpful with any details I needed or wanted, and there from start to finish on the big day. The entire staff that worked during our wedding and reception were attentive, helpful and friendly to our guests. The food was AMAZING and the set up for the ceremony and reception worked so well. We took beautiful pictures on the dock in front of the party room and then danced the night away! Thank you to Meredith and Doc Ford's for the best night ever!!!!

Doc Ford's Fort Myers Beach's reply:

Thank you so much Shelia and Chuck! Congratulations again! Lots of love and luck for you and your families!!!! We hope to see you all again!!!!

Alexis

Married on 11/07/2015

I had my wedding reception at Doc Fords Fort Myers Beach on November 7, 2015. First of all the location is beautiful since it is right on the water. From the very beginning Corey and Meredith were fast at answering all of my questions and getting back to me and accessible for meeting in person. Then I was blown away by how smooth everything went that day. Everything was set up and ready to go that morning for us. Meredith made sure to have everything done right on time including food being brought out, champagne toast, and cake cutting. She went above and beyond to make sure all of our needs were met. So friendly and professional! She even helped clean everything up at the end of the night!! Such an enjoyable stress free night. I would recommend this venue to anyone, you will not be disappointed.

Doc Ford's Fort Myers Beach's reply:

Thank you so much Alexis!!!!!!!! May years of happiness to you guys!!!

Tom

Married on 10/31/2015

Meredith was absolutely amazing to work with. She was amazing at returning calls and emails. She had the place looking amazing. The view is breathtaking and we could not have asked for a better place to have our reception. The food was delicious. We are from Minnesota, and the food was so amazing we came back two other times to eat besides our reception that week. Would highly recommend to anyone.

Kayleen

Married on 10/15/2015

Seriously, I cant say 1 negative thing about this place. They were incredible. We are from Ohio and originally were just going to have the ceremony in FL however we decided last minute that we wanted to do it all, ceremony and reception, in FL. With being said I inquired to Doc Fords in Late AUG2015, for a wedding that was already planned and happening mid OCT2015. They got right back to me within a matter of hours and worked with me so quickly to get everything set up!! The venue is BEAUTIFUL, right on the bay side, glass windows to see the water. We rented out the whole place, which you get for the entire day. We were able to go set up at 9-10am and guests arrived around 5. We had the venue until midnight and stayed there until the final minute. It was everything I could have wanted. Meredith is who I worked and communicated with and she was there the entire time of the reception making sure everything was going smoothly. Everyone ranted and raved at how wonderful the food was, and it was really reasonable priced. I would totally recommend this venue for ANYONE who is looking to have a wonderful time and not have to worry about much planning on your own because they help out in any and all ways they could.

Katherine

Married on 10/03/2015

Corey and Meredith were amazing! Throughout the planning process, Corey was incredibly responsive and helpful. On the day of the reception, Meredith went out of her way to help us set up all of our personal decorations early. They were very flexible and easy to work with. During the reception they were both very attentive and made sure our evening went off without a hitch. The food was delicious and reasonably priced. The space was warm and inviting. After the reception they even took care of cleaning up our personal decorations so that we didn't have to worry about it. We had a fantastic evening and would highly recommend Doc Ford's for your reception needs.

Lindsey

Married on 07/18/2015

Doc Ford's was amazing. We fully enjoyed our meals that came with tons of flavor and originality. We could not get enough, so we went back once again before leaving Florida.

Joanna

Married on 07/10/2015

I held my rehearsal dinner at Doc Ford's in Fort Myers without having ever been there and it was one of the best choices I made for my entire destination wedding!!!! They have a private room with a covered patio and bay view (there was a yacht sinking across the water from us the night of our party which kept the kids entertained!). The restaurant was on a wait when we arrived but our group was taken directly to our room with no waiting. The bar service was impeccable, and the food was fantastic! The prime rib was outstanding! We spent 5 days in Fort Myers and Doc Ford's was the best meal we had the entire trip! And I thought the party pricing with alcohol was a great deal before we got there, after we had our first bite of crab cake we knew that we had made the best choice! Meredith went above and beyond to make this dinner awesome!

Ann

Married on 02/07/2015

I couldn't be more proud to have made the decision to work with Doc Ford's in planning our celebration after our wedding ceremony. First of all, Corey was amazing to work with from the very beginning of scouting the venue through to the end of the party where he handed me my last beverage at the bar. Second of all, the location couldn't have been any more perfect. I didn't have to do any decorating of the venue because the views were all there thanks to being right on the water. They provided all linens and even some nice center pieces!<-big money saver! It was great to have both the inside of the venue and the outside deck- a place for everyone. They also accommodated our live band (Deb and the Dynamics) which was a big selling point. Third point of course was the food and drink - talk about unique, delicious, and flexible. We opted to create our own menu of food stations which worked with our budget - only paying for the amount of food we wanted, not per head. Also, we had a completely stocked bar at our disposal with a $ limit that we controlled day of! Yes, our guests drank like fish and reached our limit not even halfway through, but we were allowed to make the decision to keep the bar open and keep on partying! I can go on and on but here is a bullet breakdown of key selling features:
-Friendly Management
-price!
-unique food options/fully stocked bar (did I mention draft beer?)
-indoor/outdoor space right on the water! (IDEAL for afternoon parties)
-easy to be either casual or formal!
You can't go wrong with this venue. :)

Alicia

Married on 11/08/2014

Such a BEAUTIFUL place for a rehearsal dinner. They were timely and the food was awesome. Affordable prices. They even sent me flowers the week after as a thank you. I thought that was pretty special to go the extra mile. Thanks guys!!
Are you interested?
Send a message