34 Reviews
Recommended by 100% of couples
Quality of service

5 out of 5 rating

Average response time

5 out of 5 rating

Professionalism

5 out of 5 rating

Value

5 out of 5 rating

Flexibility

5 out of 5 rating
5 User photos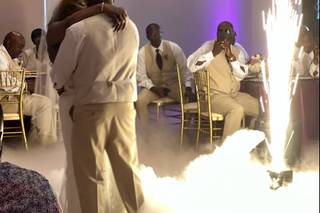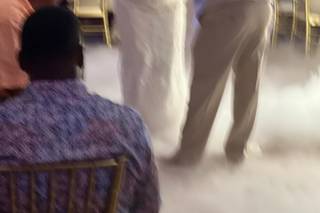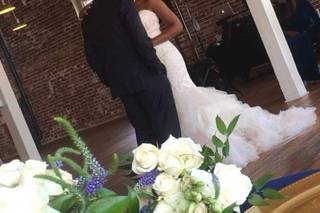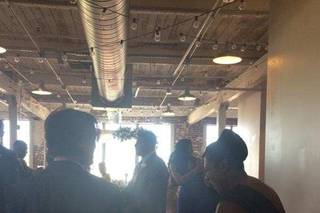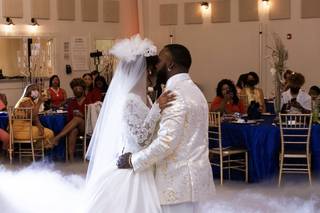 Tonya H.

Married on 06/18/2022

Best dj ever!

DJ is professional and is attentive to his clients needs and wants. DJ Zoom has all the effects to make your day extra special and memorable. He knows how to get the crowd rocking based on the ambience of any event. I've had several people tell me they couldn't sit down at our wedding reception because DJ Zoom kept them on their feet! Don't hesitate, go ahead and book him! You won't be disappointed!

Crystal E.

Married on 05/15/2022

Jones 2022

Dj Zoom was the absolute best!

Sherra C.

Married on 05/05/2022

Five Star DJ

DJ Zoom was amazing to work with and made our experience so enjoyable. The dance floor was full all night!!!

Are you interested?

Send a message

Novel H.

Married on 04/24/2022

The Best DJ

DJ Zoom, doesn't JUST DJ he provides an experience...He was able to keep my events flowing and bodies moving!!! Highly Recommend

Foluke G.

Married on 02/02/2022

Great Experience

DJ Zoom did a wonderful job ensuring our wedding guests had a great time dancing! He was on point for all of the special moments of the night and made sure the vibe was good.

Lucy O.

Married on 01/15/2022

Greatest Party Ever!!

DJ Zoom is the guy for you if you want to have the party of a lifetime. He not only is extremely responsive but also has perfect timing when it comes to switching into a new song. He was able to accommodate all of our requests while
Also making sure each guest had a song they adored. We absolutely loved having him perform both out ceremony music and reception!

Stacy S.

Married on 10/24/2021

Stuckey-Vaughn Wedding 10/24/2021

Our experience with DJ Zoom and Ben The MC was incredible. He truly made the music planning stress-free, and his attention to detail was outstanding! My daughter's wedding day was perfect. He was very accommodating to all our requests. His skills as a DJ are impressive, and he seamlessly plays off the party's vibe as to how he will make his next move and song selection. Ben is definitely "The Hype MC!" Our guests raved about their experience on the dance floor. Highly recommend! Thank You for everything, DJ Zoom and Ben The MC....

Brittanye

Married on 10/17/2021

Absolutely Amazing!!

Dj Zoom keep the dance floor packed. He did great with reading the crowd as far as keeping everyone up on their feet and enjoying their self. He was really professional with our meetings and was easy to reach when anything changed. His pricing is great as well. His up lights add a nice touch to our first dance floor.

Loyce S.

Married on 07/05/2021

Hiring DJ Zoom Is A MUST For ANY Event!

DJ Zoom knows how to take every event to the next level. One of his strengths as a DJ is knowing when to play the right song at the right time. As a planner, I've worked on countless events with him over the years. The one thing that makes them all the same, is that people NEVER sit down when Zoom is the DJ. He's passionate about what he does, and it shows in his work. My clients LOVE him!!

Tova W.

Married on 01/15/2021

Wedding DJ

DJ Zoom is an excellent DJ. I use him for all of my events. You will not be disappointed! He engages the crowd and gives you an experience to remember.

Brittany A.

Married on 10/17/2020

Best DJ Hands Down!

DJ Zoom was absolutely amazing! He truly cares about what he does and has created a very unique and creative platform to allow his clients to choose exactly what they want to play at their special event. He was very fun and energetic toward the wedding guests and his professionalism was indeed incredible that it spoke volumes! If you're looking for a DJ that truly loves what he does, yet does it in a very unique and professional way, DJ Zoom is that person! You will not be disappointed!!

Meghan P.

Married on 10/03/2020

Amazing DJ

DJ Zoom was amazing!!! Hands down! He had old and young on my dance floor..I was really scared nobody would dance...BUT he made sure everybody was on that floor! He even came and busted a few moves on the floor. We loved it! We really needed his light hearted Djing skills because with COVID going on it was a lot of things we weren't able to do.. I still get comments on my DJ saying how fun of a time they had... He also dress really professional. I'm so happy my wedding planner recommended him they worked really well together and made announcements accordingly.. We will be using him again!!!

Best DJ no doubt

There is no DJ like DJ Zoom. COVID has changed the look of weddings for 2020 but it didn't change our Dj. DJ Zoom is quick under pressure and worked with our last minute changes seamlessly. Lastly , when someone enjoys their work they craft it in a way you won't forget their name. DJ Zoom is it!

Sharice C.

Married on 06/26/2020

Phenomenal

DJ Zoom went above and beyond the duties of a DJ by helping us with our slideshow issues during rehearsal, creating a warm and fun reception vibe, and by helping us capture a special moment that I hadn't even thought about. He convinced us to do a private dance after all our guests were gone and it was the best moment of the night for me. With everything going on in the world over the last few months my family needed a fun atmosphere to forget about things for at least one night and he made that possible for us. You won't go wrong when selecting him for your event, I would gladly do it all over again!!!

Candace S.

Married on 05/23/2020

Awesome DJ

DJ zoom is very professional, super flexible and is excellent at what he does ! You will never leave the dance floor !

Clarita T.

Married on 03/01/2020

This DJ was top notch!!

DJ Zoom was very professional at my wedding. When I met with him to go over the details, he was able to give me some insight on different songs that I could use for the wedding and the reception. He played music that all my guest could enjoy, from old to young. He really knows how to keep the party going. I still get compliments on how great the dj was. I will definitely be using him again for corporate and family functions.

Myosha M.

Married on 10/13/2019

A true professional

I was VERY pleased with DJ Zoom from the beginning to the end! He was really down to earth and was open to all of my crazy ideas. I was really impressed with his professionalism and how attentive he was to my wants. I'd like to think my planning was the reason my reception was perfect, but it was all because of Zoom. I had the PERFECT wedding reception!!! His playlist was everything and more! Even my 87 yr old grandma was on the dance floor. All of my guest are still talking about how they enjoyed themselves and how "live" my DJ was. This is the ONE & ONLY DJ you should be considering for any and all of your functions!

Harlynn W.

Married on 06/22/2019

Amazing DJ for Our Multi Generational & Diverse Wedding/ Reception

My husband and I knew we partnered with the best DJ for our wedding from the moment we met with DJ Zoom. He was determined to understand our wishes and vibe. The questionnaire he provided really helped us narrow down our musical choices. The music for our ceremony was a perfect backdrop but the reception was fire! We had guests as young as 8 years old up to our elders in their 70's. Everyone was up and dancing! It was wonderful to see our family and friends having a wonderful time. Thank you for providing a wonderful soundtrack to the start of our marriage journey!

K. Harris

Married on 04/26/2019

THE absolute best DJ!!

DJ Zoom has been the center of each of my events, including my family's birthday parties, graduation parties, Sweet 16, prom, house parties, retirement party, and even my wedding reception! His level of professionalism, music versatility, attention to preferred details, and engagement with the audience (regardless of age) are second to none! He even mastered the art of pleasing the students (various genres of music) at my daughter's Christian private school's prom!! I highly recommend DJ Zoom!

Keara

Married on 10/07/2018

Amazing Wedding DJ

DJ Zoom was an amazing DJ at my wedding. He played all my favorite songs!

Chris J.

Married on 08/11/2018

DJ Zoom Knows How to Throw a Party!

DJ Zoom did an excellent job at our wedding. He connected with us plenty of time in advance of our big day and ensured us that we would have a great time. He is a man of his word - our wedding reception was awesome! We still have friends and family talking about how much fun they had at the wedding reception. #DJZoom

Shenita

Married on 06/16/2018

A Southern Classic Love Story

DJ Zoom was absolute Awesome!!! He was on time, very professional and most of all on point. He knew exactly how to move our crowd. He had my guest not wanting to leave. I was in wow the whole time. He actually played our music during our ceremony as well. We had no mistakes and the price was good as well. I feel like he went over and beyond.

Jhamal S.

Married on 04/28/2018

Swift wedding

DJ Zoom did a wonderful job. He consulted us in advance concerning our song selections. He also filled out the selections to keep the vibe we desired. He was prompt and organized. Again, He did a fantastic job and we have recommended him to other couples.

Aurelia

Married on 11/10/2017

Amazing DJ

DJ Zoom is extremely responsive and attentive to the crowd. He can read a room so well and give the people exactly what they didn't know that wanted. Working with him was a breeze demon beginning to end!

Tdickens

Married on 10/01/2017

Professional, helpful, courteous

I married on 10/01/2017, although DJ Zoom had booked a prior engagement, his referral to another DJ proved to be a success. DJ Zoom was extremely helpful and made sure our wedding woes were rectified prior to our event. His professionalism and experience was evident throughout.
Are you interested?
Send a message