65 Reviews
Recommended by 100% of couples
Quality of service

5 out of 5 rating

Average response time

5 out of 5 rating

Professionalism

5 out of 5 rating

Value

5 out of 5 rating

Flexibility

5 out of 5 rating
12 User photos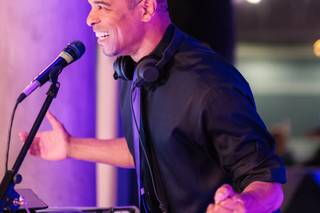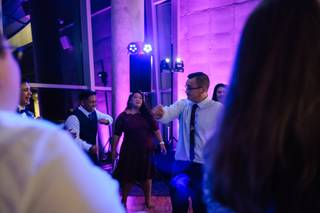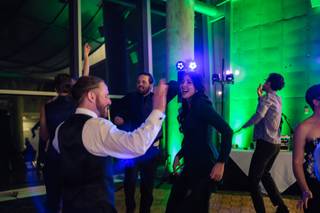 + 8

photos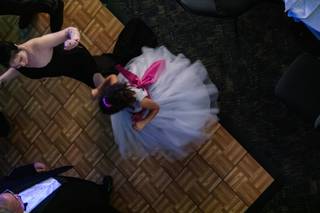 Rachel A.

Married on 10/08/2022

Absolutely fantastic

DJ Drake was absolutely fantastic. Our guests raved all night about how great the music was! He kept our guests entertained from cocktail hour through the end of the night and kept the night interactive. 10/10 would recommend hiring him for your event.

Christina D.

Married on 10/02/2022

Hire this man.

Drake was the best DJ I could have ever imagined for our wedding, and I'm absolutely not the only one who thought so. Throughout the night, guests kept coming up to me telling me "Christina I love your dress, and OMG that DJ is FANTASTIC." I'm not exaggerating. That's the second thing they said to me. Multiple times.

He totally embraced our wedding theme in music AND in his outfit choice and was quick on the sound effects during the toasts -- saving everyone from some awkward comments and turning them into moments of joy for everyone in attendance. Working with him leading up to the day was a delight. He was competent and on top of everything while still 100% calm/chill. He didn't even let my and my officiant's often wordy emails changing the game plan throw him off at all, and he delivered the best musical and energetic night I could have ever imagined.

If you hire him, you'll feel listened to throughout every step of the planning process. And! During the celebration itself? You'll be able to bask in the love you have for your partner and actually enjoy your friggin' party! And, trust me, after all that planning? You deserve to enjoy your friggin' party.

+ 3

photos

K.s.

Married on 10/02/2022

✨✨ Total Amaze ✨✨

Drake threw us the most epic dance party! He is a total delight to work with—kind; professional; an absolute wizard with DJ'ing, MC'ing and getting the dance floor going; and a joy to communicate with. He has a fantastic sense of humor, a virtuosic sense of flow and timing, an incredible way of conjuring the just-right song at the just-right time, and he even showed up to our star/space-themed event wearing a shirt with the cut-out image of a Star Wars Storm Trooper mask. In floral. CAN SOMEONE GET ANY COOLER. (I think not.) Thank you so much, Drake! You're amazing! 🙌

Are you interested?

Send a message

Amanda M.

Married on 09/24/2022

Couldn't have asked for a better DJ

Drake was amazing. We loved his energy and flexibility in adjusting to changes on the fly during our event and still managed to get all the fun little activities that we sent in our schedule. I highly recommend Drake if you're looking for a bomb wedding DJ.

It was such a pleasure working with you. Thank you so much ❤️

Jessica B.

Married on 09/17/2022

Best Decision I Made!

DJ Drake through an epic party for our special day!! My husband and I did not leave the dance floor all night. People are still raving that it was one of the best weddings they'd been to, and we give DJ Drake a lot of credit here!

He was so professional and easy to work with. Do not hesitate to book him for your wedding!

Alix M.

Married on 03/11/2022

Best DJ in Town

From the very first phone call all the way through the end of our wedding Drake was professional, friendly, knowledgable, energetic, and fun. He was so helpful throughout the planning process, always prompt with his responses, and provided several tools to make planning the music simple and fun. We received so many compliments on Drake's energy and professionalism from our guests. 10/10 would recommend or hire him again.

Paige B.

Married on 02/13/2022

Book dj drake now

I truly cannot say enough good things about DJ Drake. He felt like a friend we had known for years rather than someone we had just met. He had a great mix of music (not the same thing you hear at every single wedding you've ever attended) and did an amazing job of incorporating relevant songs to the situation on the fly. Our wedding absolutely would not have been the party it turned out to be had we not booked DJ Drake.

Carly W.

Married on 01/08/2022

Amazing DJ

DJ Drake was absolutely amazing. Before our wedding, he took the time to get to know us and what we wanted for our music. He was so easy to communicate with. Day of, he was an absolute professional, and his music was out of this world. He was so fun and upbeat. I would recommend him to everyone that wants the best music, and DJ skills, for their wedding.

Tyler K.

Married on 08/28/2021

Bangers.gov

Drake was excellent!

He really made our day special. Played the tunes we wanted, even throwing in a few itsy bitsy spiders for the kids while dinner was going. Hire this man.

Kate J.

Married on 08/21/2021

The absolute best

I seriously cannot say enough good things about DJ Drake. Not only is he incredibly kind and easy to work with, but he made sure that our wedding was the party we wanted it to be, including the 2000s emo cocktail hour playlist of our dreams. He kept the party going on the dance floor the entire night. I had multiple guests come up to me and tell me how amazing our DJ was and what a blast they were having. We told him ahead of the wedding that we just wanted it to be a really fun party, and he delivered exactly that. Beyond that, he was a great MC for the night and kept us on track. I cannot recommend DJ Drake enough - I would hire him one million times over!

Jordan B.

Married on 06/19/2021

It's all about the Tempo

We had a smaller wedding (less than 90 people) and I was kind of nervous about lack of participation and energy on the dance floor. All of my worries were erased when DJ Drake kept the perfect tempo and engagement from start to finish. He even helped us arrange the bar and photo booth in a strategic way in order to keep the flow of guests around the dance floor (something we would have never thought of). On top of that he listened to our musical tastes to tailor his mix, was perfect on the mic introducing wedding party and queuing speeches, and kept the party going until the venue shut us down. What more can you ask for?

Alicia R.

Married on 05/23/2021

Best Wedding DJ!

DJ Drake was so great to work with, especially during COVID when we had to postpone our wedding from August 2020. Drake took all of our song requests, but he also does custom remixes of songs- which is super unique for a wedding DJ. DJ Drake was so personable and sparked the life of the party. We had the best/most fun dance party that night. All of our guests raved about how great the music was. I've been to many weddings, and this was by far the best DJ I've experienced... and I'm not being biased because it was my wedding lol! Thank you, Drake!

Zoë S.

Married on 07/25/2020

Best Wedding DJ Ever!

Drake DJed our wedding and he was fantastic!!! Very adaptable, read the dance floor well, and kept everyone dancing until the end of the night! I was shocked when the night was over because it flew by so fast with Drake's music! Highly highly recommend Drake for anyone who wants an excellent dance party.

Molly O.

Married on 06/05/2020

The best dance party!

We loved working with Drake for our wedding. We had a few calls with Drake leading up to our wedding so we could discuss our song preferences, timeline, special requests, flow of the party, etc. Drake did not disappoint! He took all of our requests to heart and was so pleasant to work with. He played great music all night, accommodated our music style/requests, and read the crowd very well. We definitely would not have had such an amazing party without Drake's music and energy! Thank you, Drake!

Ashley N.

Married on 09/11/2019

Red Rocks Wedding

DJ Drake saved the day after our previous DJ plans through our venue fell through. He corresponded very quickly to create our invoice and playlist. Everyone loved him, and he threw a great dance party!

Lindsay P.

Married on 09/01/2019

Best Wedding DJ

From the beginning, Drake was so easy to work with. He responded to emails, set up a phone conversation, and gave us helpful tips and some insider information on our venue to help us plan a dream wedding dance party! When the night came, he kept the party going with songs that the crowd loved, and even went an extra hour due to popular demand! Thank you Drake for being so awesome from start to finish! We would do it all again!

Kelsey

Married on 08/10/2019

Best DJ of all time

Drake came so highly recommended through our wedding planner, Cherry Bomb Events, that we didn't even have to meet with Drake before we hired him! And we couldn't have had a better experience with him. Drake is so professional and responsive (even when he just had a newborn baby!) but he also is genuinely interested in music and it is contagious. We got endless compliments about how fantastic a job that he did, people were dancing all night long! He was super accommodating and had all the equipment that we needed from extra speakers to microphones for our officiant. We also added the set of 8 uplights at the last minute and they were SO WORTH IT! Everything just glowed, he did such a great job using the lights to enhance every part of the wedding, from the ceremony, dinner, dancing and send off! I would recommend Drake 1000 times over, he was just the best to work with.

Laura F.

Married on 07/12/2019

DJ Drake makes the dance floor happen!

I have nothing but great things to say about DJ Drake. From the beginning he was organized and pinpointed what exactly I was hoping for. He helped explain my questions about different music for different parts of the night. When it came to the dance floor DJ Drake really knew how to play to the crowd. He played a variety of music to please everyone (parents/aunts/uncles/family/friends) and get them dancing. We have gotten so many compliments from our guests about how great the dance floor and DJ Drake was! It seriously was the best night of dancing I have ever had!

Katie W.

Married on 07/05/2019

Fantastic!!!!

Dj Drake went above and beyond for our wedding. We had an outside wedding in the summer with a tent. We had a LOT of bad weather come through- lots of rain, and then hurricane like winds. He kept the party alive and having fun the whole time!! One of my favorite parts was while the rain was getting TERRIBLE he cranked up "Africa" by Toto. It made the party. Shortly after that we lost all power due to wind. He and a team of a few others got everything back up and running and kept the party dancing all night. Someone from our family said they think Drake helped saved the wedding!! His pick of songs and excellent DJ skills kept the fun spirit of the wedding throughout the whole night despite the terrible weather!

Thank you for all your help and if you are thinking of hiring DJ Drake make sure you do!!!

Noelle N.

Married on 06/28/2019

There's a Reason He's #1!

He rocked our reception! We received so many compliments on DJ Drake, and he was the person referred by all our other vendors. Drake read the crowd, and made sure to work in our requests. We wanted a dance party, and he delivered! Lighting and sound were perfect without being over the top or too loud.

Alese M.

Married on 06/01/2019

Best dj ever, everyone had a blast!

All I can say is: EVERYONE AT OUR WEDDING DANCED! Like, even my 85 y/o grandma was bumpin' on the dance floor. When I booked DJ Drake, I knew he was professional, friendly, flexible, and had a great taste in music. But I was a little worried that our people (my now husband included) aren't the biggest dancers or the few songs I has chosen wouldn't make people want to dance. DJ Drake has an excellent crowd sense and somehow made our entire wedding a freaking blast. I couldn't have been more thrilled at the end of the night. Drake was a great MC as well, and he was incredibly organized pre-wedding. He made sure that we mutually planned out the schedule of the entire night, including all announcements, etc. 12/10 would recommend him for any wedding or event!!!

Kevin S.

Married on 03/29/2019

Excellent DJ, highly recommended!

DJ Drake was fantastic! He worked with us from the very beginning and played a significant role in making our wedding day feel special. We highly recommend him!

Julia

Married on 02/16/2019

Drake kept the party dancing for hours!

We loved working with Drake - he is such a down-to-earth, friendly person and is SO good at what he does. We had a non-traditional wedding and wanted more than anything to have an all-night dance party celebrating with all of our friends and family. Drake had everyone on the dance floor for, no joke, 4.5 hours. He was very accommodating with the type of music that we wanted to hear, and we had so much fun! He is also super knowledgeable with weddings in general and had great input throughout the planning process, and he was even involved in our venue walkthrough! Prior to choosing our venue we had our hearts set on a live band, and were very disappointed when we found out that the venue did not allow live bands - Drake made us SO excited all over again after meeting him, and assured us that he would be able to create a playlist that would keep our guests on the dance floor and keep us grooving all night. We can't recommend Drake enough!

Rachel

Married on 08/25/2018

DJ Drake was AWESOME. He kept our dance floor full all night and was super attentive and responsive when I made a couple of suggested requests. He mainly ignored our must-play list and went with the flow and vibe of the room, which was perfect until I wanted to hear some 00s pop, and then he played it for me. The grandparents and parents were out there dancing along with all the young guests, and it was AMAZING to see grandma and grandpa dancing alongside our best friends. Everyone had a great time and kept complimenting us on our awesome DJ. I would recommend DJ Drake to anyone looking for a DJ for any event. He is great at reading the room, didn't overuse the mic/take up time to talk himself when it wasn't necessary, and our dance floor was packed.

A couple of the other DJs we talked to tried to convince us to get uplighting and were going to charge an arm and a leg. One DJ we talked to had more to say about uplighting than he did DJing. I never felt pressure from DJ Drake, and we did end up doing the uplighting, and it was SO additive to the venue. It made the space warm and elegant and was subtle (not hot pink/purple like a lot of weddings I've been to) and just fab.

My ONLY quibble is that we had tried to work out with him and the venue in advance whether he would need an ipod or laptop for our cocktail hour and whether or not he could just plug and play, and it was painful to get an answer out of him or the venue owners. In the end, he assured us the ipod/iphone would be great, so we loaded our playlist and then he didn't have the correct adaptor. It ended up raining and we moved inside, where he was all set up to play for the night and made up a cocktail list on the fly that was perfect and honestly better than what we had compiled, so it all worked out but I wish he had addressed this issue when we asked as we could have purchased the right cord and brought it with us.


Adam

Married on 07/27/2018

DJ Drake was phenomenal. We asked him to be the DJ for our wedding, and my wife and I could not have been happier. From our first meeting, Drake was professional, friendly, knowledgeable, and had great suggestions for our wedding day timeline, almost all of which we adopted. Drake DJ'ed a fun, customized dance-party at our wedding reception where he read the crowd, adjusted music, took requests, and never missed a beat. He even brought in his new wireless, multicolor lights which greatly enhanced the atmosphere of the party. Drake was fun, energetic, played great music, and I would highly recommend him to anyone looking for a DJ for any occasion, not just a wedding.
Are you interested?
Send a message