37 Reviews
Recommended by 98% of couples
Quality of service

4.9 out of 5 rating

Average response time

5 out of 5 rating

Professionalism

4.9 out of 5 rating

Value

4.8 out of 5 rating

Flexibility

4.8 out of 5 rating
Awards
12 User photos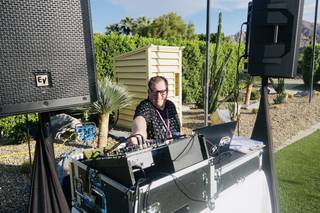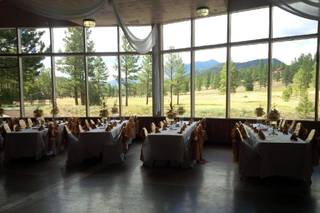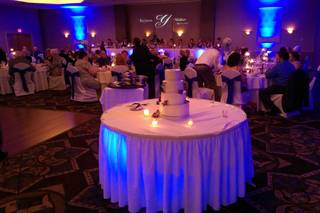 + 8

photos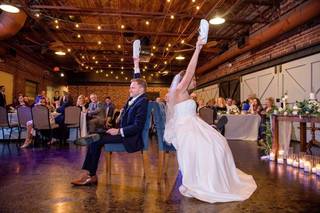 Karoline H.

Married on 10/18/2022

Provided the BEST Experience

Daniel was absolutely amazing to work with! He did an outstanding job DJing at our wedding and providing a variety of music that my husband and I both love. He is very attentive and knowledgeable with his craft. I highly recommend booking with him as he made our reception the best!!

DJ Daniel Mobile Wedding & Event MC/Disc Jockey's reply:

Congrats again to you and Kent on your wedding at the Westin Hotel :) It was an honor to DJ for you :) Sincerely, DJ Daniel

Shayla M.

Married on 10/07/2022

Fall 2022 Wedding Success!

We hosted a wedding reception at our favorite upscale Desert Resort where it was a scenic outdoor ceremony/indoor ballroom reception. We had some "music requirements", no line dances, no country and no slow songs as we wanted our party to move forward with the "adults 25-35 vibe" we wanted. We have been to so many weddings lately with "cookie cutter" DJs playing just YMCA, Kool and The Gang Celebration and Line Dances early in the night(in that same order yuck). We abhor "cheesy" wedding music like "the Chicken Dance" and DJ Daniel respected not just our "do not play list", he got the dance floor rocking using MUSIC to OUR Taste & Vibe that was perfect for our crowd. A successful night and the music and made it flow to our taste. Thanks again DJ Daniel.

Carol C.

Married on 08/09/2022

The Best of DJ's in the Area

Daniel's personality made our evening of fun, with his quick wit, professionalism, incorporated a great list of music that we liked/preferred, timing was perfect for our dance, and he was willing to assist to make the evening flow. I would recommend Daniel DJ to any future bride because he takes the worry out of the process, helps with suggestions, also has a variety of colored lights to go with the color scheme.

DJ Daniel Mobile Wedding & Event MC/Disc Jockey's reply:

Congrats again to Caroll and Carol! It was an honor to be part of your celebration. Thanks again :) Sincerely, DJ Daniel ( I DJ most anywhere no matter how far if you need me in person for your special event) :)

Are you interested?

Send a message

Thomas C.

Married on 06/11/2022

We got married with a fun 100% outdoor ceremony & reception

Thanks DJ Daniel for being so flexible with the weather and "bringing covers/black classy to cover your gear" and spin music even with rain for 30 minutes! We had a "Weather glitch" for 30 minutes only and our officiant needed to get it done before departing another wedding so we "Did our ceremony" in the rain and DJ Daniel was a flexible pure pro and spun music even with sprinkles. Thank goodness ceremony was 4pm and then at 430pm THE SUN came out From the moment we talked on the phone and then emailed(8 months before our wedding) pre booking to "at end of our wedding sparkler send off" he reflected our DJ vision for our wedding every step of the day!

DJ Daniel Mobile Wedding & Event MC/Disc Jockey's reply:

Thx again for hiring me as your DJ :) Im so glad we had a fun 100% outdoor heartfelt wedding ceremony and reception :) DJ Daniel

Susan S.

Married on 06/01/2022

Loved our Wedding DJ! Thanks DJ Daniel

DJ Daniel was perfect for our recent wedding. He was a great DJ & played music we loved, kept the party going, and managed guest requests well. On top of being a great DJ, he was the most organized vendor we worked with for our whole wedding. DJ Daniel collaborated with our band, photographer, videographer, and venue. He even checked in with our moms to make sure they were having a good time! Best wedding DJ! We liked him so much we are going to have him DJ our "Corporate Holiday Party" for 300 people this year on his larger system

DJ Daniel Mobile Wedding & Event MC/Disc Jockey's reply:

Susan, congrats again on your June 2022 wedding! It was an honor to be a small part of your "Big day" thx again. Regards, DJ Daniel

Molly P.

Married on 04/15/2022

Great music from our "off the grid" outdoor ceremony to indoor dinner/dance!

Our Ceremony was outdoors(and no outlets for electicral near). DJ Daniel set up an "off the grid" battery powered audio system with microphone and music perfect for our cermony. When it came to planning our receptoin songs, he does a great job of getting to know the couple, and really making the reception reflect them. Neither of us are huge dancers, and a lot of the music we typically listen to isn't really music for dancing at a wedding. Thank you DJ Daniel for playing great songs that were interactive and danceable for our guests.

DJ Daniel Mobile Wedding & Event MC/Disc Jockey's reply:

Molly, it was an honor to DJ your wedding ceremony and dinner/reception :) I'm so glad we played music to your taste and that you and your guests both had a great time. Sincerely, DJ Daniel

Caitlin

Married on 02/09/2022

Great music, super organized and FUN FUN!

Great music, super organized and FUN FUN! We had DJ Daniel in late 2020 do our "outdoor fun" wedding we had planned early in 2020!

Alicia T.

Married on 12/11/2021

Wedding Day Success

Wedding Day Success! Several Online forums we read when pre-planning our wedding said "not to skimp" on DJ service for a great Wedding. They were correct! DJ Daniel made our wedding such an incredible success. From the date we inquired about booking, t and from our ceremony to our dinner and reception, the service, professionalism, taking requests of songs that our guests including parents wanted to dance to and personal care was impeccable! Thank you for helping to make our wedding the most memorable and special day of our lives!

DJ Daniel Mobile Wedding & Event MC/Disc Jockey's reply:

Thanks for not skimping on your music entertainment and putting your DJ trust in me for a great DJ Wedding Event . Sincerely, DJ Daniel

Matthew P.

Married on 12/03/2021

Easy to work with, great service, great value, awesome music selection

Daniel was very responsive to all messages was very thorough and understanding our needs and did an overall outstanding job. Daniel is a very personable and friendly guy and his services are extremely professional. We now have our DJ anytime we need one.

DJ Daniel Mobile Wedding & Event MC/Disc Jockey's reply:

Matthew, its was an honor to DJ your December 2021 Corporate Event! I'm glad everyone got a chance to dance and I look forward to seeing you and your colleagues again to DJ your Annual Event :) DJ Daniel

Matthew P.

Married on 12/02/2021

Great Music, Great DJ!

Now we know what DJ service to recommend to our friends and family needing quality music and a great fun easy to work with DJ! Thanks DJ Daniel for a great night!

Jack H.

Married on 11/12/2021

Fantastic Professional DJ

Just because you can hook Spotify to a PA system doesn't make you a professional DJ. Sadly, too many people think it is.

Daniel - on the other hand - is an absolute pro. From the first contact via phone to the moment I shook his hand at the end of the reception, he was an absolutely pleasure to work with. He understood exactly what we wanted in terms of both music and "Master of Ceremonies" duties, and he delivered!

He has perfected the process. If I ever need a DJ for any reason, he would be my first choice. Highly recommended.

DJ Daniel Mobile Wedding & Event MC/Disc Jockey's reply:

Jack & DeLawn, it was a huge honor to DJ/MC your big day at your gorgeous "On Private Property" 100% outdoor Wedding Reception with all of your friends and family. I'm so glad I picked the right songs to "get your crowd in the mood for dinner/party/dancing" as you two entered your Outdoor Reception at sunset o :) Thanks again to you two, your friends and family for great song requests and for having me part of your heartfelt and successful fun wedding reception where everyone were able to dance to their favorite songs.

Stephanie M.

Married on 10/30/2021

Awesome dj

DJ Daniel is so much fun and was very well in tuned with our guests. As a Coordinator he was absolutely the BEST to work with. He and his staff were on time and helped me make sure the wedding was 100% AWESOME. Any couple looking for a great DJ should contact DJ Daniel and BOOK him. You will not be disappointed!

DJ Daniel Mobile Wedding & Event MC/Disc Jockey's reply:

Stephanie, thanks reviewing me as a "fellow Wedding Vendor" for htis October 2021 Wedding! Thanks to you also for being an awesome "Wedding Coordinator/Planner". Stephanie, You and YOUR "day of coordinator/decor staff" at So Cal's "Sophisticated Events" did best job ever turning the "blank canvas" of a private friend owned acreage property in the Historic area of Palm Springs into a Wedding Wonderland! Also, Stephanie and her staff were there to help me line up bride and groom for everything from "Ceremony Marches" to "grand entrance" of the wedding party which helped me immensely in delivering "Great Music" that kept the dance floor packed for a great couple and 100+ guests on the outdoor dance floor under my colored lights and the desert stars! Wedding Success for a happy couple and family and their friends! Thanks again! Sincerely, DJ Daniel



Featured

Jacquelene

Married on 09/25/2021

Literally found him the day before our Wedding because our previous DJ had to cancel due to covid.

We are so thankful to DJ Daniel for being available so last minute. We found him the day before our wedding on Sept. 24, because our previous DJ caught covid. DJ Daniel was so helpful, nice, kind, accommodating, played really good music, and brought the colored lights to make the dancing and atmosphere more fun. Everyone was on the dance floor, which is what I wanted. We really appreciate you for coming to our rescue. We will always recommend DJ Daniel.

DJ Daniel Mobile Wedding & Event MC/Disc Jockey's reply:

Jacquelene, it was a whirlwind to book to DJ your wedding for you and Husband Duffy Friday at 7am, and then drive over 3 hours to your big day with the waterfront views at Hilton and work with your wedding planner and Hilton Catering staff ! BIG SUCCESS in 24 hours :) wow! It was an honor and whether booked 1 year, 1 month or 1 day in advance I give it my all for every wedding every weekend :) Sincerely, DJ Daniel 480-234-3181

Paul

Married on 09/03/2021

Great experience all around. Perfect fit.

DJ Daniel did a great job. Has done it before so much that wedding coordinator and him got along great. He worked seamless and with all the planning it was nice to not have to think about things once ceremony ended. Great music selection and great job with the pre-setting up activities as well. Perfect fit for what we needed. For sure recommend DJ Daniel.

DJ Daniel Mobile Wedding & Event MC/Disc Jockey's reply:

Paul, thanks again for having me be a part of your GORGEOUS "Wickenburg AZ" 2021 wedding with heartfelt live guitar during ceremony AND great Nebraska people :) DJ Daniel

Dean S.

Married on 06/05/2021

Small Wedding

DJ Daniel provided music and microphones for our ceremony and reception and I can't say enough good things about him. The Indoor Reception was away from the outdoor ceremony and since he brought 2 systems, he had both locations all set up with a very smooth transition. He literally did not miss a beat and kept the flow of the party going the whole time. He was prompt, professional, organized, and went out of his way to make our big day special. His music selection was immense and his music background made him made him a great advisor. His pre-wedding checklist had every base covered and we thrilled we chose him.

DJ Daniel Mobile Wedding & Event MC/Disc Jockey's reply:

Thanks again for having me DJ/MC your big day with music to your taste :) I'm so glad we were able to have your scenic outdoor 30 minute ceremony combined with an fun indoor dinner/dance for your Wedding :) DJ Daniel

Jenna W.

Married on 12/11/2019

DJ Daniel is our go to vendor for Corporate Resort Ballroom Gatherings

We have hired DJ Daniel for 3 years running for our annual 200 guest holiday party at a local Phoenix Resort where he plays holiday favorites that are both modern and classic(and some classic songs with newer singers instead of the bing crosby/rudolph the red nosed reindeer typical predictable holiday music! WOW ) The Resort we were at provides a simple "podium/cable microphone" for our Association officers to speak/do awards, but our Association President likes speaking across stage on wireless mic which DJ Daniel provided with his audio setup. He even set up a Flat Panel VideoMonitor on a 9 foot high stand visible throughout the night to all 25 feet from his DJ Audio on stage that was used for a "Pictures Only Slideshow" that ran auto run repeating screens every 3 seconds. We can't wait to have him DJ our golf tourney in the spring at the saem resort and then have a fun easy to work with vendor at next year's holiday party!

DJ Daniel Mobile Wedding & Event MC/Disc Jockey's reply:

Thanks for hiring me over the years for your corporate holiday event! Can't wait to see you and your cohorts as I DJ the next one in December 2021 :) See you soon :) DJ D

Bre G.

Married on 10/11/2019

DJ Daniel was awesome

We loved his fun energy and great music! He made sure to have all of our special songs and the correct versions-great attention to detail!

Nicole E.

Married on 08/24/2019

The best dj

We all had such a great time. Dj Daniel was able to get every single person dancing , including the teenagers who are too cool for that. Daniel kept in contact before the wedding to ensure we got all the best jams. I highly recommend!!!

Karlee H.

Married on 05/17/2019

Everything Expected

Everything I wanted and more!!

Nimat D.

Married on 04/06/2019

Best wedding ever!!!

If you need an energetic DJ that cares about you and your event look no further. Qe booked DJ Daniel and got much more then a DJ. He hooked us up with a violinist and guitarist for our ceremony and cocktail hour. And he took over for reception. He had the party going from start to finish and was even on the dance floor himself. He helped in every step of the planning and was so helpful and quickly responsive on any questions throughout planning. I highly recommend DJ Daniel for your event!!

OMG! DJ Daniel was the best at our Fall 2017 Wedding. He took the time to know us as couple even BEFORE the big day, he surveyed our music tastes, played all our requests and all danced and had a great time :) Thanks DJ Daniel

Amybrhodes@Msn.com

Married on 10/06/2018

Excellent Service

Great experience, great songs, super friendly!

Ryan

Married on 09/29/2018

DJ Daniel was awesome. He was very professional, friendly and our special day was just as we wanted it to be. I highly recommend him for any DJ services you need.

Ryan Pearce DVM

Karen

Event on: 07/20/2018

HIGHLY recommend DJ Daniel! He DJ'd my 50th birthday party last night...and I was extremely happy that I found him. He listened to my concerns, took requests graciously and was on time and very professional. I will definitely be using him in the future...AND YOU SHOULD, TOO! He was awesome! Thank you, Daniel!

Jennifer

Married on 06/30/2018

Daniel was courteous, professional, prompt and attentive to all of our needs. His selection of music, advice, guidance and enthusiasm truly made our wedding spectacular. A+++ Service. Highly recommended.
Are you interested?
Send a message