20 Reviews
Recommended by 100% of couples
Quality of service

5 out of 5 rating

Average response time

5 out of 5 rating

Professionalism

5 out of 5 rating

Value

5 out of 5 rating

Flexibility

5 out of 5 rating
Awards
1 User photo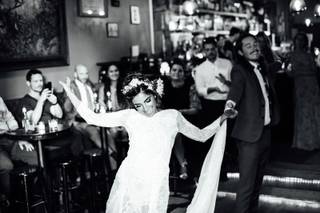 Meredith V.

Married on 01/05/2020

Amazing Music

Cornell was the first and only DJ we spoke to about our wedding. He held our hand every step of way and listened to our crazy song requests without batting an eye. Everyone had a fantastic time and absolutely loved the music. Thanks again, Cornell!

Sophie

Married on 08/04/2018

DJ C-prod-G was so wonderful to work with for our wedding - and he will definitely be our go to DJ for any event moving forward. The two things that I heard the most about our night was 1) how delicious the wedding cake was and 2) how the music was on point. Cornell was responsive and did a great job of executing our vision (we are a highly organized, type A couple), but also very responsible and followed up and kept us on track when he needed that extra support. He's incredibly warm and friendly, has an awesome music collection and sense of artistry, and kept the crowd bumping until the very last song!

Andre

Married on 06/08/2018

DJ C-prod-G was our DJ for a small party of about 100 guests, which included about 30 small children and we could not have been happier. My only wish is that the night lasted longer because he kept everyone on the dance floor and no one wanted the night to end. The best!

Are you interested?

Send a message

Brittany

Married on 05/19/2018

Cornell was so incredible to work with for our wedding! We met with him a few times prior to our big day, shared with him what we envisioned for each portion of the ceremony and reception, gave him a list of important songs, and he took care of the rest! We threw a little curve ball at him a week before the wedding and he assured us that nothing was a big deal and even helped us get extra equipment that was needed. He had our guests up on their feet the ENTIRE night, which was exactly what we had wanted, and even accommodated (and egged on!) quite a few spontaneous dance battles. We are so grateful to have had Cornell DJ-ing for us!

Stav

Married on 09/23/2017

I first heard Cornell DJ at Huckleberry Bar and though I was on my way out as he began djing, the music/vibe/volume/transitions made me stop in my tracks and begin dancing!!! I thought to myself that I haven't heard someone dj like that in a long time. We stayed a whole extra hour just because of how awesome the music and djing was. After that, I knew I had to hire him for our wedding! It was the best decision we made (aside from getting married lol). No one could turn down dancing when Cornell Djed– even people who I've never seen dance before in my life got up to groove. Not only does Cornell have a great selection of playlists (we didn't even need to give him any direction when it came to what we wanted him to play), but he is also wonderful to work with and absolutely friendly and kind!!! We did have him play several music selections during our ceremony and he took direction perfectly since we didn't even rehearse! Exceedingly punctual and professional. I can't reccomend him enough. Our go-to DJ.

Sarah

Married on 07/29/2017

Cornell made us groove. Hard. Sarah and I got married this past summer, and couldn't of been happier in having Cornell DJ and set up all of our sound needs. He took all of our music requests into consideration, and filled in the gaps with non-stop tunes that blended in seamlessly with the rest of the vibe, setting up one hell of a dance party. We couldn't of been any happier.

His musical knowledge is extensive, he was professional from start to finish, and is just an all around great dude.

Marjorie

Married on 06/10/2017

Cornell was amazing! He came highly recommended from a friend and i can see why. He was so easy to talk to during the planning process, and always responded to emails and texts promptly. He was also very flexible during our wedding, as details were changing by the minute. He played super fun music during the dance party, and also played all of our requested songs for the dances with the parents. Highly recommend DJ CprodG! You will not be disappointed!

Mary

Married on 06/03/2017

Cornell went above and beyond what we imagined as our wedding DJ. After sitting down and talking with us about our likes and dislikes, he put together a playlist that had people actually on their knees bowing towards the DJ booth at the end of the night (no joke). He was also very kind and communicative throughout the whole process. Can't imagine a better DJ.

Grant

Married on 06/03/2017

Cornell was a fantastic DJ for our wedding. He customized the playlist to our tastes but added his own spin. We had multiple people asking for the rundown of music afterwards.

Andrew

Married on 05/28/2017

Molly and I got married on Memorial Day Weekend, May 28th 2017 and Cornell made it a party. Cornell came highly recommended and still exceeded our wildest expectations. He got everyone on the dance floor and kept them there with great tunes and great timing. So many people came up to us to compliment us on the DJ that it was incredible. He worked with us on what we wanted and also followed his incredible instincts.

And when our venue had to clean up and close, the party didn't stop. Cornell agreed to join us for a smaller dance party inside after quiet hours in the tent. He set up a mini station and kept the party rolling long into the night until we couldn't feel our legs.

Bottom line: Cornell is the best DJ I've ever seen.

It's just a bonus that he's also an incredible mensch and a delight to work with. This will be the easiest and best decision you could make for your wedding.

Joelle

Married on 05/13/2017

Cornell is an AMAZING DJ - not corny - but all funk, soul, and good times. Our wedding dance party was hopping all night - and included people from all generations getting down. At midnight when the lights went up, people boo'd because they had so much fun and didn't want Cornell to end!

Dan

Married on 10/15/2016

Cornell (aka DJ CprodG) was one of the biggest highlights from our wedding weekend last October. He worked closely with us to develop a playlist that matched my wife and my tastes, and then brought great energy and MC skills to make the reception the greatest party possible. He was easy to communicate and work with, and is highly flexible and organized to changing needs. Since our wedding, we've recommended him to our friends, family and colleagues planning special events. I've seen Cornell magnificently DJ their weddings and events of all kinds, and he does a great job every time.

Cornell cares deeply about making your wedding or special event exactly what you want, and he has the encyclopedic knowledge and love of music to make it happen. Ask anyone who has worked with him, and you'll hear from a lot of satisfied customers.

Daniel

Married on 10/15/2016

Cornell was the DJ for our wedding, and he seriously made the party. He is super attentive and great at figuring out what our guests wanted to hear and dance to (he has a seriously encyclopedic music knowledge). He is great with people and a pleasure to work with, and he really knows what makes a great wedding party. Highly recommended!!!

Jennifer

Married on 09/30/2016

Cornell is everything you want in a DJ - professional, seasoned, incredible breadth of music knowledge, and a remarkable ability to read the crowd and build the perfect selection of music. He truly enjoys what he does and it comes through enormously. Did I mention his wide-array of music knowledge and choices at his fingertips? Cannot recommend him more strongly! You can rest easy if he's in charge of your party - and that's priceless.

Andrew

Married on 09/04/2016

DJ CProdG is my musical Rabbi. Over a year after our wedding, guests STILL bring up how awesome the music was at our wedding. We had rolling food stations throughout our party so dancing was never the only thing going on but there was ALWAYS a bunch of people on the dance floor the whole night. That's a tribute to our fabulous DJ. Further, he was also a pleasure to work with ahead of the wedding. Usually, vendors are the second most stressful group involved in a wedding (obviously parents are #1) but not this one. A week before the big day I got an email from Cornell and all it said was "Yo, your wedding is gonna be APE SHIT BANANAS." It made my day, and more importantly, he was 100% correct. Consider me a CProdG disciple and evangelist. HIRE HIM RIGHT NOW FOR YOUR WEDDING, PARTY, or WHATEVER AND THANK ME LATER.

Jamie

Married on 09/04/2016

Cornell is a musical genius. His deep knowledge and love for music of every era and every genre make him uniquely perfect for any and all events or groups. Hiring Cornell is hands-down the best and most important decision we made for our wedding. Venue, decor, dress...those are all great. But having a kickass soundtrack that made our wedding the most memorable and fun party of the year - that is priceless. And the best part is - there is actually a price, it is reasonable, and it is absolutely worth it!!

We will bring Cornell back to any event we ever host again personally or professionally. Over a year later and our guests still bring up and reminisce about our party and our DJ:)

Troy

Married on 05/21/2016

Great DJ! Brought the fun and energy to our wedding, had a great sense of timing on what to and when to play that perfect song next.

Megan

Married on 05/14/2016

DJ CpordG DJ'd my wedding on May 14th 2016 and I could not have been happier!!! He played a wide range of music for a variety of ages and music preferences. I think he has an uncanny knack to read a room, blend styles and to bring people together. I feel like some DJs would have just "phoned" it, in, but he was able to craft it to what the party needed, moment by moment. It was a great vibe and great fun. We were all happy and we were all dancing all night! Plus, he is a super nice guy and very professional. HIGHLY recommend!

Ilanm

Married on 10/25/2014

In my opinion, music is one of the most important aspects of a wedding or party. No one cares about food or lighting or decor - they just want to party (and drink!). And Cornell knows how to get people partying and dancing. Music and ambiance was one thing we knew we didn't need to worry about with Cornell at the helm. He really came through and afterward many of our guests commented on how great his music and taste was. We've recommended Cornell to our friends and family for their parties, and he has never disappointed. We strongly recommend him for yours!

Ruti

Married on 10/25/2014

DJ CprodG is one of the very best decisions we made while planning our wedding. Thanks to him, our wedding was an epic dance party - exactly what we wanted. Cornell is extremely talented, gifted at reading a room, and creates a vibe that is perfect for all ages. He has DJed the weddings of my sister, my cousin, and countless friends. We all recommend him highly!
Are you interested?
Send a message