68 Reviews
Recommended by 97% of couples
Quality of service

4.9 out of 5 rating

Average response time

4.9 out of 5 rating

Professionalism

4.9 out of 5 rating

Value

4.8 out of 5 rating

Flexibility

4.8 out of 5 rating
4 User photos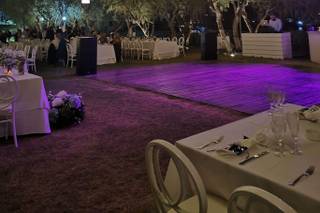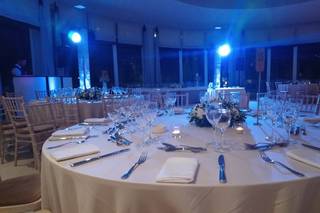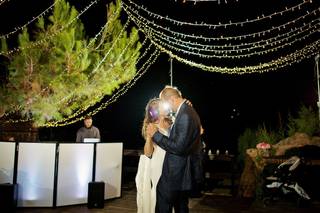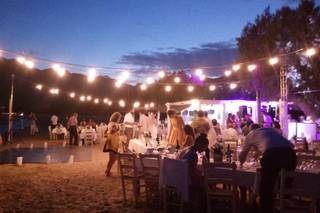 Katerina P.

Married on 02/24/2023

Dj Athens the best!!

Dj Athens οι καλύτεροι!!!!

Τα 5 αστεράκια σίγουρα δεν είναι αρκετά! Ο Άρης ήταν υπέροχος από την πρώτη μας κιόλας επικοινωνία! Ευγενικός, με προτάσεις! Ένας σωστός επαγγελματίας! Του εξηγήσαμε ακριβώς πως θέλαμε να είναι το πάρτυ του γάμου μας κ εκείνος το πήρε όλο πάνω του! Ήταν το ομορφότερο πάρτυ της ζωής μας κ ο Άρης το απογείωσε!!! Δεν υπάρχουν λόγια για να εκφράσουμε ποσό ευγνώμονες είμαστε που συνεργαστήκαμε μαζί του! Δεν σταματήσαμε να χορεύουμε λεπτό εξαιτίας του!! Ψάχνουμε αφορμές για το επόμενο πάρτυ μας!!!

Άρη σε ευχαριστούμε από καρδιάς που βοήθησες η μέρα μας να γίνει ακόμα πιο ξεχωριστή! Θέλαμε ένα τεράστιο πάρτυ κ εσυ τα σπάσες!!!

Κατερινα & Σπυρος

Μαρία ?.

Married on 02/05/2023

Άψογη συνεργασία και αποτελεσμα

Πολύ χαρήκαμε που στον γάμο μας τη μουσική την επιμελήθηκε η εταιρία DJ Athens! Κατάφεραν πραγματικά να δημιουργήσουν ένα καταπληκτικό γλέντι με κέφι που όλοι το ευχαριστήθηκαν.
Η συνεργασία ήταν άψογη και μας προσέφεραν ακριβώς αυτό το οποίο τους ζητήσαμε προσφέροντας παράλληλα καθοδήγηση και συμβουλές βάση της εμπειρίας τους!
Τους ευχαριστούμε πολύ για τη συνεργασία!!

Maria

Married on 09/17/2022

everything perfect

Nikos and hit team made a perfect wedding party

Are you interested?

Send a message

Vasilis K.

Married on 09/03/2022

Syros wedding

ΕΠΑΓΓΕΜΑΤΙΕΣ ΜΕ ΦΑΝΤΑΣΤΙΚΟ ΠΡΟΓΡΑΜΜΑ ΚΑΙ ΗΧΟ! ΠΕΡΑΣΑΜΕ ΥΠΕΡΟΧΑ! ΣΑΣ ΕΥΧΑΡΙΣΤΟΥΜΕ ΠΟΛΥ!

Ioannis

Married on 07/23/2022

Simply the best!

Άριστες υπηρεσίες! Άριστη γνώση της μουσικής και του χειρισμού της μουσικής επένδυσης ενός event. Οφείλω να ομολογήσω ότι οι συνδυασμοί και οι "γέφυρες" στη μουσική κάλυψη ήταν αριστοτεχνικές. Προτείνω ανεπιφύλακτα αυτήν την έμπειρη ομάδα, DJ Athens, σε όποιον θέλει να έχει ποιοτική μουσική κάλυψη ενός γάμου, μιας εκδήλωσης ή ενός οποιουδήποτε event σε πολύ λογικό κόστος.

Nikolaos A.

Married on 06/25/2022

Amazing and professional Dj

Τους ευχαριστούμε πολύ για όλα, έκαναν ότι καλύτερο μπορούσαν για να γίνει η δεξίωση του γάμου μας αξέχαστη,κάτω από δύσκολες περιστάσεις καθώς έστησαν φωτισμό και ήχο μέσα σε ένα κήπο σπιτιού, που δεν είχε ξαναγίνει ποτέ οποιαδήποτε εκδήλωση!

Κώστα και Άρη,σας ευχαριστούμε πολύ για όλα, ήσασταν άψογοι επαγγελματίες και ξεπεράσετε κατά πολύ τις προσδοκίες μας!
Να είστε πάντα καλά!

Νίκος & Μαρία

Nafsika C.

Married on 07/03/2021

Fantastic!

Nikos was amazing, he understood exactly the type of music we wanted for your wedding and went above and beyond to make sure the party was great! All our guests commented on the music and how great it was. Thank you so much Niko!!

Voula K.

Married on 06/26/2021

The best dj service ever !

We hired nikos and his team as a dj service for our wedding. The communication throughout the planning was great and Nikos gave us very good advices . John and Nikos played excellent music throughout the party and everyone was up dancing. Highly recommended team !

Eva I.

Married on 12/15/2019

Perfect wedding party!!

The guests were all the time in the dancing HALL and the party was great!

Σταυρουλα ?.

Married on 12/06/2019

Everything was perfect

Όλα ήταν υπέροχα!πολύ καλοί επαγγελματίες!ζητήσαμε ένα γάμο σε στυλ πάρτυ κ έγινε ακριβώς όπως το περιμέναμε!πολυ υποστηρικτικός ο Γιάννης!

Coolis

Married on 10/27/2019

Πάρτι γάμου , καλύτερο απ' όσο μπορούσαμε να φανταστούμε !!

Καταλήξαμε στον Γιάννη της Dj Athens μετά από σύσταση. Αποδείχθηκε πως ήταν η καλύτερη επιλογή που θα μπορούσαμε να είχαμε κάνει!
Από όσους συνεργαστήκαμε για τον γάμο μας , ο Γιάννης ήταν ο πιο επαγγελματίας. Άψογος από την πρώτη μέχρι την τελευταία στιγμή. Μας βοήθησε απίστευτα και στην επιλογή της μουσικής (καθώς η σύζυγός μου κι εγώ έχουμε εντελώς διαφορετικά ακούσματα), αλλά και σε τόσα άλλα, από προτάσεις διακόσμησης του χώρου, μέχρι συμβουλές οργάνωσης της ημέρας!
Πολύ υπομονετικός και συνεργάσιμος σε όλες τις αλλαγές και τι προσθήκες που ζητήσαμε μέχρι και την τελευταία στιγμή, και πολύ ευέλικτος και κατά την διάρκεια του πάρτι. Αλλαγές , μίξεις τραγουδιών , και "μάτι" στους καλεσμένους όπως πρέπει να έχει ένας πραγματικός Dj.

Για να μην πολυλογώ, απλά αναφέρω δυο περιστατικά. Το πάρτι ξεκίνησε στις 6 το απόγευμα , και τελείωσε στις 5 το πρωί. Οι περισσότεροι καλεσμένοι μας είπαν πως ήταν το καλύτερο πάρτι γάμου που έχουν πάει ποτέ..!!

Dj Athens και Γιάννη , ευχαριστούμε πού για όλα!!


Dj Athens's reply:

Ευχάριστούμε πολύ για τα καλά σας λόγια! Ένας καλός Dj χρειάζεται πάντα και ένα καλό κοινό! Και εσείς λοιπόν ήσασταν εξαιρετικοί!


Loreta L.

Married on 09/20/2019

great experience, human approach and professionalism

Nikos and his team were incredibly helpful, responsive and adaptive. they highly contributed to our wedding day and made it special!

Lukia I.

Married on 09/07/2019

Fairy-lights for wedding venue- excellent outcome!

Excellent work in great price from a group of professionals! The fairy-lights really made the venue magical and the guests were really impressed! Nikos and Vaggelis have been the most polite and cooperative professionals I worked with for the wedding. I highly recommend them! Excellent value for money!

Panagiotis S.

Married on 09/07/2019

Awesome Party

Everything was awesome, we had the best communication with the DJ and he played everything we asked before and during the wedding.

Melissa

Married on 09/06/2019

CrossGamos Wedding

Nikos and Aris were fantastic throughout our wedding preparation and assisted by provided incredible sound, lighting and setups at 2 separate venues for our wedding party. They were always on hand to ensure everything was working correctly an they gave us a wedding party (With some of our own music) to customise the special day for us.
We were blown away by their professionalism and service and would highly recommend them to fulfil your music needs.

Yamos!

Θοδωρης ?.

Married on 06/22/2019

Γάμος Θοδωρής - Ελένη

Έχουν περάσει αρκετές ημέρες από το γάμος μας (22/6). Έχουμε μιλήσει σχεδόν με όλους τους καλεσμένους μας και όλοι λένε το ίδιο. Η μουσική ήταν εξαιρετική.
Τα παιδιά, ο Νίκος και ο Κώστας, ήταν σε όλα δίπλα μας. Μας βοήθησαν στις επιλογές μας, άκουσαν ότι είχαμε να πούμε, μας έδωσαν χρήσιμες συμβουλές.
Ο Κώστας που ήταν και στο γάμο, φρόντισε ώστε το γλέντι να συνεχιστεί μέχρι το πρωί. Πρόθυμος να "παίξει" ότι ζητήθηκε.
Με μια λέξη: Επαγγελματίες!

Σας ευχαριστούμε πολύ για όλα!!!
Θοδωρής και Ελένη.

Στυλιανός ?.

Married on 05/25/2019

Γαμος Χρύσα και Στέλιος

Αγαπητοί μας DJs

Θα θέλαμε να σας ευχαριστήσουμε για τη συνεργασία μας! Ήταν εξαιρετική από το πρώτο λεπτό και μας βοηθήσατε πραγματικά να στήσουμε το γλέντι!
Γιάννη ήσουν εξαιρετικός, σε εγρήγορση φρόντισες το γλέντι να είναι επιτυχημένο παρά το γεγονός ότι είχαμε λίγους καλεσμένους!

Ήταν χαρά μας που συνεργαστήκαμε!
Σας ευχόμαστε υγεία και επαγγελματική επιτυχία!
Χρύσα και Στέλιος

Elen

Married on 10/20/2018

wedding nik & elen

We chose Dj Athens for our wedding and it was the best desicion!
They are exellent professionals as well as communicative with the people!
Without doubt we recommend them.

Ioanna

Married on 09/29/2018

Σας ευχαριστούμε πολύ για την υπέροχη βραδιά!Ο Γιάννης ήταν εκπληκτικός και οι επιλογές του άφησαν εμάς και τους καλεσμένους μας πολύ πολύ ευχαριστημένους!Δεν καθήσαμε όλο το βράδυ και απολαύσαμε κάθε στιγμή της βραδιάς μας!

Becky S.

Married on 06/28/2018

Easy to work with & life of the party!

Nikos & John were AMAZING!! They really took the time to understand what vibe we wanted at our wedding and nailed it on the head! They really brought life to the party and read the crowd very well. They even were able to accommodate our last minute request of adding string lights above the dance floor! We got ALL positive feedback from our guests and people are still talking about our wedding! Thank you so much for EVERYTHING! If we did our wedding again, we would hire Nikos & John again!

Faidon

Married on 06/16/2018

We found Nikos Zampetas online and were very impressed with his reviews. Although we did have other recommendations too after we chatted with him on Skype we felt very confident with our choice. Nikos is very professional and takes extra care of every detail. He was proactive even weeks before our wedding, emailing us questions and suggestions to make sure he was prepared. One of the reasons we chose Nikos is the fact that apart from the music equipment he can also set up lights which was important to us since the party was at the beach and we wanted string lights hanging over the tables. And it wasn't a easy task! Nikos, his partner Giannis and his wife started setting up from 10am and did they best to make the space as we had imagined it would be! The result exceeded our expectations. The music was perfect. It had the perfect balance of different songs to satisfy everyone and it kept the party going until 6am! The team stayed until 8am to take everything down. We highly recommend them!!

Giannis

Married on 05/19/2018

Excellent DJ Set. Best experience ever!

Dora

Married on 10/19/2017

Δεν εβαλα 5/5 επειδη ηθελα να φανω καλη!!!! ηταν ολα τελεια! φοβεροι επαγγελματιες!!!! μακαρι να ξαναπαντρευομουν για να ξανακαναμε τα ιδια!!!! τοσο εμεις οσο και οι καλεσμενοι μας μειναμε απολυτα ικανοποιημενοι !!!! μπραβο σας!!!!! σας ευχαριστουμε μεσα απο την καρδια μας για ολα!!!!

Theodore

Married on 10/06/2017

Amazing guy! He know how to make people party!! Thank you very much for your great service!! Cause of you it was a great night!

Nikos' sweet tunes rocked our wedding party all night long. People loved the songs. And working with him before the wedding was a pleasure; quick, friendly, and very clearly a professional. Highly recommended.
Are you interested?
Send a message