50 Reviews
Recommended by 100% of couples
Quality of service

5 out of 5 rating

Average response time

5 out of 5 rating

Professionalism

5 out of 5 rating

Value

5 out of 5 rating

Flexibility

5 out of 5 rating
8 User photos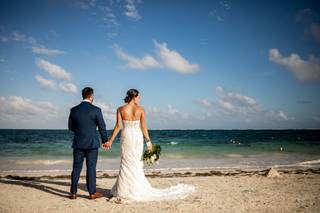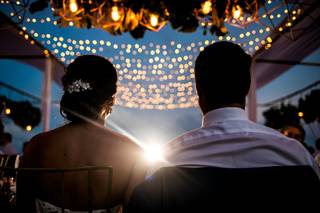 + 4

photos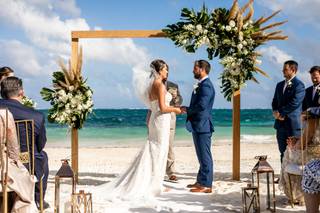 Featured

April M.

Married on 02/13/2021

Beyond Grateful 🙏🏼

April and her team orchestrated the most seamless experience for our large destination wedding to Cancun at Dreams Riviera. I don't know what we would have done without them, through all the ups and downs of COVID 19, April and her team helped us with each hurdle! The team also planned our honeymoon which also had to be changed 2 weeks before because of last minute COVID travel restrictions and they made everything stress free and so special. All of my guests raved about how amazing the team was with all the travel changes and flights being canceled etc. and that made my experience as a bride such much less stressful! We can't thank the Divine Destination's team enough. They made our special day that much more special and April acted as our travel agent, therapist, friend, extraordinaire ❤️

+ 3

photos

Divine Destination Weddings & Honeymoons's reply:

❤️Thank you with all of my heart for this review. You handled each situation with class and grace. You and your guests were wonderful to work with. I am so happy for you and look forward to your honeymoon part2! P.S. I cried looking at your photos, so stunning!

April J.

Married on 11/21/2021

The absolute best!

We'd like to start by saying WOW!!!!! April and her team are absolutely amazing. We were considering going with a free "wedding traveler specialist " however we decided to go with our gut and use some of our budget to pay for the service. Worth every penny and some!!
April and her team went above and beyond. They were attentive to our needs, especially as a stressed out wedding couple. They were patient, communicative, and always there to guide us with all their knowledge. April was able to understand our vision and she guided us to the perfect resort for our large wedding in Cancun. Additionally, April and her team were able to answer all of our guest questions, handle their reservations, book flights, and set up transportation for all of our 120 guests. We were able to truly enjoy our wedding planning process with minimal stress because of April. We can't recommend April Schmitt and her team enough!!!

Abril & Steve
-The Julians

Austin

Married on 09/04/2021

Didn't even know I needed this until I experienced it.

I was so shocked at how well April worked for us I have literally recommended her to each of my friends who are getting married. Simply put: she makes complicated international travel seamless -- Which is hard for people like me who like to be in control of everything. She'll tell you someone will be there waiting or be here at this time for this excursion and like magic, there is someone waiting for you with your name on a sign just like in the movies.


Are you interested?

Send a message

Molly K.

Married on 09/03/2021

Sandy Pullen helped us plan the honeymoon of our dreams!

Sandy Pullen was our Travel Advisor for our honeymoon. We had a wonderful experience working with her. Sandy was knowledgable and experienced and guided us in the direction to book the honeymoon of our dreams. Throughout the whole experience, she was responsive, attentive, caring, honest and professional. Neither of us had worked with a travel agent before, and we are so glad we decided to go that route. Sandy handled everything from reserving our room, reserving our transportation to and from the airport, sending us the itinerary, and handling special accommodations for our trip. We had the best time and hope to work with Sandy again for our next big trip!

Philicia D.

Married on 05/02/2021

Excellent service

I cannot rave enough about April and her team from Divine Destinations. Talk about top-notch, VIP service! She was there with us from the beginning. Our wedding plans were stalled as a result of the pandemic and when I contacted her in late 2020, she was there without hesitation. She listened to our requests and found us the most beautiful resort in Puerto Vallarta. She was extremely responsive to our guests and coordinated their meal preferences and travel accommodations. Having a destination wedding with April as our planner was stress-free for us and our guests! There were zero hiccups. The entire process was seamless. And April herself was professional, kind, responsive, accommodating. I mean, all the positive adjectives you can think of, they apply to her.


Lauren P.

Married on 11/14/2020

April is the best!

When my fiancé and I decided to have a destination wedding, we knew we wanted to hire a travel agent to assist with coordinating travel for our guests. Divine Destination Weddings was the first travel agency that we reached out to. After having our initial consultation with April, we knew right away that we wanted to work with her and her team. April is so kind and personable! She gave us so many great recommendations for resorts to have our dream wedding at based on our specific criteria. She ultimately helped us find the perfect resort that checked off all our boxes. April and the Divine team , especially Kelly, were so helpful throughout the process. They were always quick to respond whenever I had a question (and I had many). April served as our advocate when dealing with the resort and always made sure decisions were made in our best interest. My guests all said booking was easy and that April / Kelly were easy to get a hold of. Everyone commented that they were both so nice and helpful! Unfortunately, Covid came around and I ended up cancelling my wedding. April was so supportive when coming to that difficult decision. She made the cancellations seamless and she fought to ensure that my guests got the most money back as possible. Even though I cancelled my wedding, I am happy I chose April and her team because I cannot even imagine dealing with the covid mess by myself. They are truly the best! If you are considering a travel agent, look no further!

Divine Destination Weddings & Honeymoons's reply:

Dear Lauren, We graciously thank you for your kind review but we especially thank you for handing the disappointments of the year with such grace. You and your family were so kind and it was wonderful to see everyone pull together to support you. Congratulations on your marriage!

Clarice G.

Married on 10/10/2020

You need someone with clout!!

I was canceled! Covid canceled my wedding but April Schmitt saved us! We were set to travel in one month everything was paid in full and covid hit. I was a mess, crying, feeling sorry for myself and my guests. The resort wasn't offering refunds. April was able to calm my nerves, my fears and I just felt like she would handle everything. And she did! We were able to reschedule our wedding at new LOWER rates and move all our air with no fees and those guests that still wanted to cancel received a full refund. I know my group was lucky (lucky that we worked with April). I have read so many horror stories about the wedding groups that lost all of their money. I will never NOT use April for my travel. She is a magician with travel and her clout is the real deal!

Divine Destination Weddings & Honeymoons's reply:

Dear Clarice, You and John handled the disappointment will grace and class. I am so glad you were able to have your beautiful wedding last month in Mexico. Your guests were so gracious and I am happy I was able to negotiate the best possible outcome for your wedding.
Covid can't cancel love!

Janice A.

Married on 02/11/2020

Grateful! Safari & Maldives

Grateful is the word that comes to mind when I think of April at Divine Destination Weddings & Honeymoons. She was referred to us by a friend that used her for their Fiji Honeymoon. I was so hesitant to use a travel advisor and was afraid I would pay too much but I quickly saw her value and how much money and headache she was saving me! She is so intuitive at figuring out what I was trying to say. We reviewed several proposals for amazing, creative, and stunning locations for our small wedding and finally decided on a 1 week safari and the wedding to follow in the Maldives. It was magical and all the extra special surprise April planned for us were above and beyond out expectations. We are so blessed we were able to travel just before the covid shutdown. I feel for all the couples that have been canceled due to covid. Thank you April! We will be loyal clients for life!!!

Divine Destination Weddings & Honeymoons's reply:

Thank you for this thoughtful review! You two and your families were wonderful to work with. I love your adventurous spirits! I so look forward to planning your next adventure!! XOXO

Raksha R.

Married on 06/16/2019

Amazing Experience with Divine Destinations Weddings

April and her team made our wedding planning process MUCH easier - we couldn't be more grateful for her quick responses, excellent communication, and all of her help! We highly recommend April for anyone planning a destination wedding or event and will definitely be using her services in the future. Thank you Divine Team for helping us out with our big day!

Gina

Married on 05/06/2017

posted 06/07/2017
April and her team are fabulous! Super helpful and accommodating. Choosing a destination wedding venue can be super overwhelming. After a quick call with April to discuss where and what we were looking for she sent us several options just a few days later. Once we choose the resort April took care of mostly everything from that point on. I only had to step in of course to talk to the wedding planner and coordinators at the resort.

If you are planning on doing a destination wedding or just planing a special trip I highly recommend using Divine destinations.

Thank you to April and her team for helping us find our venue for our very special day!

Gina


Sandra

Married on 12/17/2016

If I could give ten stars For value rating I would! I cannot rave enough about April and Divine Deatination Weddings! I keep telling people that working with them was the best decision I could have ever made when it came to the wedding planning process. I had 90 high profile (and very high maintenance) guests attend my destination wedding in the Riviera Maya two weeks ago and they handled reservations, from start to finish for every guest flawlessly. They went above and beyond. Until I decided to work with them
I was spinning my wheels for two months trying to do research on my own to figure out where to even have my wedding. After one conversation with April I was so relieved and knew she would help me find the perfect venue for my wedding and she did. She worked with me from start to finish, handled all booking and correspondence with my guests as well as worked as a go between with me and the resort. She helped me pull off my dream wedding and I couldn't have done it without her. She was invaluable and saved me from pulling my hair out at least once a week. I cannot recommend April and Devine Destination Weddings enough.

Divine Destination Weddings & Honeymoons's reply:

Thank you for taking the time to write this review. It means so much! You and your guests were wonderful to work with. I look forward to working with you in the future as you celebrate many anniversaries in the years to come!

Lemuel

Married on 12/17/2016

Do it! They will make your special day memorable and you will be at ease during the entire process

Kristen

Married on 10/29/2016

We worked with Sarah to plan our honeymoon and I am so glad we did! It was one less thing to worry about. She was so nice and gave us some great ideas on where to go. We decided on one of the excellence resorts in mexico and are sooo excited! We would have never even known about that place if it wasn't for her. We had an issue with needing to rearrange our honeymoon days and flights due to out of town guests staying in and she talked to the resort and was able to get everything changed for us close to the last minute so we could have more time with our family. It was so very appreciated and we are so thankful to have worked with her

Courtney

Married on 10/19/2016

April truly is a great Travel Agent! She is so personable and quick to help answer questions that she really did not have to even help me with. If I ever get married I will want her to be my agent for my Wedding Party most definitely.

Monica

Married on 05/14/2016

I honestly cannot rave enough how amazing April and her staff are! I had previously attended a wedding in Cabo that was coordinated by April so I was able to book through divine destinations, which I had such a great experience with. The first wedding I attended was so excellent that I knew I wanted to copy my friend and do the same thing, this of course meant I needed to use April :). April made it so flawlessly from the first phone call and really decreases all of the anxiety associated with planning a destination wedding. Although I choose a venue that is a time share resort and I knew going into it could be a pain in the butt April seriously still worked miracles for me. April was always up front and honest with me going through the options of choosing which resort we would go with. April assisted me in the whole process from the resort taking a long time to answer to making sure I had paperwork with my upgrade. April and Kelly dealt with SO much with my wedding group, I had a few difficult guests that they were so great with. My wedding was the best day ever and I am so happy I had April to assist me through this process. If you are thinking about doing a destination wedding she and her wonderful group are your people. They have great advice and know the best spot. If I had to do one thing differently I would have probably gone with the resort April suggested because I know she is honest and knows her stuff! I could not have asked for anything differently in Divine Destinations, I had family book with them who were located in Australia and Germany and everyone had so much fun! Thank you Divine Destinations Weddings and Honeymoons!!! Donovan and I love you guys!!!
love
Monica and Donovan George

April and her staff have been incredible! From setting up our site visits in the very beginning of our wedding planning journey, to travel arrangements for all our guests, everything has been a breeze. They even assisted us in finding the best catamaran trip for our group. They responded to emails and phone calls promptly, not just to us but to all of our guests. We couldn't be happier with the service. Thank you Divine Destination Weddings for making our dream come true in Punta Cana, DR!

Divine Destination Weddings & Honeymoons's reply:

Thank you for this very kind review. You and your wedding party were all wonderful to work with. You were a stunning bride! Thank you so much!

Catelin

Married on 12/12/2015

Melanie with Divine Destination Honeymoons was truly the best vendor we worked with for our wedding (which is saying a lot as EVERY vendor we had was amazing!).

Honestly, Melanie is responsible for making our honeymoon the best experience of our lives.

Right from the get-go we knew we wanted to go to London as my husband and I are such Anglophiles, and Melanie got started right away. Most people balked when they heard that we wanted to go to London in December, but not her. After our initial phone conversation, she knew exactly what we wanted out of our trip and made it happen.

The best part is that she created an itinerary that really blended both of our interests from Sherlock Holmes, to WWII, to Harry Potter--we did it all! She kept us so well informed over the course of planning and even when we were on our trip as certain plans were changed or adapted.

Right from the first day everything was so beautiful. My husband and I agreed that the hotel was the highlight of the experience and we would never have found such a beautiful place without her advice. Upon arrival, she had arranged for us to have an upgraded suite overlooking the Buckingham Palace, free gourmet breakfasts every morning, and even a cute little set up of the room with rose petals, candles, dessert, and a truly sweet welcoming letter. Our hotel--the Rubens--was a dream thanks to Melanie's attention to detail.

And the daily activities!! I can not express how much fun we had each day with all she had planned for us. We literally got everything we wanted out of the trip and, again, all her hard work and planning made it all happen.

We are so very grateful to Melanie. Honestly, we wholeheartedly recommend her to everyone that is either getting married or just wants to plan a trip. You can bet we will be coming back to her in the future for more travel plans!

Mallory

Event on: 11/10/2015

April is absolutely the best! My husband and I found her six years ago as we were planning our wedding. She put together an amazing honeymoon (Riviera Maya, Mexico) for us back in 2010, which she just replanned for us to relive for our anniversary.
On top of numerous Mexico vacations April has also put together incredible trips for us to Thailand and Costa Rica. She truly appreciates our sense of adventure and always bends over backwards to ensure we have amazing experiences. The amount of time and effort she puts forth while working within budgets and personal preferences demonstrates the finest level of customer service. We consider her to be an invaluable resource and we are so grateful we found her years ago!

Divine Destination Weddings & Honeymoons's reply:

Thank you for the thoughtful review! You two are so much fun and make my job easy. Cheers to you and many more adventures together!

Chris

Married on 09/28/2015

We worked with Melanie to plan our honeymoon to Italy, and she was simply THE BEST. We planned for a 2 week trip and she was able to help us with suggestions and reservations for hotels, transfers, and the entire itinerary. Melanie was very informed and communicated in a very timely manner. She laid out the full itinerary in great depth and provided us with a clear rundown of everything we wanted to do. I would highly recommend her to anyone that is in need of help planning a honeymoon or a trip!

Lindsey

Married on 08/23/2015

We met Melanie D'Souza of Divine Destinations at a bridal show early in our wedding planning process when we were still considering a destination wedding. We were impressed with her at the show, but ultimately we decided not to go with a destination wedding and so selected a different local travel agent to plan our honeymoon. We were looking for our honeymoon to be a unique experience that was not the type of vacation we would ordinarily plan for ourselves, but did not have a precise idea on what that looked like and so were very very interested in suggestions. We had never worked with a travel agent before, and the suggestions aspect was what we were hoping to gain from working with one. Unfortunately, after over a month (maybe two) of sporadic communications at best with the first travel agent, we reached out to Melanie regarding helping us with our honeymoon. At this point, we were pretty late in the when-to-plan-your-honeymoon timeframe (with just over 2.5 months before our proposed departure date) and were feeling discouraged. We reached out to Melanie on a Sunday afternoon. Not only did Melanie respond on that same Sunday, but she provided specific responses to the ideas I'd thrown out and gave me some things to think about. She quickly scheduled a phone meeting with Martin and me and got immediately to getting us proposals. We were so pleased with the insights and suggestions she provided. The three honeymoon proposals she provided (Fiji, Thailand, and Bali) were all within our budget, unique and all exciting for different reasons and places we had never before considered traveling to. Ultimately, we chose Bali and could not have been any happier with our decision. Our honeymoon experience far exceeded our expectations, and we owe that to Melanie. She was prompt, professional, friendly, available, and everything we could have wished for in a travel agent. We definitely plan to work with Melanie in our future vacations! Ultimately, we found using

We worked with Melanie and she was fantastic! She catered to our every need and helped us set up the exact honeymoon we had envisioned. All of her recommendations on sights, activities, and accommodations were spot on, and every guide she connected us with overseas was courteous and professional. Whether it's touring, eating, or relaxing, Melanie will go above and beyond to make sure your every need is met! She was so pleasant to work with and genuinely wants to make sure you and your partner are more than satisfied and have a honeymoon you won't forget

Jacob

Married on 07/10/2015

We were incredibly happy with the level of attention and care we received from Sandy P. with Divine Destination. She checked-in with us at each step of the process, providing the right level of detail and willingness to make adjustments. She went outside of their normal honeymoon packages to find us the perfect blend of resorts and travel to Belize. We look forward to using Sandy P. and Divine Destinations again soon.

Erin

Married on 06/27/2015

Another trip for the books!

Once again, April, you have done it! We have now used April for our honeymoon, along with a recent anniversary trip, both trip full of special moments and memories for the books! April is always so willing to go above and beyond without any hesitation! She is always understanding of our needs/wants, helpful with guidance to make the best choices, and with her help, the trip logistics are made seamlessly and stress free! She has always been prompt to answer my questions! I know preparing for big trips like these ones would have been much more of a stress inducer without April! With her help, we have made priceless memories that we will forever be grateful for. We will most definitely use April again for any of our future trips, and have and will continue to refer her to our family and friends without any second thought! Thank you again April for all of your help and hard work to make our trip so special!

Gina

Married on 06/27/2015

April is the best. She helped made our dream wedding come true. She's responsive and flexible. I loved working with April.

Alana

Married on 05/30/2015

My husband and I planned our honeymoon through Divine and were so happy with our vacation and services. April Scmitt coordinated everything and was extremely responsive. We actually got in touch with her the day before Thanksgiving. She responded imeadiately and was able to send us all the information before the day was through. Needless to say our trip to the Mayan Riviera was a dream come true!
Are you interested?
Send a message