13 Reviews
Recommended by 87% of couples
Quality of service

4.4 out of 5 rating

Average response time

4.2 out of 5 rating

Professionalism

4.5 out of 5 rating

Value

4.4 out of 5 rating

Flexibility

4.4 out of 5 rating
6 User photos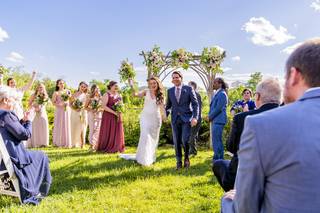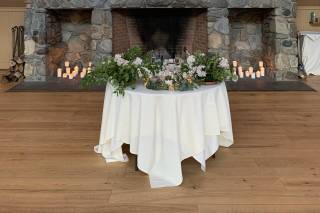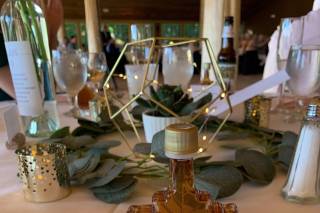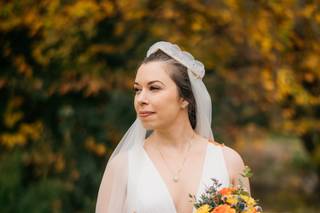 + 2

photos
Featured

Zoe M.

Married on 07/17/2021

You NEED this service!!!

Jessica from Destinations Found made our wedding day as seamless as possible. She was able to cater to so many of our needs, and went above and beyond expectations. Jessica's services included (but were not limited to): monitoring our implemented COVID-19 policy for our guests by receiving vaccinations status/tests via email, piping and draping along the aisle for a beautiful aesthetic at our venue, communicating with every vendor, helping keep me (the bride) calm the entire day (even if little things went wrong that were out of our control), managing the stress between our families by being a wonderful middle-ground, and the list goes on! I wish there were a 10-star rating option - our day would not have been the same without Jessica's tireless work and amazing attitude. We hope you will consider her to help on your big day!

Destinations Found's reply:

ZOE you are the absolute best!!! Thank you for this absolutely amazing review and LOVE!!! You, Nick and the entire family are so much more than a client you are family!!!

Kristi B.

Married on 05/29/2022

So glad we worked with them!

I hired Destinations Found to be a day of coordinator a little over a month before our wedding and they were SO helpful. I'm so glad I ended up deciding to work with them! Jessica and Haley worked with us leading up the big day and did an amazing job decorating the venue and working with our vendors who communicated to us how they were great to work with and very helpful. Haley even met me at the venue a few weeks before to go over any final questions and helped us find some finishing touches for the wedding. We were able to hand out our decorations to them a few days before and didn't have to worry about any of those details which was amazing so we could be present and enjoy the big day. Thank you Jessica and Haley!

Kendra B.

Married on 02/02/2022

A Pleasure to Work With

I hired Jessica for her month-of coordination package, and she was a pleasure to work with. She was super friendly and professional, and took care of everything on the wedding day so I didn't have to worry!

Destinations Found's reply:

Thank you Kendra it was a pleasure working with you and Tony!! It was an absolutely beautiful day! Wishing you both the very best.

Are you interested?

Send a message

Meredith B.

Married on 10/09/2021

Amazing Wedding Coordinator!

Jessica was an amazing day-of wedding coordinator. I highly recommend her services. She and her team allowed me to have peace-of-mind on my wedding day. I did not have to worry about any minor mishaps or overlooked details. In fact, I somehow managed to bump the end of my flowers against the front of my dress during the ceremony and had an unsightly smudge down the front of my white wedding dress. Jessica seamlessly saved the day with a Tide to-go wipe and the dress was good as new for pictures and dancing the night away. Jessica and her team were behind-the-scenes heroes for our entire day!

Dianna H.

Married on 10/02/2021

My only regret is I didn't do FULL planning! She is an absolute MUST.

Jessica was a ROCKSTAR on the day of my wedding, and leading up to it. Let me tell you — I loved planning my wedding. But there was no way my wedding would have gone so smoothly, been everything we wanted, and been so perfect if she hadn't been there.

If you've never been a bride, you don't know exactly what happens on your wedding day. Sure, there are all the normal things — getting ready, maybe a first look, photos, the ceremony and the reception. But there are SO many things happening. People are asking questions, you're trying to make sure all the things are getting done in the middle of getting your hair done, and somehow there are still things that you need to decide, despite it already being THE DAY OF. This happens *no matter how much planning you do*.

She ran the show from start to finish — she was there to guide us through every step of the day. She helped guide our vendors. (I literally didn't have to answer a single question about vendors on the day of!) She kept things organized and helped reassure me, even though was 15 minutes late. She made sure we ate dinner. She told us how to cut our cake, (something I didn't even KNOW we needed help with) reminded us to do our garter toss, bouquet toss, and all of the normal traditions. She took care of literally everything.

Jess was absolutely essential. And I let her do everything that day — I felt carefree, confident, and the last thing I was thinking about was any sort of timeline. I wasn't thinking about our entrance or dances or anything. We were able to laugh and dance and enjoy each other and our guests, and she helped keep things naturally moving forward.

It was one of the best days of my life. And she's a huge reason why.


Destinations Found's reply:

THANK YOU!!! What a day! You had the most beautiful setting, amazing vendors and a beautiful group of friends and family to help you celebrate! We were honored to be apart of your day and loved seeing all the pieces come together as well as the joy and excitement on both of your faces all day! Congratulations to you both!!!

Jeff S.

Married on 09/18/2021

Fantastic!

Jessica was so professional, and on top of everything we asked of her. We hired her as a "day of" coordinator (as we already most of the wedding planning completed), and she was able to jump right in and take control of everything the way we needed her. We were very impressed and super-pleased.

Destinations Found's reply:

Thank you Jeff and Tom!! Your wedding was one we will be talking about for years to come! We were beyond blessed to be a part of your day and helping to bring everything together for a most joyous celebration! Congratulations to you both!

Rowan C.

Married on 08/28/2021

Jessica is an amazing wedding planner/coordinator

We loved working with Jessica! She made sure our big day ran smoothly and without a single hiccup (at least not any stressful or unmanageable kind!). Her demeanor—which is calm and balanced under fire, and lighthearted and playful when appropriate—helped us execute our wedding day with as little stress, and as much joy, as possible. She came into our planning efforts in the month leading up to our wedding, and spent the entire day with us to make sure everything ran smoothly. She was always on time, super dependable and reliable, and able to crack a joke (or laugh at our own silliness) when the time was right. We loved working with her, and wouldn't hesitate to recommend Destinations Found to anybody!

Paula M.

Married on 08/07/2021

Wedding lifesaver

As the mother of the bride, planning a wedding during Covid was especially challenging and stressful. When Jessica, from Destinations Found, entered the process, we were immediately relieved as we spoke to her and discovered not only the myriad tasks she was proficient at, but her easy, confident manner. She was truly a livesaver and someone who I would use again in a heartbeat!

Destinations Found's reply:

This family was more like family than a client!! They were absolutely wonderful to work with and the wedding was absolutely beautiful!!! I was beyond blessed to be brought into the process and to work with all of them!

Sara M.

Married on 07/10/2021

Wedding Day Coordinator

Jessica did a fantastic job as our "day-of" coordinator. Anyone who has a large family knows how challenging it can be to gather everyone together and keep a wedding on time. I was truly able to be present with my guests because I had nothing to do, Jessica did a great job handling everything. She was super flexible when things popped up, and super communicative leading up to our event. She kept everything running smoothly and we were so glad we hired her!

Destinations Found's reply:

Thank you Sara what a wonderful celebration with your entire family! We truly loved working with you and your family and wish you all the very best!

Megan

Event on: 04/29/2018

Jessica Fuster is AWESOME!! My husband and I have worked with Jess to book our last 3 Caribbean vacations and loved every minute of each trip. I can be a little high maintenance and would send her different locations we were thinking of visiting and she was very responsive and give her input on the destinations. We will continue to work with her and look forward to booking our next vacation!

Destinations Found's reply:

Awww thank you Megan!! I absolutely love working with you and Brad and looking forward to the next adventure!!!

Matthew N.

Married on 09/01/2022

Our Big Day was a Success!

Jessica was our planner and coordinator for our wedding in September and really came through for us when we needed it most. We've since come away with the feeling that she was prepared and had plans for most every eventuality. When we had a dress-related emergency not an hour before our first First Dance? She had a solution ready and waiting. She was our agent on the ground and played a large role in getting and negotiating with our venue and vendors, something that was crucial for us as we were having a destination wedding across the country. Our one criticism is that in some of the months leading up our wedding, there were times when we could have used more in the way of updates and better communication of how well things were going according to plan--for all things did work out very well for us on our big day, we did worry (we've since suspected that it might have been a much busier season for weddings than normal). That said, however, she came through for us in a big way and if we were doing it all over again, we'd hire her again.

Megan C.

Married on 09/18/2021

Hired and parted ways ahead of the wedding - info I wish I had

I went back and forth on whether to post this for a long time, but in the end I think hearing about our experience would have changed our initial decision to work with Destinations Found for month-of wedding coordination. We hired Jessica as our month-of coordinator a year or so before our wedding and decided to part ways a month ahead of our wedding because of poor communication; at the conclusion of this process, Jessica agreed to issue us a partial refund of our deposit. In the months leading up to our wedding, emails went unanswered for weeks, often needed follow-up from me, and often did not completely answer simple questions. As we approached the one-month mark, my then-fiancé and I felt increasingly uneasy about how the lack of communication would correspond to management day-of. We certainly didn't go into planning thinking we would need to part ways with a vendor, but the communication issues were a deal breaker for us and our families.

Destinations Found's reply:

I am sorry you felt you weren't being communicated with enough. As a bride and groom, you had so many things to juggle you shouldn't be felt feeling like you're in the dark. I apologize for making you feel that Destinations Found didn't meet your expectations.

Communication is important in the months leading up to a wedding. That being said, with month-of-coordination most communication happens within the month leading up to the wedding, as the weddings taking place sooner take precedence. While that's no reason to not respond, it is the reason that month-of-coordination is less involved in the months leading up to the wedding date. A month-of package refers to more planning, support, and guidance within the month of the wedding. The one-month mark should have been when we started more in-depth communication. We didn't believe you or your partner would be parting ways with us when we signed the contract with you, and we were sad to see you go.

We hope the day went wonderfully. We appreciate your feedback, and we wish you and your partner a lifetime of happiness and treasured memories.

Laura R.

Married on 09/24/2022

Terrible experience

I won't go into details, but if you are sensing red flags it's because there are plenty.

Maybe important to note: she refunded me 50% after my wedding. There was no disputing the lack of follow through and the poor service provided on the day of.

Happy to provide more information about how weddings favors were never put out, the cake was in the freezer moments before it was supposed to be served; how the planner we worked with the entire time informed us she would be working another wedding instead of ours just a week before and how the assistant she sent us was rude to our guests, told the DJ to take apart our head table and set up his equipment there, or how she told us she had a decade of experience in the wedding industry and at the same time was 22 years old. I won't even get into how I contracted other services with the owner of this business (alcohol services) and she cancelled that a week before the wedding as well. I had to scramble to solve the problem with no help.

Very unprofessional, very unhappy. Working on letting this go and hoping that leaving this review will help.