46 Reviews
Recommended by 100% of couples
Quality of service

5 out of 5 rating

Average response time

5 out of 5 rating

Professionalism

5 out of 5 rating

Value

5 out of 5 rating

Flexibility

5 out of 5 rating
6 User photos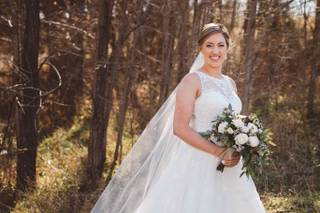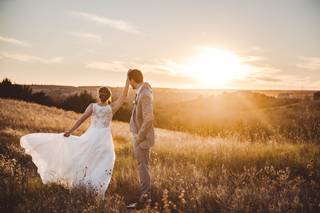 + 2

photos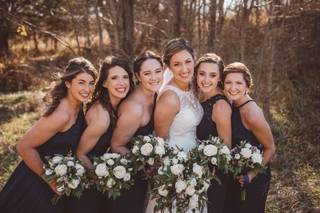 Sarah W.

Married on 09/12/2020

Easy, Breezy, Fun!

My husband and I live out-of-state and chose to get married in Kansas, where we are from. Megan was incredibly accommodating with our planning as it was not ideal for us to meet in-person to discuss our photography needs and details. We filled out a questionnaire to address our photo needs, which helped us streamline and identify what we wanted captured on our big day, and helped to keep us organized. Megan was prompt with communication and made the whole planning process so effortless for us. Her personality is warm and fun which made photographs that much more enjoyable for us.

Jillian K.

Married on 08/22/2020

Demiurge Photography is amazing!

We absolutely love our wedding and engagement pictures by Demiurge Photography! Megan is so fun to work with and made us feel comfortable in front of the camera. Even worked with our two dogs for engagement pictures! She made sure to capture every detail that was important to us on our big day and we are thankful for that. We are so happy we chose Demiurge for these pictures that will be on ours walls and memories forever! Thank you Demiurge Photography!

Kathlynn C.

Married on 07/18/2020

Capturing Lifelong Moments

Megan is one of the best photographers I have ever had the pleasure working with. She is reasonably priced and super easy to work with. She did our proposal, engagement, and wedding photos. Well worth the money spent. She is also super flexible. Day of the wedding she shoots for a certain number of hours but you can make the schedule be what you need it to be. She is also super helpful in creating a "day of" schedule. She is super respectful and takes into account that others, non wedding party related, might want photos of their families. She is super thorough in making sure you have every photo possible with ever family member there. Would definitely recommend 100x over.

Are you interested?

Send a message

Katie

Married on 06/28/2020

Fantastic Photographer

Megan is the best! She brought my ideas to reality and was very flexible and understanding with all of our changes due to COVID. She worked countless hours with me arranging the schedule based on family and our ideas that we we had for our celebration! I would recommend her to anyone who wanting a photographer for any occasion.

+ 2

photos

Hannah S.

Married on 09/08/2019

11/10 would recommend!

I've always loved looking at other's wedding pictures, so when it came time to decide who to pick for my big day, this was a decision that we did not take lightly! From the beginning, my husband and I were impressed with Megan's quality, quick responses, and go-with-the-flow personality. Not only does she take great photos, but she helps you with anything you need for your day. With all the stress of wedding planning, Megan was one person who was a huge help, and was super timely in getting our photos back too! Couldn't recommend her more highly :)

Sarah M.

Married on 05/04/2019

Highly recommend

Megan did an amazing job with our engagement photos and our wedding photos! She helped create our wedding timeline and was very well-organized. The pictures turned out beautifully and we received a wedding photo book she created that we'll cherish forever. Couldn't have asked for better!

Meghan M.

Married on 04/13/2019

Wedding Photographer

Megan was AMAZING! No amount of words could truly express how helpful she was on my wedding day and how in love with our photos we are. She helped keep me relaxed and made my day flow effortlessly. We are in love with all of our photos and we would choose Demiurge Photography again and again!

Isabella

Married on 11/03/2018

Wonderful photographer -- would highly recommend!

Demiurge Photography exceeded our expectations. Megan was so great to work with and even my husband, who is not a fan of getting his picture taken, thought she was wonderful! It was so easy to have fun and relax around her. She is prompt in communication, and in getting photos back. The timeline that she creates for the day is so helpful--we stayed on track and everyone knew when they needed to be where. The price you pay is worth every penny with Demiurge Photography. I highly recommend this photographer!

Kayla

Married on 08/18/2018

We cannot say enough good things about Megan and Demiurge Photography. The photography package we chose included engagement photos and all day coverage of our wedding, plus a second photographer. From our very first consultation meeting with her, Megan was organized and very friendly. Many months prior to our wedding, Megan created a wedding day timeline for us which was incredibly helpful for wedding planning. As changes occurred over the following months (all the way up until the day before), she was super flexible in reflecting those changes on the timeline. On the day of our wedding, Megan and Ashley (the assistant photographer) showed up in a timely manner and got started with everything right away. Not only did they do a great job capturing all the moments of our day, but they were really fun to have around throughout our day of celebration! Once we got to the ceremony and reception parts of the day, Megan and Ashley had an incredible knack of capturing all the perfect shots, while not drawing attention to themselves at all, and did not cause any distraction for us or our guests. We have gotten some of the previews back already (just 1 week after the wedding!!), and the photos have all been absolutely amazing! My husband and I both agree that choosing Demiurge Photography for our engagement and wedding photos was definitely the best investment we made for our wedding. We would recommend Demiurge to anyone and everyone, but especially those who are looking for a wedding photographer! The investment is well worth every penny and MORE!!!

Amie

Married on 08/11/2018

Loved working with Megan!

My husband and I got married at Prairiewood Retreat and Preserve in Manhattan in August. We couldn't have asked for more with Megan and her assistant. They captured all of the little moments and we hardly even noticed them there. She took time to learn the names of all of our families and wedding parties which made everything run smoothly. She took the initiative to make a schedule for the day, without this we would have been lost! She was very generous and even allowed us to take a large family photo since it's uncommon everyone in is the same place. We had some weather pop up when we were trying to do our engagement photos in May, but Megan was very flexible to reschedule with us. The value and quality you get with Megan is unbelievable. We look forward to working with Megan for maternity, baby, family, etc. photos in the future!

Erica

Married on 07/29/2018

Megan is the BEST! She is very organized, creative and so on top of it. She accommodated coming to Kansas City for our engagement pictures and quickly made us feel comfortable. She also captured our wedding and made it such a joy. She responded so well to any and all of our wishes regarding photography and offered many tips for pictures and other details for the big day . Our family loved working with her which came through in our photos. She captured the day beautifully and is all around awesome person, both professional and very relaxed. We plan to work with her again in the future :)

Caitlin

Married on 06/23/2018

Amazing!!!

Megan was amazing the whole day. Before she arrived she offered to pick up coffee for me and the girls. She really knew what shots would be the important ones and worked with us when we got a little crazy. I would highly recommend her for any wedding or family event in the future.

Kelsey

Married on 04/28/2018

Megan was the absolute perfect photographer for our wedding!! We got married in Manhattan, KS but were living in Florida when we hired her so we met her for the first time the morning of our wedding and it was like we had known her for years! She was friendly, flexible and had so much patience for our rowdy crew as we got group pictures after the ceremony. She went above and beyond!! And her pictures!!!!! They are absolutely BEAUTIFUL! More beautiful than I ever could have imagined!!!! My husband and I HIGHLY recommend Demiurge Photography!!!!!

Emily

Married on 12/29/2017

We had such a great experience using Demiurge Photography. They were great the entire way through, from engagement to wedding. They were so accommodating when it came to travelling for photo locations. Pictures before and after the wedding were efficient and turned out wonderful! They helped keep us on schedule and were flexible when details had to change throughout the day. They really were so helpful with helping us schedule out the day which made it so that everything ran smoothly.

Katie

Married on 10/14/2017

Megan was an absolutely perfect photographer for our wedding day! She was super easy to work with and easy to get a hold of. We told her what we wanted and she came up with a schedule to fit our needs. This was SUPER helpful and saved me a lot of time while planning! A week before our wedding we noticed it was suppose to rain (which changed everything since we were suppose to have an outdoor wedding). I called Megan right away and she made a new schedule for us THAT SAME DAY! This provided me with a lot of relief from a moment of panic. On the wedding day, Megan was really good about making sure we got what we needed done and was perfect. Also, our wedding photos turned out AMAZING! We have received a lot of complements on them. We will definitely be using Megan in the future to capture more special moments. THANK YOU, MEGAN!

Kyndel

Married on 09/09/2017

I would HIGHLY recommend demiurge! From our engagement pictures at Kaufman stadium to our BEAUTIFUL wedding day, I couldn't have asked for a better photographer! She was a "friend" on our wedding day as well as keeping her professionalism as a photographer. Loved her & her work was amazing!

Dara

Married on 08/05/2017

Megan was the complete package any bride would be looking for on their wedding day. The questionnaire(s) she provided me on days leading up to my big day were so organized and thought-out that they actually helped me plan a timeline for my day! Our families were everywhere the day of, and getting everyone together for photos was a task. Megan was patient, kind, and thorough! The quality of her work and the time she takes to make sure you'll get everything you want out of your day is worth every penny. If I could go back and do it all over again, I'd choose her 10x over!

Mandi

Married on 04/29/2017

Megan was the best investment of our wedding. She's personable, honest, direct, and has such a distinct and gorgeous photography style. She was easy to work with and responsive leading up to the wedding. On the day of, she was punctual and worked her tail off! One of the biggest comments from our guests was how great Megan and her assistant were and how dedicated to getting the perfect shots they were. She also ensured that we got all the shots in but were fully present and enjoying our wedding. Once we took our couple shots we barely noticed she was there the rest of the night. Our photos are so special and we have one of kind shots to remember our perfect day for a lifetime and we have Megan to thank! I highly recommend her services to everyone! You won't regret it!

Ashley

Married on 11/19/2016

Megan is absolutely amazing!! From the moment I made contact with her, she responded quickly and efficiently. She made us feel like our wedding was always a priority, and she ran the business side of photography so well. She had the itinerary for our wedding all made by 6 months in advance. I am a big planner, and this aspect was so huge because it put my worries at ease on how the day would go. We never new Megan before we contacted her, and I was so nervous because obviously wedding pictures are a big deal, but she went above and beyond our expectations! I have never met a photographer as genuine as she is. Her personality is fun and energizing, and she honestly made our wedding day more enjoyable because she was a part of it. The quality of her pictures speak wonders about her professionalism in this business. Beyond a doubt, you will not be disappointed!

Alexa

Married on 11/12/2016

Megan was very easy to work with and went above and beyond to get pictures that we wanted. Her details photos were so creative and absolutely my favorite! We have so many great photos capturing so many special moments from our wedding day! My husband and I were very glad we chose Megan as our photographer.

Lynda

Married on 09/16/2016

I highly recommend Megan. Her photography is excellent. She captures the moment and makes everyone feel comfortable. She is easy to communicate with and finished the editing in impressive timing. She is very organized and knows what she's doing! Great photographer and very friendly person. :)

Rebecca

Married on 08/20/2016

Seriously, you need to choose Demiurge for your engagement pictures, wedding, maternity shoot, graduation pictures, or whatever! Megan is awesome to work with. My fiance is very carefree and likes to joke around. He wasn't as thrilled to take pictures as I was, but after we spent a couple hours with Megan shooting for the engagement session, he couldn't wait for them to come out. She made us feel relaxed and natural. I absolutely loved my engagement pictures!

For the wedding, she worked so well with my fiance and his crazy groomsmen! She made the bridesmaids and I feel beautiful! She takes the awkwardness of taking professional photos away. Megan interacts with you during the shoot that helps to truly captures your personality through the photos.

She has different packaging options for your wedding and the prices are so affordable. We had all day coverage for the wedding with two photographers for cheaper than some photographers that only had 1 photographer for 6 hours. I cannot wait to see the wedding photos when they come out! I am so thankful we found Demiurge, she made our day perfect!

Katelyn

Married on 08/09/2016

Demiurge Photography was a great choice for our wedding! Megan was professional, fun, and most importantly provided us with pictures we LOVED! She created a timeline for the day, which was extremely helpful and reduced a lot of stress. She made sure we got absolutely every shot we were wanting and captured every element of our wedding. Overall, Demiurge was great to work with and I would recommend them to any bride-to-be without hesitation.

Kayley

Married on 07/30/2016

Megan was such a joy to work with! Our engagement session was so much fun, and the pictures captured our relationship so well. She helped our wedding day run so smoothly and even gave some sneak peaks of the pictures as she took them. She was always responsive when I had questions throughout the whole process, and was so easy to plan with. She offers awesome packages, and her work is definitely worth it - my bridesmaids even said they loved her! We can't wait to see our wedding pictures!

Lindsey

Married on 07/23/2016

Demiurge Photography did an AMAZING job capturing our destination wedding! Megan was great to work with, and really paid attention to what types of photos we were looking for. I would highly recommend Demiurge, thanks again for the beautiful photos!
Are you interested?
Send a message