Reviews
4.9 out of 5 rating
Quality of service

5 out of 5 rating

Average response time

5 out of 5 rating

Professionalism

5 out of 5 rating

Value

4.9 out of 5 rating

Flexibility

4.9 out of 5 rating
99%
Recommended by couples
173 User photos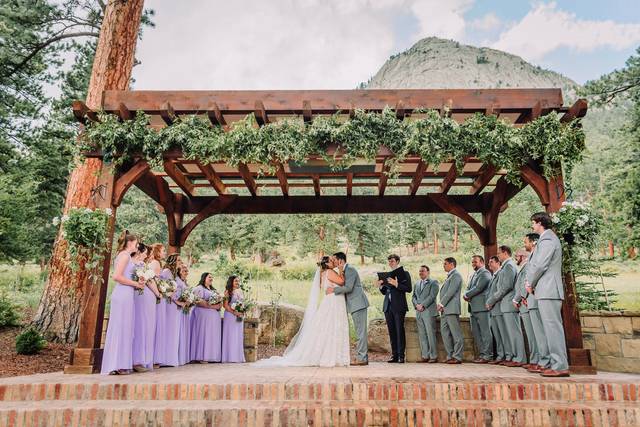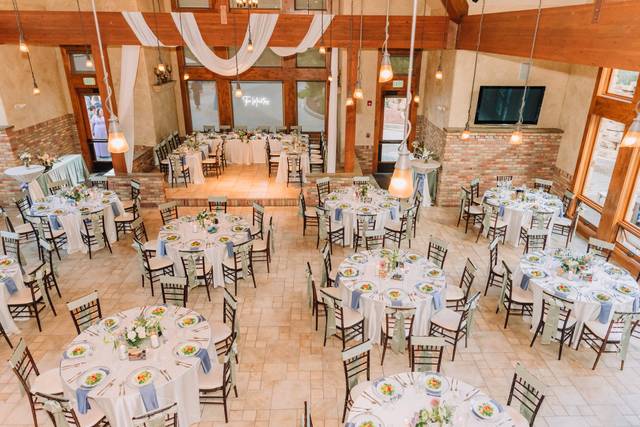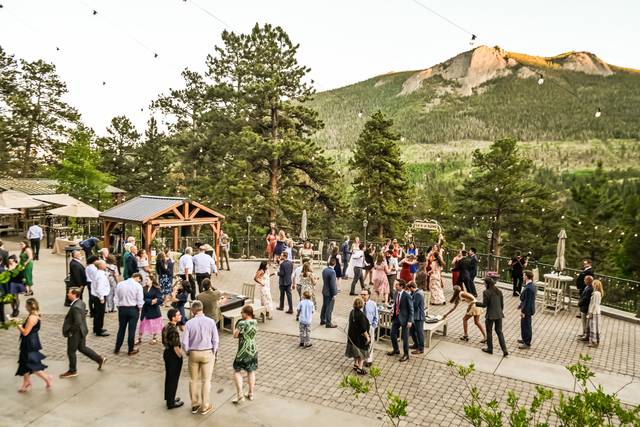 + 169

photos
Featured

Melissa

Married on 10/07/2022

AMAZING Venue and Team!

Della Terra is an absolutely breathtaking venue. The gorgeous scenery makes it easy to cut costs on decorations and florals if needed. The team and Anna were an amazing help throughout the entire process. From answering common questions, to assisting in the entire setup, to adjusting to last minute changes, everyone worked extremely hard to ensure our wedding day was perfect.

Brittany B.

Married on 09/03/2023

Where Dreams Become Reality!

When envisioning the perfect backdrop for our special day, never in our wildest dreams did we imagine a place as enchanting as the Della Terra Mountain Chateau. From the moment we set foot on its grounds, it was clear that this venue wasn't just built, but lovingly crafted with a keen eye for detail and a heart full of passion.

Each step within the property feels like wandering through a fairy tale - an Italian Villa elegantly nestled amidst the majestic beauty of Estes Park's mountains. It's a venue that doesn't just host events; it embraces them, setting the stage for memories that last a lifetime.

Amidst the venue's splendor, it was the people behind Della Terra that truly elevated our experience. Rachel, our coordinator, was a beacon of professionalism, warmth, and genuine care. The staff, with their unwavering smiles and dedication, ensured that every guest felt like royalty.

Conversations amongst friends and family have since been painted with awe and admiration, reflecting on the sheer magic of the venue. As for us, the allure of Della Terra beckons once more, as we eagerly plan our 1-year anniversary celebration within its enchanting embrace.

To any couple searching for more than just a venue - for a place that will cradle your love story in its timeless beauty - the Della Terra Mountain Chateau awaits. A sanctuary where dreams are not just dreamt, but lived.

A heartfelt gratitude to the entire Della Terra team for making our day not just memorable, but legendary. For those who believe in fairy tales, this is where they come to life. 🌄🏰❤️🍾

Elizabeth L.

Married on 07/22/2023

The wedding of our dreams

From the moment we booked our wedding at Della Terra to when we left the night of our wedding, Annie and the Della Terra Team went above and beyond to make our day special. They KNOW how to run a smooth wedding (seems like they basically do it every day) but they also take the time to make sure elements are unique to you as a couple. We love National Parks, which is the main reason why we chose Della Terra, but if I had to go back and do it again, I would choose them over and over again for so many other reasons! The obvious: its hands down the most beautiful venue we looked at, with beautiful mountains and aspen trees on property. Don't be surprised if you see bighorn sheep, Elk, and turkeys on site! We had all 3 on our wedding day which was SO fun! The hair and makeup getting ready area and the theater room cannot be beat. We had so much space to spread out and have a relaxing morning while getting ready, and the groomsmen really enjoyed the theater room before the wedding. Our planning meeting (about a month and a half before our wedding) was so extremely helpful, where we walked through every possible little detail of our day. Annie was always an email or phone call away for questions we had, and she really helped make our day special. We chose to plant a tree on site as a part of our unity ceremony and we are so excited to visit in the years to come. During our ceremony, a passing shower decided to occur. While this might be every bride's worst nightmare, I hardly even knew it was raining during the ceremony because the outdoor wooden structure can be closed and guests were all given clear umbrellas. Annie made sure to check in with us about bar totals (as requested) and kept everything running so smoothly! They even hand delivered my husband's jacket to our room after he left it in the reception hall after the wedding ended. Della Terra and Annie really handled every single detail, no matter how small, and are committed to giving you the wedding of your dreams. Thank you Annie and Della Terra from the bottom of our hearts for helping us have the most perfect wedding day.

Are you interested?

Send a message

Marrena M.

Married on 07/16/2023

The Perfect Place to Say "I Do"

My husband and I got married at Della Terra just last week and I honestly don't think our wedding could have gone any better! From the second we drove up to the chateau, the venue took our breath away. Not only was McGregor Mountain the perfect backdrop for us to say "I do," but the accommodations and staff at Della Terra truly made our wedding day beautiful and stress free! Rachel was our day-of coordinator and she was incredibly helpful, but honestly, the entire wedding team there was essential in ensuring timely and professional communication and easing all my planning worries. Our venue was probably the most complimented aspect of our wedding day, and I truly wish we could just relive every second. Getting married at Della Terra was hands down the best decision we made during the entire planning process - we cannot recommend this venue enough!

Emily F.

Married on 07/13/2023

Venue of your dreams!

Della Terra is everything you could ever want for your wedding (there are so many wonderful things I could say in this review!!). I could easily write a paper just on its beauty (the website doesn't do it justice, I'd highly recommend a tour), but in addition to its picturesque scenery it has the BEST staff you could ever ask for. On my wedding day they handled everything. When a pen ran out, it was immediately replaced. When we found out someone arrived using a cane, he was brought food and drink so he didn't have to stand. They took away signage once it was no longer needed and set out our flip flops and glow sticks once the sun set. So often our coordinator Anna would come over and just ask what she could do for us and how we were doing (Anna we love you!!!). We had so many compliments just on the bartender Ryan, who prepared a special drink for our guests in honor of his birthday. I can guarantee that your wedding will run smoothly and you will feel supported and loved at this venue. I only wish I could get married there again!

Carissa M.

Married on 06/16/2023

They will make your wedding day amazing!

If you're on the fence about having your wedding here, 100% do it. They answered every question I had leading up to the wedding (even times when I would send 4 emails in a row in a panic/frenzy), helped coordinate our timeline, how everything would work, and were incredible the day of our wedding. Not to mention the incredible hotel stay that came with the venue, the beautiful and luxurious getting ready areas, and how clean and put together the venue is. Our event manager was Rachel W, who is truly the person who MADE this day what it was. We had rain and she was quick to get the staff to turn the indoor reception area into a spot where we could take family photos. We didn't have a chance to say our vows to each other so she made sure she got our vow books and found a 10min period in our hectic timeline where we could have this important moment with each other. The staff is truly amazing here - they handed guests umbrellas, seat cushions, and blankets as they arrived to the venue to make sure everyone was comfortable despite the rain. Guests were remarking how staff even offered to take them down to their car at the end of the night. I truly can't tout this venue enough. It's the best venue in Colorado for a reason!

Alex R.

Married on 06/15/2023

Perfect in Every Way! Beautiful Venue Operated by EXPERTS!

Such an incredible venue and team. This place operates like a well-oiled machine at every level. Not only is it a beautiful property with luxurious rooms, but all the work that happens behind the scenes to make your wedding day perfect is truly priceless. Anna was our go-to person on our big day, and she crushed it. She had minute-by-minute plans of the day and coordinated with the DJ and other vendors to make it happen. I could gush on and on about how great and easy and affordable and responsive and friendly and perfect our experience was, but I urge you to save yourself a ton of trouble and book Della Terra for your perfect wedding. You won't regret it!

Annie Y.

Married on 06/14/2023

Amazing Views and Awesome Team

After visiting multiple venues in Estes Park, we chose to have our wedding at Della Terra for a few reasons: The beautiful location, everything included for the price, the wedding coordination team. The views in every direction are amazing, and the ceremony site backs directly up to Rocky Mountain National Park. Without leaving Della Terra's property we were able to go get the elopement style photos we wanted and then quickly rejoin our guests for dinner. Not only does the space offer impressive views from every angle, but the venue has thought of everything needed for a wedding to run smoothly. From large separate areas to get ready beforehand, to the truly luxurious honeymoon suite that is included. I was also beyond impressed with our Coordinator, Stefanie! She was kind, knowledgeable, prepared, and helped us deal with issues as they arose without making them feel like stressful situations. She made sure I was always taken care of, even when I nervously tried to dowplay my needs. At one point even used a needle & thread to fix a dress mishap while I was wearing it! I can't imagine how the day would have gone so perfectly without Stefanie, Annie, or the rest of the staff being so kind, communicatave, and helpful - not just with me and the groom, but with everyone attending. The views are the reason we chose Della Terra, but the team working there is the reason I absolutely recommend them!

Sara R.

Married on 06/08/2023

Absolutely amazing experience!!!

Della Terra was the most beautiful venue I could have ever dreamed of, it was the perfect mix of mountain and romantic which is exactly what we wanted for our wedding. We got married June 8th, 2023. Our day of coordinator, Anna, was absolutely amazing and took care of everything with all of our vendors, made sure the timeline stayed on track, and kept me up to date throughout the whole day. She also made me feel like a princess and I could not have asked for a better person to get me through the day. I wish I could give this venue more than 5 stars on this review and I could not recommend it more. An added bonus that made our day so special were 4 moose hanging around all day. It was magical. Such a stunning location!!

+ 7

photos

Lindsay T.

Married on 04/17/2023

Grateful Beyond Words!

We feel so blessed and grateful that we had our wedding on April 17th, 2023 at Della Terra! We wanted to get married in the mountains and from the moment we saw Della Terra our hearts were set on this venue. It felt like a wonderful dream meeting the staff, getting a tour of the beautiful property and viewing the luxurious suites. The outside ceremony has spectacular views and the reception hall has touches of rustic and elegance with high ceilings. Della Terra assigned Anna as our wedding coordinator and she was a gift! She was so sweet, was patient with all our questions, did an amazing job getting back with me promptly and helped things go so smoothly on the day of the wedding. The Della Terra wedding team did a great job as well responding back to me on Anna's days off and were so helpful the day of the wedding. So many guests commented on how it was the best wedding they've been too! It was a day touched by heaven from the beautiful weather, the joy and celebration of our guests, all the animals (turkeys, rams, birds....) showing up and trees clapping :). We'll treasure this day always! We pray you'll be as blessed and more on your special day at Della Terra!

Clare H.

Married on 03/25/2023

Annie and her team at Della Terra made our wedding day so special!

We had our wedding at Della Terra on March 25, 2023 and we cannot recommend them enough, especially our Della Terra event manager, Annie!! Annie was professional, quick to respond to our many many emails, kind, knowledgeable and detailed. If Annie was not in the office the Della Terra Wedding Team was always there to help! Annie helped make our day so special and personalized. We feel very lucky to have worked with her and the team. The venue is absolute breath taking and included so many amenities for us and our guests that made the day go smoothly. (Too many to list) We took a gamble by having a March wedding in Colorado and wanting to do an outdoor ceremony no matter what. Della Terra was ready to go no matter the weather, snow/wind/cold/sunshine/rain/etc. and we got our outdoor dream ceremony under the mountain in 20 degree weather. Our guests talk about how beautiful it was an how the blankets Della Terra gave out were lifesavers. Annie and her team helped us keep us on schedule while still being flexible when our guests/my husband was ready to move things a bit faster to get on the dance floor. We cannot thank them enough for the wonderful day/job they did!!

Kayla S.

Married on 12/06/2022

The most amazing day of my life

I had such an amazing wedding here and had the privilege of having Anna as my day of coordinator. She made sure my special day ran smoothly and was there for every need I had. She was so king and sweet and really made my day the day that we had. My wedding was everything I always dreamed of here and the views were incredible. We were luck enough to have snow the night before and elk pass through during our outdoor cere4mony. It really could not have been more perfect. If you are even slightly considering this venue I really encourage you to our it because it truly was such a magical space. Thank you so much Della Terra for the most incredible wedding and for making my dream wedding come to life!

+ 2

photos

Shannon W.

Married on 11/25/2022

Amazing place that we recommend to everyone

We absolutely loved getting married here! They map out every single detail so you have nothing to worry about on your special day

Mariah B.

Married on 08/11/2022

Magical venue

If you want the most magical day, choose Della Terra Mountain Chateau for your wedding. I cannot express enough how amazing the staff made our day. From our initial tour to our meeting with Annie, our event manager, Della Terra has created the perfect environment for the dream wedding. I would re-live that day a million times over. We saw several (8 to be exact) venues around Colorado before Della Terra. We just wanted a venue with a Mountain View and could not find anywhere that fit our aesthetic. The minute we drove up the pathway to Della Terra, we fell in love. Immediately, you are surrounded by massive mountain and there is a peaceful energy that surrounds this oasis. We had a fantastic tour and booked on the spot. #whenyouknowyouknow From that moment on, the Della Terra staff were so helpful and receptive to all our questions during the planning process and sending helpful tips and reminders to make our day run smoothly. They have thought of EVERYTHING, from umbrellas to blankets and everything in between. Our meeting with Annie, our event manager was beyond helpful in making our day run without a hitch. She was compassionate, fun, and her advise was everything we needed. The complimentary stay the night before our wedding was the perfect way to kick off our wedding. It is so peaceful, we were able to order room service and bask in the oasis that is Della Terra. Our wedding day was perfection. Not because everything ran according to plan but because the team was so kind, fun, and attentive. Our morning attendant, Rachel, the gentleman who drove us on the golf cart, our bartenders, and of course Annie all made sure we were cared for and had the most amazing day. If anything was going wrong that day, we had no idea. We even kicked it on the dance floor with Annie. I mean, what more could you ask for? I could go on forever about why Della Terra is obviously the best choice for a wedding venue, but go take a tour and find out for yourself. What I can tell you is that you ABSOLUTELY will not regret your choice with Della Terra Mountain Chateau.

+ 11

photos

Alison P.

Married on 08/01/2022

Amazing venue!

Della Terra and its staff were amazing to work with! From the very start, they were professional, friendly, and responsive. They've thought of everything to make sure your day goes smoothly. When it started to pour rain right during our outdoor ceremony, they made sure everyone had umbrellas and set up a station with 3 hair dryers and my fantastic day-of coordinator, Abby, helped dry out my dress afterwards. Not to mention, it's a gorgeous location and reception hall. I was very thankful that they had reasonable rates for weekday weddings so we could get married in this amazing location. Thank you, Della Terra staff!

Caitlin G.

Married on 07/22/2022

5 Star Venue!

Della Terra was the best choice we could've made for our wedding venue! It's such a stunning property and from the initial tour to our actual wedding day the staff was incredible. I have to shout out our event manager, Anna, who took such good care of us and was so kind throughout the planning process. We had a lot of peace of mind on wedding day knowing that if anything went awry we would be well taken care of. We also got a ton of feedback from our guests that they not only loved the wedding and the venue but that they were so impressed with how smooth the entire day went thanks to Della Terra staff!

Ashley G.

Married on 05/02/2022

Perfect Venue

Della Terra and all the staff were truly amazing on our wedding day! From the day of assistants making sure we were taken care of in the bridal suite and theatre room, to the staff helping change table assignments at the last minute, they made sure the day was completely flawless. Even when I ended up getting a little too much "nature" on my dress, Annie made sure to not only get some club soda to clean it up, but also was able to sit and dry my my dress which had gotten very wet from all the snow! This place is honestly perfect for a wedding because of the gorgeous venue and amazing staff; you will not be disappointed!

Christa V.

Married on 04/23/2022

The absolute best

Della Terra Mountain Chateau was nothing short of magical on our wedding day. The venue is gorgeous inside and out. We had to move our activities entirely inside due to weather, and our guests continually commented how they can't believe that was our "plan B" option because of how beautiful the inside of the venue is. The staff is professional and beyond talented. Annie in particular was a godsend for coordinating vendors and keeping track of logistics/details. We felt supported and celebrated by the entire team all weekend - even the bartenders were thrilled for us and it showed! Every aspect of our day was beyond expectations. We cannot wait to return for anniversaries - the suites are perfect for a romantic getaway!

Jessica Z.

Married on 04/09/2022

Best Wedding Venue in Colorado

There are no words that can adequately express how amazing the staff at Della Terra Mountain Chateau are. We cannot sing enough praises. Not only is the venue itself beautiful and idyllic with its mountain setting, but the staff and the services they provide are beyond compare.

My husband and I chose Della Terra Mountain Chateau for our wedding because it has special meaning for us (it was part of our annual visit to Estes Park to celebrate our anniversary) and we always wanted to get married in the mountains. The backdrop at the ceremony site is breathtaking and the indoor reception area is beautiful as well.

The wedding team members, especially Annie, are superstars! During the planning process (approximately two years for us) I sent them at least a hundred questions. They were always patient, friendly and quick to respond. They have a list of recommended vendors which was helpful for us when we were building our vendor team. Many of the ones listed were hired for our wedding day. We appreciated the in-depth planning meeting a few months before the wedding, which allowed us to meet Annie, our Event Manager, and go over the details. Their planning form itself was over 5 pages and covered every detail for the wedding and helped alleviate the stress of planning.

Annie was awesome! She was organized and made the wedding day so much more than I could have imagined. She frequently checked in with us to ensure we had what we needed and helped keep the wedding day stress-free! When we lost one of the seating chart cards before the reception, she adjusted the cards to make it look nice and then stood beside the chart to advise those folks where they were sitting when they couldn't find their names. She also put aside dessert and plates of food for us in our suite for us to enjoy after the wedding. She also did an amazing job decorating our suite to make it romantic for us. She went above and beyond for us and really made our wedding day special.

Also, huge shout out to the bar team and the rest of the staff on site at Della Terra. They were friendly, personable and attentive to guest needs. We wanted to have a local beer for our unity beer blending ceremony. Della Terra's bar team was accommodating and worked with us so that we could have it for our special day. This meant so much to us and is another example of how the venue staff goes above and beyond.

The staff were also willing to step in where needed and they seemed invested in making our wedding day memorable. We had an amazing morning assistant, Natalie, who also made sure we had what we needed as we got ready. As mentioned earlier, everyone we interacted with at the venue was kind, professional, attentive and organized.

There was a wedding the day before ours, as well as the day after ours, but you wouldn't have known it. The staff go above and beyond to make your day special. We never felt rushed and every staff member had a smile on their face. They were attentive to our guests and we heard many positive comments about the venue and the staff from our friends and family. One of the nice things Della Terra offers to guests are the seating pads and blankets for the ceremony. There are also heaters around the venue. It was a little chilly on our wedding day, but our guests didn't notice/didn't mind because of these extra touches the venue had.

Also, the suite we stayed in was absolutely gorgeous. We appreciated the option to stay in the suite the night before and the night after the wedding free of charge. I would recommend extending your stay if you can post-wedding to soak everything in and to relax and unwind.

If you are looking for a mountain venue for your special day with staff that will go above and beyond for you and for your guests, look no further than Della Terra Mountain Chateau. They are worth every penny (and more with the amazing service they provide)!

Katie B.

Married on 03/26/2022

Perfect Backdrop, Amazing Team.

Della Terra's natural beauty speaks for itself as a wedding backdrop, but the team supporting you is unmatched. They have clearly done a few weddings and everything was seamless throughout the entire weekend. Besides the location and views, a big draw of Della Terra was the fact that they include everything in their venue fee. You don't need to bring in outside rentals (tables, chairs, china, linens, etc.), you aren't nickel and dimed to rent each space separately, and you have full control over all of the vendors you work with. The only thing you need to do through Della Terra was alcohol but their bar team was awesome and really easy to coordinate everything. We couldn't have imagined our wedding at any other venue.

Cory E.

Married on 01/08/2022

Visit In Person and Talk to the Team!!!

We actually said no at first and almost missed our chance, but decided to go visit on a whim. Worth it!!! Pam, Darrell, Annie, and the rest of the team at Della Terra took the best care of us for our wedding. Everything was perfect, we had constant communication throughout the process, and I honestly cannot imagine our wedding without them. They were so accommodating and so diligent with all of the COVID regulations so that we could focus on spending time with our loved ones. This is a magical place and I would highly encourage you to at least visit them and give them a shot for your wedding. Their rooms are incredible and we will definitely be going back for our anniversaries to come. Thank you all so much, my wife and I are so lucky to have found you for our special day. By the way, for the budget conscious, we had our wedding on a Tuesday and it saved us a ton. They can hold weddings on any day, so stop by and ask them for all of the info before making a decision. Oh and a side note, the wild life and scenery of Rocky Mountain National Park in the background were second to none at this location. Truly amazing.

Daniella M.

Married on 12/09/2021

Incredible

I don't even know where to begin. Della Terra was amazing. My wedding manager, Annie, was phenomenal. For a venue that hosts so many weddings, mine still felt super personal. I had everything I needed and more. Myself and my family were very taken care of. My wedding day was insanely beautiful. The quality, professionalism, care and love Della Terra puts into each event is unmatched!

+ 7

photos

Ashley H.

Married on 12/06/2021

A Fantasy Turned Reality

I could not ask for a better venue to book for a destination wedding! Lauren, Raquel, and the Della Terra Team were outstanding. Their organization and experience truly made my wedding planning process from 1500 miles away uncomplicated. They listen to your requests, respect your budgets, and allow you to design your wedding day based on your needs.
Thank you again, Della Terra, for your help in making my wedding fantasy a reality!

Casey J.

Married on 12/02/2021

Della Terra Was Perfect

My wife and I were enamored with the Della Terra Mountain Chateau from the moment we saw it. Its sophisticated charm, immaculate facilities, custom-designed, aesthetically pleasing architecture, majestic views and top-notch, welcoming and professional representatives contributed substantially to fulfilling our dream for our wedding in February 2020.

My wife and I live in Los Angeles and have family in Colorado and Japan. Given the expense and time of our guests traveling to Estes Park, we wanted to ensure that not only were we happy with the venue, but they were too. We intentionally kept the wedding intimate and personal, so it was essential that any vendors who would be present would be able to make our guests from near and far feel completely at home. Since our wedding, we have had several of our guests note that they have returned to Estes Park and the Della Terra Mountain Chateau to reminisce about the intimate and meaningful time we all had together. Since we were mainly coordinating our wedding from a distance, it was also essential that we had ample help from the venue and contacts we could completely trust. Anna (and Pam) were everything for which we hoped and more, truly. As one example, I had forgotten my pocket square that my wife gave me before the ceremony, and Anna was there to get me back on track. She attended to the most intricate details while managing to ensure the entire wedding ran flawlessly. We look forward to continuing the friendship we formed with her through these experiences.

There is so much that can be said about Della Terra Mountain Chateau and the people who own it and run it. Suffice it to say, it was perfect for us, and we highly recommend it!

Photo Credit: www.sincerelyjulesstudio.com

Mathew G.

Married on 12/01/2021

Picturesque Mountain Venue

Della Terra made having a destination wedding SO easy for us. They provided a wedding portal with questions and forms for figuring out everything we needed to know to plan our day!

They also provided a list of "Familiar Faces" vendors which made contacting them a breeze.

Anna, our day-of coordinator, was so incredibly helpful in making our ceremony and reception go off without a hitch. She and her team managed things from wedding party entrances to music coordination and more.

Did I mention how BEAUTIFUL this venue is? It has a classical, tuscan villa feel and the backdrop of the Rockies is breathtaking. Its proximity to the Rocky Mountain National park was a selling point for us as we were able to take our first look photos there!
Are you interested?
Send a message