24 Reviews
Recommended by 91% of couples
Quality of service

4.5 out of 5 rating

Average response time

4.4 out of 5 rating

Professionalism

4.4 out of 5 rating

Value

4.7 out of 5 rating

Flexibility

4.6 out of 5 rating
Awards
1 User photo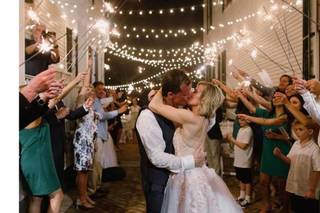 Judy B.

Married on 06/03/2022

Magical, A Dream Come True, Fairy-tale Wedding!!!

Magical, A Dream Come True, Fairy-tale Wedding!!! The Degas House, A Historic House Museum, was the perfect venue for my daughter and her husband's destination wedding. New Orleans was the perfect city for us. David, Kalin, Kathy were a complete joy to work with. The home and furnishings were exquisite. The Estelle Room was so beautiful and made their wedding day and evening very special. There was plenty of room for the bridesmaids to dress. The groom and his groomsmen stayed in a beautiful 18th century furnished parlor. The courtyard was so beautiful. I worked closely with Kalin, she helped with every small detail and made sure we had everything we needed for a perfect wedding. And the Food!! Many of our guest said the food was the best food they ever had at a wedding. Cajun/Louisiana dishes and the Pork Roast was the best I've every eaten. Ms Sharon and her staff even made fried chicken and fries for the kids before the wedding. Our every need was taken care of. And then, there was Ms Elaine, the personal attendant, she made sure we had plenty of champagne and finger foods before the wedding. Everything was Perfect!!! Thank you!!!

Clare O.

Married on 10/23/2021

Beautiful venue

Degas house was super flexible with our postponed wedding. The versatility of beautiful indoor and outdoor spaces is amazing. Being able to stay on site if desired can also be really helpful. Many of our guests loved the history of the Degas house as well as the museum. The food is also to die for!

Degas House's reply:

Clare

Thank you for the kind words. Sharon and I loved working with you to make you day very special.

Thank you and we will see you on your first anniversary - it's our way of saying thank you for allowing us to be part of your special day.

Kindest regards

WITH LOVE FROM THE DEGAS HOUSE AND STAFF

Kathy

Anna

Married on 05/23/2015

The Degas House was the first and last venue that I visited when searching for a place to have my wedding and reception. I immediately fell in love with the charm of the house, grounds, and wonderful staff. It was the only venue that provided everything that I needed to make my event successful and beautiful including lodging. I owe the success of my event to the staff especially to the super-creative wedding coordinator/event planner, Eva Tracey (whom wears many hats.) She met with me several times during the process and kept me well-informed of all things that I needed to be concerned with. I did not have to lift a finger during the whole process which allowed me to completely enjoy my wedding without stress. All I had to do was make decisions (basically say "yes or no" to questions.) The Degas House is such a package. They provide food, decor, staffing, chairs, linens, liquor, and so on etc. It was the only venue that didn't have a separate charge for every little thing. The staff took care of everything from start to finish and it was such an easy ordeal. Eva also set up a tasting where my husband and I could try all the delicious offerings that would be served at the reception. Eva was very organized and the time-line of my wedding was scripted. I was escorted to the necessary places when I had to be there and the wedding was a SUCCESS!! My friends actually said that it was the best wedding that they had ever attended. EVERYONE commented on how smoothly things went and that there was never a dirty glass, plate, or napkin on any table at any time. Ms. Sharon rocked in the kitchen and everyone also said how great the food was. Ms. Elaine took care of all the ladies upstairs for the dressing of the bride and couldn't have been any sweeter. All these lovely people made my wedding day/night so successful and memorable. I cannot say more about how great the staff was!!

Degas House's reply:

We LOVED helping you plan your wedding! All of our pre-wedding meetings were a blast. Your flowers were lovely and The Hot 8 Brass Band was amazing! They had everyone up and dancing. You looked so beautiful and it was one of the most fun weddings that we have had the pleasure to work on.
Wishing you both a lifetime of love and magical adventures.

Are you interested?

Send a message

Eva, Ms. Sharon and entire staff at the Degas House was extremely warm and friendly. I was an out of town bride and Eva was professional, responsive and extremely helpful in coordinating and planning my wedding. She helped providing honest and true comparisons that fit within my budget for florists, photographers and so on. During the weekend of my wedding there was a bit of rain and honestly all went fine -- our guests enjoyed the food, entertainment and the entire establishment... everyone was dancing and having a great time. Eva was also excellent with giving suggestions of what worked in other weddings as side dessert tables, sparklers and so on. It was quite romantic. We also got the Estelle suite and that was fantastic as well, the service was delightful and our bridal party enjoyed the extra treats and champagne. I am so happy we chose this location-- in fact I chose it without doing a tour of the venue (a family member did in place) however when I visited in November (as well as the phone calls leading up to November) I found the venue to be accommodating, delightful, elegant and Eva & staff to be ever so assuring! :) I highly recommend the venue.

Degas House's reply:

You looked so beautiful on your wedding day! Your groom was totally delightful and so funny! Your band, Boogie Falaya, was wonderful and we think everyone enjoyed dancing to their music. We loved all your special touches and how you incorporated your friends and family into your special day. Having one aunt officiate, one aunt sing along with the band (who has an amazing voice), and the way that you introduced the bridal party was very fun and memorable! Your life is a beautiful fairy tale written by the hand of God. We hope we will see you the next time that you are in New Orleans.


Josh

Married on 04/04/2015

Everything went perfectly with the Degas House. The attention to detail and flexibility to work with all of our various needs along the way was just amazing. The experience was all very personal, and the staff super wonderful to work with. They were so willing to help with any questions that came up all along the way. We stayed there, got ready there, and had the ceremony and reception all on site. That got rid of so much potential stress by doing everything there. I definitely recommend to anyone planning a nice and personal wedding in New Orleans!

Degas House's reply:

Your wedding day seemed to be perfect, as you felt it was! We loved working with both of you! Your astronomy themed wedding was delightfully memorable. We also loved that you had a first song instead of a first dance. We wish you a lifetime of love and happiness.

Kristen

Married on 04/03/2015

Eva and the rest of the staff at the Degas House worked tirelessly to make sure that our wedding day was everything we had planned. Eva was always quick to answer my questions and concerns prior to the wedding day, which were frequent since this was a destination wedding. She always put me at ease. The venue is beautiful! During the ceremony, Eva and the staff were so sweet, engaging the guests and anticipating everyone's needs. I never had to ask for anything. The food was fabulous, the ambiance was beautiful, and the people involved in making everything come together were fantastic. After the ceremony, we arrived in our room to find that they had wrapped up leftovers for us, took care of the cake so we could celebrate one year later, and left champagne for us by the Jacuzzi tub. We can't wait to come back!

Degas House's reply:

We loved helping you plan your wedding! You were a complete joy to work with! By the time that you had arrived in New Orleans, we felt like you were an old, familiar friend. We truly enjoyed your family and friends. The band that you choose, The Christina Perez Trio, was a just delightful and added a nice ambiance to the evening. Wishing you a beautiful life together made up of happy adventures and sweet memories.


Our wedding at the Degas House was everything that I ever imagined as my wedding. Eva was wonderful to work with and was incredibly sweet and understanding. The staff works with you in getting what you need for your big day. We rented a dance floor to go in the back of the courtyard for dancing which was a great decision! I would also recommend staying doing their package that involves the Estelle Suite and the Dressing of the Bride package. Because we were able to stay at the venue the night before, get ready there, and simply walk downstairs for the ceremony, it made the day incredibly easy and stress free. It was a magical day, to say the least, and the atmosphere of the Degas House was perfect for our wedding!

Degas House's reply:

You were such a gorgeous bride! You were both amazing to work with. We loved the dance floor! It added another level of elegance to our lovely courtyard! We absolutely agree with you about our Dressing of the Bride Package. It makes it fun and easy for you, your Mom, and bridesmaids to have your hair and make-up done while our butler is pampering you. We wish you much joy in your married life.


Matt

Married on 03/14/2015

Couldn't be happier with Eva and the whole team at the Degas House. The grounds were beautiful, the food was excellent, no one's drink was ever empty it was an all around A+++

Degas House's reply:

It was such a pleasure to work with both of you! We loved the beautiful, rustic arch that your florist erected in front of the fountain. The little cones that held the flower petals for the guests to throw after the ceremony was such a nice touch. One of my favorite moments was your uncle reading from "The Velveteen Rabbit"; he was delightful!!

Your band was fun and lively and had everyone on their feet enjoying the music that filled our courtyard. You are a beautiful couple and everyone could certainly see how very much in love you are. Wishing you love, peace, and sunshine.


Lauren

Married on 03/07/2015

Everyone at the Degas House was amazingly caring and attentive! I could not have planned a destination wedding without the helpful suggestions and constant reassurance of Eva. On the big weekend, Miss Sharon, Eva, and the whole team took excellent care of us. Every detail was perfect, the venue was stunning and the food was delicious. I highly highly recommend the Degas House to any bride and groom looking for a warm, wonderful wedding.

Degas House's reply:

Thank you for such a wonderful review of your destination wedding. You were a wonderful couple and we loved working with you to make your wedding all you wanted it to be. Your hoopla was beautiful and we enjoyed the "breaking of the glass" tradition. The Sparkler Sendoff was awesome. We are glad you were pleased with the location and our services and thank you for choosing Degas House. Congratulations and we wish you the best! Eva, Sharon and the Degas House staff.

Walter

Married on 02/28/2015

A perfect event from start to finish. The entire staff made our night truly special!

Degas House's reply:

Thank you for choosing Degas House for your wedding. You were a great couple to work with. We especially loved the bride's gown - so beautiful. It was truly a joyous celebration and the love shared by you was obvious. The staff at Degas House wishes you the best.

Candy

Married on 10/10/2014

This venue is beautiful! The pictures just don't do it justice. I am from Louisiana but have been living in Florida for the past three years and all I had was pictures of the place to go off of. It was beautiful but I had doubts about the space. I saw it for the first time a week before my wedding and I was almost in tears, it was perfect! The lighting was beautiful, they allowed us to use a few decorations they had-floor lanterns ect- and thinking back, I fall in love all over again! The staff was amazing and Eva the wedding coordinator was an absolute delight to work with! She was SO sweet and accommodated my every worry! We can't wait to go back and see them again.

Laura

Married on 04/04/2014

When my now husband and I decided to have our destination wedding in New Orleans, we wanted it to have the feel of this beautiful historic city. When we found The Degas House, it was everything we were looking for. We were married on what turned out to be a beautiful Friday evening in the courtyard at this splendid bed and breakfast on Esplanade Avenue. The setting is gorgeous and provides the perfect New Orleans ambiance. We checked out the Estelle Suite for the day and night of the wedding and it was the perfect place for me to get ready for the big day and for me and my husband to stay that night. We also received breakfast in bed the next morning. The staff at the Degas House, including Rachel, Cindy, and Ms. Sharon, put everything together and we did not have to lift a finger! The food was wonderful and everything went off without a hitch! All my guests had a wonderful time! The Degas House is the perfect place to get married in New Orleans!

Amanda

Married on 04/14/2007

Amazing experience. One of the easiest events I have ever planned thanks to them!

Sean

Married on 02/18/2017

This review is 6 months late, but still well deserved. We were married in February 2017, at the very start of Mardi Gras. Having visited many venues up and down and all around New Orleans, The Degas House was a last minute and most welcoming addition. From that first meeting with Cindy we felt at home in New Orleans, and knew this was exactly the hospitality we wanted to extend to our guests. We were on a budget, knowing we wanted to host our guests for 4 days of varied events, to really give them a taste of New Orleans, and the Degas House made that possible. It is a 1-stop shop for cocktails and reception, amazing indoor and outdoor layout, home made local cuisine, and a hospitable staff. I found photos of many types of weddings here - from highly elegant to colorful and unique, we opted for an elegant 'backyard' wedding, showcasing the beauty of the space itself. Cindy and the team were incredibly accommodating allowing us to ship all of our decor over in advance and storing it, making sure we were always fed well, patiently answering all our questions and handling any situations day of the wedding for us. We also rented the bridal suite, and it was beautiful for photos, plenty of room for all the friends and family who were hanging out while we were getting ready and a beautiful huge bed to rest in. Truly a memorable day for us and our family.

If you want to give your guests a true taste of New Orleans hospitality, I highly recommend the Degas House

Kyle

Married on 05/26/2016

We wanted to schedule a last minute (within a month and a half) wedding in New Orleans. I was frantically looking at venues that were way over our budget, or couldn't be reserved for less than 100 people. A friend from the city suggested I call Degas House and it was the best decision I could have made! The venue is priced per person, so it's perfect for smaller gatherings like ours was. I was really impressed with the quality of everything from food, to service. The coordinator, Cindy was very helpful thought the whole thing, even with all the other things going on. A few hours before the wedding started, she was walking another couple through their wedding schedule. She made sure to give everyone the time they needed, and didn't rush anything. It was a very laid-back experience, and at the end of the day, we were married! I would definitely suggest using Degas House to any bride and groom that want a quality experience for their laid back, small wedding!

Wedding planner super sweet but lacked experience and firm direction during my event. After the ceremony my wedding party was scattered and it took way too much time to gather them for the pics. The order of events were unfortunately disorganized . Despite this , it was a beautiful ceremony, guest enjoyed the food, and the backdrops for pics were exactly what I wanted. I still managed to have the wedding of my dreams. My advice , ask questions about details and make sure your planner for the big day knows exactly what to do and where to do it

Stephanie

Married on 01/14/2017

Our wedding reception was absolutely perfect. I cannot imagine a better place to get married. Seriously everyone went out of their way to ensure that our wedding day was unique and personal. One of the best moments was when my husband and I arrived from the ceremony, the staff had set up a private candle lit table in the parlor so we could eat and relax before the reception. They brought in our passed appetizers and even had champagne and sparkling grape juice (my husband doesn't drink) on ice for us. My husband and I agree that this was a highlight of the evening since it gave us a chance to soak in the excitement of the day and remember why we were there. The day of, Cindy was incredible. She really took care of everything and made us feel special. We had a little bit of trouble getting in touch with her during the planning but I think that was half our fault. All in all everything was fantastic and hands down would do it all over again.

Lauren

Married on 10/19/2008

i loved my experience with the degas house. it was a unique place to get married and they were very flexible and responsive with my needs

Nita

Married on 02/12/2016

It is the perfect venue for an intimate wedding. The wedding suite was wonderful in the history in the room. The staff was great and the food was outrageously amazing there for breakfast! At night with the strung lights and our loving friends and family, it was a magical place. Loved that it was an all inclusive deal, though the cake, candles decor, flowers, and music for the event. When we arrived the week after Madi Gras, they were not ready for a wedding, but in two day, it was camera ready! Cindy, the coordinator there went over and beyond to make it more than special for our wedding. The extra for a wedding butler was worth every cent; they were attentive to my every need. I would highly recommend this place for a wedding and would do it all again at the same place. My husband and I were very very happy with the professionalism and details the entire staff took to make our wedding just what we wanted.
Nita and Scott

A magical setting full of extremely helpful staff. The Degas House really allowed us to make our wedding our own, adding personal touches that meant a lot to us.

Roxiane

Married on 11/15/2014

The venue is absolutely gorgeous! We not only had our destination wedding there, but we also booked the entire bed and breakfast.
BEWARE if you do the same you will not have the home to yourself. They will still continue to book tours and have other people walking through the home. We were aware of the daytime tours, but not aware that we would be having around a dozen extra guests for breakfast the day of. We had to share breakfast with strangers and a crying baby. I would also advise making sure all of your cash and valuables are locked and well hidden as we actually had a tablet come up missing with our wedding music on it.
The actual wedding was great, I loved my coordinator and the kitchen manager is amazing! The entire staff that worked the wedding were very professional and did everything that they could to make the day everything I wanted it to be.
I think if I had been made aware of these things before the wedding I would be much less upset by them.

Eva is very sweet, which is helpful when you get stressed out with wedding planning. She helped us with our special requests, like serving nice beers at the reception. They were also flexible with our rooms. However, it was generally difficult to get in touch with her, especially during the last week when we needed a tent for predicted rain. The only reason we got a tent in the end was because the bride from the previous day found one we could share. Ms. Sharon is amazing! Her cooking was great and she made sure we had everything we needed. She even put aside food for us to eat after the wedding. Overall, the Degas House takes care of a lot and it is a beautiful place to have a wedding. We were very happy with our choice.

Degas House's reply:

This review is being answered by Eva, the wedding coordinator who worked
your wedding: I would like to start by saying that it was truly a pleasure
working with both of you to plan your wedding. The whole event was beautiful
and joyous from start to finish. However, I am confused when you say that I
was generally difficult to get in touch with, particularly the week of your
wedding. To my knowledge, I answered all of your emails on the days that I
received them. I looked back over my email log and there were days that you
sent me 2-3 emails a day and I responded with 2-3 replies. Admittedly, the
only times that I didn't return your calls or emails quickly was on my days
off, and then I followed up as soon as I came back to work. I apologize if I missed any of your calls.

As I told you from the beginning, the decision and ordering of the tent is left
up to the bride & groom. Degas House staff does not order tents. I gave
both of you the number of the tent company that we normally work with on the
day before your wedding. When I was informed that they were out of tents due
to festival season, I made two other suggestions of other companies and
provided phone numbers to the other bride. I informed you that I would let
you know as soon as I heard anything back from her as she was narrowing the
search between three different tent companies. When our manager, Ms.
Sharon, called me at home saying that you called because you were worried
about the tent situation, I called you immediately to let you know that I
had spoken to your fiancé earlier that day and that two of the companies
were coming out to measure our courtyard. I said that I would let you know
the result as soon as I met with them, which I did.

We wish you much happiness in your life together.
Eva




Beautiful venue, delightful staff, very disappointed with the wedding coordination. The wedding cooridnater did not have control over the wedding and caused a lot of chaos and confusion. Everyone in the wedding party noticed the disorganization and guests did as well. If you select this venue I would strongly recommend hiring your own wedding cooridnater.

Degas House's reply:

We at Degas House are baffled by this review, not only by its contents but by the fact that is has been written 8 months after the wedding and after the bride had discussions with Degas House and was comped rooms in an effort to make up for the incident. Shortly after the wedding, the problems were brought to our attention. We investigated and realized that they were caused by a new Degas House wedding coordinator who was in training and did not do the job properly. That person has since been released. During the wedding, the event manager was managing the food and was unaware of the shortcomings of this coordinator.

We believe this is not a fair evaluation. It is unprofessional to have submitted this review long after a resolution was reached between Degas House and the bride. As far as we knew, the bride seemed satisfied to accept our apologies and the comping of the rooms. Why write this now?

This one wedding is no reflection of the service normally given by our staff. Degas House has just won The Knot's Best of Weddings Pick for 2015 Award, and we have won this award for the third year in a row. It was achieved because of our excellent wedding coordination, in addition to several other factors. We pride ourselves on the professionalism of our wedding and event staff. Last year we hosted over 70 events, most of which were weddings and receptions. Our winning The Knot award was due to brides giving Degas House 5-star reviews on their weddings, none of which would have been written unless they were satisfied and in many cases ecstatic over our services.

Cailidh

Married on 02/23/2018

While planning my wedding this venue went through 4 wedding coordinators. 1 left without leaving any notes so we had to start from scratch, 2 sent angry emails and texts at 1 am, 3 left the day before my wedding, and 4 showed up the day before my wedding. The last one was rude, blamed me when she did not know wedding details (even though it was me who insisted about going through each detail the day before), she would interrupt my final moments with my mom before walking down the aisle or pictures or interrupt me when greeting my guests to go through timeline details and how to light sparklers. We had a great time, it's a beautiful venue, and Sharon the cook is wonderful but the owner and wedding planners are rude and only increased the stressfulness of this event.
Are you interested?
Send a message