22 Reviews
Recommended by 100% of couples
Quality of service

5 out of 5 rating

Average response time

5 out of 5 rating

Professionalism

5 out of 5 rating

Value

5 out of 5 rating

Flexibility

5 out of 5 rating
Awards
4 User photos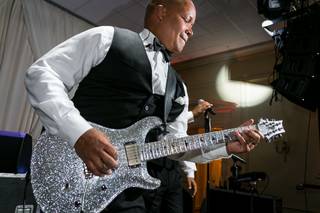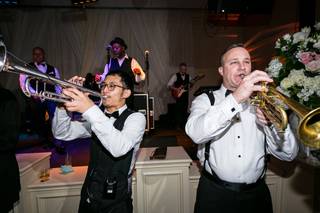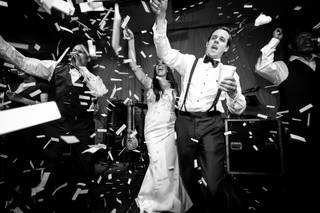 Jamie W.

Married on 01/05/2021

King David Band is awesome!

The King David Band was the perfect entertainment for my daughter's wedding. David, the leader, is very professional, responsive and fully understands how to entertain a group of people. The band has excellent musicianship, will play special request songs and does a great job of interacting with the crowd. I had MANY guests ask me "where did you find this band? They are the best ever"

Jack V.

Married on 02/02/2019

Tons of energy, recommend 100%

Amazing wedding band, was told by guests that they were the best they had every seen! 14 piece band really packs a punch and brought a ton of energy. David met with us before the event to learn our style and get to know us which made for a very easy and perfect wedding evening. Would recommend 100%!

Lauren

Married on 05/05/2018

I booked the David Whiteman Band after my dad saw them at a friends wedding and I am so glad that I did! The David Whiteman Band was one of the best parts of my wedding. David and his team were easy to work with and accommodated all of my special requests. The band was the most conplimented vendor of my wedding and one of my wedding guests have already booked them to have at their own wedding. David, thank you so much for making my wedding reception fun and memorable for my guests and I! If you are looking for a band to get your party started and keep it going all night long, I highly recommend the David Whiteman Band!

Are you interested?

Send a message

Roscoe

Married on 12/16/2017

WOW! To say that were were blown away would be an understatement. The King David Band was the BEST wedding band ever! They were so easy to communicate with, on time, professional and even learned songs at the last minute. The night of our wedding reception they were even dressed in black tie! Our guests went on and on about how fantastic they were. They truly turned our reception into a PARTY! I would HIGHLY recommend them for any wedding.

Brian

Married on 12/16/2017

WOW! To say we were blown away would be an understatement. The KIng David Band was the BEST wedding band ever! They were so easy to communicate with, on time, and even learned songs at the last minute. Our guests went on and on on how they were they best band they've ever heard at a wedding . The turned our reception into a PARTY!! I would HIGHLY recommend them for any wedding.


Cheryl

Married on 11/04/2017

The King David Band played at our wedding and did an amazing job. We had danced to their music at other events which is why we approached them from the start. At our first meeting with David we discussed our song choice, our choices for first dances and our vision of the night. When he found out that most of our guests would be in Black Tie, he and the band did the same. Not only did David and the band learn the song we chose as our first dance song (it was one they had never played) but, from the beginning they read our crowd and kept our guests on the floor the entire night. Our wedding far exceeded our expectations in many ways, however, the King David Band was the most talked about feature of the wedding. They rocked the night to the end and capped the night by sending the horn section to our send off which was the icing on the cake. We highly recommend them for weddings and any other events.

David

Married on 11/04/2017

David and the band were extremely professional in every aspect. He learned a requested song for our first dance, was flexible to our breaks and special needs, such as a final song with just the 2 of us left in the venue that he sang unaccompanied. The horn section saw us off to When the Saints Come Marching In which was a great nod to my wife's Louisiana roots. All night they timed the perfect songs to get everybody of all generations up and dancing. Highly recommend them and I have heard many of the high profile local bands at other events.

Christa

Married on 09/02/2017

David and his band are over the top incredible performers! The excitement, fun and talent they brought to our wedding reception had guests tagging them on social media as #bestbandever. I received requests from guests who want to book them for corporate events as well. The way they read the crowd to get the most fun out of everyone and include those extroverts who decide to get in line and dance with the band, you couldn't ask for a better vibe than what David and his band bring to your wedding. They have a well diversified play list to accommodate different generations of musical taste. The choreographed moves and crowd interaction gets people into it and makes for a lot of fun memories. I recommend the King David Band if you want the most fun at your wedding.

Brooke

Married on 08/05/2017

Wedding Planner

I highly recommend King David Band to all my clients looking for live music. They are professional, energetic, courteous and extremely talented musicians.

Justib

Married on 02/10/2017

great work!!!!!!!!!!!!!!!!!!!!!!

Sandra

Married on 06/11/2016

This band was extremely professional from the beginning of the process!! They catered to our music needs and gave us an amazing show for our wedding!! Our guests loved them so much people were asking for their contact information for future bookings!! They were a bit hit!!!

Tara

Married on 05/07/2016

It has been over a month since our wedding and people are still talking about the band!! David and the King David Band are amazing. I had seen this band perform about eight years ago at an event at Lake Texoma and had followed them since....always wishing I could have them perform at my wedding one day. Fortunately for us, they were available for our date. During the planning process, David was professional, easy to work with, and quick to respond to our inquiries. The band is extremely talented and definitely the most entertaining band I have seen at a wedding! They know how to keep a crowd going; they have recent top 40 hits on their setlists. Honestly, you don't even need to request songs, because they have it handled. I cannot say enough great things about the King David Band. I highly recommend. :)

David was a pleasure to work with from the very beginning and was very accommodating to our requests. Him and the band put on such a great performance at our wedding and I have nothing but the highest praises for them. Highly recommend for any event you would need an awesome band for.

Taylor

Married on 03/26/2016

David and his band blew us away. We shopped around a lot and had listened to some of their demos online, but they were nothing compared to the band in person. Not only were they the most talked about part of our wedding, but they were able to accommodate the bride's wish to have a very specific version of our first dance to be sung - and they killed it. David even bought us lunch while going over the final details the week before. I HIGHLY recommend the King David Band to anyone. They are easy to work with, have a huge range (vocals, instruments, you name it) to accommodate any style, and actually don't take up that much space for a 14 people band! Thank you guys so much for such an incredible time!!

Our wedding was over 3 months ago, and people are still talking about how great our band was! I have never seen so many people on the dance floor at a wedding. The King David band turned our wedding reception into a PARTY and one we will never forget.
David Whiteman was professional, personable and a pleasure to work with.

Blake

Married on 06/13/2015

David and his band were absolutely amazing to work with and helped give me the most perfect wedding of my dreams. He went above and beyond for us, great music and so much talent!

Melaney

Married on 04/18/2015

This band was excellent. It's been half a year since my wedding, but people are still talking about the band and asking how they hire them when they have their wedding. They were worth every penny!!! They did such a tasteful job. I governed them on a few songs, but still gave them free reign to do their own thing. They did a WONDERFUL job and transitioned songs and executed my program beautifully!!! I highly recommend, they really made my reception a party!!! If I could do it all over again, I would still pay the money and hire them. They're incredible!

Jennifer

Married on 11/22/2014

I wish I could rate this band higher than a 5! On a scale of 1-5, this band is 5000!!!
I truly cannot speak highly enough about the King David Band and their performance at my wedding. I was referred to the David Whiteman Band by the restaurant/ venue where I decided to have my reception - The Oasis on Joe Pool Lake. King David Band plays there regularly throughout the Spring/ Summer months and attracts a large crowd/ following. I booked this band without even hearing or seeing them perform.

I met with David Whiteman a couple of months before my wedding and he is the nicest man! So attentive to my wants/ ideas for my reception...
On my wedding day, the weather was a complete disaster. I had planned my (outdoor) wedding at the lake and then at the Oasis for the reception. The reception was to be outside on the large patio deck in the marina. The day before my wedding, we realized there was no hope for the weather, so we paid to have a large tent cover the patio. My wedding ceremony was cold, muddy, and wet. All of my guests were troopers, but I was humiliated and so upset. The King David Band changed everything and turned my wedding into one of the most fun, memorable weddings ever. I still to this day have friends that tell me that my wedding was the most fun wedding they have ever been to!

I cannot recommend this band highly enough!!! Not only are they incredibly talented, they put on quite the show! They interact with the crowd/ guests, they play incredible music, and make everything such a good time!
If you want your wedding to be memorable, you need to book this band! You will have the time of your life! I am so thankful to David Whiteman and his band for making my wedding such a success when it was on track to be a complete disaster!
BOOK THEM!!!

If I could give the King David Band a 10, I would. David and his band are exceptional. I attended a Mardis Gras party that inspired me to hire him for my daughter's wedding. Both events were elevated to another level due to David and his band. From the musicians to the the vocalists - you cannot go wrong. Turn your event into something your guests will talk about for years to come. Hire the Kind David Band.

My parents first heard the David Whiteman Band play over 5 years ago. When they got home that night, my mom sent me an email telling me that someday when I got married, I had no choice--this would be our band. And I could not be happier! David is such an amazing performer and he has assembled some incredibly talented people. I cannot say enough good things about them; they were the best part of our wedding reception. I love how much they interact with the audience and I'm looking forward to seeing them play more shows in the future!

Marion

Married on 04/08/2012

Amazing! Music for everyone.

Music for everyone. My clients and guests were over the moon. Thank you David Whiteman Band.

Mandy

Married on 10/20/2012

People cannot stop taking about how great the band was. They made the reception great and had a wide variety of genres. They followed our wedding planner's instructions to a tee, kept on schedule and setup was smooth and seamless.
Are you interested?
Send a message