Reviews
5.0 out of 5 rating
Quality of service

5 out of 5 rating

Average response time

5 out of 5 rating

Professionalism

5 out of 5 rating

Value

4.9 out of 5 rating

Flexibility

5 out of 5 rating
99%
Recommended by couples
56 User photos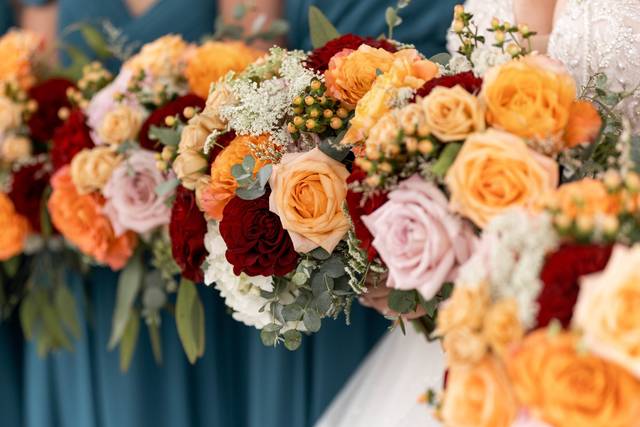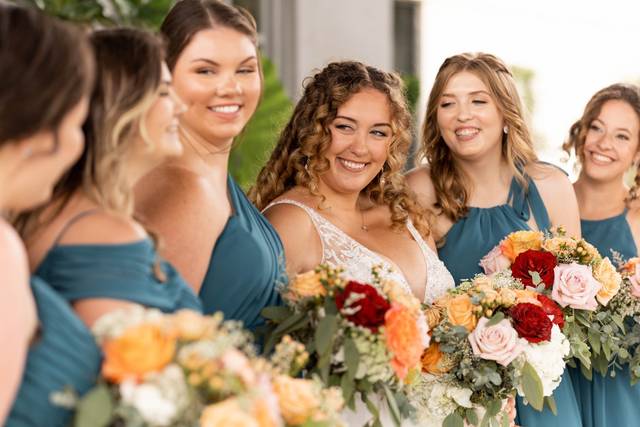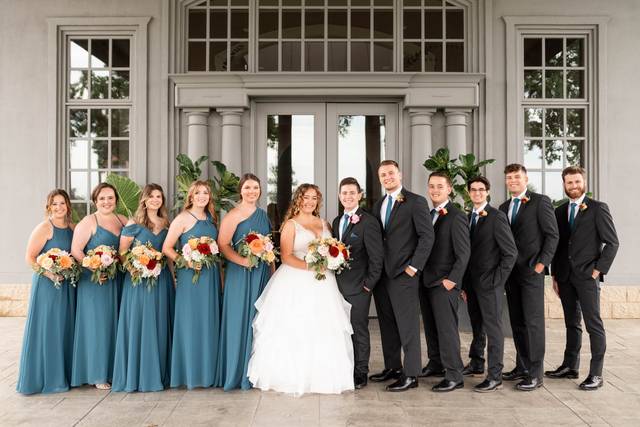 + 52

photos
Alyssa S.

Married on 07/09/2023

Worth every penny

I hired Danielle Harris Photography for my engagement photos and wedding day, and they were worth every penny! The professionalism, dedication, kindness, and expertise shown by Danielle and her staff was absolutely magnificent. Neither my husband or I are very photogenic, and our lead photographer Kristen practically had us trained to be models by the end of our engagement session. She made us laugh, she made us feel so comfortable even though we were kissing for photos in public, and she met every single one of my expectations. On our wedding day, Kristen showed up ready to WORK. Both of our photographers showed up bright and early with positive attitudes and SO much encouragement for me on my big day. Kristen advocated for me from start to finish, and I was honestly stunned by how much physical effort she put into making sure all of our photos were flawless. When we got our wedding photos back, both my husband and I were in a puddle of tears by the time we got through all 900+ of them. Every precious moment was captured, from my husband crying during our first look, to my bridesmaids and I enjoying a good laugh, to my father giving me away, to my guests having a blast on the dance floor. I am beyond grateful to Danielle and her team for all of their hard work, and I will be recommending them to all of my friends and family for years to come.

+ 17

photos

Taylor P.

Married on 10/02/2021

Amazing resources and quality

We had Anne as our photographer for our wedding at the Scottish Rite Cathedral on 10/02/2021. I can't say enough good things about Anne and her professionalism, can do + positive attitude, and getting my family and me through our wedding with wonderful photos. The quality of photos we received were nothing short of amazing. The turnaround time was around three weeks.

The only thing I was disappointed in with DHP, was the lack of a client relationship. Take this with a grain of salt as we were on the end of the COVID-19 pandemic weddings, so it's harder to meet in person (as well as DHP having multiple rescheduled weddings; i.e. busy, busy). However, we only ever spoke with Anne at our engagement session, and then at our wedding. We chatted via email with Danielle only when necessary. I wouldn't post a problem without offering a solution, so for future clients I think a phone call a month or two months out to just check in and chat would be a nice gesture. This is just my opinion :-)

That being said, I'm still giving 5-stars because the amount of resources DHP provides is truly a blessing. I used all the vendor recommendations I could and the sample timelines really help make a wedding run smoothly.

TL;DR DHP is amazing in every way. I didn't feel like we were "friends", but the service and resources they provide is impeccable. Truly grateful.

Lauren M.

Married on 09/10/2021

Total pros and beautiful photos!

We worked with Jennifer as our photographer through Danielle and we were so grateful to have her! She was a total pro at keeping our groomsmen on schedule and in line and made sure throughout the day that I knew what she was up to when she wasn't with the bridal party. Danielle was so quick at getting us some early previews of our photos for both our engagement shoot and our wedding day. Everything turned out so perfect!

Are you interested?

Send a message

Jessie

Married on 06/12/2021

Danielle is Amazing!

Danielle was amazing! She was the first vendor we booked and we had no doubt she would be a wonderful photographer. She is very confident and knows exactly how to photograph a wedding. She's very professional and organized, responded quickly to everything. On top of all of that she was so fun to work with! She made both my husband and I feel so comfortable in front of a camera during our engagement session and the wedding. She's extremely time efficient and kept us on track the whole day. She knows how to get the shots you want in a timely manner to keep you on track with the day. She also acted as a second planner. She worked so well with all of our vendors and ensured our day went so smoothly! And of course our photos turned out PHENOMENAL! All of our guests can't stop saying how beautiful they are and how they look like they are right out of a magazine. I cannot recommend Danielle enough! Could not have picked a better photographer.

Lindsey B.

Married on 04/08/2021

Amazing person and photographer!

We LOVED Danielle as our photographer for our August 16th, 2020 Wedding at Mustard Seed Gardens. Danielle was very professional when it came to the schedule and communication prior to the wedding, but very very fun on the big day. Danielle could pick up on when we needed a photo break, but made sure we got all the photos we wanted. We hadn't physically met Danielle before the wedding day, but honestly we felt so comfortable with her from the beginning it did not make a difference! The photos turned out better than I ever could have imagined. She was able to capture so much emotion in my guests, it was so fun going back and seeing the joy on peoples faces that I didn't always get to see on the day of. Would highly recommend Danielle to my friends and family! 

Taylor I.

Married on 08/21/2020

Hire Danielle, you won't regret it!

OMG, I can't say enough positive things about our experience with Danielle. Our wedding photos are absolutely gorgeous, and she was a dream to work with day-of. She is so organized, efficient and firm (which is exactly what you want from someone in charge of capturing your big day). Not only did she help make our wedding day amazing, but I actually woke up the morning after our wedding to 15 already-edited wedding photos! THANK YOU DANIELLE!!

Lindy

Married on 10/05/2019

Highly Recommend Danielle Harris Photography

Choosing a photographer that I loved was at the top of my list when I began planning my wedding. The decision was made easy when I came across Danielle's work and spoke with her on the phone. She was everything I was looking for - fun, professional, attentive to details, easy to communicate with and on top of all of those things, she creates the most beautiful, timeless photos. We absolutely loved working with her and her team. From the moment her coverage began on our wedding day, she was organized beyond what I thought possible, ensuring she captured every important moment. Danielle, her husband, and her second shooter (also named Danielle) made the whole wedding party and our family members feel comfortable in front of the camera. It's a challenge to make a group of guys enjoy taking pictures but not only did my husbands groomsmen have fun in front of the camera, the photos turned out wonderfully! No part of the day felt rushed or forced and I felt like she was truly there to make sure we were happy, comfortable and enjoying our day. Lastly, Danielle is extremely timely in returning her work - something we really appreciated as we anxiously awaited our gallery. We can't stop looking through our photos and are SO grateful for her talent!!!!

Sarah

Married on 09/28/2019

Incredible

We truly cannot say enough amazing things about Danielle. She provides just the right amount of direction and has a way of putting people at ease. Her work is absolutely incredible. We are so, so thankful Danielle helped us capture our most perfect day!!

Ashley

Married on 09/27/2019

Everything I wanted and more

Danielle and her team are simply amazing. Starting with the process of getting a contract signed. We had a phone conversation about how everything worked and what I got with the package I selected. Then came the engagement session. For the session I didn't get to work with Danielle yet but the photographer sent was amazing, attentive, and patient. Me and my husband had never had professional photos taken and the photographer taught us how to be natural but positioned correctly. Then we got the photos and loved them and I instantly couldn't wait for the wedding day.

The day of the wedding I finally got to meet face to face with the amazing Danielle and her team she brought with her to help. Her and her team not only showed up ON TIME but actually early. The photos ran smoothly and effortless (on our part). Danielle and her team were there every step of the entire day and catching all the moments big and small. They are simply amazing. I felt so comfortable and they really did everything they could to help even if it wasn't photo related. Danielle Harris Photography is one of the best people to have be in your corner and on your wedding "team". I could not have asked for better people. When I was planning my wedding I wanted someone who could really capture this feeling I wanted. Every time I look at the photos of my wedding day I feel the exact feeling everyone told me was too specific and impossible to capture. Danielle Harris Photography proved them wrong!

No amount of thanks could not be given to them for how special they made me and my husbands day!

Alexander D.

Married on 07/09/2019

Amazing photographer! Highly recommend

Nick and I would like to truly thank Danielle Harris for capturing our special day. When we first got engaged and started planning, my only real requirement was to have a photographer who not only took the best photos but also someone we felt comfortable with. From the moment we met Danielle, we knew we wanted her to be our photographer, and we know our day wouldn't have been the same without her. These photos are gorgeous, and we can't wait to look back at them in the years to come. Thank you Danielle!! You are truly amazing at what you do.

Stephanie L.

Married on 06/20/2019

Amazing Experience

We met Danielle in the cutest little coffee shop in broad-ripple Indiana. It had coffee ...it had wine and beer and the decor was bold and fun. Where you decide to take a new client speaks a lot about you as a person. Your demeanor, your personality, how you prefer to work, and your presence. When we first walked in Ashley (my wife) and I looked at each other quickly and both understood that we were about to be in great hands.
Danielle's work is amazing. You can look through all of her websites...blogs and many many published articles (check out my wedding in Style me Pretty!!) to figure that out. For me when my wedding planner gave me 4 choices of photographers and styles I took one look at Danielle's work and there wasn't a second question as to who I wanted to take our photos. She is incredible at what she does. Just go look at everything she has online you can see that for yourself.
What I want to talk to you about it the relationship. When you are thinking about your wedding there are a lot of moving pieces and components. Once it all comes together for that 1 and only moment in time you realize that you will never get that moment or space back. Never again exactly the same. Ashley and I are all about relationships. We refuse to do anything with anybody if we can't build a strong supportive relationship. This goes from who we bank with, to our doctor and dentist to our landlord to where we put our 6 year old Liam into swim call at. Everyone is someone that shapes your life and if you search out those that you can build relationships with your experience will more than not be a positive and pleasant one.
Danielle's personality is bright like a beautiful yellow sunny day when the sky is that perfect shade of crystal blue. The happy, energetic, ambitious feeling you get on those days is how you feel every time you are around her. Danielle makes you feel like she cares about you and your family, your life and your wedding. The day of our wedding both Ashley and I were excited for her to come and "hang out" with us while we were getting ready. We genuinely both enjoyed her company. I remember Ashley saying that she wished Danielle wasn't working so that she could play beer pong and drink with her. That is they type of person you get with Danielle just someone you want to be around. She makes the day even more fun.
The thing that meant the most to me throughout my experience with Danielle is how she made me feel. Ashley is always telling me that people will forget what you have said to them but they will never forget how you make them feel. Every step of the way Danielle made me feel like my wedding mattered. My wedding was the most important wedding she was a part of and my wedding was special to her. I'm going to say that again. Danielle made me feel like MY wedding was special to her.
Once it all comes together for that 1 and only moment in time you realize that you will never get that moment or space back. Never again exactly the same. Ashley and I are so happy that we chose Danielle to capture those moments for us. We are truly thankful for her.

Hannah W.

Married on 05/10/2019

Best photographer in town

Danielle's team was a joy to work with on our wedding day. They did a great job making our parties and families feel comfortable and engaging and they captured all of our special moments. We are so happy we decided to work with them!

Jennifer

Married on 04/06/2019

Highly Recommend!!

We hired Danielle Harris' associate, Anne, to be the photographer for our wedding and had a fantastic experience! Anne does beautiful work, we absolutely love our wedding and engagement pictures! Anne is easy going and has a fun/calming presence- which is valued for such a big day! We got our pictures back very quickly and could not believe the quality! Danielle is organized and responsive to e-mails. She works well with you, her associates and all of your other wedding vendors to ensure the logistics are set up in advanced. We loved working with DHP and absolutely recommend!

Alexia

Married on 12/29/2018

Don't think, just book her!

Danielle is AMAZING to work with!!! I would give her more than 5 stars if I could. I didn't have the chance to meet her in person until the day of our wedding so I was a little nervous, but as soon as she walked in the door I knew I would have nothing to worry about. She didn't miss a beat the entire day! She was extremely professional and we received tons of compliments from guests about how efficiently she was able to get all of our family groupings done. She even managed to fit in additional formal family shots after our ceremony, which was no small feat with several VERY large families. She was so efficient that we ended up having an extra hour to hang out with our wedding party between the ceremony and the reception, which we were not expecting at all. Her upbeat positivity made everyone, myself included, feel at ease all day long. On top of all of that, she made sure that we got all the shots we wanted on the big day and her pictures were incredible. She beautifully captured every little detail from start to finish. If you are lucky enough to have the chance to book Danielle for your wedding, don't hesitate and just DO IT. I can't emphasize enough. You will not regret it!

Jessica

Married on 12/15/2018

AMAZING Photographer

Working with Danielle throughout the planning of our wedding was so enjoyable. Not only does she capture stunning photos, her communication was always timely, she is very organized and which helped prepare us for our big day. We loved having her as a part of our day and she made photographing a 30 person bridal party a breeze. THANK YOU Danielle for helping to make our day so perfect and for the lasting memories we have in the beautiful photos you captured.

Dawn B.

Married on 10/13/2018

Best in the Business!

Amazing, Stunning, Exceptional, Professional, One in a Million, Fun, Friendly Efficient, Artistic, Visionary. Just a few adjectives to describe Danielle. She shot my daughters wedding and I am in awe at the work. Every photo is a masterpiece. There is no one else who can or will do what she does in this shooting time and the edited proof turnaround time is so quick. Do not lose out on Danielle... book her before someone else does!

Amanda

Married on 08/25/2018

Talented, passionate, quality photography!!

I knew from the moment I met Danielle she had to be our photographer!! Her passion and enthusiasm for weddings was contagious and made me even more excited for my own! I was confident she would capture our engagement and wedding photos beautifully. She's extremely organized and on top of everything. I booked Danielle more than a year out and she would touch base every couple of months to stay in the loop with who my other vendors were and she was always available to answer any wedding related questions I had. She also has so many great resources to help plan your big day including outfit ideas for engagement photos, day of prep guide, recommended vendors, etc. Danielle worked meticulously with my wedding planner and all my other vendors to ensure everything the day of our wedding went smoothly and perfect. We had a large bridal party and I knew Danielle would be able to handle us with ease. She kept the boys in line and the girls on time. Her sense of humor keeps things light and her attention to detail is impeccable. She has an amazing way of making your feel comfortable and keeping things fun even if you feel awkward in front of the camera! Danielle also delivers on her timeline promises and we always had our photos delivered on time, if not early!! I also love how she sends previews, which gets you even more excited to see all of her work from your day. If I could do our wedding day over again, I would without hesitation choose Danielle again! She's an amazing photographer and I'm so glad we have so many amazing photos from our wedding day to cherish for years to come!

+ 4

photos

Sydney

Married on 06/30/2018

"AMAZING!" is the only way I could begin to describe Danielle and her team. From our first consultation with Danielle, to the actual wedding day, everything was absolutely perfect! Danielle was so detailed about communicating with us on how to keep us on track for planning, what to wear for engagement pictures, and not to mention, helping us plan our timeline for the entire day of the wedding! Our engagement session was perfect, she taught us how to pose and made us feel extremely comfortable being in front of the camera – not to mention the pictures were BEAUTIFUL! However, nothing compares to how Danielle and her team made our wedding day perfect!! On our wedding day, the temperature was at least 100 degrees and we really wanted pictures outside (the ceremony and reception were indoors). Danielle coordinated everything perfectly and I think I was outside for 20 total minutes. Our day ran ahead of schedule because Danielle was a PRO at organizing our large bridal party and made sure that no one was suffering in the heat! I cannot thank Danielle and her team enough, because they were a large part of why our day was an absolute dream. She captured perfect pictures of my bridal details, our first look, the bridal party, the families, the ceremony, reception, and our guests enjoying their time! THANK YOU for giving us wedding photos we will cherish forever!!

Linda

Married on 05/19/2018

Danielle and her team did a wonderful job. The photos are excellent and they took many of them. Danielle was very helpful with picking locations and setting the timeline and she was great at keeping everyone calm despite concerns about the weather.

Allison

Married on 11/11/2017

We had the pleasure of having Danielle Harris and her team photograph our engagement and wedding photos. Danielle was referred to me by a friend, and I am beyond grateful for that. She was awesome! We knew the second we met her that we were in good hands. She was helpful, patient, fun and hilarious to work with.

My husband and I are awkward picture people, but with Danielle's expertise, you would have never known (well mostly :)! She nailed our engagement pictures. They were all soooo good! Sometimes getting your pictures taken professionally can be tedious, a pain in the butt or exhausting. We did not have an ounce of that with Danielle. We had so much fun the entire time!

I knew on our wedding day that we would not have to worry about a thing because we had Danielle. By the time she came to the room where my girls and I were getting ready, it was pure chaos. Girls everywhere... dresses and clothes everywhere... makeup everywhere... This was no issue for Danielle. She jumped right in and did her magic! She brought Anne from her team as well on our wedding day, who was as equally as amazing as she! They were seriously the best. We had a pretty big bridal party and as all weddings go, we were on a tight schedule. Danielle and Anne were very accommodating, patient and helpful.

I just got my wedding pictures back yesterday and I am over the moon! They are all sooooo good! I cannot recommend Danielle and her team enough. You won't be disappointed! In fact, get ready for all of the compliments you will receive from your friends and family on your beautiful photos! :)

Dawn

Married on 08/26/2017

Danielle Harris has a gift that only few have. She see a moment and captures it expressing it in a way that leaves you breathless. She is a true professional that gets her job done keeping you on schedule to enjoy everything happening around you. Danielle not only made us feel comfortable but she made us laugh through our happy tears. You know you are going to get special results when she herself feels the emotions of your day. You will NOT be disappointed in her work. I wish we had a daughter getting married every weekend for her to capture. Don't hesitate Brooke her!

+ 7

photos

Mahrie

Married on 07/08/2017

Danielle was absolutely AMAZING! She knew exactly what she was doing and our pictures turned out stunning. Danielle is extremely experienced and helped our day go without a hitch! She was such a blast to be with and also easily incorporated our ideas into the photos. I didn't have to worry about a thing all day! She was also extremely timely with getting pictures to us. Worth every single penny!

Lindsey

Married on 06/10/2017

Danielle was fantastic. From our engagement session to our wedding - she helped us feel relaxed and comfortable in front of the camera, helped us to stay on track throughout day, and was very professional. We received our pictures less than 2 weeks after the wedding. Thanks!!

Alex

Married on 05/13/2017

There are no words to express how much we LOVED Danielle! Her photos say it all! She has made it so difficult to pick and choose which photos to print because they were ALL so amazing!!! She is down to earth, sweet, and just so easy to be around! Love, love, love her!!! We had a BLAST at my wedding, all our guested loved her too!!

Jamie

Married on 10/08/2016

Danielle knows what she's doing! She is professional and efficient and does a simply amazing job. You will receive amazing photos worth every penny!
Are you interested?
Send a message