Reviews
5.0 out of 5 rating
Quality of service

4.9 out of 5 rating

Average response time

5 out of 5 rating

Professionalism

5 out of 5 rating

Value

5 out of 5 rating

Flexibility

5 out of 5 rating
100%
Recommended by couples
36 User photos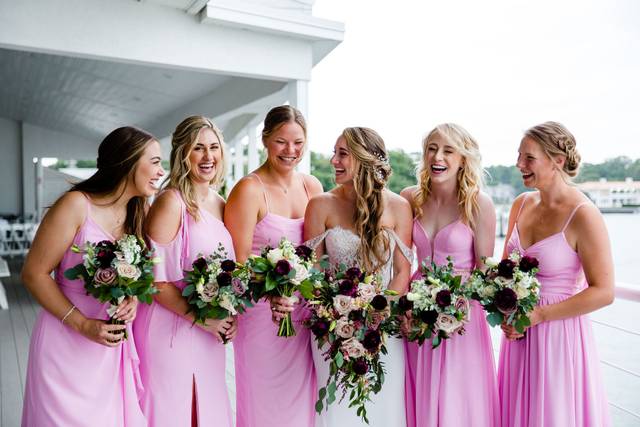 + 32

photos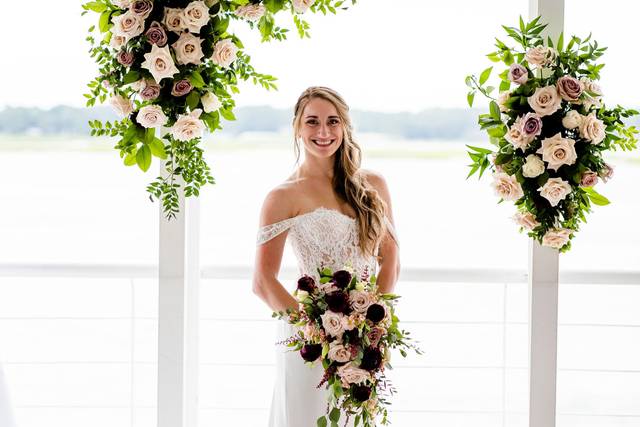 Brenna L.

Married on 07/31/2022

Do yourself a favor and hire this woman!

Wow... where to begin?! Daissy is THE GAL for your wedding events! We started planning our wedding back in February 2020 and very quickly hired Daissy. She has the best package deals and spends time actually getting to know you. We had to push our wedding not only once, but twice! We almost lost Daissy with our first rescheduling, but when we rescheduled again, she and I discussed wedding date options so we can be sure to spend the day together! We had the best time meeting Daissy in person for our engagement photos and laughed the whole time! She was as adventurous as my vision and didn't say "no" to any picture idea! She absolutely blew us out of the water with the pictures we received from our wedding day - from getting ready to our crazy reception to our sparkler exit. We couldn't have had a better photographer along with us for the day!

+ 13

photos

Katie B.

Married on 10/03/2021

Such fun pictures

When we were picking photographers for our wedding, we agreed that we wanted someone who would specifically do a great job capturing candid moments, including lots of dance floor shots. On the day of, Daissy did a great job of capturing lots of candid moments without being obtrusive. And while we are happy with our family portraits, the dance floor pics of my friends and nieces at the wedding are absolutely phenomenal! Daissy seemed to be everywhere at the reception, and she was able to capture all of the best moments I saw, and many that I didn't. Finally, Daissy was great to work with throughout the process- she was easy to get a hold of, flexible, collaborative, and she was always a joy to be around. Having someone with a great smile and sense of humor around on your wedding day was definitely an added bonus I hadn't necessarily considered, but Daissy was so much fun. Overall, would very much recommend Daissy.

David P.

Married on 04/08/2020

Married August 16, 2019

We planned our wedding from out of town. We chose Daissy from looking at the photographs she had posted on her website, as well as from reading her reviews. We were planning a very small wedding and Daissy had a small photo package that fit our needs exactly. Daissy was extremely easy to contact and sounded excited to be our photographer. We did not meet Daissy until the day of our wedding and she was everything we had hoped for. She was unobtrusive before, during and after our wedding, and when our photographs came, we were surprised to see photographs of moments, not just pictures. She was personable, excited, friendly, and happy to be there, and we could not have asked for a better photographer for our wonderful day. We recommend Daissy for anyone's wedding or special occasion, without hesitation.

Are you interested?

Send a message

Ryan C.

Married on 08/29/2019

Greatest photographer to work with

I found daisy on google to shoot my proposal, and I am so happy to have chosen her! She was very flexible and easy to work with. The photographs she captured were amazing! I would highly recommend Daissy!

Erica

Married on 02/16/2019

Amazing Photographer!

This being the first time I have ever hired a photographer for an event, I was not sure what to expect but Daissy blew right past any of my expectations and delivered beautiful, candid photos of our wedding. I was planning the wedding from out of town and Daissy was responsive to emails, telephone calls and scheduling our initial in-person meeting. She was professional and efficient with the formal photos and obviously has a lot of experience herding cats :-) Her website is user friendly which made for easy booking and selection of photos for the albums after the wedding. Pricing was very reasonable and you get a lot with the packages. Delivery of photos and albums was quick after the event. The photos themselves are just amazing and she captured some wonderful moments we would not have otherwise seem. Her arrangement of the photos along with the quality of printing and books made them even more spectacular. I would recommend Daissy to anyone looking for a fun, energetic and highly personable wedding photographer.

+ 2

photos

Keith W.

Married on 11/03/2018

The Absolute Best Photographer/Person

We were very nervous about hiring a photographer for our wedding because we are not very outgoing and very to ourselves around strangers. Daissy helped us with not only obtaining a great price, but also with making us comfortable enough to take amazing photos. She is the absolute best at what she does and well worth the price. You can tell she is doing this because she loves it and not just for a paycheck. And as if taking amazing magazine quality pictures wasn't enough she also made sure our wedding day went as planned. If you are looking for a photographer that will give you memories that will last a lifetime Daissy is the one. She captures the natural moment instead of posing you like a mannequin (which is great for people that our shy like us). We had all of our photos, prints, and album earlier than expected the few weeks after our wedding day. If you don't believe me just try it for yourself. I promise you won't be disappointed.

Cassandra

Married on 10/13/2018

Daissy is one of a kind! Hire her!

We love Daissy! We got married Oct 2018 and I cannot believe I didn't write this sooner. We got our engagement pictures done with Daissy in February 2018 as well. She is lively, funny, flexible and is AMAZING at making you feel comfortable. All of our pictures turned out wonderful and the candid ones she and her assistant got at our wedding are priceless. The official wedding album we got was also so professional and beautiful. Will definitely be using her again in the future!

Claire

Married on 08/04/2018

Overall a wonderful experience

Oh my goodness! Daissy is amazing! Her eye for those little moments as well as the big obvious ones is fantastic. Looking at my bridal portraits, I felt like a princess and that memory will be a constant reminder in my photos. I feel she really captured the love between me and my husband, as well as us with our friends and family. All the colors in our photos just pop and the day is alive for me again and again. And side note, she responds super fast to emails and even got our wedding gallery loaded sooner than expected. She is such a sweet person and will really capture all the emotions of your wedding day. Make sure you check out her website and learn more about her style!

Heather

Married on 05/25/2018

Daissy is absolutely the best photographer from start to recieving our wedding album!!! we couldn't be happier!!!

+ 2

photos

Emily

Married on 03/03/2018

Just what we were looking for!

From the time that we reached out to Daissy, she was a joy! Not only was she timely in her responses, but she showed interest and was truly genuine. Daissy was patient & her caring spirit really shined. Right off the bat, she was exactly what we were looking for. She went above and beyond in capturing our special day and we are so grateful for Daissy!

Adrian

Married on 08/19/2017

If you're looking for an incredibly talented photographer, Daissy is perfect for the job. From the first time my husband and I met Daissy, to the last email we exchanged regarding the photo albums and prints we ordered, she was courteous, fun, no-nonsense, timely, practical and easy to work with. Daissy captured so many precious moments on our wedding day from the first look to the ceremony to the reception...from all angles! She's like a photographer-ninja. She has a marvelous eye and we could not be happier with her work. We are a little shy, so having a professional photographer seemed intimidating. However, Daissy did not make us feel nervous or strange at all. That being said, she definitely lets all personality types SHINE in her work-- we had some very outgoing wedding guests and the pictures of everyone, shy or crazy, are awesome. Make sure that you discuss posing with your family and wedding party for portraits because she will make sure that all of them are taken, for it to go quickly everyone in the picture should know what's going on in advance. We were glad that she did not make us stand around forever so we could get to celebrating! We are thankful for Daissy's talented work that captured so many amazing moments from our wedding day. She nailed it!!

Sherwood

Married on 07/08/2017

The photos turned out beautifully, and it was wonderful having an energetic photographer with an eye for light and shadows. Writing 4 months after the wedding and still very happy with the experience. We chose Daissy because of her blog pictures of weddings at the Virginia Aquarium - check her out!

Lisa

Married on 06/24/2017

Daissy and her assistant did an absolutely phenomenal job from start to finish! After a preliminary phone conversation, we were convinced that Daissy's personality matched her already apparent talent. By the big day, we knew what to expect, and could just settle in to enjoy it. Daissy worked with other vendors directly to address questions or issues so as to avoid interrupting the bride and groom. She managed to capture the joy, love, and essence of every single person in the room. Daissy tells a story with her pictures, and now we all have the privilege of reliving the day in detail any time we access the gallery. We hired her for a service, and she, in turn, gave us such an incredible gift. Without reservation, we would (and will) hire her again.

Akira

Married on 06/11/2017

We couldn't get enough of Daissy's professionalism, energy, sense of humor, passion for her work, and the quality of her work. Even though I was 30 minutes behind schedule on my wedding day timeline, she remained calm and still was able to capture so much with little time to work. We were able to relive moments that are so special to us and get to always have a piece of the best day ever. We are forever grateful to her for that!

Yebin

Married on 06/10/2017

I love Daissy Torres to the moon and back. She was amazing from the start and an absolute joy to work with. We knew she was the photographer we wanted when we looked at her portfolio online. Then we had the initial consultation and we were certain she was the one; she is professional and passionate but also incredibly approachable and relatable. Daissy was wonderful in working with us, our vision, our uncertainties, and our budget. She walked us through the process of what happens and what we needed to do before, during, and after the wedding. Throughout the whole process she kept in touch and was very quick with her email replies.

I didn't have a firm idea of what the day-of was going to be like and wanted a more "go-with-the-flow" kind of schedule in regards to the shot list; Daissy worked with me, made sure we were all on the same page, and was incredibly receptive to all of my requests. I wanted to do a "First-Look" with, not only my husband, but with our parents as well and she loved the idea and planned things so everything went smoothly. Our guests commented on how professional she was, especially when it came to directing the guests for formals and grand exit photos.

In regards to the photos themselves, her work speaks for itself! She captured all of the important moments and they all came out amazing. She was great at directing us, making us feel at ease, and ensuring she shot the most beautiful moment possible. Everything came out natural and genuine; nothing looked posed or over-exaggerated. I know the photos she took are an accurate collection of an important day in my life; I can always look back at them and remember the joy, love, and laughter that took place on our wedding day. I am so lucky that she was available for my wedding date and it was an honor and privilege to have had her (and her great assistant!) as our wedding photographer.

Natalia

Married on 06/04/2017

Daissy is an absolute pleasure to work with! Not only does she take beautiful pictures, but also makes you feel comfortable while doing it. She is fun to work with, very professional and highly recommended!

Karen

Married on 03/11/2017

WOW! What can I say about Daissy...she was such a joy to work with. She made the entire day so easy and relaxed. Most of the time you didn't even know she was there. This was a second marriage for both of us so we didn't want to feel like we were being pulled out of our wedding for photos every minute and Daissy made the entire process painless :-) We have received the proofs of our wedding and the photos are amazing! The candid shots of family and guests are some of my favorites. Everyone that has seen the photos says that they are the best wedding photos that they have seen! We were so happy that we chose Daissy to capture our special day! HIGHLY RECOMMEND!
Karen & Fred

Eleanor

Married on 09/17/2016

I can't say enough good things about Daissey - she did an amazing job capturing the day and the atmosphere in her beautiful photographs and was a delight to work with. Deciding whom to entrust your wedding photography to can be such a stressful choice, but you can rest easy if you hire Daissey. She is very clear from the start about her photography style which is well represented on her website (unlike some other photographers who include only the single beautiful shot they captured after an entire day of photos), capturing the moments in your day without all of the awkward, forced posing that wedding guests all dread. She also is willing to adjust her photography packages to meet your wants/needs and in spite of a marathon day of photos beginning before sunrise, the sunset photos were every bit as well thought out and artistically done. I couldn't have been happier with the photographs she took and I plan to have Daissey photograph all of the important events in my life!

Stephanie

Married on 08/20/2016

Daissy was prompt, friendly, organized, professional, and patient. She is the hardest working photographer I've ever met. She worked well with the dj and vendors to make my wedding Mao:cal! She took time to get to know us, and knew every person in the family and bridal party's name. She was in the middle the whole day capturing precious moments. The best photographer, EVER, by far!!!!!!- Stephanie and Scott Bishop

Sara

Married on 08/06/2016

Daissy was amazing!! She was super helpful when we were in the planning stages and gave us incredible pictures. My husband and I are both a little shy and hate being in front of a camera but Daissy brought out the best in both of us in our pictures. Everyone at the wedding commented on how you could barely tell she was there but she still managed to get all of these incredible shots! Some of my bridesmaids have even commented that they would possibly be looking into using her when they got married as well. When it came time to get our prints, Daissy was extremely accommodating and brought them to where I work because she had a wedding to work that weekend and wanted to make sure I got my pictures as soon as possible. Daissy was a pleasure to work with and I would gladly recommend her to any other couple looking for an easy to work with and fun photographer!

Elizabeth

Married on 04/30/2016

Daissy. I can't speak highly enough of her ability, her professionalism, and most importantly the quality of her pictures. we just got our completed order and let me tell you, I am very, very happy. Both my husband and I don't like getting our picture taken, but you couldn't tell by the pictures Daissy captured. I love them. I love Daissy. Value wise? Don't look anywhere else. She's your girl.

Daissy Torres Photography's reply:

Thank you Liz for the lovely review! I absolutely loved witnessing you and your Love say I do in front of such an incredible family! Wishing you many years of laughter and love, Daissy

Scarlett

Married on 04/16/2016

Daissy is nothing shy of extraordinary. I first met her when I asked her to capture my husband's deployment homecoming pictures, which turned out beautiful and far exceeded my expectations. When my husband proposed, I knew right away I wanted her to capture our engagement and wedding pictures. Yet again, Daissy far exceeded my expectations and our pictures turned out beyond gorgeous. Daissy is so kind, flexible, easy to work with and genuinely cares about capturing the love between a couple. I cannot say enough positive things about her work and I HIGHLY recommend her. She is the best of the best!

Daissy Torres Photography's reply:

Thank you so much Scarlett for the amazing review! Getting to know you and yours have been one of my 2016 highlights. May the love you and your Sailor share guide the way thorough your marriage. Sincerely, Daissy

Kayla

Married on 06/20/2015

Daissy is the absolute best. Hands down, perfection. From the engagement photos to the actual wedding, she was so awesome. Had our families in stitches while handling business! I loved working with her so much!

Daissy Torres Photography's reply:

You rock and you know it Kayla! You and your Love are beautiful people and I wish you amazing blessings ahead. Thank you for the awesome review!

Tiffany

Married on 05/24/2015

(Just as a disclaimer, I had not met Daissy prior to my wedding day). If you need flexibility, value, professionalism and DROP DEAD gorgeous photos - book now and thank me later. I live 3 hours away from the VA Beach area, and I found Daissy via Wedding Wire. Since I was not local to the area, Daissy arranged a Google Hangout - thank goodness for a flexible photographer who is also in tune with the latest technology (#teamdroid for those thinking of Facetime...) Prior to the big day, Daissy was a guiding angel for me. Not only did she work with me to select the most impactful types of photography sessions, but she also asked for permission to offer advice when she noticed something related to the photography (i.e. timing of toasts, etc.) would not work well. The day of the venue, Daissy was present bright and EARLY. She was amazingly flexible when #teambride was running behind, and not once made me feel rushed. Her photos were simply amazing. Not one person has viewed them (particularly the outdoor portraits) and not given compliments. Thank you Daissy for capturing these moments in such beautiful fashion!

Daissy Torres Photography's reply:

Thank you Tiffany for the superb review! It was a pleasure to witness the #TNT love!

Daissy did an excellent job at our wedding. She was diligent and very accommodating. Her shots looked awesome. Well worth the value.

Daissy Torres Photography's reply:

Thank Jay for the great review! You and your Love's celebration was a great night! May your family grow and continue the beautiful path made for you.
Are you interested?
Send a message