125 Reviews
Recommended by 87% of couples
Quality of service

4.4 out of 5 rating

Average response time

4.4 out of 5 rating

Professionalism

4.4 out of 5 rating

Value

4.3 out of 5 rating

Flexibility

4.4 out of 5 rating
2 User photos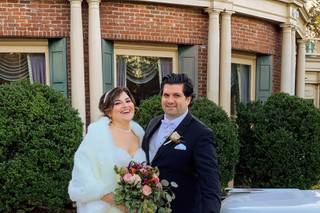 Rachael E.

Married on 05/10/2020

Fast and easy service

I made one phone call to the shop and I had the price of the service and a contract setup in literally five minutes. It was very fast and so easy to setup the service I needed for the wedding day. The driver was very nice and courteous. He called the day before the wedding to introduce himself but also to go over the last minute details. He arrived early to pick us up and chatted with us the entire drive to the venue. Then he helped us and our photographer out by moving the car to get great photos. He even allowed us to take many many photos using the car.

Akash

Married on 06/30/2018

I hired a limo from D&G to pick up my fiance when she came to America from India. The driver, Philipe was incredibly professional and punctual. My fiance's flight arrived at 5:30 am- and he was there on time- actually ahead of time. The car was lovely and exactly as I had expected- and the price was very fair- compared to the other prices that are available in the NJ area. I would definitely recommend them!!

Anya

Married on 10/15/2016

The main reason we chose D&G Limo was because we loved the Range Rover SUV that no other limo service offered. Our driver was great! He showed up on time and got us to our destinations safely and quickly. The limo was clean inside and out and looked very sharp. We highly recommend their service.

Anya & John

Are you interested?

Send a message

Vickie

Married on 08/14/2016

I was looking for a unique vehicle for my small freaky wedding party and was almost frustrated when eventually saw this miracle of D&G Limousine thanks to Limoscanner: https://limoscanner.com/partner-vehicle/1068-rolls-royce-silver-cloud-d.g-limousine/. I was a little worried but it turned to be exactly as described and even prettier than I expected. I loved its antique and cozy interior as well. From the booking moment all the way to my special date in August the D&G staff was more than helpful. They quoted everything in advance so I did not have any negative surprises. All my payments were processed over the phone and I got the receipts to my email immediately. Our driver, he was awesome. It was such a fun to see how everyone turned their heads when we rode around! Thank you guys for the great time!

Gabriela

Married on 06/03/2016

D&G was awesome! Our driver was very friendly and professional. The party bus was clean and well stocked with water and champagne. We live over an hour from where D&G is located but booked them based on reviews. So glad that we did because everything went off without a hitch!!! In getting to know and talk to our driver, we found out that his car had broken down on the way to work that morning. He didn't let this stop him in any way! He showed up on time and ready to go!! We're so grateful for his professionalism and attention to detail!!

They were extremely responsive with emails and super friendly. The driver showed up early and was very friendly and accommodating. I could not have asked for a better service!

Amanda

Married on 05/21/2016

Had a wonderful experience with D&G. They were very professional and the drivers were very friendly! My limo driver made sure my dress looked perfect stepping out of the limo and overall made me feel very comfortable.

Juan

Married on 04/16/2016

I used D&G for my wedding in April. The price was a little steep as we're other companies in the area. I now see why the price was a little more that other companies and it's because they are phenomenal! The driver was early, got all of us to all locations on time in the pouring rain and even had an umbrella for my guests and bridal party! They had champagne with glassware and even a jet door for the bridal party to get in and out easier. Their attention to detail was out of this world. I will recommend this company to everyone! Great job D&G

D&G Limo group is straightforward and easy to work with. They were very accommodating and easy to reach whenever I had questions.

Anna

Married on 09/26/2015

D&G has simply the most STUNNING and AMAZING collection of limos around!! My husband and I saw them at a bridal show and absolutely fell in love with the vehicle they had on display!! It was the stretched Infiniti QX80 with a Jet door on the side!! We wanted that to seat us, our bridal party and parents!! Everyone was impressed when they saw it!! Hands down, the best limo we have ever ridden and awesome service too!!

Jason

Married on 06/12/2015

We were very happy with D&G. They showed up earlier than anticipated and our driver was very helpful. He took the bags for the groom and groomsmen and loaded them into the vehicle to start. After the ceremony he was ready with champagne for a toast. It was a very hot and humid day and he was quick to give recommendations (such as doing the toast in the car) to make sure we had a great time. He also worked with our photographer to make sure we were getting everything done. He was more than a driver.

The car was in pristine condition as well. We would definitely book with them again.

Very happy we selected D&G Limo for our wedding day. I previously used them for a friend's bachelorette party in NYC and the driver, Jonas, was awesome! For our wedding day, we rented the 22 pax limo bus for our bridal party and it was perfect! It was extremely roomy, comfortable, and came with a few bottles of champagne. The driver was great! He arrived on time, kept us on schedule, and made the day a complete breeze for us. We filled out a schedule for the day-of and the driver really stuck with it. I'll never use another limo company!

We used D & G Limo for our 11/1/14 Wedding. We had the rolls royce princess and the 2014 Range Rover for our Wedding Party. We loved our drivers Cece and George they were the best! George was great he had an umbrella for us to use so I wouldn't ruin my dress. He even fixed my train of my dress as I walked down the isle! He was great! We also loved the champagne they had for our first toast as husband and wife. Our Wedding Party also loved it! We highly recommend D&G.

Katie

Married on 09/14/2014

Thank you for all your service's! The limo was awesome! My husband wants to book with you again ASAP lol

Nicole

Married on 09/13/2014

D & G provided the party bus for our wedding 9/13/14. They were great to work with, and responded to any questions via phone or email right away. The day of our wedding, the staff was so helpful with organizing people and ensuring me that I had my umbrella right away. I would definitely use their company for future events.

D&G Limo was absolutely amazing and very professional at all times. We hired 2 cars, one for me and my husband and the other for the bridal party. Both of the drivers arrived early and were prepared for the rain, as it rained heavily on and off all day. The drivers made sure everyone had everything we needed before leaving each location. They also walked everyone to and from out locations with umbrellas, so no one got wet. When I got in and out of the car, both drivers helped me. One had the umbrella and helped me out while the other driver was helping me hold my dress up so it didn't get soaked touching the ground. The one driver even had the "magical box" )as we called it). It had everything from bobby pins, to band aids to breath mints to a sewing kit. Before each location they brought me a mirror to make sure I was ok with my look and didn't need any touch ups. They truly helped make the day run smooth!!

D&G Limousine's reply:

Thank you so much! We strive to make sure everyone especially the bride is exceptional on their big day!

The limo bus was awesome and one of the cheapest prices we got. The limo driver was so nice and even pulled the limo onto grass so us girls didn't have to walk on pebbles. He also let one of the groomsmen borrow sunglasses for a picture!

Kristen

Married on 05/17/2014

D&G is a very professional limo service. We would highly recommend them. From our first meeting with Vlad to our wedding day, everything was on point and not one beat was missed. They clearly have the customer service down pat. They have a wide variety of rentals, but we reserved the 2014 Range Rover which was immaculate. Moreover, we had the BEST driver. This guy was top notch and accommodated us above and beyond. Thank you D&G!

Kristen and Ryan Mulroy

Ashley

Married on 09/27/2013

D&G limos was awesome !! They were on time to the hotel to pick up the bridal party for pictures and we had a nice Smooth ride to the park! And to the venue! I highly recommend D&G Limos!

Elsa

Married on 08/17/2013

Our driver, Mike, was great. He arrived early and called as soon as he got there. He warned us when he had to exit out the entrance to avoid scraping the bottom of the vehicle. He ignored his GPS when we asked him to take a different route, and he remembered our route several hours later when we returned to our starting location. He was friendly and helped me (the bride) out of the vehicle. He was also attentive when we were taking photos with the limo and made sure to point out when my dress got close to the tires which could have gotten the dress dirty. When a bridesmaid left her phone in the limo at the end of the night, he came back to return it to her.

Jamie

Married on 06/22/2013

We had a beautiful limo! The stretch audi! (my husband surprised me with it) The limo was clean, on time & the limo driver was very helpful! I definitely recommend this limo company!

These guys were great. Limo was very nice. Service was excellent.

They were punctual, reliable, flexible with plans, communacative and easy to work with.

What more could I ask?

Ivana

Married on 05/18/2013

Wonderful! The drivers were so courteous and sweet. Everyone was picked up on time and dropped off on time exactly as they promised. We flip flopped people between the limos we rented and D&G was very accomondating. It downpoured on our wedding day and the drivers were ready with the umbrellas and even let me borrow their jacket to keep me warm before I walked into the church. Everyone was wonderful! I highly reccomend this company. Thank you so much!

Megan

Married on 03/22/2013

D&G Limo Service was awesome! We rented a 28 Passenger Limo Bus for our wedding day to accommodate all of our wedding party (which was huge!) The value was great for a 3 hour package plus .5 hour free! The limo was on time, the driver professional, and the office staff very flexible. The red carpet service after the ceremony was great too! We really loved using this company and would recommend them to anyone who needs a great limo service!

Stephanie

Married on 01/04/2013

The driver was great. We didn't have to worry about a thing.
Are you interested?
Send a message