49 Reviews
Recommended by 97% of couples
Quality of service

4.9 out of 5 rating

Average response time

4.8 out of 5 rating

Professionalism

4.9 out of 5 rating

Value

4.9 out of 5 rating

Flexibility

4.9 out of 5 rating
6 User photos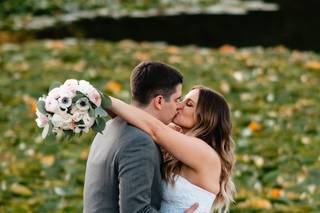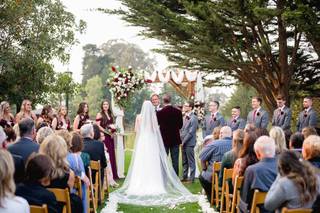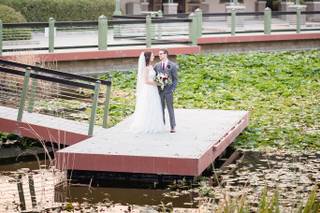 + 2

photos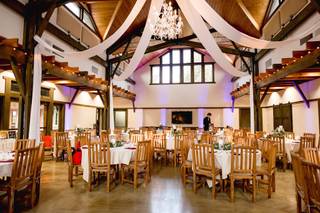 Kristina S.

Married on 10/01/2022

Great venue and staff!

Jodi, Cassie, and the rest of the team were amazing! So glad we went with this venue 😊

Sarah M.

Married on 11/08/2020

So Blessed

The Cypress Ridge Pavilion was an absolute beautiful experience. My husband and I got married back in November 2020 during COVID-19 and the Pavilion was a major blessing for us because our original venue was going to be rained out and at the last minute they offered their location for an indoor ceremony. Their kindness through working with us and everyone's patience was a blessing. When COVID is over we would love to go back and get the full experience inside and outside. Thank you so much

Stephanie R.

Married on 10/10/2020

Lovely wedding venue!

We are so glad we had our ceremony at Cypress Ridge Pavilion! It is a beautiful, idyllic location and just what we were looking for. Jodi is a pleasure to work with and was so helpful and accommodating throughout the entire process. Our guests were in awe of the setting. My groom had a golf outing with his groomsmen the day before and they had a great time.

Are you interested?

Send a message

Michelle O.

Married on 08/08/2020

Beautiful venue and dream-team service!

During our venue search, we decided to tour Cypress Ridge while we were visiting the Central Coast one weekend. The venue was spacious enough for our guest list of 175, and it was well-kept and gorgeous — the pond was definitely swoon-worthy! Jodi was very accommodating and helpful for the tour, and we eventually decided to get married there! The months following that tour were spent getting to know Jodi over email for the most part. She was prompt, professional, and very courteous in all correspondence — which I really appreciate as a project manager! Working through the contract and making payments through their website was also pleasantly easy. Although we unfortunately had to cancel our plans to get married at Cypress Ridge, we enjoyed our time working with Jodi and wanted to leave a note of gratitude here. Jodi and her team were extremely understanding and flexible as we navigated our changing plans. We highly recommend the beautiful venue and Jodi's excellent coordination, and wish we could have had our celebration here. Thank you!

Tara F.

Married on 12/10/2019

Dream come true

This venue is the best bang for your buck! Not to mention, it is breathtakingly beautiful! We are pretty young and didn't have a huge budget for our wedding. We wanted something pretty, but affordable. Cypress Ridge was a dream come true. We didn't even really have to decorate on the day of the wedding because it is already so beautiful on its own! We rented the venue for our ceremony and reception and we got so much more than just that. They provide a wedding coordinator for you to work with leading up to your wedding day as well as on your wedding day, they provide the most delicious food with servers, drinks with bartenders, a bridal suite to get ready in the morning of the wedding (can also be used to store decorations and other things before and during the wedding), they set up and tear dow the ceremony and reception for you (hallelujah!) You literally don't have to think about anything, they take care of it all. We toured a few other venues before finding this one. As soon as we stepped out of the car, we knew this was our venue. It is SO beautiful. It is SO affordable. They make your wedding day SO easy. Literally no complaints. Jodi, the wedding coordinator, is super helpful and responsive. We loved working with her and she really made sure everything came together perfectly for our big day. We set up a monthly payment plan with Jodi, so by the time our wedding arrived, it was already all paid off! That felt great! Our guests couldn't stop telling us how beautiful the venue was. The DJ said it was the best wedding he has DJ'd for in a long time. So many of our guests said it was the best wedding they've ever been to. Everything was so perfect. I can't stop myself from smiling ear to ear when I think about our wedding day. It doesn't matter what kind of bride you are, if you've been dreaming of your wedding day since you were 5 or if you could care less about having a wedding, your expectations WILL be exceeding and you and your guests WILL have the best day ever! Can't say enough good things about this place. My husband bent over and ripped is pants from front seam to back seam right before the ceremony, and even that couldn't put a damper on this perfect day! Everything was beautiful and perfect in every way.

Charlotte H.

Married on 04/13/2019

Outstanding wedding venue

Beautiful venue and terrific staff, plus delicious food. We looked at tons of locations around the Central Coast, and this one was the total package for us. Jodi (Cypress Ridge staff) went above and beyond to make our day perfect, and always with a cheery smile, no matter how many emails we sent her. Can't recommend highly enough!

Hannah

Married on 11/10/2018

Best day ever!

Absolutely beautiful property! Jodi is the best and handled everything so well. All of my wants and needs she provided and I appreciate her always responding to emails and giving suggestions. The property is such a great value for the price... so much included! Props to the chef.. the food was AMAZING! I want to get married over and over again here!!

Kimberly

Married on 10/20/2018

Amazing and Beautiful Venue! Jodi is the BEST!

This review is for both the venue itself as well as for Jodi and her team.

We cannot say enough amazing things about Jodi and her team! She is one of the most friendly, organized, and helpful people we have ever met. Her entire goal is to make sure your day is successful and perfect. Whenever we would visit her she would greet us with a smile and always seems so excited to see us! From the very beginning all the way until the day after the wedding, she was extremely helpful and so very sweet and kind. She (figuratively) held our hand through the entire process and was really helpful when making suggestions and answering questions. We had a few requests and it really didn't seem like there was any request too small or too large. If she didn't know the answer to something she would say "I'm not sure, I'll look into it!" and then would actually get back to you with an answer quickly and without prompting. It's incredible that regardless of the number of events she has going on at the time, she still makes you feel like your event is the only one she has going on all year. For the day of, she was so excited for us and was instrumental in making sure everything went smoothly.

In regards to her team: while the venue is beautiful on it's own, they really made the entire wedding magical. The way the rooms were set up was nothing short of enchanting. We elected to have Jodi's team help us out with setting up some of our personal decorations (for a reasonable additional fee) and while we had pretty detailed directions on how we wanted the decorations displayed, they set them all up perfectly and exactly to specification. AND THE FOOD! The food was so good!! I feel that at weddings the catered food is always somewhere between "this is alright" and "meh." But the chef and staff are so talented and will work with you to build an amazing and delicious menu. Even though we can have some strong preferences on tastes, they were very adapting and accommodating.

The location was extremely beautiful! They are constantly updating the venue and made sure everything was picture perfect the day of. The outdoor areas were calm and peaceful and particularly lovely next to the pond and the ceremony site was exceptionally beautiful. The indoor area was modern and updated but was not off-putting nor void of character. All in all it is the perfect location for any event, especially for such a beautiful wedding.



Erin

Married on 08/04/2018

Everything you could want in a wedding venue and more!

Cypress Ridge Pavilion far exceeded our expectations of a dream venue. We were so ecstatic that we came across this venue during our venue search. From the moment we visited the venue, we knew that it was the place we wanted to get married. We visited the venue on a Saturday afternoon right before a wedding. The atmosphere was so calm and serene that we was surprised to find that there was a wedding happening that day! That's when we knew it was the venue for us.

Jodi, the venue coordinator, was amazing to work with through the whole process. She was so accommodating and such a joy to work with. Jodi truly helped us make our vision come true and we trusted her that everything would run as smoothly as it did! She helped us process all our thoughts and visions and everything turned out perfectly.

The food was phenomenal. We scheduled a tasting before the wedding and were accommodated to our own sit down tasting. We were able to pick and choose what we wanted and weren't limited to any decisions. Post wedding all our guests said it was the best wedding food they had.

Not only is it a beautiful venue, but all the staff went above and beyond to make our wedding day perfect. All in all we would 100% choose Cypress Ridge Pavilion as our wedding venue again.

Adam

Married on 07/28/2018

We loved everything about this Wedding Venue and here is why. Starting out we made inquiries to several wedding venues in the Arroyo Grande/Pismo Beach area. Jodi, the Event Coordinator from Cypress Ridge Pavilion was one of the first people to write us back. She set up a meeting for us to come see the venue and sent us a full detailed wedding packet with costs of all their services and food up front. We met up with her a few days later and toured the Pavilion and surrounding grounds. She was very helpful at answering all our questions and not at all pushy. We decided on Cypress Ridge Pavilion for our wedding, Jodi sent us all the paperwork electronically which made things very easy for us because we did not live in that area. Moving forward from there, we began booking our other service providers. By them including most of the rentals and providing in house catering they are able to better control the level of service and in turn streamlines a big part of the wedding planning process for you. The only additional vendors we had to book was a DJ, Photographer, Pastor, cake and Florist. Jodi had a list of preferred vendors that they had worked with in the past to make this easy as well. Moving forward to the wedding day, Jodi was there early making sure everything was set up as we had requested and available to answer any questions we or the other vendors had. Our wedding turned out beautiful, the grounds were neat, clean and lusciously green; the tables, linens and dinnerware were perfect, everything was as requested. We decided on their Italian buffet option for our dinner which was amazing, lots of flavor and more then plenty of food for everyone. Also decided to go with the premium open bar, guests loved it and many were jolly and rosy cheeked by the end of the night. Jodi stayed throughout the night helping in any way she could to make sure everything went smoothly. We could not have asked for a better place to get married.

Frederick

Married on 10/28/2017

My wife Crystal and I had our wedding here, and we can't recommend it highly enough. The wedding day coordinator (included in the venue cost) helped us through the entire process, giving us helpful reminders and advice. In the end, the wedding went off without a hitch, and I'm so thankful we got married here. After all, weddings are stressful enough, and it would have been a shame to spend so much time and money on a wedding that wasn't fun. All our guests complimented us on what a great time they had, how awesome the food was (thanks Chef Rochelle Friedman!), and how beautiful the place was.

Thanks to Cypress Ridge, Jodi Sailors (coordinator), and Chef Rochelle for being such a big part of our special day. Cypress Ridge has my highest recommendation.

Lennece

Married on 09/15/2017

Do not be afraid to contact Jodi with your questions.

Jill

Married on 08/12/2017

Cypress Ridge is the best and most beautiful venue on Calif.'s central coast!
Jodi helped us throughout the entire wedding process and Jodi knows exactly how to organize the rehearsal and help the entire day of the wedding.
And Rochelle is the most fabulous chef!

Susannah

Married on 07/29/2017

The Cypress Ridge Pavilion exceeded our expectations as a venue for our wedding. The whole atmosphere and ambiance of the place are great. We keep getting compliments from our guests about how great our wedding was and how beautiful the Pavilion is. One thing I have to say is that the staff is absolutely great. Jodi, the Event Coordinator, makes you feel right at home and really was there to make sure our day went off without a hitch. She went above and beyond what was expected. Here is a tip for people who are considering this venue. We did our dinner on the grass by the lake and then the dancing inside the main hall. It worked out great! We also did our rehearsal dinner there the night before the wedding. Which worked out great as it really streamlined the day and let us really enjoy our friends and family. We can't thank the staff enough for making it the best day ever.

Alex

Married on 06/16/2017

I cannot say enough good things about Cypress Ridge Pavilion. My husband and I got married here last June and it was just perfect! When we were hunting for a venue we wanted something that felt inviting, cozy, magical but also big enough to hold our large wedding and this place nailed it! Cypress Ridge is in a gorgeous area, with a fantastic wedding ceremony lawn on a lake. We fell in love with the venue the moment we walked in.

Jodi was probably the main reason we even decided on Cypress Ridge. Throughout our wedding planning process, Jodi worked closely with us on every detail, and we had a lot of details! From helping get the decorations set, to hooking us up with an amazing florist to even keeping me calm before walking down the isle - Jodi rocked it! She was with us every step of the way and I always felt supported.

The food is also just amazing! My mom and I worked closely with Rochelle on every detail of the menu, due to some food allergies, and she was super accommodating. I am still getting rave reviews about the food! Also, we had s'mores set up at the fire pit in the evening and that was a huge hit with our guests.

In terms of the venue itself, we had dinner outside on the lawn and moved our guests inside for dancing. There was enough space for everyone, but it still felt cozy and intimate. In the evening, there are hanging lights outside that really make it quite stunning and make for a very warm ambiance.

If you're on the fence, don't be. Cypress Ridge Pavilion is not only a beautiful place to get married, but the team who works there makes it magical!

Nicole

Married on 05/06/2017

Best. Venue. Ever. We had THE most amazing wedding! We are so happy with how everything turned out! Jodi is the best coordinator! She did such a great job helping us plan the best day. We cannot thank her enough. All of our guests are still talking about how beautiful the venue was. I loved that we had the option of an indoor/outdoor wedding. We have also been getting compliments on how great the food was (Santa Maria style BBQ)! The staff was super friendly. All around it was more than we could have imagined! I would highly recommend booking Cypress Ridge Pavilion for your wedding!!

Soray

Married on 04/22/2017

We loved this venue! You get so much for the price you pay! And what a beautiful venue, nice style, big bathrooms, nice surroundings. Our guests loved it. Jodi was nice, helpful and accommodating. We planned our wedding from Indiana and could have not been able to handle it all without her. No chasing after linens, dishes, service staff, tables, etc...we are so happy we chose Cypress Ridge Pavillon!

Diane

Married on 04/08/2017

My son and daughter-in-law had their wedding at The Cypress Ridge Pavilion. Their wedding was magical and couldn't have been more lovely. Jodi was wonderful and she spent as much time with us as we needed to make all of the decisions. She was extremely welcoming and helpful. We even came out for a tasting before the wedding which was eloquent! I was mostly involved with the rehearsal dinner. We had decided to have the dinner at the same location as the rehearsal especially for the convenience. We were so glad that we did! We ordered the bar-b-q dinner with a few changes. The chef worked with me to select the perfect menu and that it was! The evening was perfect, the food exquisite, the staff friendly and professional. I couldn't have asked for more! Thank you for helping create wonderful memories for our families and friends.

Raeshon

Married on 06/11/2016

My Husband and I (06/11/2016) are from two different parts of California(Southern and Northern) and because we did not want to be biased we decided to meet in the middle. We looked at a lot of venues but the moment we drove into Cypress Ridge we just KNEW it was it. The scenery was absolutely beautiful and calming! Our big day was everything and more! Jodi and her team were absolutely phenomenal! She truly is a godsend any problems or issues she was there! If I could do it all over again I would in a heartbeat!! Oh and the food!! Our guests are STILL talking about how amazing the food was!!

Thank you so much Jodi for all of your hard work and dedication to make sure our day was amazing!!

Samantha

Married on 05/28/2016

My husband and I couldn't be happier with our decision in having our wedding at The Cypress Ridge Pavilion. Not only was they layout of the venue perfection, it was beautiful and the staff was phenomenal. Jodi the events manager is such a pleasure to work with. I myself am a wedding planner and have been to many venues, it says a lot that I chose this one for my own wedding day. I love that so much comes with this venue. Not only do you get the gorgeous property for your ceremony, cocktail hour and reception, they cover the food with their in house catering (which is top notch, Rochelle is an amazing chef), they cover the bar, they have a bonfire pit that is clean and chic, a pond backdrop, photo booth, an amazing bridal suite that we also used as a kids room, and so much more. If your considering this venue for your wedding, seriously look no further. Love love love this place.

Jack

Married on 05/21/2016

We wanted our wedding to be a party with a ceremony in the middle of it and Jodi and Rochelle simply made it happen! The Pavilion is a beautiful venue with great architecture and outdoor amenities and scenery. Jodi handled our requests and concerns in a very professional manner and she's a lot of fun too! They accommodated the live band perfectly and the delicious food prepared by Rochelle was out of this world. Everyone who attended has made glowing remarks about the Pavilion and the great staff - and we could not have selected a better place for our 'wedding party'. They're the BEST!

The natural beauty of the Cypress Ridge Lakeside Pavilion and surrounding landscape enhanced our emotions and affections that we embodied on our daughter's wedding day. The detailed service we received from our first call, to the moment our daughter exited a new bride helped us all truly experience the love shared by family and friends. Big kudos and a sincere thank you to Jodi and staff for your dedication and remarkable service.


Made our dream come true This place was the most beautiful setting for a wedding. It was amazing and made our day absolutely breathtaking. Jodi was a blessing to me as well as my big day. She went above and beyond. I could not have asked for a better day. How I found this place, I looked up best food. Then we arrived to view it and there was no way that we could walk away without booking. It was perfect. The food was beyond my dreams and my guest actually said that they thought our wedding should have been on one of the wedding shows. If you are looking for a romantic beautiful perfect wedding location this is it. I also had the most amazing live musician Timothy Davis who definitely set the mood and our officiant Melodie Willey who had everyone in tears with the amazing vows written just for us. Jodi worked with all of our vendors and made our day more then we could have ever imagined. If Elegant and Breath taking is what you are looking for choose Cypress Ridge and they were great working with our budget.

Shea

Married on 10/04/2014

I recently had my wedding at Cypress Ridge Pavillion and I could not have had a better experience. I would consider this the go to place for weddings in the area! I loved having the catering, rentals and coordinator included with the venue, it made service efficient and seamless. They even let you pay as you go so you don't have to worry about a big bill at the end of your wedding day!

We had our ceremony and dinner outside and the rest of the reception inside and it truly felt like each spot made for a new experience (and fun new pictures). The space is beautiful as is but still allowed us to add our personal touches to make it feel like OUR wedding. We asked for a set-up that was new to the venue and they went above and beyond to make it happen and even tested the layout before the day to make sure it would work.

When looking at the venue information you may see certain limitations such as no BYOB for alcohol. However, when talking to the coordinator, Jodi, she was very accommodating with all our requests, including those alcoholic, and made everything we asked for happen. We were never met with a simple "no" but were delighted to have suggestions as to how to achieve our dream wedding within the venue's boundaries.

I would not hesitate to have another event at the Pavillion or to recommend it to another bride. Only the best from Cypress Ridge Pavillion.

Susannah

Married on 08/17/2014

We had our wedding there 08/17/14 and it was the most amazing day I could have imagined. Jodi and Bryan really helped make everything we wanted happen. Jodi was always so easy to get a hold of and she had all the answers to our problems.

From planning 6 months ago to the big day they where all so willing to help us. They gave us suggestions on vendors, and offered decorating ideas. Jodi connected us with the right people to get a chandelier and fabric for our big day and even helped us figure out how to mount it all. She met with us a couple times the week of to make sure we knew what was going to happen and did an amazing job guiding a walk through with us the day before. The morning of the wedding we arrived at 10am to see the chef picking fresh rosemary for the dinner that night and Jodi directing people how to set stuff up etc. I had a meltdown and she was there to help, we needed anything she was there all day and night she was just the best onsite coordinator we could have asked for.

I loved the venue and all of the staff that worked the event. Everyone was so professional and nice. We really loved the chef as she met with us several times to perfect our meal to our preferences. We had olives on the tables with bread while everyone was getting seated. A plated salad which was out of this world was then served and finally we had a buffet style dinner. The dinner had the most amazing fresh vegetables (the asparagus was perfect not mushy at all as most buffets tend to have mushy veggies) an amazing vegetarian option that guest where raving over, sweet potatoes and my favorite part the prime rib! I loved how the chef cut the prime rib to order and it was so juicy and delicious.

All of our vendors did a great job and raved over how well the whole day had gone.At the nights end they did the cleanup and we went off to our honeymoon. I didn't lift a finger without someone being there to it for me. I couldn't have asked for a better experience.
Are you interested?
Send a message