Reviews
4.7 out of 5 rating
Quality of service

4.7 out of 5 rating

Average response time

4.8 out of 5 rating

Professionalism

4.8 out of 5 rating

Value

4.6 out of 5 rating

Flexibility

4.7 out of 5 rating
95%
Recommended by couples
7 User photos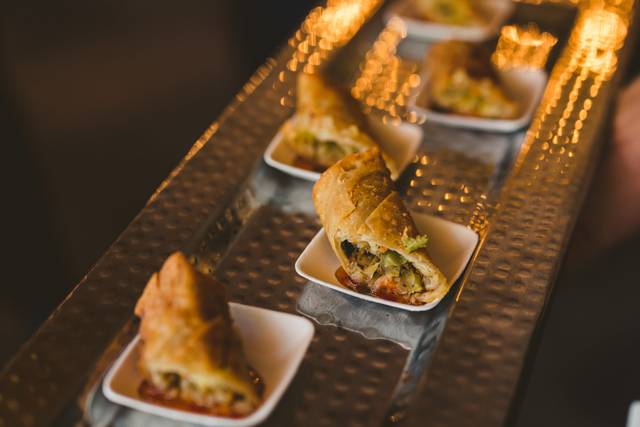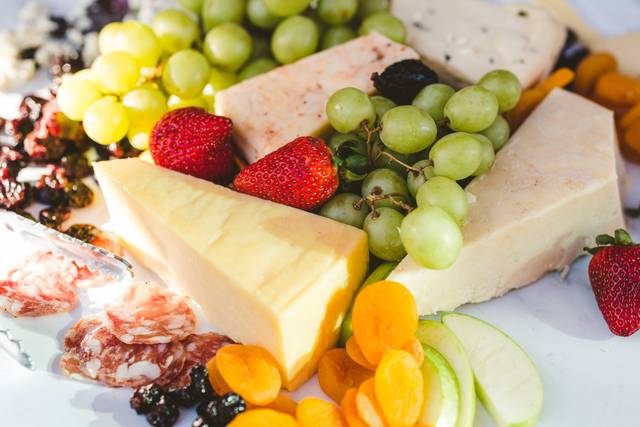 + 3

photos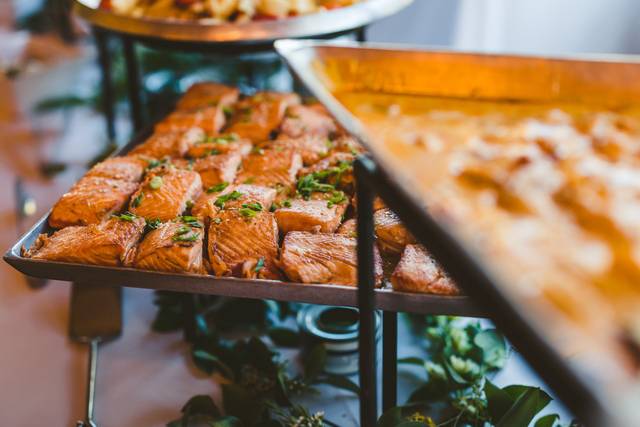 Sabria B.

Getting married on 10/07/2024

Amazing service

Very professional and amazing service. Kind to the people they serve and treated them with great respect.

Katie R.

Married on 09/16/2023

Great Team!

This team was great! They helped us create a menu that was unique to us and tasted great! On the day of, they pulled everything of and had a super friendly staff! Would highly recommend to anyone looking for good food with a classy feel.

+ 4

photos

Kate J.

Married on 07/15/2023

Incredible Service & Experience

We have worked with Culinary Crafts numerous times and are always impressed by them. Their service is some of the best in the state and their catering always wows the guests. I cannot recommend them highly enough. They create a memorable and stress-free experience that is worth every penny on your wedding day!

Are you interested?

Send a message

Beth R.

Married on 12/31/2022

Outstanding!!

We used Culinary Crafts for our New Years Eve Wedding and their food, service, and professionalism was completely outstanding!!! Our guests raved about the food and their bar service was 2nd to none. We wouldn't have changed a thing, they were perfect!!

Emma

Married on 09/05/2021

Confidence and Positivity you can taste

The food is amazing but the thing that makes Culinary Crafts stand out to me is the level of confidence and positivity shown in their employees. As if the food isn't already divine, when offered with a warm smile somehow it tastes even better. There are always unexpected things that come up during an event but their level of professionalism and experience eludes a confidence that puts everyone at ease. They create an experience that in enjoyable and delicious for everyone.

Aisa G.

Married on 08/01/2021

Best Service in the Business

I have been able to witness the service from Culinary Crafts many times, especially at weddings. Not only is the food amazing, but the people are amazing as well. They will do everything they can to make your wedding day very special. This includes the amazing food, amazing service, beautiful and elegant decorations, and special touches that really stand out. One of my favorite things Culinary Crafts does is make a bride and groom bag, which includes at least a couple of boxes o the food served at your wedding. This helps make sure that, even if you're too busy to enjoy the food during the wedding, your spouse and yourself will be able to enjoy it together later. Culinary Crafts really does help make every wedding special.

Annie E.

Married on 07/20/2021

Rave reviews of the food and staff

We had an excellent experience with Culinary Craft. From the site inspection, to the tasting to the final product; they exceeded expectations. Often I lower my standards for food when more than 50 People are served, but everything was delicious and cooked to perfection! Their catering staff was so personable, kind and accommodating. We had some dietary restrictions to maneuver and they were so gracious and kind about it! They left the venue spotless at the end of the night! I should mention they also ordered all of our rentals (linens, plates, glassware, umbrellas, chairs, etc. ) and that was very helpful!

My only constructive feedback is- if you are having a bar (we had an open bar), confirm they can get the liquor you ordered. We had specific wine, whiskey and beer ordered and learned 4 days before our event that those items were not available. They had alternatives, but this was a bummer when we placed the order 3 months in advance! In the end that was very minor to the overall wonderful experience.

Meredith P.

Married on 07/08/2021

Exemplary service, delicious offerings!

Excellence in all arenas! Extraordinary service, food and attention to detail.

Naihya G.

Married on 07/03/2020

They Care About You

I have witnessed the professionalism of Culinary Crafts many times. When it comes to catering, Culinary Crafts pays attention to every detail. Along with great service, Culinary Crafts shows great hospitality to all guests and clients. Culinary Crafts cares about each of their guests and wants to create a memorable/ comfortable experience for each one.

Kathryn C.

Married on 05/07/2020

Great Company

I think they did an excellent job with their service and performance for my event. They were understanding to all special requests and the staff was very friendly and helpful the whole time.

Ted H.

Married on 08/10/2019

Kate and David's Wedding

As parents of the bride, we would not hesitate to recommend Culinary Crafts to anyone. Their team worked together very smoothly to provide our daughter and her husband a wedding day to fondly remember. The families and friends attending were very appreciative of the friendly and professional staff who helped to make this special day for us a delight.

Gabriele G.

Married on 06/22/2019

10 out of 10

Every detail of my wedding was perfect thanks to Jocelyn at Culinary Crafts. She was more than the catering manager... and all the food items on the menu she created for my wedding were incredible! The staff at the wedding was so professional and hard working. I cannot thank them enough for making my day absolutely perfect. The food was so so so delicious, beautifully presented and featured local ingredients. If you are getting married and you care about delicious food, don't hire anyone else. Culinary crafts is the best in the business. Jocelyn is a perfect 10!

Riley W.

Married on 04/06/2019

They are reliable and easy to communicate with!

This Vendor is so full of life and fun! They are very professional and work quickly and efficently. They're food and service is great!

Alexa

Married on 09/22/2018

Food was delicious!

WOW - Culinary Crafts absolutely crushed it! I worked with Madison Oliveira and she was seriously fabulous; I probably emailed her a dozen times to ask questions, tweak the menu, inquire about rentals, etc. and she would get back to me so fast and was always just so easy to work with. They were so professional and the food was really so good! They boxed up our leftovers and we are still eating them! They are the best in the state for a reason. If food is important to you at your wedding, do yourself a favor and hire Culinary Crafts!!

Alice M.

Married on 07/09/2018

Love Culinary Crafts

The food is amazing!! The service is great!! Easy company to work for.

Brennan

Married on 05/08/2018

Fabulous Food & Service

Culinary Crafts has such happy, easy to work with, and kind employees. They are so organized and responsive and you can tell they love their job. They have tons of food options but will work with you on what you need. The food we had was so yummy. I recommend the pasta salads, butternut squash soup, beef sliders, macaroons, chocolate mousse, and my favorite, the tomato bail and mozzarella skewers. So yummy!

Corinne J.

Married on 08/06/2017

I just can't say enough good things about Culinary Crafts! They catered our wedding at Louland Falls August the 6th and it was flawless! We are vegan and they pulled off the most beautiful and creative food. Our guests (most of which are not vegan!) were so impressed, we had people talking about the food all night! If you have a special diet or just want to have the best food, service, and care taken at your event you should look no where else because Culinary Crafts knows what they are doing. Rachel Collet was an absolute dream to work with too! Helped me when I had a breakdown over some last minute decoration issue and when I had a scare the weather may take a turn for the worse. She is amazing and helped a bride in panic mode realize it was going to be ok! Hands down the best caterer in Utah. I would never go anywhere else and will always highly recommend them. Thank you Culinary for making my wedding perfect!!

Margo

Married on 11/21/2015

Mary and her staff were incredible to work with. The tables were cleaned up at all times. The food was wonderful. The food stations were always kept up and clean. Mary did her very best to make sure the bride and groom had their dream wedding. She was always very friendly throughout the entire evening. We look forward to using her again, and encourage others to do the same.

Culinary Crafts's reply:

Margo, Thank you for your kind words. You were a delight to work with....the perfect Mother of The Bride! Look forward to connecting on another wonderful life event. Hugs, Mary

Mary was so fun to work with! She is the sweetest lady and made my day perfect! She always responded to my questions, and did everything I wanted! I loved working with her! Thank you for making my day perfect!

Culinary Crafts's reply:

Lexie, It was a joy to be part of your special day. You and Christopher will always be in my heart! Hugs, Mary

Ian

Married on 06/21/2015

Culinary Crafts was our wedding day savior! When the details slipped through the cracks and our wedding planner dropped the ball, they were there to pick up the slack and get things order. They took on the role of our wedding planner and quickly organized and delivered outside of their scope of services. Their staff was respectful, kind and courteous. As weddings usually go, we had no time to eat hor devours and barely any time to eat our dinner. The staff placed each kind of hor devour on our sweetheart table and was sure to cater to our needs for the dinner plate. We didn't miss a thing!

In addition to the excellent staff, the food was AMAZING. We're absolute foodies, which is why we chose culinary crafts. Mary Craft herself sat down with us and crafted an entire menu JUST for our wedding. It included a custom fruit infused quinoa salad, Utah red trout and a grilled flank steak with a chimichurri sauce that was to die for. And of course, their unbelievable in house bread and sea-salt crusted butter was served. All of our guests had nothing but great things to say about the food and the service.

At the end of the evening, her staff quietly broke down the tables and the bar and were kind, courteous and respectful of both I and my bride as they tried to gain our attention for some minor questions they had in order to complete their job. They left no trace and were out of there before the send off!

All around, our experience with Culinary Crafts was top notch. I don't see us using another catering company for ANY of our future events. You're not just getting excellent cuisine from Mary and her crew - you're getting unbeatable customer service as well. THANK YOU CULINARY CRAFTS!!!!



Darian

Married on 04/24/2015

Culinary crafts is a little pricey but so worth it. They were very professional and easy to work with. The event planner that they gave us was very helpful and helped us come up with things that we wouldn't have thought of. Not only that but the food was amazing and everyone at my wedding loved it!

Culinary Crafts was absolutely awesome to work with. They gave us great options related to what we were looking for: a light dinner. Their prices were great, they did a wonderful job serving the food and making sure there was always plenty for everyone. They were very professional, and best of all, they did all this while barely being noticeable at all. We didn't have to think about them, which is great on your wedding day!

Leanne

Married on 01/01/2015

Simply the best!

After working with Culinary Crafts for over 5 years, they are simply the best in the industry! From pre-planning to execution, their team is professional, highly detail orientated and talented in so many ways with designing and crafting a custom menu that fits your individual style.

A genuine 5 Star Rating!

-LeAnne, River Bottoms Ranch

Danielle

Married on 11/01/2014

Not only was the food amazing, but they were so patient and flexible with us changing things around in our menu. Everyone who worked for CC was so polite and helpful, and neither I nor my husband were ever wanting for anything. They took the same wonderful care of our guests throughout the night, and everything was beautiful. Holly was our coordinator, and she and her team made everything flow seamlessly. I would definitely recommend a tasting with this company to check them out!

Katrina

Married on 09/27/2014

From the moment I met Mary Crafts I knew we were in the hands of a pro who genuinely cared. We went with all of her recommended vendors, so everyone involved was used to working together at the beautiful Red Cliff Ranch in Heber UT. Our wedding went off without a flaw, in spite of torrential rains which were unable to dampen the joy of the event. Food was delicious, service phenomenal and we were able to participate fully and enjoy our guests without worrying about any details. Culinary Crafts was at our house early the next morning to lay out a beautiful brunch, the perfect ending to our wedding weekend. I would trust Mary Crafts with any important event, and thank her and her excellent crew for a most memorable wedding celebration!
Are you interested?
Send a message