Reviews
4.9 out of 5 rating
Quality of service

4.9 out of 5 rating

Average response time

4.9 out of 5 rating

Professionalism

4.9 out of 5 rating

Value

4.9 out of 5 rating

Flexibility

4.9 out of 5 rating
98%
Recommended by couples
2 User photos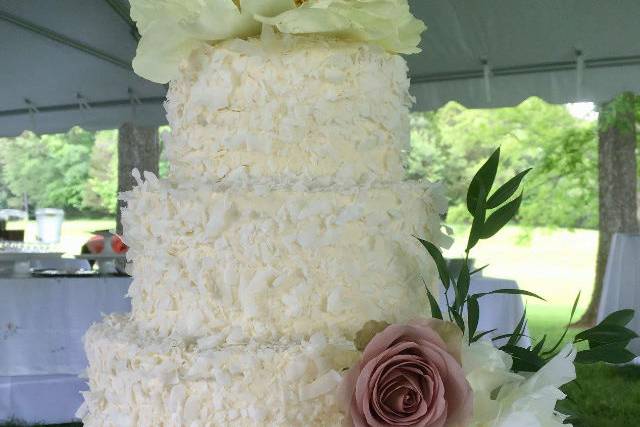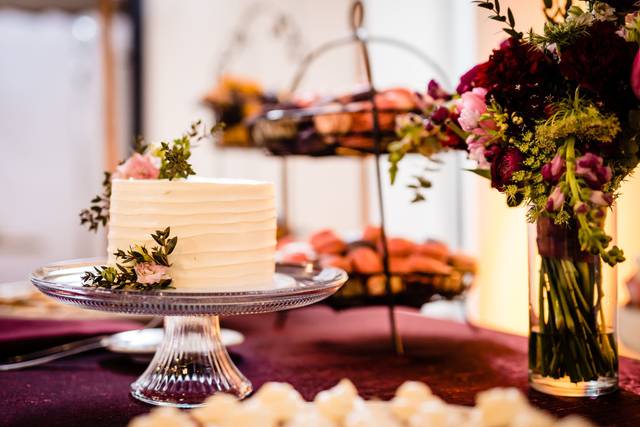 Sabina D.

Married on 01/18/2020

Fantastic service, beautiful cake!

We placed a last minute order for a small wedding cake and it was perfect! I wanted layers, a naked look, lots of fruit, and frosting that wasn't too sweet. Marie delivered! The cake was breathtaking and tasted delicious! She was happy to work with my inspiration pictures and set up a quick call to go over details so we were on the same page. So happy with my choice!

Carolyn

Married on 06/02/2018

My wedding guests will NEVER forget the very first bite of my wedding cake. "Sublime" does not even come close to describing the flavor and texture of this marvelous cake made by Marie-France, an extremely lovely and accommodating, top-notch European artisan (who put down new roots in North Carolina not too long ago). My cake? Lemon with blueberries picked straight from her Vermont summer home garden. Even the buttercream frosting was worthy of numerous comments from my wedding guests...and, as the bride, I only had one remaining slice to take home and put in my freezer!

Marie-France is worldly...and so was my cake. A combination of European flair (Belgium-raised), and Vermont summer home gardening, produced a combination of flavors giving my wedding guests a very memorable experience. I am very sure that over time, as Marie-France becomes more established in our community, that her favorable reviews will skyrocket tenfold!

As the French would say, "ses compétences de cuisson sont superbes"...or, her baking skills are superb!

Jamie

Married on 05/26/2018

We can't recommend Marie-France highly enough! The cake she made was a work of art - and was as delicious as it was beautiful. All our guests raved about the surprise strawberry jam layer inside the coconut buttercream. The elegant design was exactly what we wanted and she was very communicative and so great to deal with.

Are you interested?

Send a message

Amy

Married on 05/12/2018

We loved our cake and had a really positive experience. We tasted what she had to offer before hand, picked our favorite, and on our wedding day had a gorgeous cake delivered to us. It was affordable and beautiful, and our guests loved It. Many people told us It was their favorite wedding cake they'd had so far. It was stress free and easy to deal with.

Dale

Married on 04/07/2018

We loved our desserts - they were beautiful and delicious. We did a dessert bar with macarons, mini-cupcakes and assorted cookies, as well as a small, personal wedding cake. We didn't get to eat as much of the dessert as we would have liked because we were so busy, but we would definitely recommend!

Cherie

Married on 09/02/2017

We absolutely love our wedding cake. Marie did an outstanding job on both or wedding and rehearsal dinner cakes. Great vendor who was flexible and easy to work with with wonderful attention to detail. Highly recommend.

Eleanna

Married on 11/19/2016

When looking for someone to bake our wedding cake, we wanted to make sure we found someone who could make a simple but delicious cake - Marie-France did a perfect job creating exactly the delicious cake (and macarons) we wanted! She even went above and beyond to figure out how to bake a Mondrian-style grooms cake for my modern art-loving husband, and it turned out beautifully! Her flavors are rich and clean, her execution is flawless, and everything she bakes is clearly from the heart. We couldn't have asked for a more delicious end to a wonderful wedding!


Our daughter's wedding cake was all that I envisioned. Not only were the sugar flowers exquisite but so real looking. We received so many "oohs" and "aahs." It was 4 layers. 3 were used up . Many people had several slices. The buttercream frosting was just the right sweetness and the chocolate cake was light and flavorful.

I would highly recommend Marie France not only for her culinary and artistic ability but also for her professionalism. She was a joy to work with.



Nina

Married on 08/16/2014

I am a cake aficionado -- for me, taste comes first, and decoration second. Marie France of Cuisine Lucette knocked it out of the park on both fronts. The cake (vanilla cake with mocha buttercream and chocolate ganache) was DELICIOUS, and beautiful. Several guests said it was the best wedding cake they had ever had. I would, without hesitation, recommend Cuisine Lucette for your Southern Vermont wedding.

Debbie

Married on 07/05/2014

Our daughter's wedding cake was the "icing on the cake"!!! It was the best cake we have ever tasted (all fresh local ingredients) and looked absolutely gorgeous. From the first phone call to the delivery, Marie-France was professional and showed a genuine care to add to one of the most important days in our daughter's life.

Taste testing the cakes was such a fun and pleasant experience. You get to meet Marie-France and see her beautiful kitchen and home. She gives you samples of whatever cakes and frostings you'd like. She gives you suggestions for flavor combinations, but never rushes you. She has you look through her huge books of sample cakes and talks to you about other possibilities.

On the day of the wedding our cake arrived and looked beautiful. It looked just as we had discussed and as my husband and I had imagined it. Not only that, but it was so delicious. The vanilla buttercream was light and fluffy, while the inside frostings and cake were flavorful and fresh tasting. I would love to eat another cake created by Cuisine Lucette!

Jami

Married on 09/27/2013

We went on a few cake tastings before we found Marie France. I had a specific cake in mind and a specific kind of frosting, Marie France was the only wedding cake vendor that actually listened to what I had told her we wanted and had the cake and frosting ready for tasting with the flavors we requested. Our cake came out beautifully and tasted even better. We had tons of compliments on our cake for both quality of taste and beauty. Thank you Marie France, we really enjoyed our cake and were able to save our top to have on our 1st anniversary.


Theresa

Married on 09/14/2013

A Work of Art
My daughter's new husband was born in Belgium and once I became aware that the owner of Cuisine Lucette used imported Belgian chocolate in her cakes I knew I had to investigate further! How fortunate that she lives just a short distance from my home! My daughter and her husband and I were treated to a cake tasting at her place of operation which is her home and we were immediately convinced that she was the right person to make our cake!
Her cake was not only delicious but a work of art! We chose the cake that looked like birch bark and it was very realistic. We were very impressed with the design and it truly looked like a work of art sitting on the cake table!
At the wedding, I scurried to the cake table to get a tiny taste just before the guests so that I would know ahead of time what they would be experiencing. What a sense of satisfaction I received as I tasted my first bite and then answered the question that was repeated many times: "Who Made the Cake? It's delicious!"

Carrie

Married on 08/24/2013

Cuisine Lucette provided an entire dessert bar for our wedding. Everyone loved the variety of tarts, macarons, cream puffs and flourless chocolate cake. Marie-France was very helpful in planning the menu and determining the appropriate quantity for our event.

Linda

Married on 08/24/2013

My daughter and her fiancé chose Marie-France at Cuisine Lucette to be their wedding cake baker, wedding cupcake baker and wedding favor maker! The wedding cake, petite, as cupcakes were also provided for the wedding guests, was simply charming. Perfectly decorated from icing to scalloped border. The Bride and Groom's monograms were written, in pretty script, on the surface of the cake. Topped with lovely flowers (provided by the florist), the cake made a lovely statement! Inside, a strawberry-rhubarb filling, was a delicious surprise! The cupcakes were scrumptious! Calories were ignored by this Mother-of-the Bride..., I tasted cake and cupcakes! Lemon-flavored cupcakes were topped with raspberry frosting and a thin slice of sugar-coated lemon. Amazing! For favors, my daughter and her fiancé, chose Belgian chocolate-dipped apples - decorated with orange and teal nonpareils. The nonpareils carried out the color scheme of the wedding. Wrapped in clear cellophane bags, tied with orange and aqua Wraphia, decorated with a favor tag and placed at each place setting, the apples were a perfect addition to a wonderful event! Well done, Marie-France! And Thank You for helping to make Gayle and Scott's wedding day very special!

Hillary

Married on 08/17/2013

Marie-France at Cuisine Lucette was wonderful - both in terms of service and baked goods! We turned to Cuisine Lucette after a few failed attempts to find a cake we liked with another vendor and are so glad we found her. She did a personalized tasting for us with a variety of delicious options for cake, frosting and filling, other miniature desserts, and also made two special requests for us for special cake and a family dessert. We ended up choosing a variety of mini desserts and a medium-sized cake with the most delicious strawberry rhubarb filling. I sent her photos of the simple cake design I wanted and made sure the florist left her some fresh flowers and when I arrived at my reception the cake looked beautiful and tasted amazing! The mini desserts were such a hit they were gone before I even saw them! Highly highly recommend!

Kristina

Married on 07/05/2013


We wanted to send you a note to thank you for an awesome job on our wedding cake- it looked better than what we talked about- even on a super hot humid day. And the cake was absolutely delicious!

Nadira

Married on 06/15/2013

We used Cuisine Lucette to order our wedding cake and were extremely happy with the results. We ordered a red velvet cake from Marie and it was THE best cake ever. I would highly recommend using Marie. She was reasonably priced and produced an awesome cake.

Siri

Married on 12/15/2012

We had requested a snowflake wedding cake for our December wedding. Cuisine Lucette did an amazing job - it tasted delicious (banana flavored) and it was exactly what we wanted. It had three layers and there were handmade edible snowflakes that were carefully placed all around it. We would recommend Cuisine Lucette to anyone!

It was an amazing pleasure working with Marie France!!! Our cake was a total hit, so beautiful and with a personal touch. I couldn't be happier with our choice. The price seemed low when we saw the beautiful cake but even more when the guest tasted it! The flourless chocolate filling was to die for! Thanks so much Marie France, we will for sure recommend you in the future!!!

Laurel

Married on 09/02/2012

Fantastic wedding cake- very unique! You can tell that the owner uses high quality ingredients, and she was a pleasure to work with. We did our homework and then decided on Cuisine Lucette, and we definitely make the right choice!

Emma

Married on 08/19/2012

Marie-France was so great to work with for our wedding at The Mountain Top Inn. The planning with her was very easy and our cake came out wonderful. Lots of our guests commented on how yummy and moist the cake was. I absolutely recommend her!

Anabel

Married on 08/04/2012

Marie-France made us the most wonderful wedding cake I could have hoped for. We received countless compliments from all of our guests and can't wait to dig into the top on our one year anniversary!

Jenny

Married on 06/30/2012

Cuisine Lucette created the most beautiful cake and cupcakes for my wedding reception. I provided a picture of what I wanted my cake to look like and was extremeley happy with the way it turned out-just like the picture! Cuisine Lucette provides elegant, professional, and creative service and products, and I would recommend them to anyone looking to add some beautiful desserts to their wedding or event.

Melissa

Married on 06/16/2012

Marie-France of Cuisine Lucette was wonderful. Easy to work with, willing to work within any budget, makes delicious cake, and decorates beautifully. We would definitely use her again.
Are you interested?
Send a message