Reviews
4.9 out of 5 rating
Quality of service

4.9 out of 5 rating

Average response time

4.9 out of 5 rating

Professionalism

4.9 out of 5 rating

Value

4.9 out of 5 rating

Flexibility

4.9 out of 5 rating
98%
Recommended by couples
84 User photos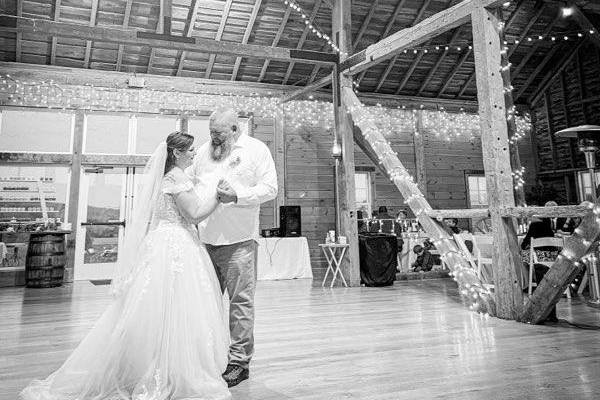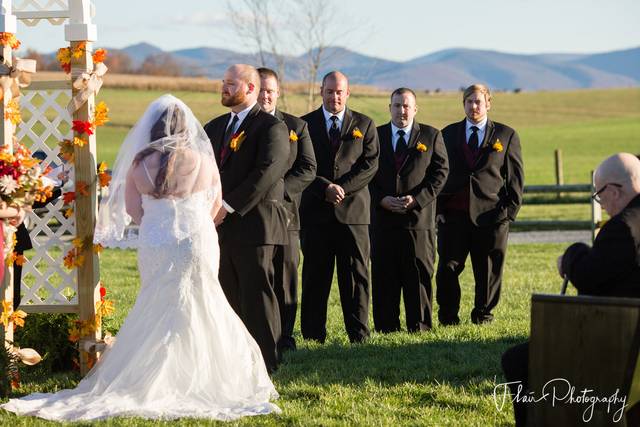 + 80

photos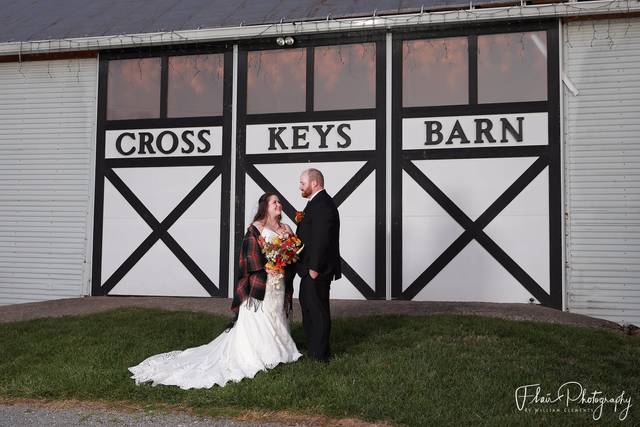 Judy P.

Married on 05/13/2023

Wonderful wedding experience!!

We had our wedding at Cross Keys Barn last weekend. I can't say enough good things about this beautiful venue or the owners. Karen was amazing to work with and so helpful and kind!! The property is gorgeous! I was nervous that it would rain and afraid we'd have to go with the rain plan. It did rain and we were married in the stone room which was full of fairy lights and plants -it couldn't have been more perfect! Working with Karen and being married here was a wonderful experience!

Brittany H.

Married on 10/29/2022

Dream venue

I just my dream wedding here and it was amazing! The whole staff was so helpful with the whole process which really helped me not be so stressed! I highly recommend!

Brittany S.

Married on 10/01/2022

Beautiful Venue!

My husband and I got married at Cross Keys Barn on October 1, 2022. The barn is absolutely beautiful! Everything was clean and fresh and the grounds were kept and maintained extremely well. The barn offers a beautiful view of the Massanutten peak. It rained on our wedding day, but there were two backup locations for the ceremony that we were prepared for and still offered a cute and cozy vibe. It was a pleasure working with Karen over the past year. She was very informative and offered a lot of ideas and suggestions for things we hadn't even thought about (we weren't working with a wedding planner, so we were new to all of this!). You can tell Karen has been in the business for a while and is passionate about what she does. During the rehearsal and ceremony Karen and her husband were extremely helpful with the setup and ensuring that we had everything we needed. Karen even shared her own pictures that she had taken during the ceremony with us, which was really nice! From the beginning, Karen was clear with her expectations of us and our guests. As with anywhere, there are certain rules that must be followed and this is for the protection of the venue and its licenses. We had no problems with her expectations and appreciated her transparency. The night went off with no problems - maybe a reminder here and there of certain rules, but my husband and I along with all of our guests had a great time! I would recommend this venue to anyone looking for a barn vibe with a nice view. The price was reasonable and Karen allowed us to come by anytime we needed during the planning process if we needed to get another look (we just needed to coordinate a time with her, of course). Some family members even stopped by unannounced a few times, and Karen welcomed them in to take a look around! We can't wait to return to the venue in the future to take some family photos with the view!

Are you interested?

Send a message

Gwen I.

Married on 05/07/2022

Incredible venue. Thank you, Karen!

We had a phenomenal experience with Cross Keys Barn; from our very first inquiry email through the day of our wedding! It is a beautiful venue inside and out. One of the main reasons we chose Cross Keys Barn was because of Karen, the owner. She is incredibly organized, super responsive to any questions/concerns during the planning process, and has lots of experience-- really a dream for any couple planning a wedding. We highly recommend this venue! 

Victoria N.

Married on 11/13/2021

Cross Keys Barn was a dream come true!

Karen from Cross Keys Barn was an absolute pleasure to work with from the start. She had all of her venue's information readily available for every one of our questions. Planning a wedding at this venue felt like a breeze, especially with their extensive list of local and popular vendors, and vendors that have been to the venue before. She also provided MANY different sample layouts for tables and chairs, which let us be totally prepared for everything the day of the wedding. They have many beautiful props available for you to use and many different adorable package options to add to your day. The venue is absolutely amazing with views of Massanutten mountain on one side, and beautiful fields showcasing the sunset on the other side. The inside looks and feels so magical with all of string lights and barn wood. Karen was readily available to answer any and all questions very quickly. She made sure our wedding was absolutely perfect, while making sure we could stay relaxed and enjoy our day. This was literally our dream wedding, I could not imagine a more utterly impressive venue and owner.

+ 3

photos

Marissa

Married on 10/23/2021

Wedding in October

My husband and I previously had our wedding at Cross Keys Barn in October, and we couldn't have picked a better place and people to work with! All of our guests loved the view of Massanutten, and the stone room downstairs with the lights was a perfect space for our band and for people to mingle and converse. The barn itself was beautifully lit from the inside, and everyone enjoyed themselves thoroughly!

From a bride's perspective, I can say that Karen, the owner of the barn, was so good to work with. From the beginning, she was open and professional with us. They were accommodating to our needs, and she responded to my emails promptly whenever I had a question or wanted something clarified, which were many emails. They already have certain decor that you can use for your wedding, and they are well-equipped with the knowledge to help you not worry on your wedding day. They set up the chairs and break down the space, and we rented the space on the Friday before which was the best move! We were able to decorate and ask last minute questions before the wedding. Karen requests that you send how you would like the place to be set up a month in advance of your wedding, and that was super helpful because it made you plan and not worry the day or week before the wedding. They allowed us to see the barn multiple times before the big day, and they were so friendly with the whole process! I'm very grateful for Karen and Cross Keys Barn, and I couldn't have imagined that day any better :)


Emily S.

Married on 10/09/2021

Beautiful Barn Wedding

This venue is absolutely amazing. If you are looking for a rustic/barn wedding this is your place. Both the inside and outside are beautiful and make for a beautiful wedding. The venue owners are very responsive, professional and were so helpful day of. I couldn't recommend this location enough!

Christina M.

Married on 09/25/2021

Amazing wedding venue!

Karen was awesome to work with and helped make our wedding vision come to life! She was very helpful when it came to details and willing to offer suggestions when needed. The venue is simply amazing and is even more magical at night when all of the lights are turned on. Our friends and family were raving about how beautiful Cross Keys Barn was. Highly recommend this wedding venue!!

Austin B.

Married on 07/17/2021

Cross Keys is amazing

Karen and Cross Keys Barn made our wedding day extra special. The atmosphere of the barn is stunning and is great for every part of the wedding. They are very helpful and responsive. We would highly recommend you using them for your wedding or event.

Emily B.

Married on 07/11/2021

10/10 would recommend to a friend

We could not have chosen a better venue or vendor! Karen was absolutely amazing. She was so gracious and made changing dates during COVID effortless for us. She was always available to clarify any questions we had and is just an overall warm and kind-hearted person! The barn itself was stunning! We loved the versatility of using the outdoor space for our ceremony and then transitioning inside for our reception. If you're currently looking for venues, I highly recommend booking Cross Keys Barn!

Connie D.

Married on 07/09/2021

Amazing venue and owners

Cross Keys Barn along with Karen and Tim (the owners) were excellent to work with. Our wedding (09/19/2020)was perfect and all our visions came to life. Karen was so helpful talking through different details and what worked well at their venue but was also open to our ideas and making our vision come to life. Planning a wedding with COVID was not easy but Karen had great ideas to make sure to keep everyone safe and healthy and we are so happy that we choose to go with this venue. Communicating with Karen was easy and she always responded timely which I appreciated. She was also open to us visiting the venue multiple times which also helped with planning! The venue itself is so beautiful with the twinkle lights, details of the barn, stone room and amazing mountain views. We could not have asked for a better venue, team of vendors or wedding day.

Eilie

Married on 04/17/2021

Amazing owner and staff

I chose cross keys for my wedding in April. I planned the whole wedding from out of state and Karen was extremely helpful with providing recommendations for vendors and how to arrange the barn for the reception. Everything went perfectly and I absolutely loved my experience with Cross Keys!

Timothy M.

Married on 04/10/2021

Amazing and Beautiful

Tim and Karen from Cross Keys Barn were wonderful to work with. The first time we visited the Barn we were amazed by the beautiful view. Tim and Karen made the whole process enjoyable and exciting. There's not one thing we would change from our daughters wedding day.


Joseph M.

Married on 10/10/2020

Remarkable Service, Amazing Venue--Highly Recommend!

My husband and I were lucky enough to allow Cross Keys Barn host our wedding on the most popular wedding date of the year, 10.10.2020. Our experience was great from the start. Owner, Karen, was prompt in communication, detailed, and always welcomed any questions and visits to the venue at any time. This was a major asset! Additionally, we were provided with information that assisted us in determining the perfect vendors to help make our day remarkable.

All of the staff was friendly, helpful, and hard working. From set-up to tear down, they paid close attention to our detailed layouts and offered suggestions to make things easier on guests and ourselves as the couple.

The venue is beautiful, well maintained, and fit for the perfect wedding. It truly is the ''venue with a view''. All of our guests complimented on the lovely atmosphere and friendly staff.

We can't thank Karen and her team enough for making our wedding day truly the most amazing day of our life. We would recommend this venue to anyone looking to host their wedding, or other gathering.

Meghan M.

Married on 08/15/2020

Amazing rustic country chic wedding venue!

We LOVED Cross Keys Barn as our wedding venue! Karen was so organized and awesome to work with! She gave me expert advice and guidance throughout the entire process. Even though it rained on our special day, we still had a blast and enjoyed the beautiful views. The barn with all the lights was a dream setting for our wedding. We knew we wanted to get married here the first time we stepped foot onto the property. I highly recommend! ❤️👍🏻 08.15.20

+ 8

photos

Megan B.

Married on 07/25/2020

Wedding in the time of COVID

Karen and her team at Cross Keys Barn went above and beyond all of our expectations. Getting married in the time of Covid is extremely stressful for everyone involved and Karen provided support and ensured that our event was a relatively low risk event. Karen not only provides you with a beautiful venue, but she helps with planning the little details that you don't always think about. Our family and friends have raved about the venue and all of the staff. We are so thankful for the Karen and her family for everything that they have done for us.

Shannon B.

Married on 06/24/2020

Beautiful Venue and Lovely Staff

I had my wedding at Cross Keys on August 1, 2020. So many details had to be tweaked and rearranged due to the COVID-19 outbreak and the owners at Cross Keys helped as much as possible to accommodate me and relieve some of my stress. Karen (the owner) was always very pleasant, straightforward, and full of great ideas -- you can tell she has been in this business for years and has lots of insight on what works well and what does not. I greatly appreciated this about her. Karen also has an extensive list of vendors for any possible need you could imagine for a wedding day. She will work with you as much as you need and is very responsive over email.

On the wedding day itself, I could not have been more pleased. Not only was the day gorgeous, but the staff ensured all the little details went according to plan. Karen's daughter, Kathryn, is an exclusive wedding coordinator for Cross Keys Barn and she was perfect. Not only is she a fraction of what other coordinators were charging, but she had all the expertise and brilliance one could ask for. She ensured both my parents and my husband's parents didn't miss any of the big moments (cake cutting, bouquet toss, etc.). I couldn't recommend her enough! Anyway, Cross Keys was stunning and truly lives up to its name as the "venue with a view." The day itself was wonderful and the pictures my photographer captured from the day make me very happy that I went with this venue as opposed to other venues. The staff really works with you to make sure you have the best time possible. Highly recommend this place for your wedding!!

Toni B.

Married on 01/08/2020

Daughter's Wedding Venue - August 1st

Cross Keys Barn was our daughter's wedding venue. They were amazing, extremely helpful and professional. The wedding was truly "the best day ever"! We also hired the specialize wedding planner (Kathryn) which was a great investment. She kept us on track and made sure all the details were covered.
The COVID-19 pandemic made wedding planning very challenging but Cross Keys Barn worked with us tirelessly to pull off an Amazing wedding day for my daughter. I highly recommend Cross Keys Barn.

Thadeous

Married on 10/19/2019

Incredible venue that made our wedding day a breeze

We can't say enough good things about our experience having our wedding reception at Cross Keys Barn. From Karen's communication throughout to the venue itself (absolutely beautiful), every aspect of working with Cross Keys Barn was better than expected.

When searching for a venue, Karen stood out among the other potential venues based on her responsiveness and ability to actually answer our questions/welcome our families for a visit. We had our wedding at a local church and our reception at Cross Keys, so our requests/requirements were a little different. But Cross Keys provides a large room for the bride and bridesmaids to get ready and allows full use of their grounds, which was awesome for photos. We got to take the golf cart out into the corn fields for photos that turned out fantastic.

Everything, including our vendors communication with Karen, went incredibly smoothly. The day-of staff (who Karen recommended) along with Karen helped ensure that everything was set up properly and running without a hitch. Our reception was a blast, and SO MANY of our guests commented on how great the venue was. We wouldn't have changed a thing! Kudos to Karen and Cross Keys Barn!

Lindsay V.

Married on 09/21/2019

Best Barn Venue in VA

Cross Keys Barn, LLC is definitely the "Venue with a View." Karen and Tim Liskey were amazing throughout the whole wedding planning process. Even on the day of the wedding they were full of helpful last minute ideas and worked so hard putting final touches together. As a couple from two small towns living in a big city, who got married at Cross Keys Barn, LLC we would recommend this venue to anyone looking to escape back to that small town family atmosphere. Our special day was definitely one for all to remember! ❤️

Kara R.

Married on 09/21/2019

What an amazing experience!

WHAT A VIEW!! This venue is beyond amazing! It has a gorgeous mountain views, an old rustic stone area for cocktail hour, and a beautiful barn with hanging lights for reception! The owners were awesome! They were always there with a helping hand whenever you needed them. We even took our engagement photos at the barn, we enjoy them so much! HIGHLY RECOMMEND!

Rachel

Married on 09/12/2019

Effortlessly magical

I cannot say enough about Cross Keys Barn! The venue itself is breathtaking. From the indoor lights, to the beautiful bride and groom suites, to the view outside. Everything was absolutely magical. Karen was incredibly helpful throughout the entire process. She is a well experienced planner as well as a venue owner. We got married on October 26th and she set up the heaters inside and out guests were very comfortable! Thank you Karen for helping us with our day!

Andree G.

Married on 07/06/2019

Amazing Venue

This is an amazing venue where you not only enjoy the serenity of gorgeous mountain views but also a fabulous renovated barn complete with elegant miniature lights adoring all posts and beams. And what makes this venue even more perfect is the couple who own the barn and who are there to support and ensure an absolutely perfect event.

Cecilea

Married on 05/18/2019

Perfect day!

The views from this venue were absolutely stunning and the staff were excellent to work with! We can't thank Cross Keys Barn LLC. enough everything was perfect!

+ 2

photos

Rachel

Married on 05/11/2019

Truly magical, simply stunning.

First things first, choose CrossKeys Barn! You will not regret it. Karen truly has wedding planning down to a science. She is so knowledgeable and so helpful. She knew exactly what to do to ensure that our big day went off without a hitch. The barn itself is simply stunning. It ended up raining on our wedding day and we held the ceremony right in the reception hall. It truly looked magical in there with the twinkle lights and few decorations we brought ourselves. I wouldn't have wanted it any other way. Karen took pictures throughout the night and arrived early to set up tables and chairs and stayed late with her husband to clean up the barn afterwards. They were so very helpful throughout the entire planning process and I could not have asked for a better venue/experience.
Are you interested?
Send a message