13 Reviews
Recommended by 99% of couples
Quality of service

5 out of 5 rating

Average response time

5 out of 5 rating

Professionalism

5 out of 5 rating

Value

4.8 out of 5 rating

Flexibility

5 out of 5 rating
5 User photos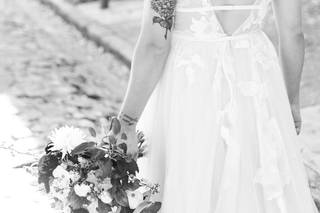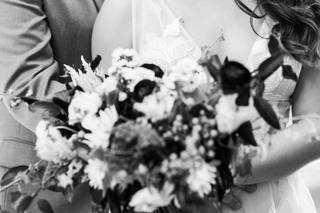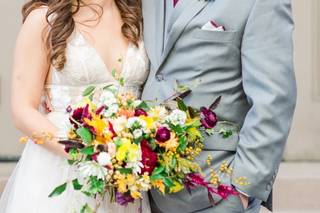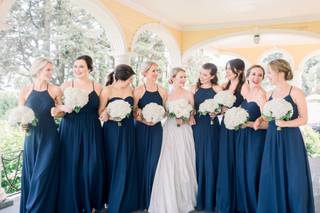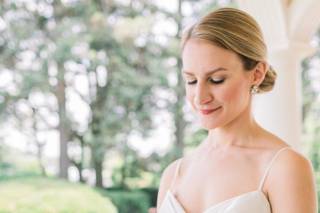 Elana F.

Married on 10/30/2021

Amazing hair & makeup experience

When I was looking for a hair and makeup vendor, I knew I wanted a salon in Center City that I could go to with my bridal party instead of having someone come to a conference room in a hotel. When I spoke with Lisa at Crimson, she was so friendly and so helpful. We were able to start mid-morning instead of super early, and we did 5 hair and 5 makeup. They even accommodated my little niece day-of, who was so excited to get her hair done. Everyone's hair and makeup came out so beautifully, and it stayed the ENTIRE night! Everyone in my bridal party was super happy. They also set up a large table for us, where we put out food and drinks. It was a great space and great service. Highly recommend!

Jessica

Married on 05/29/2020

Becky is my go-to stylist and I was ecstatic when she was willing to trek to New Hope to do hair and makeup for my four bridesmaids and me. We had a variety of styles -- some up-do, some down, airbrush, no-airbrush -- and Becky nailed them all. Everyone looked so pretty and no one was overdone or "pageant" in the slightest. She was laid-back, funny and came prepared with music, refreshments and gum -- we had the best time all getting ready together and she helped calm my jitters. What's probably most impressive is when you look at our photos from the end of the reception, my hair and makeup look exactly the same -- not one strand out of place. I am so grateful that Becky could be there for my wedding; she truly made me feel confident and beautiful -- just how a bride wants to feel!

Katherine

Married on 10/19/2019

Amaaaazing!



I go to Crimson salon for my haircuts throughout the year. I've been impressed with their level of service, talent and professionalism. It was a no-brainer to book them for my wedding on 10/19/19! Jeanne did my hair and it was perfection. I trusted her vision and she gave me the hair of my dreams! My bridesmaids and I went into the salon to get our hair done because we were in a nearby hotel. I love that Crimson offers that as an option along with on-site. Id recommend them for any wedding.

Are you interested?

Send a message

Bridget

Married on 12/30/2015

These ladies were not only great, but they were incredibly flexible! They were my regular salon until I relocated to Denver. I forgot to call months ahead to book appointments for myself and my bridal party. I called a week before the wedding and they worked through some schedules to get us all taken care of. Can't rave enough about how wonderful everyone at Crimson is!!

Annette

Married on 06/07/2014

Great wedding hair, done exactly how I wanted it. Laura is the best. Easy to schedule, great location, worth the money.

Chelsea

Married on 05/17/2014

Andrea was my regular stylist, and as soon as I got engaged, I hoped she'd be able to do my hair for the wedding. She, along with Jen, the salon owner, woke up super early to travel to Cape May to do my, my 7 bridesmaids, and my mom's hair and makeup for the wedding...everyone was very happy with both. I personally loved my hair, and I got so many compliments on it throughout the night! I also liked Crimson's laid-back approach -- there was none of the curl-everyone's-hair-with-a-scorching-iron-then-wait-for-it-to-sit-in-pins-for-three-hours before even STARTING to style it, as I've experienced at a number of weddings since.

The only negative is that I wish I'd requested more eye makeup/mascara, but that's really no one's fault but my own.

The morning of my wedding was spent enjoying the amazing services and atmosphere at Crimson Hair Studio! The salon was fully staffed and accommodating when we arrived, and each of my bridesmaids (and mom's!) were treated to a beautiful hair and make-up experience. Crimson features a large sitting area, perfect for champagne and a DiBruno's breakfast platter; the salon coordinator helped us arrange everything. We were all thrilled with our hair, makeup, and overall style experience at Crimson Hair Studio!

Crimson provided amazing wedding hair and makeup for me and my bridesmaids. Laura, in particular, was wonderful. She is friendly, professional, and was wonderful to have with us as we got ready! She's a true artist with makeup, and she was great at working with each one of us to find the right style and look that suited our individual tastes.

Dorie

Married on 09/22/2013

Crimson Hair Studio was very accommodating by coming off location to our hotel bridal suite very early and made sure we were ready on time for the arrival of the photographer. Jen and Laura brought everything including an airbrush for makeup! Everyone looked beautiful and was very happy with their services (which in my experience with being in bridal parties can be difficult). I was so happy with my look. My hair and makeup lasted throughout the night even with a ton of dancing. The girls were so professional yet fun to talk to as we got ready, the whole process was enjoyable and relaxing. I highly recommend Crimson Hair Studio for any event and especially for your wedding day!

Emily

Married on 03/14/2015

I had great services at Crimson for my recent wedding. Crimson is a great, laid back spot and was exactly what I needed on my wedding day. They have a great large table and welcomining receptionist who was so excited to take our photos when we finished. I felt completely comfortable popping the champagne and enjoying some pampering and was pretty relaxed on my wedding day. My only complaint would be how difficult it can be to find the storefront!

My hair and makeup were done by Becky and I loved the results, as well as how responsive she was to comments and changes after my trial. I was particularly concerned about how my updo did not last on the day of my trial and she made necessary adjustments to strengthen it while maintaining the style on my wedding day. She was also flexible and gave great advice - a headpiece I brought for my trial from Rent the Runway just wouldn't stay in place in my hair, so we looked together at the options and picked something else on a headband rather than a comb to use on my wedding day. It worked perfectly and was better than the original!

I had four others getting services that day - 2 sisters, my mom and my husbands mom. Three of them had both hair and make up done, including one that added on makeup with no appointment. We really appreciated the salon being so accommodating to fit her in. I thought all the results were lovely, though I think my mom felt her blow out was flatter than she wanted but didn't say anything until we left to give the stylist a chance to change it.

We had a great experience at Crimson. If I lived in Philly I would make it my primary salon and certainly recommend it to others.

Caroline

Married on 06/28/2019

Beautiful looks that lasted all day!

I loved using Crimson for wedding hair and makeup! Becky, Jeanne, and Brooke came on-site to do our hair and makeup. Becky and Jeanne were amazing. We had 11 different hairstyles and all of them looked great and held up all day. Brooke personalized all of our makeup and was receptive to feedback for all of our personal styles. My makeup held up so well throughout the day, even with lots of happy tears!
Our only challenge during the planning process was that the price of services changed from our initial conversation with the salon. I would recommend getting all agreed-upon rates and fees in writing when discussed.

Patrick

Married on 10/29/2016

So Becky is kind of the best. Previously a client of her's in Philly (so already known that she does fantastic work), but she has such a calming presence and demeanor it meant that everyone was able to relax and enjoy the big day. So highly recommended :-)

Sara

Married on 01/02/2016

I had a great experience with Crimson Hair Studio. They provided hair and make up for me, 6 bridesmaids, a mother and mother-in-law. We were in and out of there in about 3.5 hours. Becky did my hair and makeup, as well as my trial about a month and a half before the big day, and she was GREAT. They do offer airbrush makeup- however the airbrush machine was broken the day of my wedding. But they ended up providing really quality natural makeup services as an alternative (also cheaper!) Good value for all the services. Also they have a little area with a table, coffee maker, and snacks where we were all able to just hangout together while everyone was having everything done. You can bring in your own food/drinks/champagne/whatever as well. Very chill and great experience!